Whether you plan on traveling to Mexico in the near future, or if you're currently a citizen of Mexico, you can boost your internet privacy by using a Virtual Private Network, or VPN for Mexico. VPNs are privacy tools that will keep your internet traffic safe from online monitoring and allow you to lift geographic restrictions on popular streaming platforms to access content from back home including Netflix, Hulu, Amazon Prime Video, and several others. If you're a resident of Mexico planning to travel outside the country soon, you can access geo-restricted online services with a VPN to keep up with the content you usually access at home, whether it's Netflix Mexico or Mexican television stations like Televisia and Canal 5.
VPN software is designed to route your internet traffic through an encrypted tunnel to an intermediary server located somewhere else in the world. Your IP address reveals your device's location to anyone who can see your internet traffic such as your internet service provider (ISP), government agencies, and malicious hackers—but a VPN will mask your true location with the IP of your chosen server. Using a VPN server's IP address gives you the appearance of accessing the web from the server's location and will therefore lift the content block on restricted online services.
You can find more detailed information on each of these providers further down in the article, but here's a quick summary of my top 7 picks for the best VPNs to use for Mexico:
NordVPN: My number one pick for a VPN for Mexico. Sets the standard for security and performance. Offers thousands of servers and plenty of security features. Comes with a 30-day money-back guarantee.
Surfshark: This is the best budget choice. Surfshark delivers fast connection speeds for streaming HD video from anywhere in the world. A high level of performance and security that won't break the bank. Unlimited simultaneous connections and a 30-day money-back guarantee.
ExpressVPN: A popular choice for streaming, downloading, and gaming from abroad. Offers thousands of server locations around the world including servers in Mexico.
CyberGhost: A great general-use VPN for beginners. Features thousands of servers optimized for speed and security.
IPVanish: Prioritizes security above all, but doesn't compromise on connection speeds, either. Its remote-friendly interface makes it a favorite for Kodi users.
Hotspot Shield: Unblocks just about anything from abroad. 1,800+ secure and fast servers.
PrivateVPN: An up-and-coming VPN that unblocks most streaming services from abroad.
Best VPNs for Mexico
In this article, I compiled a list of VPN providers that offer a wide range of server locations to choose from so you can get a Mexican IP address from almost anywhere in the world. I selected these seven VPNs for meeting the following criteria:
Plenty of server options in Mexico and around the world
Lifts geographic restrictions
Fast and reliable speeds
Security protections you can count on
Zero logs
Helpful and available customer support team
Read my VPN testing methodology further in this article for a clearer picture of how I conduct my VPN reviews.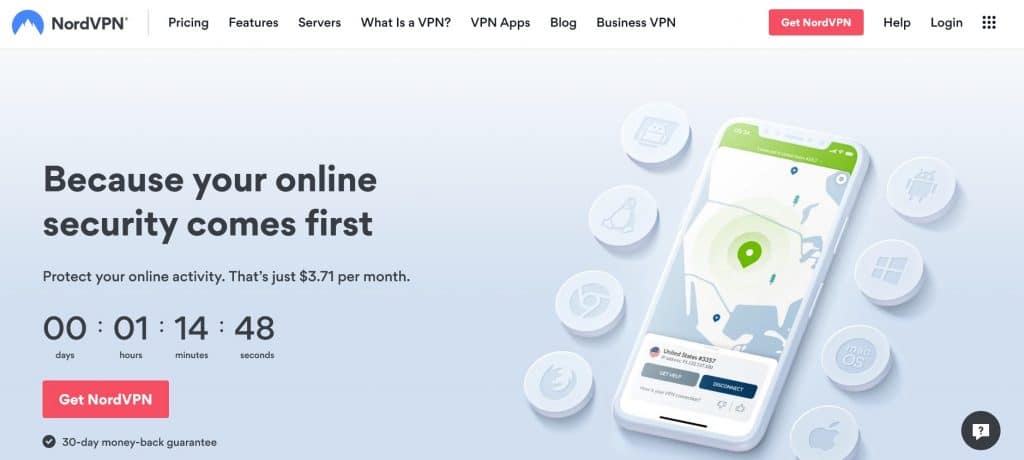 NordVPN runs one of the largest server networks on the market with more than 5,200 high-speed servers in 59 countries around the world, including 10 in Mexico. This wide geographic variety gives NordVPN substantial unblocking capability for streaming-focused users. It easily circumvents restrictions on popular streaming sites such as US Netflix, HBO, Amazon Prime Video, ESPN, Sky, Sling TV, and more. This provider offers servers optimized for specific purposes such as streaming HD video, using double VPNs, and Tor over VPN.
NordVPN combines fast speeds with strong security for its 256-bit encryption, the OpenVPN protocol, an internet kill switch, and DNS leak protection. NordVPN is known for its zero-logging policy which means that it doesn't keep records of any of your personal data, making it impossible for your online activities to be traced back to you. The company is headquartered in Panama where there are no data retention laws.
Apps are available for Android, iOS, Windows, and macOS. A single subscription will allow you to connect up to six devices simultaneously.
Pros:
Thousands of servers around the world including locations in Mexico
Successfully unblocks geo-restricted services
Top-notch security standards
Smoothly streams HD video from abroad
Keeps no logs
Cons:
The desktop app can be slow to connect
BEST CHOICE FOR MEXICO:NordVPN is my first choice for unblocking Mexican services. NordVPN hits all the right marks on security, speed, and unblocking power. Comes with a risk-free 30-day money back guarantee.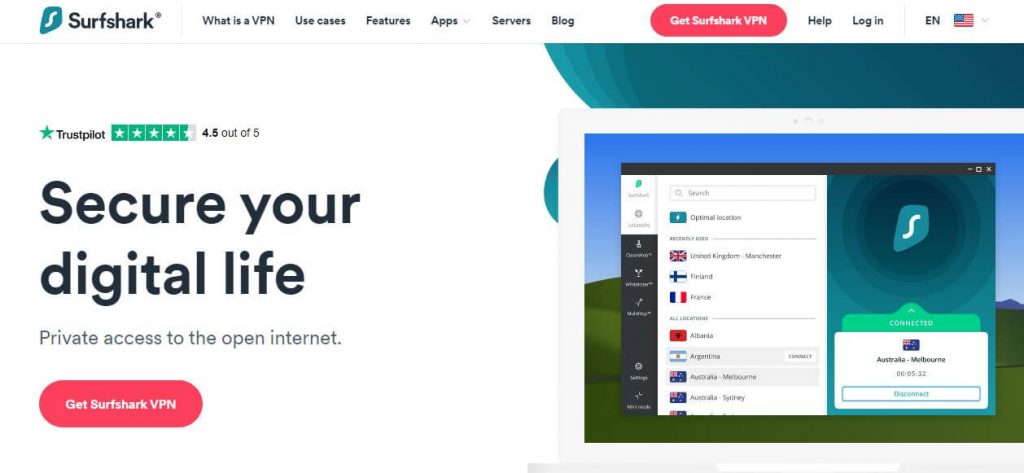 Surfshark is a budget-friendly provider great for users who want to share it with their friends and family, as it is one of the few VPNs that allow an unlimited number of simultaneous connections. Surfshark consistently maintains fast speeds for downloading and streaming from its 3,200+ servers in 65 countries. Users focused on streaming have little difficulty unblocking geo-restricted Mexican streaming services and major platforms like Netflix, BBC iPlayer, and Amazon Prime Video.
Surfshark keeps its prices low without sacrificing security. It encrypts your traffic with 256-bit AES encryption and offers protection against DNS, IPv6, and WebRTC leaks. A kill switch is included to prevent you from browsing the web unprotected in the event you suddenly lose connection to the VPN. Surfshark automatically scans for malware, blocks ads, and uses its NoBorders functionality to bypass online censorship in countries with strict government control over the internet.
Surfshark keeps no records on its customers' personally identifiable information and accepts payments in cryptocurrency for anonymous registration. Customer support is available 24/7 via live chat and email.
Surfshark apps are available for iOS, macOS, Android, Windows, and Linux. Some internet routers can be manually configured with Surfshark.
Pros:
Strong security features
Incredible streaming speeds
Unlimited simultaneous connections
Lifts geo-restrictions on just about everything
Zero logs
Cons:
Has a few slow servers on its network
Customer support could be improved
HIGH SPEEDS, LOW PRICE:Surfshark is fast and secure. Users get great value with its limitless allowance of connections and low price. Try it out risk-free for 30 days.
ExpressVPN is a high-speed VPN provider with more than 3,000 servers from 94 countries including Mexico, making it one of the most geographically varied VPNs on this list. This gives the VPN strong unblocking powers for users who want to access media streaming services such as US Netflix, HBO, Hulu, Amazon Prime Video, BBC iPlayer, ESPN, and more.
ExpressVPN maintains high standards of security with its military-grade 256-bit AES encryption, DNS leak protection, and an internet kill switch. The only data ExpressVPN stores on its customers are metadata that does not contain personally identifying data or IP addresses. Because this provider is based in the British Virgin Islands, it is not legally required to comply with any data retention laws.
Mobile apps are available for Android and iOS, and there's desktop support for Windows and macOS systems. A single subscription provides an allowance of five simultaneous connections.
Pros:
Thousands of servers around the world, including in Mexico
Fast speeds for HD streaming, downloading, and gaming
Unblocks all major streaming sites
Secure encryption and security features
Cons:
One of the more expensive providers
Streaming servers aren't labeled
STREAM FROM ABROAD:ExpressVPN is a favorite for streaming. Features plenty of high-speed servers in Mexico. Protects your privacy while you stream. One of the best VPNs for unblocking geo-restricted streaming services. Includes a 30-day money back guarantee.
CyberGhost is an easy VPN for beginners to use. Its apps are designed to help you choose a server based on your activities and even include servers optimized for specific streaming services in its Unblock Streaming mode, including dedicated servers for US Netflix, BBC iPlayer, and Amazon Prime Video. It runs a network of over 7,000 servers in 91 countries with approximately 50 located in Mexico.
CyberGhost's security offerings include 256-bit encryption, perfect forward secrecy, an internet kill switch, DNS leak protection, an ad blocker, malware protection, and anti-tracking software. The company is headquartered in Romania where there are no data retention laws, keeping your data safe from the country's government agencies. CyberGhost does not keep logs on IP addresses or personally identifiable user data.
Apps are available for Android, iOS, Windows, macOS, and Linux. A single subscription contains a generous allotment of seven simultaneous connections.
Pros:
50 servers in Mexico
Intuitive apps make it great for beginners
Specialty servers optimized for streaming and security
Keeps no logs
Powerful security features
Cons:
Experienced users may not like its limited configuration options
Doesn't work in China
LOW COST, BEGINNER-FRIENDLY:CyberGhost is easy to use. Plenty of server options in Mexico. Offers fast and secure servers at an affordable price. Features a 45-day money back guarantee.
IPVanish's location in the United States may cause concern for privacy-conscious users, but it is one of the few VPN providers that owns its entire network infrastructure instead of renting it, affording the company total control over its web traffic. Because of its no-logs policy, IPVanish could not surrender your personal information to the authorities even if it wanted to.
IPVanish runs 1,600 servers in 75 locations including four in Mexico. It is a popular provider among Kodi users and torrenters because they can directly download the VPN's Android APK directly onto their devices. Kodi users without a mouse and keyboard can set up and use the VPN with remote control. IPVanish can unblock several streaming platforms including BBC iPlayer.
IPVanish keeps its security standards high with 256-bit encryption, perfect forward secrecy, DNS leak protection, and an internet kill switch. An unlimited number of simultaneous connections are allowed under a single account and features apps for Android, iOS, Windows, and macOS. Customer support is available through 24/7 live chat.
Pros:
Strong privacy protections
Independently-owned server network
A remote-friendly interface makes it simple for Kodi users
Fast connection speeds for high-quality streaming
Unmetered connections
Cons:
Relatively small server network
Doesn't consistently work with Netflix
PROTECT EVERY DEVICE:IPVanish is great for families with a lot of devices. Handles several simultaneous connections well. Isn't the best for streaming from Netflix but meets a high standard of security. Comes with a 30-day money-back guarantee.
Hotspot Shield maintains fast speeds for streaming and unblocks platforms such as Netflix US, ADN 40, and Canal 8. It has a relatively small server network of just over 1,800 servers but offers a wide range of geographic variety across 80+ countries including Mexico.
Your data is protected with 256-bit encryption, automatic wifi protection, a kill switch, and protection against IPv6 and DNS leaks. Hotspot Shield provides the option for bypassing the VPN on certain websites which is useful for unblocking multiple platforms at once. This VPN provider stores no records of your data after you end your session.
Apps are available for iOS, Android, macOS, and Windows, and Hotspot Shield supports five simultaneous connections.
Pros:
Fast and reliable servers for HD streaming
Leak protection, 256-bit encryption
Unblocks Mexico-based streaming services
Cons:
Had some past privacy issues
Not the largest server network
GREAT STREAMING VPN:Hotspot Shield is excellent for streaming and easy to set up. Keep up with your favorite content back home while you travel. Features a 45-day money-back guarantee.
PrivateVPN is a VPN newcomer providing fast speeds on its 200+ server network and features locations in 63 countries, including Mexico. Its small server network is made up for by its high speeds and its considerable unblocking capabilities. It has demonstrated its ability to consistently bypass blocks on BBC iPlayer, Hulu, HBO, and Amazon Prime Video, and features unlimited bandwidth for HD streaming. It also works well for torrenting.
PrivateVPN users can choose between 128- and 256-bit AES encryption while browsing the web. Further security offerings include DNS leak protection, a kill switch, and perfect forward secrecy.  PrivateVPN won't log any of your data, so you can have some peace of mind while using the internet. A single subscription includes an allowance of six simultaneous connections.
Apps are available for Windows, macOS, iOS, and Android.
Pros:
Fast connection speeds
Reliably works with Netflix, BBC iPlayer, Hulu, and others
Allows torrenting
Range of security features
Cons:
Limited server selection
Customer support is only available during Swedish business hours
GREAT ALL-ROUNDER:PrivateVPN is good for any purpose. Delivers fast, reliable connection speeds, but doesn't have the largest server network. Try it out risk-free for 30 days.
Methodology: How I find the best VPNs for Mexico
I conduct thorough tests before recommending any VPNs. The criteria changes slightly depending on the VPN use, but here are some of the things I look at when assessing the best VPNs for Mexico:
Servers in Mexico – The first and most important thing when looking at a VPN for Mexico is that there are plenty of servers in the country. I look at the number of servers in Mexico and the geographical coverage, to ensure that you can connect even during busy periods.
Security – I look for the highest quality security tools and features, including things like 256-bit AES encryption, a network kill switch, and a strict no-logs policy. I will only ever recommend the safest and most secure VPNs.
Speeds – Speed is important, especially if you're going to be using your VPN for streaming or file sharing. My speed tests identify the fastest VPNs and only they make the shortlist.
Value for money – It's not just subscription cost that impacts the value for money. Instead of only choosing cheap VPNs, I choose those that give you the most for your money. This includes money-back guarantees, great service, and more.
Want to know more about how I test VPNs? Check out my full VPN testing methodology.
How to use a VPN in Mexico
A VPN is a wise investment for online security and removing geographic restrictions, whether you live in Mexico or plan on traveling there. Here's how to use a VPN in Mexico:
Choose a VPN provider that matches your needs and preferences. I recommend NordVPN.
Sign up with your credit card information.
Your VPN provider will send you an email with your login information. Use it to connect to a VPN server located in Mexico to get a Mexican IP address. If you are having trouble unblocking your desired content, clear your cache and cookies and connect to a few different servers.
You can now surf the web with the protection of your VPN.
VPNs for Mexico FAQ
Should I use a free VPN for Mexico?
Searching for a free VPN online will yield hundreds of free alternatives to choose from, including plenty of popular services with thousands of positive reviews. I find it tempting to save my money by opting for a free service, but users of free VPNs expose themselves to more threats to their privacy than they otherwise would without a VPN.
Providers of free VPN services have been known to sustain their business by mining the personal data of their users and selling it to third parties, and they do so without the users' knowledge or consent. Free VPNs bombard their users with intrusive advertisements and even spread malware despite their claims of top-notch security. The purpose of a VPN is to protect your privacy while using the internet, not compromise it.
Aside from the numerous security risks, free VPNs simply don't offer the same level of performance as a reputable paid service. You probably won't find a free VPN that uses a strong encryption protocol (or any encryption at all), and the selection of servers is usually very limited. My personal recommendation: don't be afraid to pay for a high-quality VPN.
How do I access my home Netflix in Mexico?
If you live in Mexico and plan on traveling to another country, you can access all of the services you normally use back home by connecting to a Mexican VPN server. The server will give your device an IP address located within the country so that geo-blocked online services, including Netflix and many others, will give you access to the region's video library. Not all VPNs can get past Netflix's powerful proxy detection services, but each of the VPNs I included in my list managed to do so at the time of this writing. But the game of cat-and-mouse between VPN providers and streaming services never ends, so I suggest making use of refunds to try out a VPN service for free.
Is watching Netflix US outside the country through a VPN legal?
Although it is not illegal to stream Netflix US from another country, it does violate the platform's terms of use. The Netflix TOU states the following: "You may view Netflix content primarily within the country in which you have established your account and only in geographic locations where we offer our service and have licensed such content." Netflix does not specifically mention VPNs or proxies in its terms of use. 
Can Telmex tell that I'm using a VPN?
Telmex and other Mexican ISPs can't see the content of your internet traffic through the VPN's layer of encryption, but it might be able to tell that your server's IP address belongs to a VPN company. It may also have access to metadata pertaining to the time of your connection to the server and the amount of data sent and received through the server.
Is public wifi safe to use in Mexico?
Public wifi is full of online hazards no matter where you are. Public wifi networks rarely have any security protections in place which makes them perfect places for hackers to steal your data, distribute malware, and redirect you to phishing pages. Some hackers even create their own public wifi hotspots to lure unsuspecting internet users into their trap.
I recommend connecting to a VPN before using any unsecured public network. The VPN's encryption will keep your personal data out of the hands of hackers, ISPs, and government agencies—and even if your traffic is intercepted, your data cannot be deciphered through the encryption.
How do I get a US IP address while in Mexico?
Getting a US IP address in Mexico is easy if you have a VPN. As long as your provider has servers available in the United States, you will be able to connect to a server with an American IP address and watch American TV. You will then also have full access to online services and platforms region-locked to the US including the US libraries of Netflix, Amazon Prime Video, and Hulu.
Can I access Mexican TV abroad?
Mexican citizens traveling out of the country can keep up with their favorite television content back home with a VPN. Simply connect to a server located in Mexico to get a Mexican IP address to get full access to online TV channels in Mexico such as Televisia, Canal 5, Azteca 7, and Azteca Uno.
Should I use a VPN for banking abroad?
Online banking services usually don't restrict access by region, but their fraud detection systems automatically lock users out of their bank accounts if it detects a login attempt from a country other than the user's country of residence. If you live in Mexico and plan on traveling abroad, I recommend using a VPN to log in with a Mexican IP address so you don't have to go through the inconvenient process of calling a customer support representative to regain access to your account.