Hardly anything you do online is private. Little regulation exists in the United States to keep Internet service providers (ISPs) from tracking your online activity, which includes your internet browsing history, messages, emails, searches, and more. The good news is that you can stop your ISP from tracking your internet activity by using a VPN, or Virtual Private Network.
A VPN will encrypt all of a device's internet traffic and route it through an intermediary server located somewhere else in the world. So long as your traffic is encrypted with a VPN, your ISP won't be able to see your search history, which apps you use, or the content of anything that passes through your internet connection. The only viable alternative to using a VPN is Tor. I prefer VPNs for their faster performance and cleaner reputation, unlike Tor, which may bring you unwanted attention from ISPs or law enforcement.
Below, we get into detail on each of the VPN providers that make up this list, but if you only have time for a quick review, here are my top choices:
NordVPN: The best VPN to stop ISP tracking! Boasts ultrafast speeds and some of the strongest privacy protections available. Keeps no logs and comes with a 30-day money-back guarantee.
Surfshark: My top budget VPN for the privacy conscious. Fast and versatile, with a wealth of security and privacy features to avoid ISP tracking. Secure every device you own at once.
ExpressVPN: Strong encryption, security, and internet privacy features to fly under the ISP radar. Keeps no logs and offers multiple options for protecting all of your devices and traffic. 30-day money-back guarantee.
CyberGhost: Connect up to 7 devices simultaneously. Protects your privacy with a strict no-logs policy and will prevent any ISP tracking.
IPVanish: Owns and operates all the servers on their network. Holds no logs or metadata on any of their users. DNS leak protection.
StrongVPN: Strong security and privacy features along with a no-logs policy, but not the easiest apps to use.
Private Internet Access: Solid security credentials for bypassing ISP tracking. Strict with keeping no logs on user activity. Well priced but displayed inconsistent download speeds in testing.
Hotspot Shield: A fairly low-cost provider that puts major emphasis on security and speed. Doesn't store any identifiable data once the session ends.
The best VPNs to prevent ISP tracking
With so many VPNs on the market, finding the right service can be a struggle. My top 8 VPNs for ISP tracking prevention are based on the following criteria:
No traffic or IP address logs
Strong, up-to-date encryption
DNS leak protection
Dynamic, shared IPs
Bonus: not based in the EU
Here's my list of the best VPNs to prevent ISP tracking: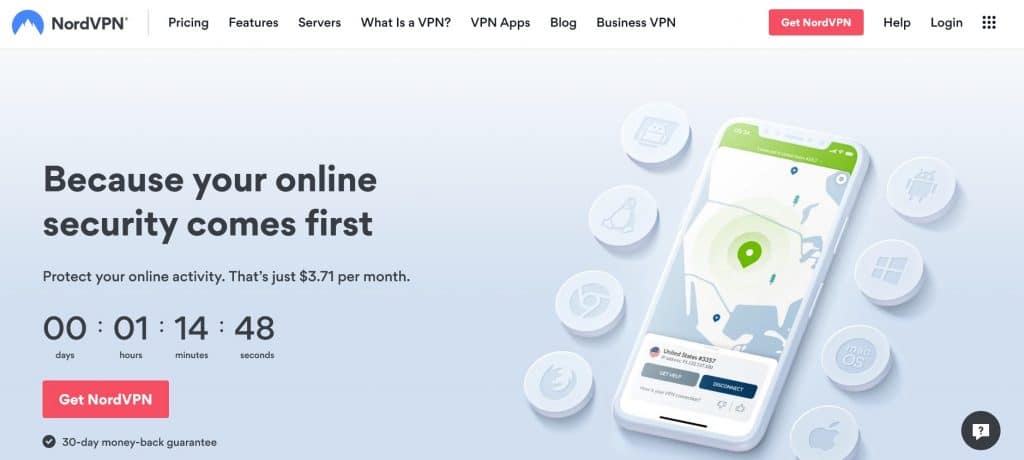 NordVPN is my top VPN to combat ISP tracking. It's my recommendation for the privacy-conscious as the company follows a strict zero logs policy, which means that none of your online activity can be traced back to you. The VPN provides a powerful layer of encryption for your internet connection with 256-bit encryption on OpenVPN and 2,048-bit Diffie-Hellman keys. With a wide range of more than 5,300 servers in 59 countries and specialty servers optimized for additional privacy, NordVPN operates one of the largest server networks on the market.
The NordVPN app includes a process-specific kill switch that will allow you to specify which programs to block in the event of a sudden loss of connection from your VPN, which will keep any unencrypted data from leaking out.
Apps are available for Linux, Windows, macOS, iOS, and Android. NordVPN also works with popular streaming services like Netflix and Hulu.
Pros:
Zero-logs policy
Offers secure, encrypted connections at all times
IPs never leaked thanks to kill switch and DNS leak protection
Most apps feature a process-specific kill switch
Extremely fast
Cons:
Desktop apps can take slightly longer to connect
BEST VPN FOR ISP TRACKING:NordVPN is my top choice. Boasts a large server network, fast connection speeds, and great unblocking capabilities. This provider offers a risk-free 30-day money-back guarantee.
Surfshark offers unlimited simultaneous connections to keep your ISP away from all of your internet-connected devices. All Surfshark traffic is protected with 256-bit AES encryption, 2048-bit DHE-RSA keys, a kill switch, and has protection against IPv6, DNS, and WebRTC leaks. Users have the option to connect using either the more commonly used OpenVPN or IKEv2 protocols, as well as Shadowsocks for countries with strict censorship laws, like China or the UAE.
Surfshark doesn't log any personally identifiable information and is headquartered in the British Virgin Islands, which means that it isn't legally required to store any details of user activity. Help is available 24/7 via live chat.
Apps are available for Linux, macOS, Windows, iOS, and Android. Some home routers can be manually configured with this VPN.
Pros:
Plenty of servers around the world
Fast enough for almost any task
No connection limit
Strong security and privacy credentials
Strict no-logs policy
Cons:
Fewer servers than some others in this list
Has the occasional slow server
SECURE EVERY DEVICE:Surfshark is ideal for those looking to secure lots of devices on a budget since it has no connection limit. It also boasts high speeds, a wide range of security features, a no-logs policy, and a 30-day money-back guarantee.
ExpressVPN is another great privacy-oriented VPN for its best-in-class encryption suite, featuring the OpenVPN protocol with 256-bit channel encryption, SHA512 authentication, and 4,096 RSA keys that use perfect forward secrecy.
The company, based in the British Virgin Islands, uses its own DNS servers and routes all DNS requests through the VPN so that no unencrypted data leaks to your ISP. Since hundreds of users share a single IP address at a time, there is no way to identify you from your internet activity.
Another one of its security features is a "network lock" that will stop your internet traffic if your connection suddenly cuts out. Apps are available for Windows, Mac, iOS, Android, Linux (command-line), and some wifi routers.
Not only is it good for privacy, but ExpressVPN is also a good streaming option because you can enjoy the full range of content available on services like Netflix and Hulu when traveling.
Pros:
Based in the BVI and isn't required to log any user data
Strong on security and user privacy
DNS leak protection, shared IP addresses and keeps no traffic logs
Superfast servers are great for streaming HD content
Offers 24/7 live chat
Cons:
Slightly higher cost than others
Could offer more customizable features
UNBREAKABLE SECURITY:ExpressVPN puts your privacy first. It offers military-grade encryption protocols coupled with a neat design and fast connection speeds. Great at unblocking geo-restricted sites and services. Plans include a 30-day no-quibbles money-back guarantee.
CyberGhost is a beginner-friendly VPN that makes you anonymous online with a combination of 256-bit AES encryption, 2048-bit DHE-RSA keys, and protection against WebRTC, Domain Name System, and IPv6 leaks. A kill switch is included in every version of the app. First-time VPN users will have a streamlined browsing experience since each of CyberGhost's security features comes pre-configured and enabled by default.
Users get even more protection with an automatic ad-blocker and malware-scanner, and the ability to use HTTPS even on networks where it is otherwise blocked, by connecting to a random port.
Apps are available for Windows, iOS, macOS, Linux, and Android. This VPN is compatible with some internet routers via manual configuration.
Pros:
Offers a wide range of security features
Upgrade to static, dedicated IP addresses if required
Doesn't keep any traffic logs
Up to seven connections permitted
Accepts Bitcoin
Cons:
Lack of advanced functionality could be a problem for power users
Can't be relied upon in China or the UAE
TOP BEGINNER PICK:CyberGhost is a powerful VPN that provides strong security and privacy protections, and very high speeds. It even comes with a 45-day money-back guarantee.
IPVanish owns its servers instead of renting them, giving the company greater control over who can access those servers. Because it keeps no records of traffic or metadata on its users, it couldn't hand over any information to law enforcement even if it wanted to, despite being based in the US.
By default, IPVanish users connect using OpenVPN with 256-bit AES full encryption, SHA512 authentication, and ephemeral 2,048-bit RSA keys with perfect forward secrecy. The VPN also features built-in DNS leak protection and a kill switch that can be enabled in the settings.
Apps are available for Windows, macOS, iOS, and Android.
Pros:
Connections and traffic remain encrypted and private at all times
DNS leak protection and kill switch enabled by default
Servers are fast for video streaming and downloading content
No-logs policy
Cons:
Doesn't reliably unblock Netflix, Hulu
Doesn't work in China
INDEPENDENT SERVER NETWORK:IPVanish has a large network of servers. Its uncongested network achieves good speeds. Strong security and online privacy features. Could do with having live customer support. 30-day money-back guarantee.
StrongVPN is based in the US, but it is a formidable privacy-focused VPN nonetheless because it keeps zero logs of user activity. Users enjoy an internet connection secured with 256-bit encryption and SHA512 authentication. I recommend opting in for the secure L2TP, SSTP, or OpenVPN protocols instead of the obsolete option of using PPTP.
Furthermore, it owns its physical servers instead of renting them. This VPN also comes with DNS leak protection and a kill switch that can be enabled in the settings.
Apps are available for Windows, macOS, iOS, and Android.
Pros:
High-grade encryption and authentication settings
Kill switch and DNS leak protections in place and keeps no logs
Torrent-friendly and works in China
Owns and operates all servers
Cons:
Some users might find the minimalist design limiting
Speeds were reasonable during testing but not great on the whole
WORKS IN CHINA:StrongVPN confidently overcomes geo-blocking. Reliable network of servers. Good on privacy and it retains no internet browsing logs. Ample security. 45-day money back guarantee.
Private Internet Access, or PIA for short, is a US-based VPN service that operates its own servers and doesn't keep any logs of its users—and has even published court documents to prove it. PIA users have a range of VPN protocols to choose from as well as varying levels of encryption.
The most secure configuration is OpenVPN combined with 256-bit AES encryption, SHA256 authentication, and 4,096-bit RSA keys with perfect forward secrecy. The PIA apps also include DNS leak protection and a kill switch preventing unencrypted traffic from leaking into your ISP's network.
Apps are available for Windows, macOS, iOS, Android, and Linux.
Pros:
Keep no logs, DNS leak protection and kill switch are activated
Strong encryption for secure and private connections
Operates over 3,200 servers
Cons:
Video streaming speeds can be inconsistent
Be prepared for troubleshooting in community forums
Other providers in this list are more capable of unblocking popular streaming sites
MULTIPLE PROTOCOLS:Private Internet Access has top security, low price, rich security features, and great customer service. Speeds can be inconsistent. 7-day money-back guarantee.
Hotspot Shield uses a proprietary connection protocol named Hydra and secures its users' internet traffic with 256-bit AES encryption, 2048-bit RSA keys, protection against IPv6 and DNS leaks, and a kill switch to secure your traffic in case your connection suddenly drops. Users also have a split-tunneling option on the Windows and Android apps that allow for bypassing the VPN on specific websites. The iOS and macOS apps do not have this feature, however.
Hotspot Shield's US-based headquarters makes it a location in one of the Five Eyes countries, but fear not: Hotspot Shield deletes all personally identifiable information when your session ends. Support is available 24/7 over live chat.
Apps are available for iOS, Android, macOS, Windows, and Linux.
Pros:
Consistently high speeds
Very easy-to-use apps
Strong security features
Cons:
The kill switch isn't available in all apps
BROWSE ANONYMOUSLY:Hotspot Shield is a strong all-rounder that boasts both powerful security features, good unblocking ability, and fast, reliable connections. What's more, this VPN includes a 45-day money-back guarantee.
---
Methodology: How I find the best VPNs for ISP tracking
Not all VPNs are capable of defeating ISP tracking. I have developed my own VPN testing process that identifies the very best and most secure VPN services. Here are some of the things I look for in a VPN to combat ISP tracking:
Many servers – Moving around servers, known as multi-hopping, makes it significantly harder for your ISP to detect that you're using a VPN. To do this effectively, you will need a good selection of servers. I only recommend VPNs with a large server selection and wide geographical coverage.
Tight security – To avoid ISP tracking, you need your connection to be completely undetectable. There are a handful of tools that help you to do this. Some of what I look for include a network kill switch, split tunneling and AES encryption.
Compatibility – It's no good if your VPN only allows you to fly under the radar on one device. I check that the VPN works with a number of popular devices and operating systems so that you can enjoy the same level of security regardless of which you're using.
Speeds – Some VPNs can slow you down, but I don't recommend them. You will only find the fastest VPNs on this page that have scored the highest in my speed tests.
How to prevent an ISP from seeing your online activity
You will be safe from the prying eyes of ISPs once you connect to a VPN. Your internet connection will be encrypted and conceal the content of your online activity.
Here's how to hide your online activity from your ISP with a VPN:
Sign up for one of the VPNs recommended in this article. NordVPN is my top choice.
Download and install the VPN app for your device.
Open the app and select a server location.
Hit the connect button and wait a few moments for the connection to complete.
Clear your cookies or cache if you are having connection issues.
VPNs for ISP Tracking FAQ
Why are no-logging policies important?
Take care to use a VPN that follows a strict no-logging policy. A VPN that logs your online activity could collect your web traffic and sell it to third parties without your knowledge or consent, making it no different from an ISP. I'm particularly careful about traffic logs, which contain the content of each web page you visit and the contents of unencrypted emails and messages.
Keep an eye on metadata logging as well—those logs could contain personally identifiable information that could be traced back to you, such as your real IP address or the IP address of the server your VPN is connected to. Metadata logs analytics data such as the duration of your VPN usage, the amount of data used, and the time of your connection to the VPN.
Can my ISP see my VPN?
Your ISP cannot see any of your online activity while you are connected to a VPN—all it can see is encrypted data flowing to a server. It is possible that your ISP could know that the server belongs to a VPN, but fortunately for you, VPNs are legal in the United States, and there are no American ISPs I know that block or throttle traffic to VPN servers.
Does incognito hide activity from ISPs?
No, incognito mode and other browser-based private browsing modes do not prevent your ISP from spying on your activity. Private browsing modes only prevent websites from being able to identify you with cookies and stops your browser from retaining your browsing history. Websites can still identify you by your IP address and your ISP can still see your online activity.
Can I ask my ISP for internet history?
The law varies from one US state to the next, but the citizens of some states have a right to know what data your ISP has on you. For example, California is a state where you can request your ISP to provide any personal information it has on you.
ISPs in the US are free to collect and share information pertaining to your online activity, including your browsing history. Your ISP may or may not retain such records about you, depending on which state you live in. Most websites require sending a DNS request to your ISP, which it can then log and store indefinitely.
Can my ISP see my Google searches?
Your ISP can see that you are using Google, but thanks to Google's use of HTTPS across all of its web services, individual search queries are hidden under a layer of SSL encryption. However, Google's search results can contain websites not secured with HTTPS, which your ISP will be able to see if you navigate to those sites.
How do I know if my ISP is tracking me?
The extent of your ISP's monitoring varies from jurisdiction to another, but you are almost certainly being tracked to some degree. Take a look at your ISP's privacy policy and terms of service—that might give you some idea of how closely you are being monitored, although there is no way to be completely certain. Depending on where you live, you might be able to request a copy of the data that your ISP may have on you.
What data do ISPs track?
Any data traveling through the internet without encryption is visible to your ISP. That includes your browsing history, search queries, purchases, emails, downloads, location, and streams, among other data. Much of the web today is encrypted by default through HTTPS (SSL), but even then, your ISP can still track the sites you visit and when you navigate to them.
What can ISPs do with my data?
ISPs are free to use your data for a wide range of purposes including diagnostics, marketing, analytics, and selling or sharing it with third parties. User data is usually sold to advertising networks, but your data could also be handed over to intelligence agencies, private investigators, and law enforcement.