International travelers will find that the services they use at home are restricted in other parts of the world. Geographical restrictions are a common obstacle for those who travel frequently. You could find yourself unable to access websites like Google, Facebook, and Netflix when visiting another country, and this is why you need a VPN for travel.
A VPN, or Virtual Private Network, can help you to access your home services when traveling. VPNs are privacy tools that will disguise your true location by replacing your IP address with that of a server located somewhere else in the world, giving you the appearance of being physically located in that region.
Geo-restrictions aren't the only obstacle faced by frequent travelers. Public wifi is infamous for having low standards of security, including hotel or airport networks. The good news is that VPNs will also encrypt your connection and keep your browsing activity completely private on the go.
I'll dig into the details of each VPN provider individually, but here's a quick overview of my top 7 VPNs for international travel:
NordVPN: My favorite VPN for travel! Its network of over 5,200 servers in 60 countries worldwide makes it one of the best VPNs for lifting geo-blocks abroad. Works with most of the top streaming services and streams HD video seamlessly. It comes with a 30-day money-back guarantee.
Surfshark: The best budget VPN out there for travelers. Wide range of fast servers to choose from across the world, plus strong security features. Unlimited simultaneous connections, too.
ExpressVPN: Runs over 3,000 servers in 94 countries that can bypass geo-locks on almost everything while you're abroad.
CyberGhost: The largest server network on this list, with more than 7,000 servers in 91 countries. Fast, easy to use, and strong on security.
IPVanish: Kodi users favor IPVanish because of its powerful security protections. Unlimited simultaneous connections make it great for traveling families.
PrivateVPN; A great VPN for streaming while traveling that doesn't compromise your online privacy.
VyprVPN: A powerful security-focused VPN that even works when traveling in China and other censorship-heavy countries.
The best VPNs for travel
I've compiled this list of VPNs for international travel based on the following criteria:
Fast and reliable speeds
A wide range of server availability around the world
Unblocks geo-restricted streaming content
Doesn't log personally identifiable information
Uses powerful encryption and a variety of security features
You can read more about how I assess each service in my VPN testing process.
Now, here's the 7 best VPNs for travel: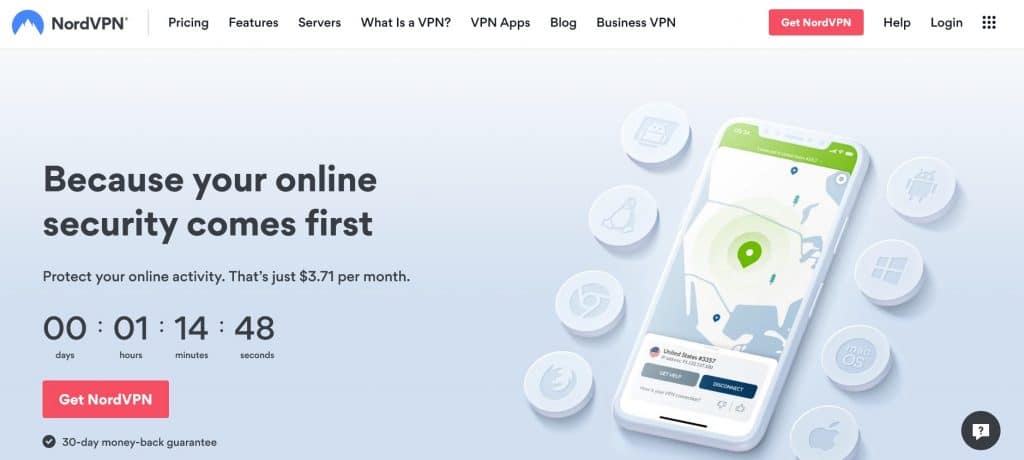 NordVPN is my first choice for international travel. With 5,300+ servers in 59 countries to choose from, it operates one of the largest server networks on the market. It gets some of the fastest and most consistent internet speeds and excels at evading government and geographical restrictions on internet services. It even works well in China.
NordVPN is considered to be a completely logless provider because it doesn't store any user data at all. Its users' internet traffic is secured with 256-bit encryption, the OpenVPN protocol, an internet kill switch, and DNS leak protection.
In addition to strong security, it is also a great choice for users who regularly stream video content. NordVPN lifts geo-restrictions on major streaming platforms such as HBO, Amazon Prime Video, BBC iPlayer, ESPN, and more. This is a very customizable VPN that offers servers optimized for certain tasks, such as streaming HD video, double VPN, and Tor over VPN.
NordVPN offers apps for Android, iOS, Linux, Windows, and macOS. A basic plan allows for six simultaneous devices.
Pros:
Thousands of servers in 60 countries worldwide
Strongest security in the industry
Keeps zero logs
Unblocks major streaming platforms like Netflix, BBC iPlayer, and more
Lots of security features
Support for all major platforms including Linux
Cons:
The desktop app can be a challenge to use
BEST VPN FOR TRAVELING ABROAD:NordVPN is my top selection for traveling internationally. Offers thousands of servers, a variety of security features, and top-notch security protections. Try it out first with its 30-day money back guarantee.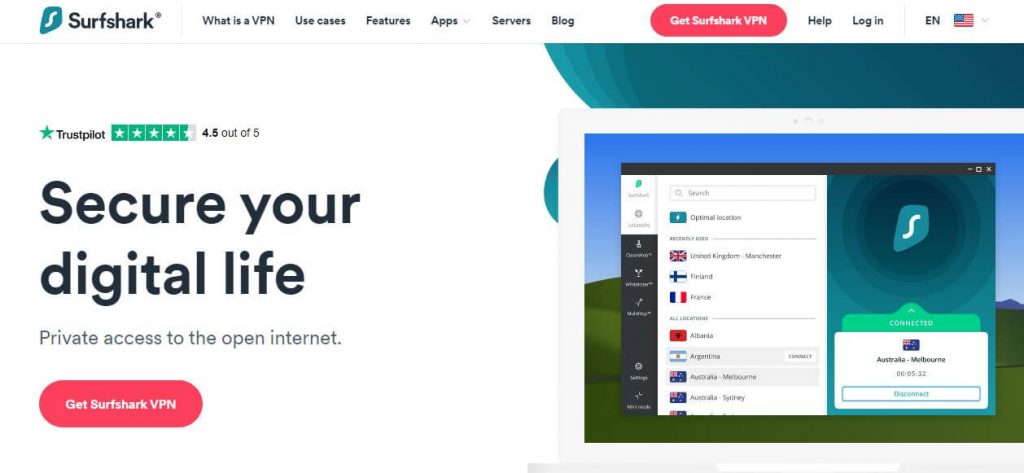 Surfshark is a great option for privacy-conscious internet users on a budget. It runs a network of more than 3,000 fast servers in 60 countries and even works in China. You can protect all of your devices at once thanks to its unlimited simultaneous connections.
Surfshark does not log its users' data and includes security features such as 256-bit AES encryption, a kill switch, an ad blocker, a malware scanner, and protection against DNS, WebRTC, and IPv6 leaks. It successfully unblocks major streaming platforms like Netflix, BBC iPlayer, and Hulu, which means you will be able to watch whatever you want regardless of your location.
Apps are available for Windows, Android, macOS, iOS, and Linux.
Pros:
Fast, stable connection speeds
Thousands of servers are available worldwide
Works in China
Unblocks and streams HD video content from abroad
Unlimited simultaneous connections
24/7 support
Cons:
The server network includes a handful of slow servers
Customer support could be better
BEST BUDGET OPTION:Surfshark is one of the most secure VPNs. Fast speeds and no connection limit. Includes a 30-day money-back guarantee.
ExpressVPN performs well and has high-security standards. It works with several major streaming platforms including US Netflix and BBC iPlayer, and secures its users' data with military-grade encryption protocols. It even works in places with heavy internet censorship such as China, Indonesia, and Iran. This VPN uses 256-bit AES encryption, DNS leak protection, and a built-in kill switch to protect your data in case of an unexpected loss of connection.
ExpressVPN follows a strict no-logs policy so that your online activity can't be traced back to you. Apps are available for Android and iOS on mobile, and Windows and macOS on desktop. A single account will protect up to five devices at once.
Pros:
High-quality streaming from over 3,000 fast servers
Lifts restrictions on most streaming platforms
Meets a high standard of security
256-bit AES encryption
Cons:
Slightly more expensive than other providers
Only 5 simultaneous connections
FAST INTERNATIONAL STREAMING:ExpressVPN provides a wide geographic variety in their server network. Delivers some of the fastest speeds I've seen. Comes with a 30-day money-back guarantee so you can try it risk-free.
CyberGhost is a user-friendly VPN that has expanded its server network to include more than 7,000 servers in 91 countries. This VPN provider uses 256-bit encryption, perfect forward secrecy, an internet kill switch, and DNS leak protection by default. Additional internet security features include an ad blocker, anti-malware defense, an anti-tracker, and an "immunizer" against ransomware attacks. CyberGhost does not log its users' IP addresses.
CyberGhost is a great VPN choice for beginners because it lets users select a server based on which streaming platform they want to watch. Just select the "Unblock Streaming" mode inside the app to access streaming services like BBC iPlayer, Amazon Prime Video, and much more.
CyberGhost VPN apps are available for Android, iOS, Windows, Linux, and macOS. Seven simultaneous connections are available under a single account.
Pros:
Easy to use for beginners
Severs optimized for streaming and secure online browsing
Over 7,000 servers in 91 countries
Unblocks almost anything
Cons:
Beginner-friendly apps might not be helpful to advanced VPN users
Doesn't work in China or UAE
USER-FRIENDLY APPS:CyberGhost is a great place to start for first-time VPN users. Comes with a 45-day refund period.
IPVanish allows travelers to surf the web securely and at fast speeds. Unlike most VPN providers, IPVanish operates its own network of servers instead of renting them or outsourcing management to a third party. It is in complete control of user traffic, which passes through fewer hands.
This is a popular VPN among torrent and Kodi users because IPVanish lets you download the Android APK directly onto your device. The interface can be used with remote controls for Kodi devices that don't have a keyboard and mouse. It successfully unblocks streaming websites like BBC iPlayer and ITV Hub as well. IPVanish keeps your data secure with 256-bit encryption, perfect forward secrecy, DNS leak protection, and an internet kill switch.
Apps are available for Android, iOS, Windows, and macOS. This provider just expanded its connection limit to 10 simultaneous connections, which is a more generous package than what most VPN providers offer. Customer support is available 24/7 over live chat.
Pros:
Great for torrenting and Kodi usage
Unlimited simultaneous connections
Self-owned server network
Dynamic IP
Cons:
Doesn't accept payments in cryptocurrency
One of the smaller server networks on this list
GREAT FOR KODI:IPVanish is a privacy-first VPN. Very useful for torrenting, but doesn't consistently work with Netflix. Zero-logs policy and a 30-day money back guarantee.
PrivateVPN's faster-than-average internet speeds make it a worthy choice for streaming fans, and it works with a variety of streaming services. PrivateVPN excels in its support options. Its support team is available 24/7 via live chat and can even remotely control your device in order to configure or fix the VPN, with your permission.
PrivateVPN's traffic is secured with 256-bit encryption, SHA256 authentication, and 2,048-bit RSA keys. There's an internet kill switch as well as IPv6, DNS, and WebRTC leak protection. It also has a policy of not storing any internet traffic logs.
All packages contain a 30-day money-back guarantee. Six devices can be protected at once with a single subscription. Apps are available for iOs, Android, macOS, and Windows.
Pros:
256-bit AES encryption
Impressive connection speeds
Unblocks a wide range of streaming services from abroad
Kill switch and leak protection
Cons:
Smaller server network than most
Has live chat, but they only operate during European business hours
GREAT FOR STREAMING:PrivateVPN unblocks a broad range of streaming sites from other countries, so you can watch anything while you travel. Includes a 30-day money back guarantee.
VyprVPN is known for being reliable in countries where there is strict government control over the internet, such as China. It uses 256-bit AES encryption protocols along with SHA256 authentication. Subscribers can pay an extra fee to sign up for its proprietary Chameleon metadata scrambling technology that can hide the fact that you're using a VPN in the first place, keeping you protected against ISPs, government agencies, and hackers. VyprVPN stores no logs, and it's one of the fastest VPNs on this list.
Apps are available for Windows, macOS, iOS, and Android. Up to five devices can be protected at once.
Pros:
Powerful encryption and security features
Works in China and other censorship-heavy countries
Fast and reliable connection speeds
Cons:
Has some online data retention
Not reliable for streaming services like Netflix and Hulu
BYPASS CENSORSHIP:VyprVPN is a privacy-first VPN provider that will keep you safe online during your travels. Comes with a 30-day money-back guarantee.
Methodology: How I find the best VPNs for international travel
VPNs vary widely from service to service, so it can be difficult to tell which ones are best for international travel. Here are some of the things I looked at when assessing each VPN:
Strength of network – I take into account the number and location of servers available on a given VPN provider. I also check that the servers are capable of lifting geographical restrictions when you're abroad. If you're from the US but traveling in Norway for example, you might still want to access US Netflix while in Norway.
Speed – I conduct speed tests to ensure that the VPN network is fast and reliable. These tests take place during gaming, streaming, and general browsing so that I can guarantee protection regardless of activity.
Supported devices – I check that these VPNs offer apps for every popular device or operating system. So it doesn't matter whether you use Windows or macOS for desktop, iOS or Android for mobile, I can recommend a compatible VPN service.
Simultaneous connections – If you have a large number of devices, or plan on traveling with friends or family, a VPN with many simultaneous connections is important to have. I check how many devices are supported and whether or not the VPN poses good value for money.
Read my VPN testing methodology to find out more about how I test VPNs.
How do I set up a travel VPN?
Here's how to set up a travel VPN: 
Download a VPN provider that is reliable for travel – I recommend NordVPN.
Install on each of your devices.
Open the app and follow the instructions displayed on your screen.
After installation is complete, restart all devices.
When back online, open the VPN app and connect to a server in a location of your choice.
VPN FAQs for International Travellers
Should I use a free VPN to travel abroad?
I don't recommend using a free VPN—they fall short of both performance and security. While it is tempting to save your money and opt for a free VPN, you will not be able to enjoy the quality service available from a reputable paid service, and you may even compromise your privacy.
Free VPNs lack the resources to provide fast and consistent internet speeds and typically run a small server network overloaded with too many users. The limited available bandwidth does not allow for data-intensive activities such as streaming video, playing video games online, or even accessing online banking services. If you try streaming Netflix content over a free VPN, for example, your viewing experience will most likely be interrupted by frequent buffering and connection loss.
Fortunately, each of the VPN providers on my list is capable of securely protecting your location while using the web.
What other security protocols should I follow while traveling?
Even though VPNs are great privacy tools, they won't protect you against failure to adhere to basic cybersecurity hygiene. Always use strong passwords and two-factor authentication wherever possible. Update each of your devices with the latest security patches before you leave home to keep your data as secure as possible when using the internet. Back up important files to the cloud on a regular basis so that they will always be accessible even if you lose your device.
How do I use wifi securely while traveling?
Public wifi networks are monitored by ISPs and hackers alike, and usually feature a low level of security, so it is important to keep yourself protected by a VPN while on unfamiliar networks—especially if you expect to enter a password or any financial information. Just open your VPN app and connect to the wifi network to instantly protect your data. Check to see if your VPN includes a feature for automatically connecting to the VPN if it detects a new or unsecured network. This feature is very useful if you forget to turn on your VPN manually.
Can I use a VPN to avoid roaming charges?
No, a VPN will not help you avoid paying roaming charges. Your phone service provider can still see where you're connecting to the internet from, just not where you're connecting to.
Can VPN providers be trusted?
Not all VPNs can be trusted, so I suggest doing your research carefully before signing up for one. All of the VPNs recommended in this list have been selected for their strong track records of protecting their users' privacy. These VPNs do not (or cannot) give out user information to law enforcement or intelligence agencies without a court order; they have not suffered from any major data breaches; they use strong and up-to-date security, and they do not log their users' online activities.
Does Google Maps work with a VPN?
Yes, Google Maps works with VPNs on both mobile and desktop devices. Google Maps uses cell tower and GPS signals to determine your location on mobile devices, which is separate from the location information contained in your IP address.
Can using a VPN get you cheaper flights?
Prices for many products and services online, including flights, vary by location, so try connecting to servers in a few different locations to compare prices. Make sure to clear your browser's cache and cookies between each new connection so that the website you're using will not recognize your previous IP address.
How do I access WhatsApp and similar services where they are blocked?
Laws regulating the internet vary from country to country, so depending on where you're going, you may find yourself unable to access your favorite apps and platforms from home. Many travelers rely on communication apps like WhatsApp, Facebook, and Skype to stay in touch with their friends and family back home.
According to FreedomHouse, WhatsApp is blocked or restricted in the following countries:
Azerbaijan
Bangladesh
Brazil
China
Egypt
Ethiopia
Jordan
Kazakhstan
Montenegro
Saudi Arabia
The Gambia
Turkey
Uganda
United Arab Emirates
Yemen
Zimbabwe
The level of access will vary by country. Some places will block the entire suite of WhatsApp features while others may only limit access to video and voice calls. The most important precaution to take is to install a VPN app onto your device before boarding your plane, so you don't get locked out of th service upon landing abroad.