Is digital privacy your top priority? If so, you owe it to yourself to use a zero log Virtual Private Network (VPN). I explain all about the best zero log VPNs so you can browse without worrying about who might be watching.
You probably already know that VPNs enhance your privacy by encrypting your data, ensuring it can't be read by snoopers like your Internet Service Provider (ISP) or employer. However, some providers actually keep logs of your activity such as your browsing and download history. The resulting data could be vulnerable to hacks, sold to advertisers, or handed over to authorities who request it.
This is where zero log VPNs come in. Contrary to their name, these services usually do keep some logs, but only for diagnostic and optimization purposes. What sets them apart is that they don't record any data that could identify you, such as source IP addresses, connection timestamps, or the sites you visit. As such, there's simply no way for your activities to be revealed, even if your VPN provider is under legal pressure to hand over records.
Here's my list of the best zero log VPNs:
NordVPN: My #1 choice for browsing privately. Boasts an impressive set of security features, superfast connections, and privacy-focused obfuscated servers. Great at unblocking too. Includes a risk-free 30-day money-back guarantee.
Surfshark: The best budget zero-logs VPN. A versatile provider with fast speeds, fantastic unblocking ability, and no connection limit. Has plenty of advanced security tools built in.
ExpressVPN: Logs no personally identifiable data while providing consistently high speeds, great unblocking ability, and a top-notch security offering.
CyberGhost: An easy-to-use VPN that comes packed with strong security features. Doesn't log any data that can identify you. Over 8,900 speedy servers to choose from.
PrivateVPN: An especially speedy service that excels at unblocking geo-restricted sites abroad. Takes user security very seriously and doesn't keep any logs at all.
IPVanish: Fast speeds, unlimited bandwidth, and the ability to secure every device you own make this a very attractive choice. Has a strong focus on security and keeps absolutely no logs.
Private Internet Access: A lightweight and secure option that stores no logs.
Atlas VPN: This provider offers strong security and fast connection speeds, making it an attractive zero log choice.
There's no such thing as a "one size fits all" VPN – every service has its own strengths and weaknesses. Rather than spending forever trying to decide which aspects you're willing to compromise on, I'd recommend choosing a more versatile service. This way, whatever the situation, you can be confident your VPN will be able to handle it reasonably well. With this in mind, all of the VPNs I'm recommending today meet the following criteria:
Does not store any data that could be used to identify you
Keeps you safe with powerful encryption and other cutting-edge security features
Provides plenty of high-speed servers
Can get around region-locking used by popular services like Netflix
Offers easy-to-reach customer support
Has apps for both mobile and desktop devices
For a more in-depth look at the criteria I used, check out the testing methodology section found later in this article.
The best zero log VPN providers
Let's look at the best no log VPNs in a little more detail: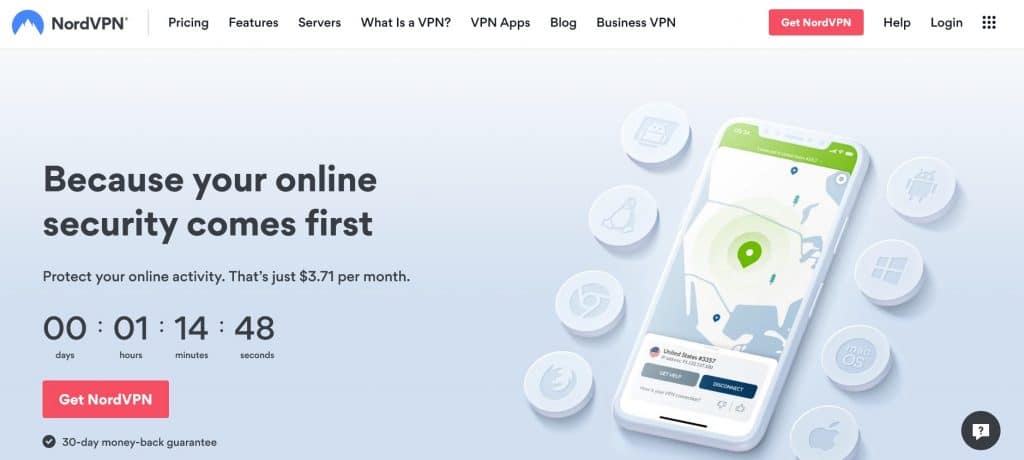 NordVPN is my top recommendation. It offers plenty of choice thanks to its 5,500+ servers spread over 59 countries. This provider has a strict zero-logs policy, which has twice been verified by independent auditors. Additionally, it offers powerful obfuscated servers that let you browse privately in countries with strict internet censorship. There's also 256-bit AES encryption, protection against WebRTC, IPv6, and DNS leaks, a built-in malware scanner, and a kill switch. Users can pay anonymously with Bitcoin, Ripple, or Ethereum.
This is a highly versatile VPN that's capable of unblocking plenty of stubborn region-locked services, among them Netflix and Amazon Prime Video. Speeds are blazing fast for uninterrupted live streaming, and with up to six connections allowed at once, you'll be able to browse safely with the knowledge that no one is watching, wherever you are. Should you need any help, you can reach support staff 24/7 over live chat.
NordVPN provides apps for iOS, Android, Linux, macOS, and Windows devices. It can be manually configured to work with supported home routers.
Pros
Logless VPN that accepts cryptocurrency payments
One of the best security offerings around
Large network of high-speed servers
Excels at unblocking geo-restricted sites and services
Offers around-the-clock support
Cons
Switching servers can be a bit slow
BEST NO-LOGS VPN:NordVPN is my #1 choice. It's a fantastic no-logs service that provides a wealth of powerful security tools at a very low price. With solid speeds, great unblocking abilities, and thousands of servers around the world, it's well worth your time. A 30-day money-back guarantee makes this a risk-free option.
Surfshark is an excellent budget alternative. It operates around 3,200 servers in 95+ countries. Importantly, it doesn't store any traffic logs at all, meaning it can't divulge details of your activities even if asked to. It includes plenty of powerful security features such as a kill switch, 256-bit encryption, DNS and IPv6 leak protection, and a malware scanner. There's even a NoBorders mode that lets you bypass country-wide blocking in places like China. Surfshark accepts three different cryptocurrencies (Ethereum, Ripple, and Bitcoin), allowing you to register anonymously.
This service's speeds are some of the fastest I've seen and it boasts excellent unblocking capabilities, two characteristics that make it perfect for streaming. Surfshark allows users any number of connections, giving you the freedom to browse privately, anywhere, on any device you like. Support staff can be reached day or night over live chat.
Surfshark has macOS, Windows, Linux, iOS, and Android apps. The VPN can be manually installed on supported wireless routers.
Pros
Logless VPN with strong security and anonymous payment options
Fast enough for flawless streaming and torrenting
Connect as many devices as you like
Unblocks all kinds of geo-blocked services from abroad
Cons
Customer support could be refined
BEST BUDGET VPN:Surfshark offers high-speed connections without compromising on security. There's no connection limit and this zero-logs VPN lets you browse safely wherever you are. Still not convinced? It also offers a 30-day money-back guarantee.
ExpressVPN users have access to more than 3,000 servers in 94+ countries. Privacy-conscious users will be pleased to hear that this service doesn't log any information that could be traced back to you. Further, it's possible to sign up anonymously by paying in Bitcoin. ExpressVPN boasts a wide array of security features including effectively uncrackable 256-bit encryption, a kill switch, and protection against IPv6, WebRTC, and DNS leaks.
With high speeds and unlimited bandwidth, this service is popular with people who stream regularly. However, these features mean that it's also a great choice for torrenting safely. With a five-connection limit, this VPN allows you to protect all of your most commonly used devices simultaneously. While this is a very user-friendly service, there's a 24/7 live chat helpdesk in case of any issues. Rated as the best VPN by multiple sites including Comparitech.
ExpressVPN users have the choice of Windows, Android, macOS, iOS, or Linux apps. You can also install the service's custom router firmware and secure every device on your network.
Pros
Major focus on security and privacy
Pay anonymously with Bitcoin
Steady speeds that are fast enough for live streaming
Cons
Costs a little more than some of its competitors
SAFE AND SPEEDY:ExpressVPN is another great pick. It refuses to log any data that could identify you, all the while providing comprehensive security and steady, reliable speeds. What's more, it comes with a 30-day money-back guarantee.
CyberGhost has a huge network, with over 8,900 servers in 90+ countries. It's clear that this service values its users' privacy and it refuses to log any identifiable information. Security features are enabled by default and include an always-on kill switch, 256-bit encryption, and DNS and IPv6 leak protection, as well as automatic ad-blocking and malware scanning. If you'd like another layer of privacy, you can pay with Bitcoin.
This VPN's user-friendly apps, high speeds, and fantastic unblocking ability make it an ideal choice for anyone who wants to access all of their usual services (Netflix, WhatsApp, and so on) while traveling abroad. What's more, up to seven devices can be connected at once. In the unlikely event that you have any issues, you can get help almost immediately thanks to CyberGhost's 24/7 live chat.
CyberGhost offers beginner-friendly apps for Windows, macOS, Linux, iOS, and Android. Select internet routers are supported via manual configuration.
Pros
Security-conscious VPN that accepts Bitcoin
Fast, beginner-friendly VPN
Unblock your favorite streaming services abroad in just one click
Cons
May not offer enough control to satisfy experienced users
GREAT FOR NOVICES:CyberGhost isn't just easy to use, it's also highly secure. With steady speeds, great unblocking ability, and a strict no-logs policy, this is a particularly strong choice for people looking to browse, torrent, or stream anonymously. A 45-day money-back guarantee is included.
PrivateVPN has fewer servers than others in this list, with around 200+ spanning 60+ countries. That said, if you're looking for a VPN that puts your privacy first, you're in the right place. This service doesn't keep any logs whatsoever and even comes with a stealth mode that hides the fact that you're using a VPN at all. There's also 256-bit encryption, a kill switch, and protection against IPv6, DNS, and WebRTC leaks. You can even pay in Bitcoin for greater anonymity.
This VPN stands out from the pack by being extremely fast and unblocking services that many of its rivals struggle with. Whether you're looking to browse privately, torrent, or access stubborn platforms like Netflix, Hulu, or Prime Video, PrivateVPN has you covered. You can secure up to 10 devices at once. Support may not be available 24/7, but staff man the live chat help desk at most times during the day, so you shouldn't have to wait too long for help.
PrivateVPN provides Windows, Linux, macOS, iOS, and Android apps. If you'd prefer to protect an entire household, you can manually install PrivateVPN on select home routers.
Pros
Keeps no logs and offers plenty of powerful security features
Pay anonymously with Bitcoin
Very high speeds and exceptional unblocking ability
Cons
Relatively small network
Support isn't always available
EXTREMELY FAST:PrivateVPN is a zero log service that's fast enough for private torrenting, streaming, and browsing. It's great at unblocking region-locked services and even offers a 30-day money-back guarantee.
Private Internet Access (PIA) is an efficient VPN service that has VPN servers in over 80 countries. Its efficiency comes about due to its use of the WireGuard protocol. It can unblock streaming services such as Amazon Prime Video. It also allows users to customize the app interface.
Security is one of PIA's strong points. It offers features such as AES 256-bit encryption, a kill switch, and split tunneling to keep users safe while online. PIA doesn't store logs either, ensuring that your browsing activity is kept safe.
PIA provides apps for Windows, macOS, Linux, iOS, and Android. This provider's customer service team is available via their 24/7 live chat as well. In addition, it supports 10 simultaneous connections.
Pros:
Strong security measures are in place
PIA stores no logs
Provides secure access to many streaming services
Supports efficient WireGuard VPN protocol
Cons:
Doesn't work in China
App design could be improved
LIGHTWEIGHT, EFFICIENT, AND SECURE VPN CHOICE:PIA is a lightweight option that allows for customization. It is efficient too and stores no logs. This service comes with a 30-day money-back guarantee.
Atlas VPN is a newer VPN provider with around 750 servers in about 40+ locations. Although it is a smaller provider, it doesn't compromise on quality. It provides fast streaming speeds, facilitating secure access to streaming services such as Netflix and it also has strong privacy and security measures in place.
The provider's security measures include features such as 256-bit AES encryption, a kill switch, and protection against DNS, WebRTC, and IPv6 leaks. Atlas VPN doesn't store logs either, ensuring that user data is kept secure. Moreover, there is also the option to use MultiHop servers which encrypt your connection twice.
Atlas VPN apps are available for Windows, macOS, Android, and iOS. An unlimited number of connections is also facilitated by this service.
Pros:
Stores no logs
Fast streaming speeds
MultiHop servers encrypt data twice
Enables secure access to many streaming services
Cons:
Doesn't work in China
Customer service could be better
FAST AND SECURE VPN OPTION:Atlas VPN has strong security measures in addition to being a good choice for streaming. It also respects users' privacy by not storing logs. It comes with a 30-day money-back guarantee as well.
Testing methodology for zero log VPNs
There are several VPN providers that are available on the market. However, not all of them are created equal. I have a comprehensive testing methodology that I use to evaluate VPNs before even coming up with a list such as the one above. Here are some of the factors that I took into consideration while coming up with this list:
No logs stored: It is important from a privacy standpoint for VPNs to keep no logs. This ensures that users are able to keep their anonymity while online.
Servers: The more servers the better. This gives users lots of options for accessing services that may be geographically restricted.
Security: VPNs must also protect users while online. This is ensured through features such as  256-bit AES encryption and kill switches.
Speed: While we all want to be safe online, this shouldn't come at the sacrifice of speed. While all VPNs slow down internet connections a little, this should be reduced as much as possible. The speed reduction is hard to pick up with top choices such as the ones in my list above.
Ability to unblock services: Top VPNs are able to provide access to popular streaming services such as HBO Now regardless of where you are in the world. I made sure that all of my choices on the list above can unblock a wide variety of services.
Zero log VPN FAQs
Can I browse anonymously with a free VPN?
Although there are plenty of free VPNs on the market, I don't advise using them, especially if you're trying to improve your privacy. First, these services usually only have a handful of servers, plus many times more users than paid VPNs. This leads to extremely slow speeds, making browsing frustrating and streaming near impossible.
There's also no telling who can see your activities when you use a free VPN. This is because, unlike their paid rivals, they rarely provide a clear-cut logging policy. In fact, it can often be difficult to tell who operates free services – there's just an entirely different level of accountability with paid VPNs. Worse, malware creators are now disguising their software as free VPN apps, meaning you can't even guarantee you'll choose a real service. For these reasons, I recommend sticking to a reputable VPN with a user-first logging policy.
Will I get into trouble for using a VPN
VPNs are legal in almost every country in the world, so unless you're somewhere like Iraq or Belarus, there's very little chance of you getting into trouble just for using one. That said, you could find yourself in hot water if you use a VPN to commit a crime online.
If you have any doubts, be sure to read up on your country's relevant legislation before attempting to download or connect to a VPN. 
What can I use a VPN for?
VPNs can be used for all kinds of things but first and foremost, they're privacy tools. By encrypting your traffic, they ensure that you can browse safely, even if someone is monitoring the network you're using. This makes them particularly invaluable for anyone who relies heavily on public WiFi hotspots.
Additionally, as your data is routed via a server somewhere else in the world, you can use a VPN to access geo-blocked sites and services while traveling. For instance, the right VPN will be able to make it look like you're in the US, allowing you to use US-only platforms like Sling TV abroad. You could also connect to a server in your home country to reduce the chance of being locked out of your online banking service simply for trying to log in while abroad.