VPNs, or Virtual Private Networks, are useful tools for protecting your privacy online and accessing geo-restricted content while you're traveling, but you might sometimes find yourself in a situation where you need to use both an encrypted and unencrypted connection at the same time. I've compiled a list of my top eight VPNs for split tunneling, which allows you to select which apps or websites will be secured with an encrypted connection, and which will be accessed through a direct connection to the internet.
Split tunneling could come in handy if, for example, your VPN connection bypasses online restrictions but also prevents you from accessing local content, such as a local news website, or a school or office network. This makes VPNs great for streaming international geo-restricted content, but if you still wanted to access a local website at the same time, split tunneling would let you select which device, app, or website you want to be excluded from the VPN's protection. Or perhaps you want to access your local home network and every device on it if you needed to connect to, say, a printer or a smart home device. Or maybe you just want to avoid latency on some of your devices while protecting others. Tricky situations such as these don't have to be either/or problems if you sign up for a good VPN with split tunneling features.
While it's possible to manually configure split tunneling on your device even if it doesn't come with the VPN, it's better to invest in a VPN that offers a built-in split tunneling feature. I'll walk you through the pros and cons of each provider on this list, but for now, here's an overview of the top list.
My best VPNs for split tunneling:
In addition to split tunneling functionality, I made sure each of my selections excelled in other areas, including:
High standards of security
Fast, durable connection speeds
Wide selection of servers and locations
Capable of lifting geographic restrictions on major streaming platforms (Netflix, Amazon Prime Video, Hulu, etc.)
Plenty of simultaneous connections
High-quality customer support
I will cover the criteria I used in more detail in the testing methodology section later in this article.
Best VPNs for split tunneling
Here's my list of the best VPNs for split tunneling: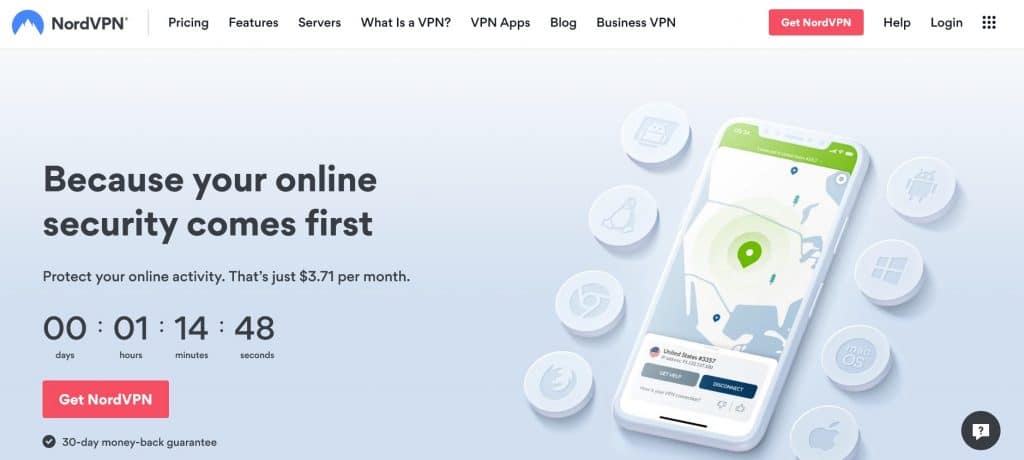 NordVPN's split tunneling capabilities are offered on its apps for Windows and Android and on its Chrome and Firefox browser extensions. These apps give you options for three different variations on split tunneling including app exclusion, inverse split, and specifying URLs. App exclusion is the most common. It sets up an encrypted internet connection and lets you select which apps you want to be excluded from the tunnel. The opposite of app exclusion is the inverse split feature, which will only encrypt data from the selected apps. Finally, NordVPN's browser extensions keep your connection protected on every website you visit, but the specifying URLs option lets you specify which URLs to access with an unencrypted internet connection.
Furthermore, NordVPN excels in speed, security, and server selection. NordVPN operates a network of more than 5,600 servers in 60+ countries around the world that deliver fast and reliable connection speeds. Its servers are capable of accessing geo-restricted streaming content from major platforms including Netflix, Hulu, and Amazon Prime Video. You can protect up to six devices at once with a single subscription so you won't have to browse the web without protection, except for the internet traffic you select to bypass the VPN.
Its security package includes 256-bit AES encryption, a kill switch, and protection against DNS, IPv6, and WebRTC leaks. NordVPN offers a range of specialty servers optimized for various purposes such as Tor over VPN, anti-DDoS, downloading, and streaming. NordVPN adheres to a strict no-logs policy which means the company won't record any of your online activities. Users who are extra conscious about privacy have the option of paying in Bitcoin for anonymous registration.
NordVPN provides apps for Windows, macOS, iOS, Android, Amazon Fire TV, Linux, and some routers. Supported routers require manual configuration.
Pros:
Multiple options for split tunneling
Wide selection of servers
Considerable unblocking power
Strong security features
Strict no-logs policy
Cons:
Split tunneling only available on Windows, Android, Chrome, and Firefox apps
THE BEST VPN FOR SPLIT TUNNELING:NordVPN's split tunneling features complement its robust suite of security features and fast connection speeds. Try it out first by using its risk-free 30-day money-back guarantee.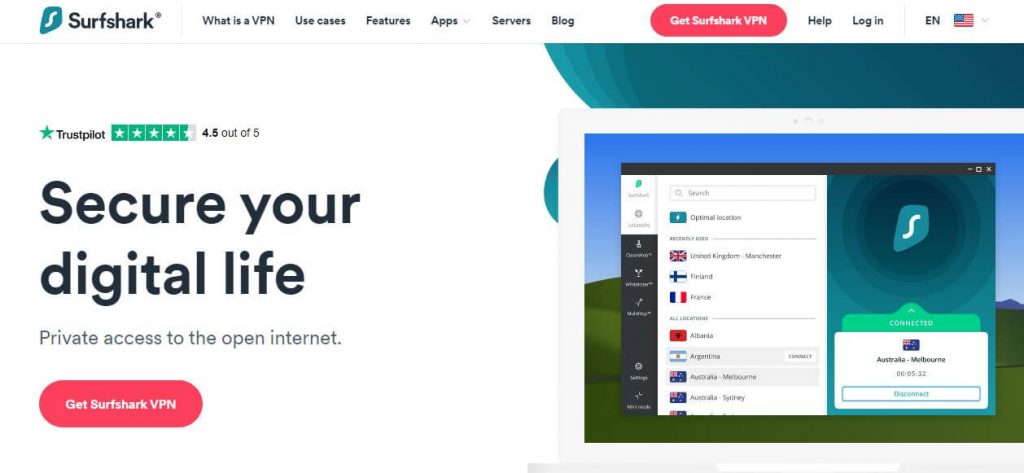 Surfshark's split tunneling features give you the option of selecting specific apps or websites to bypass the VPN. Using a VPN can block you out of your own country's local content while giving you access to content from another area, but you can use Surfshark's split tunneling feature to have it both ways. You'll get even more value out of Surfshark from its unlimited allowance of simultaneous connections, so you can protect all of your devices at once.
Surfshark's server network of over 3,200 servers in 100+ countries gives you a wide range of options for accessing geo-locked international content. It's a great option for streaming because it can lift restrictions on the streaming libraries of major platforms such as Netflix, Amazon Prime Video, and several others no matter where you are in the world.
Its security features include 256-bit AES encryption, a kill switch, and protection against DNS, IPv6, and WebRTC leaks. Surfshark's NoBorders feature bypasses nationwide internet restrictions in countries with strict online censorship such as China and the United Arab Emirates.
Surfshark doesn't log any data on your identity or your activities and gives you the option of anonymously signing up by paying in Bitcoin.
The provider's apps are available for Windows, macOS, iOS, Android, and Amazon Fire TV. Support is available for Linux and routers but they require manual configuration.
Pros:
Split tunneling features
Unlimited connections
Industry-standard security features
Reliably accesses major streaming services
Cons:
The occasional slow server
Customer support could be improved
HIGH SECURITY, LOW PRICE:Surfshark's versatile split tunneling features, security suite, and unblocking power make it a great all-rounder that doesn't break the bank. No logs, unlimited connections, and includes a 30-day money-back guarantee.
ExpressVPN lets you mix and match your internet connections however you like. It is one of the few VPN providers that offers an app to install on your flashed WiFi router and comes with yet another split tunneling option. The router app will give you the option to select which devices connected to the router will be encrypted by the VPN and which ones won't. ExpressVPN's desktop app offers further customization with app-by-app split tunneling capability.
The provider offers access to over 3,000 servers in 94+ countries. It also works with and streams HD video content from all of the major streaming services, including Netflix, Hulu, and others. Its suite of security features includes 256-bit AES encryption, DNS and IPv6 leak protection, and perfect forward secrecy. Its kill switch will prevent you from browsing the web without the VPN's protection in case of a sudden loss of connection to ExpressVPN. This provider doesn't log any identifying information and accepts payments in Bitcoin for anonymous registration.
ExpressVPN apps are available for all of the major platforms including Windows, macOS, iOS, and Amazon Fire TV; manual configuration is needed for Linux and supported routers. You can protect up to five devices at once with a single subscription.
Pros:
Includes multiple split tunneling features
Incredible speeds
Reliable security features
24/7 customer support
Cons:
One of the most expensive VPNs
No split tunneling support for macOS 11 or iOS
GREAT FOR STREAMING:ExpressVPN gives you a variety of split tunneling options to choose from including at the router level. Its fast speeds and unblocking force are great for streaming and don't compromise on security either. Try before you buy with its 30-day money-back guarantee.
CyberGhost is an easy-to-use VPN popular among beginners. The split-include and split-exclude options provide flexibility with mixing and matching your connections.
The provider runs the largest network of servers on this list with more than 9,000 servers in 91+ countries to choose from. Its network includes plenty of specialty servers optimized for streaming and security purposes, including a beginner-friendly interface that will match you with a server based on your needs.  CyberGhost is capable of lifting the geo-locks on Netflix, Hulu, and a variety of other streaming services.
CyberGhost is a no-logs provider headquartered in Romania where there are no data retention laws to comply with. You can protect up to seven devices with a single subscription and download apps for Windows, macOS, Android, iOS, Amazon Fire TV, Linux, and some routers.
Pros:
Split tunneling features for websites and applications alike
User-friendly apps
Specialty servers for streaming and security
Wide server network
Cons:
Might not be flexible enough for advanced users
Won't work in China or the UAE
BEGINNER'S CHOICE:First-time VPN users will have an easy time staying secure with CyberGhost.  Flexible split tunneling options and a wide selection of servers make it great for both streaming and security purposes. Comes with a 45-day money-back guarantee.
IPVanish provides a split tunneling feature in its Fire OS and Android apps that excludes each selected app from the encryption tunnel. With this setup, a Kodi user could stream from add-ons with the VPN while using a direct connection to their web browser.
IPVanish is a fast VPN that makes it a popular option for streamers, torrenters, and Kodi users. It runs a network of over 2,000 servers in 75+ locations worldwide that can access and stream HD video from popular services like Netflix and Hulu.
This provider's robust security package includes 256-bit encryption, perfect forward secrecy, DNS leak protection, and an internet kill switch. IPVanish is one of the rare VPNs that owns and operates its entire server network instead of entrusting your internet connection to third parties. An unlimited number of simultaneous connections are allowed under a single account and features apps for Android, iOS, Windows, and macOS. Customer support is available through 24/7 live chat.
Pros:
Split-exclude functionality
No connection limit
Top speeds and security
Great for downloading and streaming
Cons:
Small number of servers
No cryptocurrency payments
UNLIMITED SIMULTANEOUS CONNECTIONS:Frequent Android and Fire OS users will have split tunneling options with IPVanish. Download and stream on an unlimited number of devices. You can try it out risk-free by using its 30-day money-back guarantee.
PureVPN was one of the first VPNs to introduce split tunneling into its product and currently offers this feature for Windows, Android, Chrome, and Firefox. PureVPN's split tunneling option works by a split-include configuration which lets you choose which apps are covered by the VPN's encryption. All unselected options use a direct connection through your ISP. The Chrome and Firefox browser extensions include WebRTC and IP leak protection, but because they are SOCKS5 proxies, their encryption is a bit weak.
The provider comes with access to over 6,500 servers in 140+ countries worldwide including Hong Kong where the company is headquartered, which is helpful for accessing the internet while in China. Its impressive speeds and unblocking ability make it a great option for streaming from Netflix, BBC iPlayer, and many other services.
PureVPN is available for Windows, Android, macOS, iOS, and Linux. It comes with a Kodi add-on that can be configured with Android TV boxes, Amazon Fire TV, and a selection of other set-top boxes and routers. Protect up to 10 devices at once with a single subscription.
Pros:
Split-include configuration
6,500+ servers in 140+ countries
Great for streaming
Cons:
Split tunneling only available on Windows, Android, Chrome, and Firefox
Some privacy-related problems in the past
LARGE SERVER NETWORK:PureVPN is a reliable service with thousands of servers to choose from and split-include configuration. It can access and stream from several of the top streaming services. Includes a 31-day money-back guarantee.
Private Internet Access (PIA) is a strong VPN choice as it doesn't use many system resources. It is also fast since it makes use of the efficient WireGuard protocol. In addition, its split tunneling feature is handy, allowing users to choose which IP addresses and applications can bypass the VPN tunnel.
In addition to being a good option for split tunneling, PIA offers strong security features. These include AES 256-bit encryption and a kill switch.
PIA apps are available for Windows, macOS, Linux, iOS, and Android as well. In addition, PIA's customer support team is available 24/7 via their live chat. This provider also allows users to connect 10 devices simultaneously.
Pros:
Flexible split tunneling options
WireGuard VPN protocol supported
Several customization options are available
Cons:
Doesn't work reliably in China
App design could be improved
LIGHTWEIGHT AND SECURE OPTION:PIA is a lightweight and secure option that gives users flexible split tunneling options. In addition, it is also good for streaming applications. This service comes with a 30-day money-back guarantee.
Atlas VPN is a smaller provider with just over 750 servers in around 40 locations. While it is a small provider, it still provides high-quality service. It may not have the largest server network but its connection speeds are fast and the platform is very secure. In addition, it allows for split tunneling, meaning that you have a choice of which apps you want to be routed through your VPN and which apps you want to be passed through your VPN connection.
The provider comes with a variety of security features as well. It offers features such as 256-bit AES encryption, a kill switch, and protection against DNS, WebRTC, and IPv6 leaks. This service stores no logs. It also gives users the ability to encrypt their connection twice with what is known as MultiHop servers.
Atlas VPN apps are available for Windows, macOS, Android, and iOS. Another neat feature is the offering of an unlimited number of connections to subscribers. This feature is good for families who may have a large number of devices that they need to protect in their household.
Pros:
Decent speeds
MultiHop servers
Unlimited simultaneous connections
Cons:
Relatively small server network
Privacy policy could be clearer
Customer service needs improvement
FAST STREAMING AND STRONG ENCRYPTION:Atlas VPN has strong security measures in place that include double encryption through its MultiHop servers. Connection speeds are fast too. This service comes with a 30-day money-back guarantee.
Testing methodology: how I found the best VPNs for split tunneling
Split tunneling is a premium feature and is not available with every VPN service. The criteria of a good split tunneling VPN goes beyond just having the functionality, and there are many other things to consider. Here are some of the things I looked for when recommending a VPN for split tunneling:
Device compatibility: If a VPN allows split tunneling, you will sometimes find that it's only available on specific devices or operating systems. I check the restraints of the feature to ensure that a VPN isn't limiting most of its customers.
Security: Security is important when using the internet, and a VPN is designed to keep users safe, but some are better than others. Some of the specific security tools I look for include a network kill switch, 256-bit encryption, and a no-logs policy.
Speeds: Speeds are particularly important if you plan on doing activities like streaming, downloading files, or gaming. I run speed tests to ensure that I am only recommending the fastest VPNs on the market that can handle anything.
Value for money: The cheapest VPN isn't always the best, but pricing should be fair and you should get plenty of bang for your buck. I look at subscription costs and only list the VPNs that are good value for money.
Service: Good customer service is so important, and the team should be available when you need them. I check that there is a live chat or email support for any technical queries. Extra points are rewarded if there are helpful FAQs and guides too.
Looking to find out more about how I assess each VPN? Read my testing methodology for everything you need to know.
Split tunneling and an always-on VPN
I find it convenient to leave my VPN on at all times while using the internet, but I've encrypted some of my devices twice by accident when I configured my home router with ExpressVPN's router app. The router automatically protects all devices connected to my WiFi router even without the app, but I already have apps installed on my mobile devices. This added a great deal of latency to my connection. In situations such as these, split tunneling comes in handy to exclude devices connected to my router that already have VPN apps of their own. I could simply disable the VPN app on my mobile devices while it's connected to the router, but I find it convenient to keep those apps on at all times so I don't forget to turn the mobile apps back on after leaving the house.
Varieties of split tunneling
Split tunneling comes in a few different forms depending on your VPN provider. Most providers let you split tunnel by app, whereas VPN-configured routers give you the option of split tunneling by device. This option could be useful in case you want to have your smartphone configured with the VPN but not your computer, or vice versa. A less common variant is the option to split tunnel by website, which could come in handy if you wanted to access local content on one website while being covered by the VPN on all other websites. Each of these variations will operate on either a "split-include" or "split-exclude" basis, depending on the app.
How to use a split tunneling VPN
Each VPN's configuration process will vary slightly, but setting up split tunneling will more or less follow this pattern.
How to use a split tunneling VPN:
Launch your VPN app.
Find the split tunneling setting in the app before connecting.
Select which apps you want to be protected (or not protected) by the VPN.
Connect to the VPN and begin using the internet.
Split tunneling VPN FAQs
Can I use a free VPN for split tunneling?
No, split tunneling is a feature that is usually only found on full-price VPNs. Even if you found such a feature on a free VPN, you would soon find out how unreliable free services are.
Their performance is usually subpar at best. Free VPN providers typically don't make enough money to operate a server network of more than a couple servers and these quickly fill up with more users than the infrastructure can handle. Low speeds and dropped connections are common on free VPN server networks. Streaming HD video is next to impossible with a free VPN, especially when your show is cut short once you reach the VPN's data cap.
There are bigger inconveniences than simply poor performance, however. Free VPN providers need to make money like any other business and that often results in money-making methods that take advantage of their users' trust. Free providers commonly track everything you do online and sell records of user data to third-party advertisers, who will then use this data to generate an avalanche of annoying ads that appear in your browser. Some don't even encrypt your connection, and some spread malware. Even if you find a well-reviewed free service online, be aware that you will find out sooner or later why the VPN doesn't cost anything.
Can a VPN be restricted to a single site?
It can be if your VPN supports website-specific split tunneling. Surfshark, for example, can let individual websites bypass the VPN while IPVanish can only give you an app-based selection.
Why would I need split tunneling?
There are a number of reasons for using split tunneling. The most common is that you want to use an IP address in one location on a specific website, but maintain a local IP address for another. There are some websites you cannot access using a VPN, such as online betting sites and casinos. So you may want to keep your local IP address for those while using a VPN at the same time for accessing content on Netflix. 
Does split tunneling add latency?
No. In fact, apps, devices, and websites that bypass the VPN may have even less latency than the protected connection. VPNs may add slight latency to your connection because of the encryption, but a high-quality VPN should minimize latency to unnoticeable levels.