If you're traveling outside of Europe, you won't be able to watch live Eurosport events without a Virtual Private Network, or a VPN. This is because Eurosport's live streaming content is geo-blocked in all countries outside of Europe. A VPN for Eurosport can help you to access your favorite sports content from home while traveling abroad.
A VPN is a privacy tool that can disguise your real location with an IP address from a server located somewhere else in the world. They encrypt your traffic and tunnel it through an intervening server in a location of your choice. As long as you route your internet traffic through a European server, you can watch the content available on Eurosport from wherever you are in the world.
I'll go into detail on each of these VPNs individually, but if you're short on time, here's a summary list of the top VPNs for Eurosport Player:
NordVPN: My top choice VPN for streaming Eurosport. Operates thousands of European servers and streams at a high quality. Comes with a 30-day money-back guarantee.
Surfshark: This is the best budget choice. Surfshark reliably bypasses geographic restrictions on most websites including Eurosport. Unlimited simultaneous connections and a 30-day money-back guarantee.
ExpressVPN: Broad server network of high-speed servers that can unblock anything from abroad, including Eurosport.
CyberGhost: Best VPN for beginners. With 7,000+ servers in 91 locations worldwide, CyberGhost runs the biggest server network on this list.
IPVanish: Features remote-friendly apps favored by Kodi users. Allows torrenting, too.
PrivateVPN: An up-and-coming VPN great for unblocking streaming content from abroad, including Eurosport, Amazon Prime Video, and others.
The best VPNs for Eurosport
I've compiled a list of the best VPNs for Eurosport based on the following criteria:
Wide selection of servers in Europe
Bypasses restrictions on streaming sites, including Eurosport
Fast connections suitable for HD streaming
Tough security standards
Keeps no logs
I cover how I assess VPNs in my testing methodology later in this article.
Here is my list of the best VPNs for Eurosport: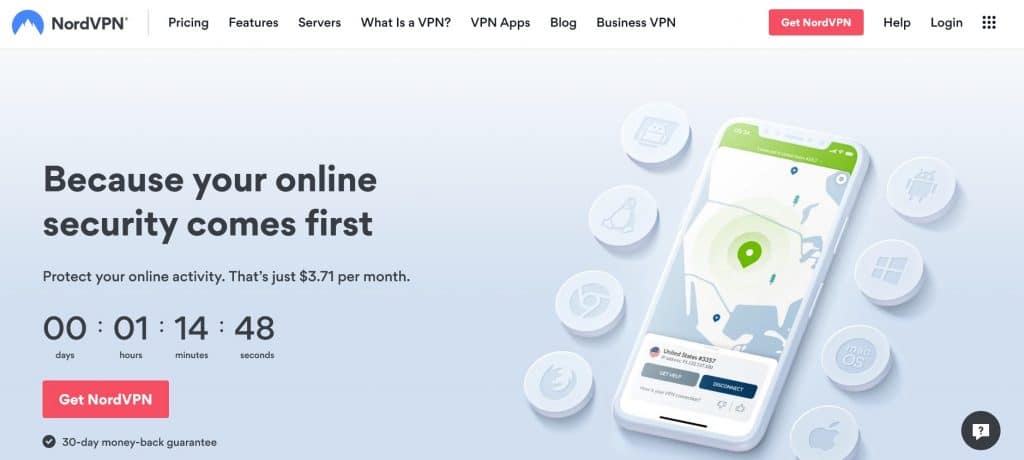 NordVPN is my top pick for streaming Eurosports. This VPN service streams at high speeds and offers a wide network of over 5,500 networks in 59 countries to choose from, including more than 2,400 in Europe. Several of NordVPN's servers are optimized for specific functions such as P2P, double VPN, and anti-DDoS. This VPN will unblock geo-restricted services like Eurosport and other popular platforms including Hulu, BBC iPlayer, HBO, and Amazon Prime Video.
NordVPN secures your internet traffic with 256-bit AES encryption, perfect forward secrecy, DNS leak protection, and a built-in kill switch. It follows a strict no-logs policy so that none of your personally identifiable information is tracked or stored, keeping you anonymous while using the web.
Apps are available for Windows, macOS, Linux, iOS, and Android, and some internet routers can be manually configured with the VPN as well. NordVPN allows six simultaneous connections under a single account to keep your devices protected.
Pros:
Thousands of servers in Europe
Great for streaming HD video from abroad
256-bit AES encryption, leak protection, and a kill switch
No-logs policy
24/7 customer support
Cons:
The desktop app can be slow to connect occasionally
BEST VPN FOR EUROSPORT:NordVPN is my number one choice for streaming Eurosport. Offers unbeatable security and six simultaneous connections. Try it out for 30 risk-free days.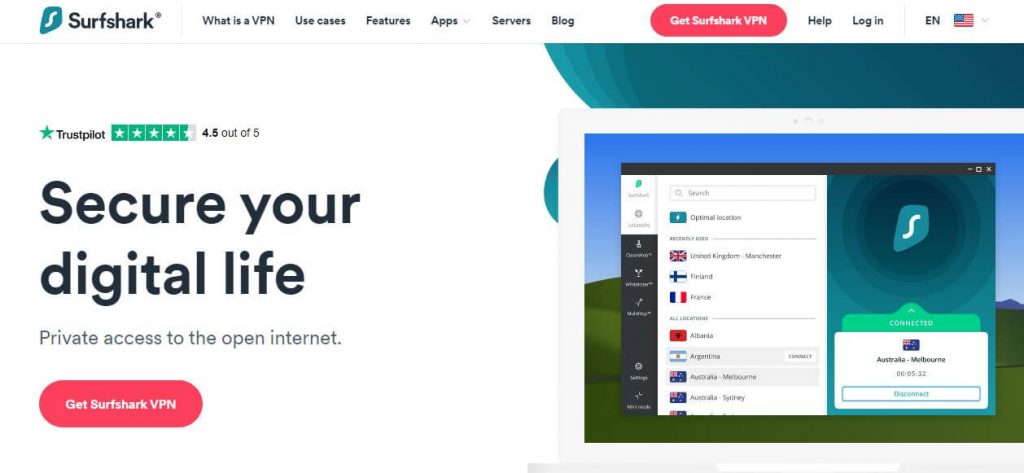 Surfshark is another great VPN for Eurosport because of its its powerful unblocking capabilities, which will grant access to Eurosport as well as BBC iPlayer, and Amazon Prime Video. There are over 3,200 servers from 65 countries to choose from including European locations such as France, Germany, and Spain. If you have a lot of devices, Surfshark's unlimited simultaneous connections will secure all of them.
Surfshark protects your online activities with 256-bit AES encryption and offers a number of security features such as a kill switch and DNS, IPv6, and WebRTC leak protection. Its NoBorders mode lets you bypass geo-restrictions and protects your devices with its combined ad blocker and malware scanner. Surfshark doesn't log any of your personally identifiable information so there will be no way for malicious third parties to trace your activities back to you—and you can even sign up anonymously by paying in Bitcoin, Ethereum, or Ripple. Surfshark's support team is available 24/7 over live chat.
This VPN offers apps for macOS, Windows, iOS, Android, and Linux. It can even be manually installed on your router at home.
Pros:
High-speed connections for HD streaming
Unblocks most streaming platforms from abroad
Unlimited simultaneous connections
Plenty of strong security features
Cons:
Not many advanced configuration options
Customer support could be improved
GREAT BUDGET VPN:Surfshark protects every device. Capable of unblocking Eurosport from abroad while securing your connection. Keeps no logs and provides a 30-day money back guarantee.
ExpressVPN's 3,000+ servers in 94 countries are optimized for speed, making this VPN a worthy choice for streaming and downloading high-definition video content. ExpressVPN can unblock Eurosport and a variety of other sports streaming channels such as ESPN, BT Sport, and beIN SPORTS. Other popular streaming platforms are unblocked as well, including Hulu, Amazon Prime Video, BBC iPlayer, and much more.
ExpressVPN brings speed and security together by securing your data with 256-bit AES encryption and perfect forward secrecy. Its built-in automatic kill switch and DNS leak protection will keep your information from ever being exposed in the event of an abrupt loss of connection. ExpressVPN follows a no-log policy so that your online activity and real IP address will never be exposed.
A single account can secure up to five other devices. Apps are available for Windows, macOS, Linux, iOS, and Android. Some routers can be manually configured with ExpressVPN.
Pros:
Plenty of European and UK-based servers for accessing Eurosport
Superfast connection is ideal for HD streaming
Excellent security protections
24/7 customer support
Cons:
STREAM FROM ANYWHERE:ExpressVPN streams Eurosport from anywhere in the world, and protects you with 256-bit AES encryption. Includes a 30-day money back guarantee.
CyberGhost runs a network of over 7,000 servers in 90 countries with hundreds of European servers, so you should have no problems with streaming Eurosport and other geo-restricted content. Netflix, Hulu, Amazon Prime Video, and many other platforms are available through CyberGhost as well.
CyberGhost is a versatile VPN service that is especially useful for securing your data while traveling. You won't have to manually configure the VPN's settings every time you connect to your most frequented wifi networks, such as your hotel's network, because of its automatic wifi protection on familiar networks. It encrypts your data with 256-bit encryption, SHA256 authentication, and perfect forward secrecy. Additional security is provided by a kill switch and DNS leak protection. CyberGhost keeps minimal connection logs but logs none of your traffic or personally identifiable information.
VPN desktop clients are available for Windows, macOS, and Linux, and mobile apps are available for iOS and Android. Some internet routers can be manually configured as well. CyberGhost offers protection on up to seven devices on a single account.
Pros:
Access to more than 2,500 servers in Europe and the UK
High-speed connections can stream Eurosport in high quality
Beginner-friendly apps
No logs are kept
Cons:
Doesn't work in China
Experienced users may find its features limiting
GREAT FOR NOVICES:CyberGhost is a beginner-friendly VPN. Low cost, high performance. Streams Eurosport from anywhere in the world. Comes with a 45-day money-back guarantee.
IPVanish is a high-speed VPN that runs a network of more than 1,300 servers in over 75 countries around the world, including 450 servers in Europe. Eurosport is easily unblocked with this VPN in addition to other sports channels such as ESPN, beIN SPORTS, and BT Sport. IPVanish is known for being particularly popular with Kodi users and torrent users due to its remarkable speeds.
IPVanish delivers strong privacy and security with 256-bit AES encryption, SHA512 authentication, and perfect forward secrecy. If the VPN connection suddenly drops, a built-in kill switch will terminate the internet connection and keep your data from exposure. IPVanish keeps no logs at all.
An unlimited number of devices are protected under a single account. Apps are available for Windows, macOS, iOS, and Android. Linux and some internet routers can be manually configured to work with IPVanish.
Pros:
Hundreds of servers throughout Europe and the UK
Sever speeds fast enough to stream Eurosport from abroad
Unlimited simultaneous connections
Cons:
Struggles to unblock Netflix and Hulu
Somewhat slow customer support
UNLIMITED DEVICES:IPVanish is a privacy-first service. Gets fast speed and strong security features, but look elsewhere if you want to use Netflix. 30-day money back guarantee.
PrivateVPN delivers excellent speeds that make it a suitable streaming VPN. It has plenty of servers in Europe that will easily unblock Eurosport and other European services. Amazon Prime Video, BBC iPlayer, and many other platforms are all wide open to users of this VPN.
PrivateVPN uses 128-bit AES-CBC encryption for TAP and 256-bit AES for TUN on the default OpenVPN protocol. These encryption standards are considered un-crackable despite the relatively superior strength of 256-bit encryption. Additional security comes from perfect forward secrecy, a kill switch, DNS leak protection, and all the privacy benefits of a no-logs policy.
PrivateVPN protects six of your devices under a single account. It offers apps for Windows, macOS, iOS, and Android, in addition to compatibility with Linux and routers via manual configuration.
Pros:
Easy-to-use interface
Unblocks most streaming sites abroad
Excellent security features
Cons:
Not a lot of servers
Customer support isn't available 24/7
GOOD FOR STREAMING:PrivateVPN makes streaming easy. Easily unblocks Eurospot from abroad, and is great for secure online browsing as well. 30-day money back guarantee.
Method: How I find the best VPNs for Eurosport
Each VPN is tested before being recommended to readers. Here are some of the things I look for in a VPN for Eurosport:
Servers in Europe – To access Eurosports, you will need to use a VPN server in Europe. I check that the VPN service has plenty of European servers, including a selection across multiple different countries. Specialty servers for streaming are a great plus.
Streaming speeds – There's nothing worse than buffering, so I test the speed of each VPN to make sure that it can handle the demands of HD streaming.
Safety and privacy – There are some safety and privacy features that should be included as standard. These include high levels of encryption, a network kill switch, and a no-logs policy.
Value for money – I don't just look for low VPN subscription costs, but exactly what you get for your money too. This includes the money-back guarantee, number of simultaneous connections, and more.
Find out more about how I test VPN services.
How to watch Eurosport with a VPN
You will need to use Eurosport Player in order to watch live streams, which will deliver an error message if you try to watch in a non-European country. That's where a VPN comes in.
Here's how to watch Eurosport abroad with a VPN:
Subscribe to a VPN that meets your preferences. I recommend NordVPN.
Download the app for your streaming device.
Open the app and sign in.
Connect to a server somewhere in Europe, like France, for example.
Log in to your Eurosport account stream a live event from Eurosport. If you still get an error message, try clearing your cache and cookies before trying again. You may need to connect to a few different servers before you find one that works.
Eurosport VPN FAQs
Can I use a free VPN with Eurosport?
Although it's tempting to save your money and stick with a free VPN, I advise against it. Free VPNs suffer from poor performance and simply won't deliver the same quality of streaming experience that you would get with a reputable paid VPN service.
First of all, free VPNs don't always succeed in accessing geo-restricted online services. Even if a free VPN manages to access Eurosport, they aren't consistent enough to work with the most popular streaming services like Netflix, Hulu, and BBC iPlayer. And even if the best free VPNs can do all of these things, they suffer from slow, unreliable connections. The average free VPN service has a small number of servers that are filled with a high volume of users sucking up all the bandwidth. If you manage to catch your favorite game on Eurosport, your viewing experience will be interrupted by plenty of buffering, stuttering, and dropped connections.
Free VPNs don't pass the security test either. Providers are known for injecting ads and malware into their services and even logging user activity to be compiled and sold to third-party advertisers—all without the users' knowledge or consent. Even some of the most well-known and trusted free VPN providers are up to no good: free VPN provider Hola, for example, was caught facilitating a botnet by selling idle user bandwidth.
In which countries is Eurosport Player available?
Check the following list of countries below to find your location: Albania, Andorra, Armenia, Austria, Azerbaijan, Belarus, Belgium, Bosnia and Herzegovina, British Indian Ocean Territories, Bulgaria, Croatia, Cyprus, Czech Republic, Denmark, Estonia, Faroe Islands, Finland, France, French Polynesia, French Southern Territories, Georgia, Germany, Gibraltar, Greece, Greenland, Guadeloupe, Guernsey, Guyane, Hungary, Iceland, Ireland, Isle of Man, Israel, Jersey, Kazakhstan, Latvia, Liechtenstein, Lithuania, Luxembourg, Macedonia, Malta, Martinique, Mayotte, Moldova, Monaco, Montenegro, Netherlands, New Caledonia, Norway, Poland, Portugal, Reunion, Romania, Russian Federation, Saint Pierre And Miquelon, Saint-Helene, San Marino, Serbia, Slovakia, Slovenia, Spain, Sweden, Switzerland, Turkey, Ukraine, United Kingdom, Vatican City State, and Wallis and Futuna.
Is Eurosport Player available in Australia?
No. While Eurosport is available on Australian televisions through Fetch TV, Eurosport Player is not available for live streaming in Australia. But if you live in Europe and have a European account, you can use a VPN to log into Eurosport Player and catch live events even if you travel to another country, including Australia.
Is it legal to watch Eurosport with a VPN?
Yes, VPNs are legal in most countries. You are usually never violating any laws by using a VPN to bypass geo-restrictions, although this practice may break the terms of service of some streaming platforms. VPNs are banned in a few countries, however, so make sure to check with regional laws before using one.
Why is Eurosport not available in the US?
Sports streaming sites have to pay for rights to air coverage of sporting events and may only broadcast events in certain regions where they have purchased those rights. Eurosport has chosen to serve customers in Europe only. Some events available on Eurosport may be available in other countries, such as the US, but under different broadcasters. For example, most Premier League football matches are available on Eurosport within Europe, but are only available to US residents through providers such as NBC Sport or Peacock.
Can I watch Eurosport through other channels like Amazon Prime?
Yes, Eurosport is available through Amazon Prime, but you will still have to pay the subscription price. A standalone Eurosport Player subscription costs £6.99 per month or £39.99 per year. It costs the same when you buy it through Prime, but you also need the Prime subscription, which is £7.99 per month. Eurosport is only available through Amazon Prime in countries where the standalone subscription is available.
What content is available on Eurosport?
Eurosport has rights to a vast number of Europe's top sporting events, as well as many outside of Europe. Here's just a taste of what it has to offer:
Football: Including Premier League, Europa League, and Bundesliga
Rugby: Including the World Cup, Premiership, and Six Nations tournament
Tennis: All major competitions
Winter Sports: Including the NHL and world championships in various sports
Cycling: Including World Championships and Tour de France
Motorsports: Including F1, WRC, and MotoGP