It is no surprise that a country with a track record of good data protection laws such as France is also a place where Virtual Private Networks (VPNs) are popular privacy tools. You can use a VPN for France to stay safe online and access your favorite streaming services and websites. If you're a French citizen planning on traveling abroad, you can use a VPN to keep up with your favorite online content back home that might not be available in other countries.
Whether you need to fortify your online security or have access to the geo-blocked streaming services of other countries like Eurosport, Canal+, and Netflix France, a VPN is a useful tool to have at your disposal. I'll dive into the fine details of each of these VPNs, but for now, here's a quick summary of my recommended VPNs for France.
NordVPN: My #1 choice for a VPN for France. Offers thousands of servers that can easily unblock French streaming sites. Keeps no logs and meets high-security standards. Includes a 30-day money-back guarantee.
Surfshark: A high-performance France VPN for a reasonable price. Comes with an unlimited number of simultaneous connections, thousands of fast servers, and great speeds for streaming. Try it out first with its 30-day money-back guarantee.
ExpressVPN: Capable of accessing the most stubborn streaming services from France like Netflix and streaming with little to no buffering. Doesn't sacrifice quality for security either.
CyberGhost: My top recommendation for first-time VPN users. It's fast, easy to use, and very affordable.
IPVanish: Places an emphasis on security. A lightweight VPN that is great for torrenting and using with Kodi devices, thanks to its remote-friendly interface. Isn't the best streaming VPN, however.
VyprVPN: Fast and secure servers from all around the world, and even works in China. A more expensive VPN to use while in France.
PureVPN: Tough on security and delivers good speeds for streaming in France.
The Best VPNs for France
I could have put more great VPNs on this list, but I narrowed down my top picks based on the following criteria:
Fast, secure servers in France
High standards of encryption
Speed and stability
No records of user data
Ability to unblock geo-restricted content
Torrenting and P2P capabilities
I go into more detail about my VPN testing methodology further in this article. For now, let's get on with the list.
Here are the best VPNs for France: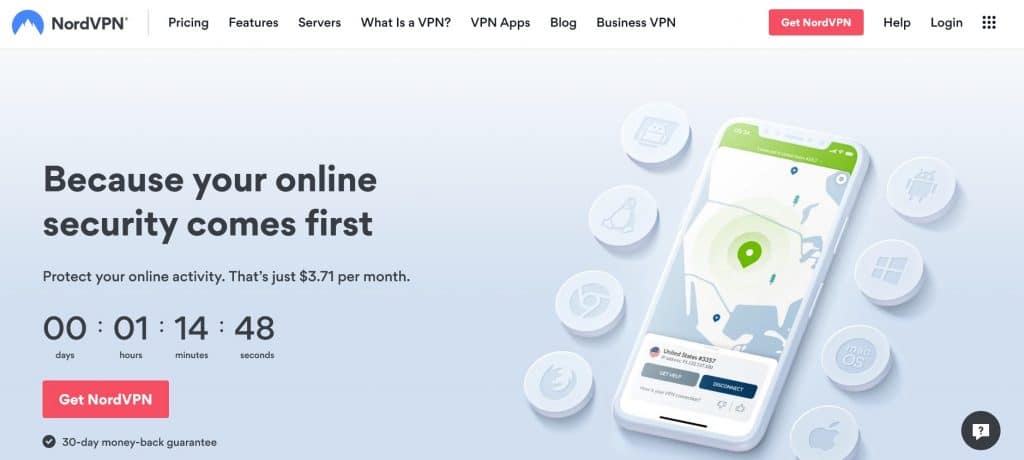 NordVPN's robust security package and reliable connection speeds make it my top VPN for France. It uses 256-bit AES encryption on the OpenVPN protocol to secure your internet traffic. It operates a server network of more than 5,200 servers in 59 countries including France and features specialty servers optimized for specific purposes such as double VPN, Tor over VPN, anti-DDoS, streaming, and downloading. NordVPN comes with DNS leak protection and an internet kill switch to stop your internet traffic if you lose connection to the VPN, so you won't have to worry about browsing the web without protection.
NordVPN doesn't keep records on user data and isn't subject to data retention laws, thanks to its location in Panama.
Apps are available for Windows, macOS, Android, iOS, and Linux.
Pros:
More than 180 servers in France
Unblocks most streaming services
Keeps no logs
A wide range of reliable security features
Specialized servers
Cons:
Somewhat difficult for VPN beginners to use
GREAT OPTION FOR FRANCE:NordVPN is my top choice. Its security features are some of the best in the business, and works excellently for streaming and torrenting. Offers thousands of servers worldwide that can unblock just about anything. Comes with a 30-day money-back guarantee.
Surfshark is a budget-friendly VPN with about 3,200+ servers in 65 countries including France. It streams live HD video at consistent speeds with little to no buffering, making it a great option for watching live athletic events on Eurosport abroad as well as French TV.
Surfshark keeps your internet traffic secure with 256-bit encryption, a kill switch, an ad blocker, a malware scanner, and protection against IPv6, DNS, and WebRTC leaks. Surfshark's NoBorders mode is capable of bypassing nationwide restrictions in countries with heavy internet censorship. This provider doesn't keep logs of any of your personally identifiable information, but privacy-conscious users have the option to anonymously sign up by paying in Bitcoin, Ripple, or Ethereum.
Surfshark apps can be downloaded for iOS, macOS, Android, Windows, and Linux. Some network routers can be manually configured.
Pros:
Unlimited simultaneous connections
Seamlessly streams HD video from abroad
No logs
Wide server network
NoBorders mode bypasses internet censorship
Cons:
Has a couple of slow servers
AFFORDABLE PRICE:Surfshark is excellent for streaming and security. Protect every device you and your family own without breaking the bank. Includes a 30-day money back guarantee.
ExpressVPN offers more than 3,000 servers in 94 countries with locations in Paris and Strasbourg. ExpressVPN's servers are optimized for fast and stable connections perfect for streaming HD video content, as well as downloading and gaming. ExpressVPN is capable of unblocking the most stubborn geo-locked streaming services such as Netflix as well as French streaming channels like ZDF, Canal+, and France.tv.
This VPN uses the OpenVPN protocol with 256-bit AES-CBC encryption by default. It also uses both HMAC authentication and perfect forward secrecy, and even features split tunneling functionality. ExpressVPN does collect some non-identifying metadata on its users, so there will be no way for anyone to connect your online activity to your identity.
ExpressVPN provides apps for Windows, iOS, macOS, Android, Linux, and some routers.
Pros:
Several servers in France
Superfast speeds are great for streaming
Meets high standards of security
Unblocks most major streaming sites including Netflix France, ZDF, Canal+, and France.tv
Cons:
One of the most expensive VPNs on this list
GREAT STREAMING CHOICE:ExpressVPN easily unblocks most streaming platforms. Gets fast connection speeds while maintaining a high standard of security. Try it out first by using its 30-day money back guarantee.
CyberGhost is great for beginners due to its easy-to-use interface. CyberGhost's apps are designed to match you with a server optimized for your needs, whether you want to browse the web securely or unblock a particular streaming service. CyberGhost is an effective VPN for unblocking Netflix, BBC iPlayer, and Amazon Prime Video. This VPN provides access to 7,000+ servers in 88 countries including 552 servers in France.
Its security package includes 256-bit AES encryption, DNS leak protection, and a kill switch. CyberGhost keeps no records of your activity due to its no-logging policy, and because it is headquartered in Romania, it doesn't have to comply with any data retention laws.
Apps are available for Windows, macOS, Android, iOS, and Amazon Fire Stick. Linux and some routers can be manually configured with CyberGhost.
Pros:
Operates more than 600 servers in France
Great for beginners
Servers optimized for streaming and security
Affordable price
Cons:
Won't work in China
Experienced users may find it lacking in advanced options
TOP BEGINNER VPN:CyberGhost is easy to use Includes hundreds of servers in France, great at unblocking streaming content from abroad. Comes with a 45-day money back guarantee.
IPVanish owns its entire network of more than 1,600 servers instead of renting them from third parties. It operates servers in 75 locations around the world including Paris, Bordeaux, and Marseille.
IPVanish uses 256-bit encryption on the OpenVPN protocol by default, SHA512 authentication, and a DHE-RSE 2048 key exchange with perfect forward secrecy. It features DNS leak protection and a kill switch to keep you from browsing the internet without protection in the event of an abrupt loss of connection to the VPN.
IPVanish doesn't have the best track record for overcoming Netflix's geo-restricted content, but it does get fast connection speeds for other video streaming services. IPVanish is a great VPN for torrenting and is particularly popular among Kodi users for apps that work with remote controls.
Pros:
Company-owned server network for added privacy
Servers located in multiple French cities
Powerful encryption protocol
Unlimited simultaneous connections
Cons:
Slow customer support
Not the best at unblocking streaming sites
UNLIMITED CONNECTIONS:IPVanish is a privacy-first VPN. Uses a strong encryption protocol and comes with a variety of other security features. Comes with a remote-friendly interface for Kodi users. 30-day money back guarantee.
VyprVPN is another high-quality VPN service that owns its entire network infrastructure instead of renting from third parties, featuring more than 700 servers in 70 locations.  Its security package includes 256-bit encryption on the OpenVPN protocol, 2,048-bit RSA keys without perfect forward secrecy, and SHA256 authentication. This service features built-in DNS protection and a kill switch. VyprVPN is a powerful service that can even work in countries with strict government control over the internet such as China and the UAE.
VyprVPN doesn't perform well for torrenting purposes, but it is good at unblocking geo-restricted content on video streaming services like Netflix and Hulu.
VyprVPN apps are available for Windows, macOS, Android, and iOS.
Pros:
Secure company-owned network
Fast and durable connection speeds
Works in China and the UAE
Unblocks most streaming services
Cons:
Fairly expensive
Relatively small server network
STREAM SECURELY IN FRANCE:VyprVPN's security is top-notch. Successfully unblocks French streaming sites and streams well from abroad. Not the cheapest option however. Includes a 30-day money-back guarantee.
PureVPN operates more than 6,500 servers in about 140 countries, making it the VPN with the widest range of locations on this list. Your traffic is secured with 256-bit encryption with the L2TP/IPSec protocol and comes with both DNS leak protection and a VPN kill switch. PureVPN only stores a timestamp and the total amount of bandwidth used when connected to a server, but logs no personally-identifying information. Most servers allow torrenting but it usually can't unblock Netflix.
You can find PureVPN apps for Windows, macOS, and Linux. You can also encrypt your phone with apps for Android and iOS.
Pros:
Easy to use
Strong encryption protocol
Allows torrenting
Server locations in 140 countries
Cons:
Has some past privacy issues
Somewhat unpredictable speeds
Can't unblock Netflix
TORRENT SECURELY:PureVPN is easy to use. Keeps your data secure and offers a huge server network. Unblocks most French streaming services, but doesn't do well with Netflix. Comes with a 7-day money-back guarantee.
Methodology: How I find the best VPNs for France
Not every VPN works in France or is capable of unblocking French services while you're away from home. This is why I conduct thorough assessments to try and test each VPN before recommending it. Here are some of the criteria I used when looking at VPNs for France:
French servers – To get a French IP address, access French content on Netflix, or use most home services from France, you will need a VPN with servers in the right location. I check that there are plenty of servers in France and that they are capable of handling streaming and other activities like file sharing.
Security – Protecting your privacy and staying secure online should be your priority. Any good VPN will help you to do so with plenty of tools to keep you safe. Some of the things I look for include 256-bit encryption, a no-logs policy, and a network kill switch.
Speed – Streaming or downloading would be almost impossible with a slow VPN. I run speed tests to check that each VPN can handle every activity, from day-to-day browsing to HD streaming, downloading, or gaming.
Value for money – It's not all about the cheapest VPN, but the VPN that gives you the most for your money. That's why I look at all of the added extras, such as 24/7 customer support, discounts for long-term subscriptions, and money-back guarantees.
Find out more about how I assess VPNs in my full VPN testing methodology.
VPNs for France FAQ
Can I use a free VPN for France?
I'm often tempted to save my money by sticking with a free VPN, but security risks and poor performance make them more trouble than they're worth. If an online service is free, that usually means you are the product, not the client. As discussed above, free VPNs have a reputation for collecting and selling your data to third-party advertisers without your knowledge or consent and give you plenty of annoying ads and malware infections while they do it. Paying for a good VPN is paying for peace of mind, in addition to good performance.
Are torrents illegal in France?
While torrenting itself isn't illegal, torrenting copyrighted content does violate the law and may result in a fine. Keep in mind that a VPN for torrents will not protect you from legal repercussions if you use it to commit cybercrimes. I suggest consulting local laws before torrenting to stay safe.
Is using a VPN legal in France?
VPNs are legal to use in France and in most countries around the world. Although it's worth noting doing something illegal, while using a VPN, is still illegal. Just remember that using a VPN to bypass geographic restrictions violates the terms of service of most streaming services including Netflix France. This could result in account closures.
What French television can I watch when abroad?
A French IP address will also grant you access to French TV and streaming services. Some of the most popular French channels include the following:
Euronews
France24
TV5 Monde
Arte
RTBF
BFM TV
LCP
Eurosport
Pluzz
TF1
M6
France2
France3
France4
Gulli
PlayTV
Which mobile network is best in France?
Each mobile network in France offers different things to its subscribers, so your individual needs will determine which network is "best" for you. Approximately 80% of French citizens get their mobile coverage from Orange, the largest network in the country. On the other hand, SFR is rapidly developing its 4G capabilities and Bouygues Telecom is expanding the range of its services to include streaming features.