Some VPNs are better than others, and some are more expensive. In this article, I focus on striking a balance between quality and value.  I've created a list of cheap VPNs that don't break the bank.
Retaining your privacy online doesn't have to cost a fortune. There are plenty of affordable VPN options on the market. VPNs, or virtual private networks, are security tools designed to encrypt your internet traffic and route it through an intermediary server located in another part of the world.
Without a VPN, your internet service provider (ISP) can see everything you do online and potentially throttle your traffic if it sees you doing something it doesn't approve of (e.g. streaming, gaming, torrenting). VPNs are especially useful to have on your phone or laptop as you travel since public wifi networks usually lack security precautions and are often monitored by hackers.
VPNs are also useful tools for accessing online content from your country while you're traveling internationally. A VPN will help you lift the streaming service's geographic restrictions so you won't have to worry about losing access. I'll go into more detail on each VPN provider, but in case you're in a hurry, here's an overview of the best cheap VPNs:

NordVPN: This is my number one recommendation. NordVPN is affordable while still maintaining the highest levels of security and privacy. Great speeds are also ideal for streaming and gaming. There is a 30-day money-back guarantee.
Surfshark: A great budget option that covers all of your devices for one low cost. Very user-friendly and great for beginners.
CyberGhost: A huge list of servers and locations for content all over the world. Fast speeds and great value for money.
PrivateVPN: A relatively new VPN that's already competing with the others. Fantastic security tools and low subscription costs.
Private Internet Access: Works with most devices and encrypts internet traffic without breaking the bank.
The Best Cheap VPNs
Not all VPNs are budget-friendly, and some that are don't come with enough features. I've selected the best cheap VPNs using the following criteria:
Low cost

Strong encryption protocols

Fast download speeds

Lifts geo-restrictions on streaming platforms

Mobile and desktop apps
You can find out more about my testing process further in this article. For now, based on the above criteria, here's my list of the best cheap VPNs: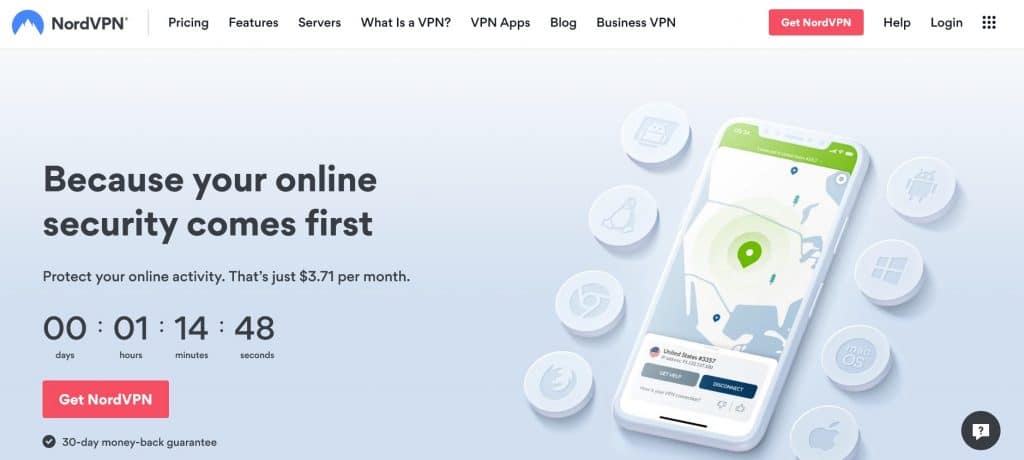 Veteran provider NordVPN is my top recommendation for a fast, secure, and affordable VPN. NordVPN has set the standards for VPN security since its launch in 2012 and runs a network of more than 5,200 servers in 60+ countries worldwide. NordVPN's servers are capable of reliably streaming HD video content from streaming platforms like Netflix, Hulu, and Amazon Prime Video. Its network offers a selection of specialty servers optimized for functions such as Tor-over-VPN, double VPN usage, streaming, torrenting, and gaming. NordVPN will protect your data with 256-bit AES encryption and features protection against DNS and WebRTC leaks. 
NordVPN comes with split tunneling functionality on its Windows and Android apps and also features a kill switch. A kill switch will cut off your connection to the internet if your device loses connection to the VPN. This prevents any of your information from leaking onto the web.
NordVPN abides by a twice-audited no-logs policy. What this means is that it doesn't record any of its users' online activities or personally identifying information, so not even the company will know anything about you. Users who want to take an extra step to secure their anonymity can also pay in Bitcoin.
NordVPN has apps for Windows, macOS, iOS, Android, Amazon Fire TV, Linux, and some routers. A single subscription will let you protect six devices simultaneously.
Pros:
256-bit AES encryption

No logs policy

One of the fastest VPNs

Works with Netflix, Hulu, Amazon Prime Video, and other streaming services

Discounts on annual plans
Cons:
The desktop app can be challenging for beginners to use
MY #1 CHOICE:NordVPN has fantastic speeds and security. It offers thousands of servers fast enough to stream HD video content and access most streaming platforms. Try it for 30 days risk-free and get your money back.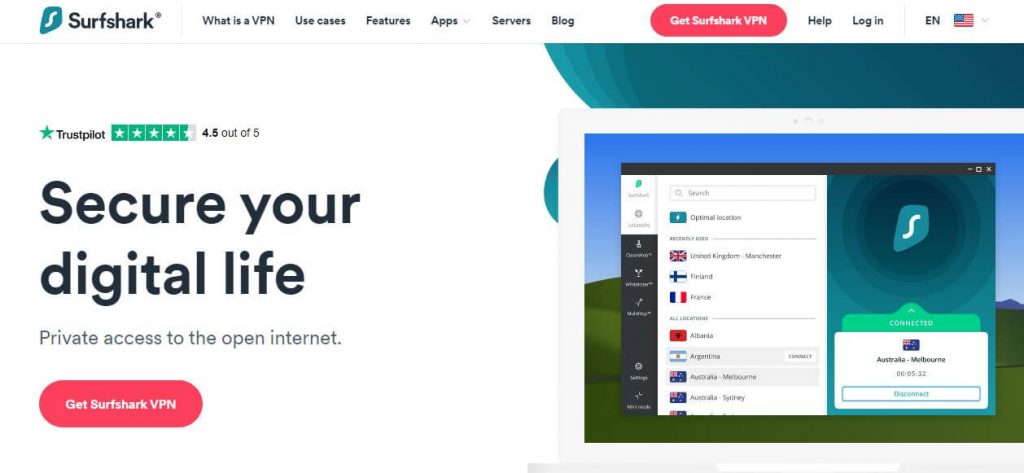 Surfshark is a VPN that's made its reputation on affordability without compromising on security and speed. A single Surfshark subscription comes with excellent value because it includes an unlimited allowance of simultaneous connections, so you can protect every device owned by you, your friends, and your family.
Surfshark runs a network of more than 3,200 servers in over 65 countries capable of streaming from popular streaming services including Netflix. Your internet traffic is protected from third parties with 256-bit AES encryption and offers protection against DNS, IPv6, and WebRTC leaks. Surfshark includes a kill switch to keep you from using the internet without protection in the event of a sudden loss of connection to the VPN. Surfshark is a no-logs VPN, and if you're extra cautious about your privacy, you can pay anonymously using Bitcoin.
Apps are available for Windows, macOS, iOS, Android, Amazon Fire TV, Linux, and a selection of routers.
Pros:
Unlimited simultaneous connections

Great value for money

The highest security standards

Works with most streaming services

Keeps no logs
Cons:
Has a few slow servers

Suits beginners better than power users
PROTECT EVERY DEVICE:Surfshark provides great value. Protect as many devices as you want for one low cost. A great budget VPN. Perfect speeds for streaming in HD. It also comes with a 30-day money-back guarantee.
CyberGhost runs the largest server network on this list, featuring more than 7,400 servers spread across 91 countries around the world, so you will have a lot of geographic variation for accessing international streaming content. CyberGhost features a beginner-friendly interface that will match you with a server based on your needs and includes those optimized for streaming services like Netflix, BBC iPlayer, and others.
CyberGhost's security offerings include 256-bit AES encryption, a kill switch, and leak protection. The company is headquartered in Romania where there are no data retention laws that could otherwise compromise your privacy. For extra privacy, CyberGhost accepts anonymous payments in Bitcoin.
Apps are provided for Windows, macOS, Android, iOS, Amazon Fire TV, Linux, and some routers. Seven simultaneous connections are permitted with a single subscription.
Pros:
The largest number of servers on this list

Dedicated servers for unblocking streaming sites

Strong security protections

No logs

Beginner-friendly
Cons:
Doesn't work in China or the UAE

No local networking option
BEGINNERS' CHOICE:CyberGhost provides a wide range of servers to choose from for accessing geo-restricted content. Comes with a 45-day money back guarantee.
PrivateVPN is a relatively new provider that doesn't have the widest selection of servers, but it's already made a reputation for providing faster-than-average connection speeds. PrivateVPN's server network includes over 200 servers in 63+ countries that can grant access to international Netflix libraries, BBC iPlayer, and Hulu.
PrivateVPN's security package includes 128-bit AES-CBC encryption for TAP and 256-bit AES for TUN in combination with the OpenVPN protocol. The service includes a kill switch, protection against DNS and IPv6 leaks, and a zero-logs policy. Six simultaneous connections are permitted with a single subscription.
Apps are available for Windows, macOS, Android, iOS, and Linux.
Pros:
Fast server speeds

Solid security features

Works with Netflix, Hulu, and other streaming sites

Six simultaneous connections
Cons:
A small selection of servers
STREAM ANYTHING:PrivateVPN performs exceptionally well as a streaming VPN, but doesn't slack on security, either. Try it out for 30 days before you commit.
Private Internet Access (PIA) runs servers in over 78 locations around the world with a focus on maintaining a large network of US locations. PIA gives you the option between using AES-128 or AES-256 encryption to protect your traffic and the two most popular open-source VPN protocols; OpenVPN and the newly-developed WireGuard.
A kill switch, split tunneling functionality, and a dedicated IP add-on are also included. This all helps to protect user privacy and keep browsing anonymous. PIA is a secure VPN that doesn't store any logs but unfortunately, it also doesn't work consistently with Netflix.
Five simultaneous connections come with a single account. PIA makes apps for Windows, macOS, iOS, Android, and Linux.
Pros:
Powerful security standards

Keeps zero logs

Includes WireGuard protocol
Cons:
Not the fastest VPN

Doesn't always work with Netflix or other streaming sites
SECURE AND AFFORDABLE:Private Internet Access will strengthen your online security. Comes with a 30-day money back guarantee.
My methodology: How I find the best cheap VPNs
I only recommend a VPN when it has passed my assessment criteria. Here are some of the things I look for in a cheap VPN:
Price and value – I consider not only what a VPN costs but also what you get for your money. This includes great service and experience. I also check for free trials and discounts for longer commitments.
Server locations – If you plan on using a cheap VPN to stream, you will need access to servers in many locations. I ensure that there are plenty of servers worldwide and that they don't get too busy, even during peak hours.
Privacy and security – A great VPN should be completely undetectable.  So I look for specific privacy and security features like AES encryption, a no-logs policy, and a network kill switch.
Devices – I look at which devices the VPN is compatible with, and also how many simultaneous connections it supports. I expect apps for the most popular operating systems like Windows, macOS, IOS, and Android.
How to use a cheap VPN
Don't worry if you're new to VPNs and are not familiar with how they work. This easy guide will help. Here's how to use a VPN cheap VPN:
First, choose one of the best cheap VPNs from my list and create an account. I highly recommend NordVPN.
Download the relevant app for your device and install it. Each VPN on this list is compatible with most major devices.
Launch the app and log in with the username and password you set during registration
Choose a VPN server in your preferred location and click connect
Your internet connection will now be encrypted and you're free to browse as you would normally.
Cheap VPNs FAQ
I'm on a budget. What is the best free VPN app?
I know it's tempting to opt for a free VPN while you're on a budget--but keep in mind that free VPNs are free for a reason.
The companies that produce free VPNs are businesses that need to make a profit like any other. Since they don't demand any upfront costs, they can lure in a large user base and collect their personal data for profit. Free VPNs have been known to track everything you do online by injecting tracking cookies into your browser, and then they sell bundles of user data to third-party advertisers. Some even spread malware and will bombard your web browser with intrusive ads.  Keep in mind free VPNs aren't very fast, either. Most free VPNs lack the resources to invest in more than a handful of servers, which means they quickly get filled up with more users than the infrastructure is capable of supporting. This results in slow speeds and frequently dropped connections. Even tasks as simple as checking your email can be a challenge with a free VPN, so you can forget about using it to stream HD video.
Even if you manage to find a free VPN that performs well, they usually come with data caps and bandwidth limits. There are plenty of paid VPNs you can rely on that don't cost an arm and a leg. I recommend investing in a reputable VPN if you're going to use one at all
Do cheap VPNs work with Netflix?
Not all VPNs are great at accessing Netflix, but most of the VPNs on this list will get the job done. Netflix employs the toughest proxy detection technology available to screen out VPN servers and have rendered free VPNs unusable, as well as plenty of cheap VPNs. However, the better VPNs on the market spend a considerable portion of their resources on circumventing geo-blocks whenever their servers get blacklisted. NordVPN is the best VPN on this list for bypassing Netflix's restrictions, but there are other affordable and effective options as well.
Are cheap VPNs secure?
Security varies by provider, but every VPN on this list is equipped with strong enough security features to keep you safe online. VPNs build their reputation on security, so the better providers on the market rigorously test their products before release and usually follow a no-logs policy. Look out for no-logs policies when you search for a VPN, as well as other security features like 256-bit AES encryption, a kill switch, and leak protection.
Do cheap VPNs limit bandwidth?
Paid VPNs shouldn't have data caps or bandwidth limits. It's mainly free VPNs that limit the amount of data each user can consume at once in order to reduce strain on their small networks. If you find a paid VPN that limits your data usage, it's better to avoid it and pay for a service with no limits--that's what you're paying for, after all.