You can improve your online privacy while using the Nvidia Shield by setting it up with a VPN, or Virtual Private Network. Nvidia Shield VPNs are privacy tools designed to encrypt your internet connection and route it through an intermediary server in a location of the user's choosing. This means that you can keep your online communications private from internet service providers, hackers, and snooping government agencies. When I'm using my Nvidia Shield, I enjoy having the benefits of being able to bypass geographic restrictions on content only available in other countries, such as region-specific video streaming libraries.
I examine the pros and cons of each individual VPN further down in this article, but for now, here's a short summary of my top seven VPN choices for Nvidia Shield:
NordVPN: My number one VPN for Nvidia Shield! This veteran provider has set the standard for fast and secure VPNs since its launch in 2012. Lift geographic restrictions and browse the web securely. Comes with a 30-day money-back guarantee.
Surfshark: My top budget Nvidia Shield VPN. Offers unlimited connections and loads of security features for an affordable price. Streams HD video content from abroad.
ExpressVPN: Capable of streaming HD video on Nvidia Shield from over 3,000 servers in 94 countries worldwide.
CyberGhost: An affordable beginner-friendly option for Nvidia that delivers impressive streaming speeds without sacrificing security.
PrivateVPN: A good general-use VPN that streams Nvidia HD video content smoothly. Unblocks most streaming sites.
IPVanish: This VPN puts your privacy first. Offers strong security protections and reliable streaming speeds.
Hotspot Shield: A fast and secure VPN that's good for Nvidia Shield and unblocking streaming sites.
Best VPNs for Nvidia Shield
It can be difficult to choose a VPN among so many worthwhile options since not every VPN works equally well for the same purposes. I selected these seven VPNs for Nvidia Shield based on the following criteria:
Works well with Nvidia Shield (Android TV)
Servers deliver fast connection speeds for HD streaming
Reliably unblocks all of the top streaming platforms
Employs strong security features
Keeps no logs
Multiple simultaneous connections
Here's my list of the best Nvidia Shield VPNs: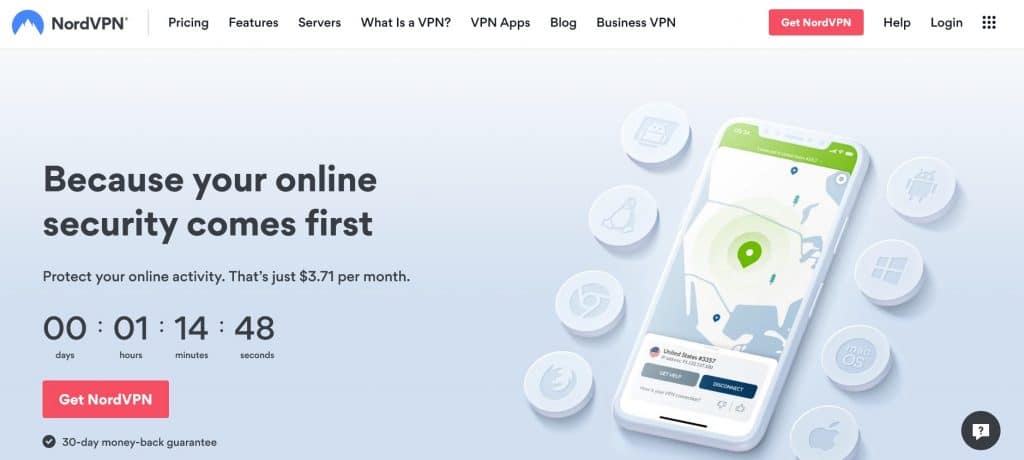 NordVPN is my top choice for maintaining high standards of security and performance since its launch in 2012. You can use NordVPN with the Android TV app provided through the Google Play Store and Amazon App Store, or you can download the Android APK directly from NordVPN's website.
NordVPN runs one of the largest server networks on the VPN market with over 5,200 servers in 59 countries. Its servers consistently work with the most stubborn online streaming websites including Netflix, Amazon Prime Video, BBC iPlayer, and Hulu. This VPN can stream HD content with fast connection speeds without compromising on security.
Its security features include 256-bit AES encryption, an ad blocker, a malware scanner, an app-specific kill switch, and protection against IPv6, DNS, WebRTC, and port forwarding leaks. It provides access to servers optimized for specific functions including double VPN usage, Tor over VPN, and dedicated servers for downloading and streaming. Up to six devices can be protected at once with a single subscription.
NordVPN follows a strict no-logs policy so none of your online activities will be recorded and traced back to your identity. NordVPN provides apps for Windows, macOS, iOS, Android, Linux, and Amazon Fire TV.
Pros:
Thousands of servers available around the world
Fast, reliable connection speeds
Powerful encryption protocol
Unblocks the top streaming platforms
Zero logs policy
Cons:
Desktop app can be a little slow and difficult to use
TOP VPN FOR NVIDIA SHIELD:NordVPN is a fast and secure option for Nvidia Shield users. Six simultaneous connections and zero logs. Comes with a 30-day money back guarantee.
Surfshark is my top budget choice for providing strong security, high levels of performance, and a reasonable price all at once. Its server network spans over 3,200 servers in 65 countries so you will have plenty of server options for unblocking your favorite streaming service or geo-restricted website. It streams popular platforms like Netflix, Amazon Prime Video, and BBC iPlayer, and it even comes with an Android app. Surfshark users get great value for being able to protect every single device they own with an unlimited allowance of simultaneous connections.
Surfshark's security features include 256-bit AES encryption, protection against WebRTC, DNS, and IPv6 leaks, and a kill switch to prevent you from browsing the web without the VPN's protection. Further protection is provided by an ad blocker, a malware scanner, and a NoBorders feature that lets you browse the internet freely in countries with strict government control over the internet, such as China. Surfshark stores no logs of user data and customer support is available 24/7 via live chat.
Apps are available for Android, iOS, macOS, Windows, Linux, and Amazon Fire TV. Some manual routers can be manually configured with the VPN.
Pros:
Wide network of high-speed servers
Unlimited simultaneous connections
Fast, stable speeds make it great for HD streaming
Meets high standards of security
Affordable price
Cons:
A few of its servers can be slow
BEST BUDGET VPN:Surfshark hits all the right marks on speed, security, and features. Its unlimited allowance of simultaneous connections makes it a great deal for families. Features a 30-day money-back guarantee.
ExpressVPN comes with an Android TV app that can be installed on your Nvidia Shield device directly from the Google Play Store. It also provides the option to download the APK directly from the VPN's official website.
ExpressVPN is a great service for streaming HD video because its more than 3,000 servers in 94 countries consistently get fast and reliable connection speeds. It can lift geographic restrictions on all the major platforms like Netflix, BBC iPlayer, Hulu, and Amazon Prime Video. Up to five devices can be connected at once, and customer support is available 24/7 over live chat in case you have any problems.
ExpressVPN comes with apps for Android, macOS, iOS, Windows, Linux, Amazon Fire TV, and some wifi routers.
Pros:
Excellent download speeds for high-quality streaming and gaming
Broad selection of fast servers
Meets high security standards
Unblocks a wide range of geo-blocked content
Cons:
One of the more expensive VPNs
Not a lot of customizable options
SMOOTH HD STREAMING:ExpressVPN unblocks anything from abroad and doesn't make sacrifices on security. Includes a 30-day money-back guarantee.
CyberGhost is my top pick for first-time VPN users due to its easy-to-use interface. This VPN offers dedicated servers for specific streaming sites and will match you with a server based on your needs. It runs a server network of over 7,000 servers in 91 countries—the largest server network on this list.
CyberGhost's servers provide fast and consistent internet speeds that make it great for streaming, downloading, and gaming. It can unblock major streaming sites like Netflix, Amazon Prime Video, and BBC iPlayer. This is a no-logs provider that protects your traffic with 256-bit AES encryption on the OpenVPN protocol by default with 2,048-bit RSA keys. It features a kill switch that will immediately stop all internet traffic in case you lose connection to the VPN so you won't browse the web unprotected. The company is headquartered in Romania where there are no data retention laws to comply with.
CyberGhost offers apps for Android, Windows, macOS, iOS, and Amazon Fire TV. Seven simultaneous connections are allowed at once.
Pros:
App for Android TV in Google Play
Specialty servers optimized for unblocking most streaming platforms
Easy to use for beginners
Largest server network on this list
Cons:
Advanced users may find its configuration options lacking
Blocked in China
BEGINNER-FRIENDLY:CyberGhost scores highly on speed and security features. Easy to use and makes no compromises on performance. Comes with a 45-day money-back guarantee.
PrivateVPN is a new player in the VPN world with a smaller-than-average server network of only 200 servers, but it gets higher-than-average connection speeds. Its wide geographic spread across 63 countries gives it plenty of unblocking power for accessing a variety of content around the world including major platforms like Netflix and Hulu. The Android TV app for this VPN is the same as the smartphone app, but it works well on big screens.
PrivateVPN secures your traffic with 256-bit encryption and protects against IPv6, DNS, and WebRTC leaks. It logs none of your personally identifiable information and accepts payments in Bitcoin for anonymous registration. Live chat isn't available, but the customer support team can remotely control your computer and configure the VPN for you, with your permission.
An allowance of six simultaneous connections is included with PrivateVPN. Apps are available for Android, iOS, macOS, Windows, and Amazon Fire TV.
Pros:
Features an Android app for Nvidia Shield
Impressive server speeds
Reliably unblocks the top streaming platforms like Netflix and Hulu
Powerful security features
No logs
Cons:
Small selection of servers
Customer support only available during Swedish business hours
GENERAL USE VPN:PrivateVPN is great for streaming as well as secure online browsing. Easy to use apps that are full of security features. Includes a 30-day money-back guarantee.
IPVanish offers an Android TV app through Google Play and an APK file that can be downloaded from the VPN provider's website. This security-focused VPN runs a network of more than 1,600 servers across 75 locations around the world and maintains fast and stable connection speeds. There is plenty of room for customization on this VPN.
IPVanish isn't the best at unblocking streaming websites, but it is a favorite among Kodi users and torrenters. It works with most Kodi addons and features a remote-friendly interface for users without a keyboard and mouse.
IPVanish offers unlimited simultaneous connections and apps for Android, Windows, macOS, iOS, Linux, and Amazon Fire TV.
Pros:
Android TV app available in Google Play
Meets a high standard of online security
Servers deliver fast download speeds
Remote-friendly interface makes it great for Kodi
Unlimited simultaneous connections
Cons:
Doesn't consistently unblock Netflix
Not the largest server network
PROTECT EVERY DEVICE:IPVanish is great for families. Great for Kodi users and torrenters as well. Try it for 30 risk-free days.
Hotspot Shield's network of more than 1,800 servers unblocks a variety of international content with locations in over 80 countries. Streaming-focused users will enjoy Hotspot Shield's high download speeds and the ability to access Netflix, BBC iPlayer, Hulu, and other major streaming platforms.
Hotspot Shield's security features include 256-bit encryption, protection against DNS and IPv6 leaks, and a kill switch. It has a strict no-logs policy which means that it stores none of your personally identifiable information once you've disconnected from the VPN. This VPN provides an allowance of five simultaneous connections and has 24/7 live customer support in case you encounter any problems.
Apps are available for Android, Windows, iOS, macOS, and Linux.
Pros:
Consistent and fast connection speeds
Lifts geo-blocks on most streaming sites
256-bit encryption, leak protection, and a kill switch
Cons:
Some past privacy issues
Relatively small server network
STREAM FROM ABROAD:Hotspot Shield is a user-friendly option for high-quality streaming and secure web browsing. Unblocks the biggest streaming sites. Comes with a 45-day money-back guarantee.
Methodology: How I find the best VPNs for Nvidia Shield
Not every VPN works with Nvidia, and even those that do might not the best options for other reasons. I test each VPN with the same assessment criteria and methodology, recommending only the very best to my readers. Here are some of the things I look for in a VPN for Nvidia Shield:
Servers – When you travel abroad, you will probably lose access to your home streaming services. A wide range of servers means that you can always connect to a location back home to watch your usual content. More servers also mean fewer users on each server.
Speeds – Streaming on Nvidia Shield should be seamless, with no buffering or loading problems. To keep things running smoothly, you need a VPN with fast enough speeds to handle it. I run speed tests to check that I am only recommending the fastest VPNs.
Security – There are a lot of online threats to be aware of when you connect to the internet. A good VPN for Nvidia Shield will have a wealth of tools designed to keep your connection safe. Things I look for include AES encryption and a network kill switch.
Devices – When it comes to devices, the first thing I look for is compatibility. Does the VPN work with different operating systems like macOS, Windows, IOS, and Android? I also assess how many simultaneous connections a user can have.
Value – The cheapest VPN isn't always the best, but the same can be said for the most expensive VPN too. I look at the cost of a subscription and what you actually get for your money. This includes money-back guarantees and discounts for longer commitments.
How to set up a VPN on Nvidia Shield
Android has a TV-compatible version of its operating system known as Android TV, which is used by Nvidia Shield. Some of the VPNs recommended in this list provide dedicated apps for Android TV that work with Nvidia Shield while other providers offer an APK installer on their website. I'll show you how to install both.
If your VPN app is available on Google Play for Android TV:
On your Shield, navigate to the Google Play Store from the Apps section of the home screen.
Search for the name of your preferred VPN and open its app page. I recommend NordVPN.
Select Install.
You will be prompted to accept the app permissions to complete the installation. Select Accept.
You should be able to open the VPN app from the home screen and sign in by selecting a server location and pressing Connect.
If your VPN doesn't make an Android TV app, or if Google Play isn't an option, you can still configure your Shield with your VPN. Just pick up a USB flash drive and perform the following steps:
Open a web browser on your computer and go to your VPN provider's website.
Download the Android APK file for your VPN app onto a USB flash drive.
Once the download finishes, safely eject the flash drive.
Go to your Shield and navigate to Settings > Security and Restrictions.
Toggle on Unknown sources. Press OK when a warning appears.
Open Google Play from the home screen, or whichever app store you have access to.
Search for select ES File Explorer or FX File Explorer. Both will work. Hit Select.
On the app page, select Install and Accept the app permissions.
Insert your USB flash drive into the Shield.
Launch the file explorer app you just installed and navigate to your flash drive.
Open the APK file you downloaded earlier.
Select Open when the installation completes.
You should now be able to use the Android VPN app on your Nvidia Shield. This version of the app is optimized for phones instead of TVs, so navigating the interface might be confusing at first. Additionally, manually installed apps might not receive automatic updates.
Shield TV vs standard NVIDIA Shield
The Shield TV is a more compact version of the Nvidia Shield, similar to the comparison between the Amazon Fire TV stick and the Fire TV Cube. Shield TV is more compact and provides a slightly reduced level of performance in comparison to its parent unit. Any VPN that works on Nvidia Shield should also work on Shield TV, but the reduced processing power might result in more frequent buffering as the device struggles to encrypt and decrypt the data sent through the VPN.
VPNs for Nvidia Shield FAQ
Can I use a free VPN with Nvidia Shield?
You could use one of the many free VPNs offered in the Google Play Store, but I don't recommend them. The poor performance and security of free services will become apparent as you encounter slow download speeds, frequent loss of connection, and possibly even a malware infection. Free VPN providers normally don't have the resources to invest in more than a handful of servers that deliver fast and reliable speeds. Because these services don't cost anything, they usually attract a large volume of users that the limited infrastructure can't accommodate all at once, resulting in slow speeds and connection loss. Even if you manage to stream at a decent quality with a free VPN, your connection will be cut short after exceeding the free VPN's data cap. They are also known for their unscrupulous business practices. Because they don't make their money by selling subscriptions, they instead track their users' online activities and sell records of personal data to third-party advertisers. 
Is there a web browser on Nvidia Shield?
Although the Nvidia Shield does not come with any browser apps, it is possible to install one yourself. Popular browsers like Chrome, Firefox, and Opera can be downloaded from the Google Play Store or sideloaded onto your device with the same instructions listed above for VPNs. It might be difficult to navigate the browser without a mouse and keyboard.
Can I install apps on Nvidia Shield?
Yes, there are a variety of Android TV apps available on Google Play, and plenty that can be sideloaded onto your device by following the above sideloading instructions for VPNs.
Which Nvidia Shield should I buy?
There are two versions of Nvidia Shield, standard and Pro, which will appeal to different users based on their personal needs. The Pro version features more RAM and internal storage than the standard version plus two more USB ports. They should both work equally well with VPN apps.
What should I do if my VPN isn't working with NVIDIA Shield?
Incompatibility between a VPN and a Nvidia Shield device could be caused by a variety of factors. Some of the most common reasons include conflicts with third party software, outdated apps, and updates. You might have third party apps that could be automatically blocking VPN connections, which some ad blockers are known to do. Try disabling or uninstalling some of your apps to find out which one was interfering with the VPN. You could be using an outdated version of the VPN app if you got it from a source other than an official app store like Google Play. In this case, you will need to sideload the latest version of the app, or possibly switch to the Google Play version. Slow or failed connections could be caused by updates to the VPN or Nvidia Shield device. I suggest contacting your VPN's customer service team in this scenario.