The Chinese government goes to great lengths to restrict access to many websites, apps, and services, including Facebook, Google, WhatsApp, and Skype. To bypass these restrictions and access the sites you want, you'll need to use a VPN.
A Virtual Private Network (VPN) encrypts all of your traffic and sends it through a server in another country (that you choose). With the right VPN, you can bypass the "Great Firewall" and access censored content. You can also use a VPN to access geo-restricted sites such as US Netflix and Amazon Prime Video.
I'll go into greater detail below, but here is an at-a-glance list of the best VPNs for China.
TIP: These VPN apps work in China but the VPN sites themselves are often blocked, if you are outside of China I advise signing up to one before you arrive.
These are the best VPNs for China:
NordVPN: My top pick for a China VPN. A superfast VPN that works in China and comes with security extras. Comes with a risk-free 30-day money-back guarantee.
Surfshark: A great budget alternative. This VPN has fast speeds and allows unlimited connections.
ExpressVPN: A speedy service that works reliably in China.
VyprVPN: A strong choice for China. Owns its servers instead of renting them.
PrivateVPN: A solid choice for privacy-conscious users.
Private Internet Access: A lightweight and secure option. Powerful security features.
As mentioned, it's pretty difficult to find a VPN that actually works in China. Of those that do, all have been blocked at some point, but some are more reliable than others. VPNs perform differently on other fronts too. I based my list of the best China VPNs on the following criteria.
Works in China with minimal troubleshooting
Provides fast speeds
Operates a global server network (including options in Asia)
Doesn't keep logs of personal data
Offers strong security features
Includes prompt and knowledgeable customer support
For more information about the criteria I used, make sure you check out the testing methodology section further down this article.
Best VPNs for China
Here's my detailed list of the best VPNs for China: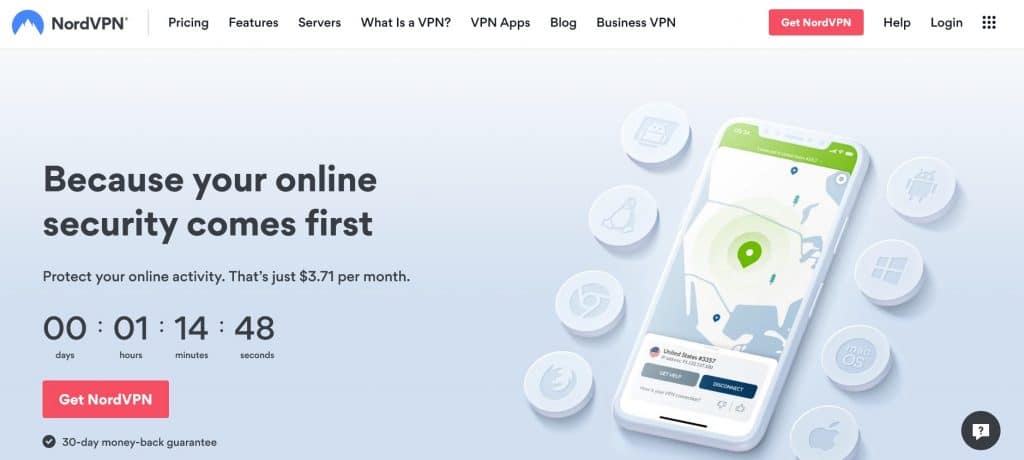 NordVPN is my first recommendation for China. Using NordVPN's specially-designated obfuscation servers, you should rarely have issues establishing a VPN connection in China. This provider has invested in a huge network of over 5,500 servers in 60+ locations, including Asian countries such as Japan, Hong Kong, and South Korea. It pegs incredibly fast speeds and is known for its ability to access popular streaming sites like Netflix, BBC iPlayer, and Hulu.
Your information is kept secure and private with strong encryption, perfect forward secrecy, a kill switch, and a no-logs policy. NordVPN helps you stay safe while on the go with its automatic WiFi protection feature. Servers are optimized for various tasks such as P2P and double VPN.
Desktop clients are available for Linux, Windows, and macOS, and you can download mobile apps for iOS and Android. A six-connection limit means you can protect all your devices at once.
Pros
Works reliably in China
Runs a large server network
Accesses various Netflix libraries and other streaming services
Packs plenty of security features
Around-the-clock support
Cons
Desktop apps can take time to connect
BEST CHINA VPN:NordVPN is my top recommendation as it comes with all the features you need in a solid China VPN. This provider offers a risk-free 30-day money-back guarantee.
Surfshark is a budget-friendly provider and is a go-to for users looking to access content such as that from Netflix, Amazon Prime Video, and BBC iPlayer. So it makes sense that this VPN is also able to avoid detection measures imposed by the Chinese government. Surfshark servers can be found in more than 95 countries, including Thailand, Vietnam, and Hong Kong.
The service has multiple built-in security features including a kill switch and leak protection, and Surfshark never keeps records of user data. This VPN is torrent-friendly and you can pay with Bitcoin for added anonymity.
Apps are available for Linux, macOS, Windows, Android, and iOS. There is no limit to the number of devices you can connect under one plan.
Pros
Great at unblocking
Unlimited devices
Lots of security extras
24/7 live chat support
Cons
Customer support isn't always reliable
BEST BUDGET CHINA VPN:Surfshark is a solid all-rounder that lets you protect as many devices as you like. It offers a 30-day money-back guarantee on all plans.
ExpressVPN is another great China VPN. This provider has an excellent track record for use in China and for the most part works reliably in the country. If there are issues, you can be sure that ExpressVPN is working to fix them as quickly as possible. The company offers 24/7 support with knowledgeable representatives ready to help.
ExpressVPN is based in Hong Kong and its server network spans 94+ countries, including many Asian countries such as Hong Kong, Singapore, and Vietnam. Speeds are incredibly fast and the service will help you access some of the toughest platforms such as Netflix, Hulu, and Amazon Prime Video.
Security and privacy are at the forefront for ExpressVPN. It employs 256-bit encryption with perfect forward secrecy and apps come with built-in leak protection and a kill switch (desktop only).
Apps are available for Linux, macOS, Windows, iOS, and Android, and up to five simultaneous connections are permitted.
Pros
Most reliable VPN for China
Accesses geo-restricted sites like Netflix
Extremely fast speeds
Lots of server locations
Cons
Price is a bit higher than many rivals
SOLID SECURITY:ExpressVPN has superior cloaking technology that evades the "Great Firewall" of China. Plus, it's fast and secure, and accesses your favorite streaming sites. It offers a 30-day money-back guarantee.
VyprVPN is another provider that makes it a priority to keep users in China equipped with a solid VPN connection. This provider operates more than 700 servers in over 70 countries and gives users the option to employ the Chameleon protocol which masks the fact you're using a VPN. One thing that makes it stand out from other providers is that it owns its servers instead of renting them. What this means for users are excellent security and reliable connections.
VyprVPN can help you access plenty of geo-restricted services, including Netflix and Hulu. Privacy-conscious users, including torrenters, may take issue with VyprVPN's questionable logging policy. That said, security is strong and includes 256-bit encryption and protection against leaks.
Mobile users can install apps on iOS and Android, and desktop clients are available for Windows and macOS.  A premium plan allows for up to five simultaneous connections.
Pros
Uses Chameleon protocol to mask VPN traffic
Accesses streaming sites
Boasts strong security features
Cons
Questionable logging policy
SUPERIOR CLOAKING:VyprVPN uses advanced cloaking technology to hide the fact you're using a VPN and bypass restrictions in China. It comes with a 30-day money-back guarantee.
PrivateVPN might surprise you as a great option for China. It only has around 200+ servers in 60+ countries, and it's unusual for such a small provider to have the resources to invest in bypassing the Great Firewall. Just remember to use the app's "Stealth Mode" while in China as this will activate advanced cloaking technology.
PrivateVPN is well known for its ability to access media streaming sites such as Netflix, Hulu, Amazon Prime Video, and BBC iPlayer. The company respects your privacy and keeps no logs at all. It uses strong encryption among other security features, including a kill switch in the Windows app and protection against leaks.
Apps are available for Windows, macOS, Android, and iOS. You're allowed up to 10 simultaneous connections.
Pros
Works for users in China
Accesses a ton of streaming platforms
Keeps no logs at all
Cons
Small number of servers
Doesn't offer around-the-clock support
PRIVACY-FOCUSED:PrivateVPN is great for providing access to restricted and censored content while keeping your identity hidden. Plans come with a 30-day money-back guarantee.
Private Internet Access (PIA) is a lightweight and efficient option. It is fast thanks to its use of the efficient WireGuard VPN protocol too. It can access geographically restricted services as well. This includes streaming services such as Amazon Prime Video. It also does a reasonable job of allowing access to most websites in China. However, some users have reported having issues with the service at times.
The provider also offers powerful security and privacy features. These include AES 256-bit encryption, a kill switch, and split tunneling.
PIA apps are available for Windows, macOS, Linux, iOS, and Android. PIA also has customer service that is available via its 24/7 live chat as well. 10 simultaneous are allowed. Users can also customize the app interface.
Pros:
Can reliably access services when traveling
Fast and efficient WireGuard VPN protocol supported
Allows for customization of the app interface
Strong security measures in place
Cons:
Doesn't work perfectly in China
App design could be improved
LIGHTWEIGHT AND SECURE OPTION:Privacy Internet Access is lightweight and has strong security in place. It also does a reasonable job of allowing access to websites in China. It is also a good option for streaming. This service comes with a 30-day money-back guarantee.
Testing methodology: how I found the best VPNs for China
There are many different VPN services available. However, not all of them are effective. I have reviewed several different VPNs in order to find the best ones for use in China using my extensive testing methodology. Here are some of the things that I considered to find the best VPNs available for China:
Servers: The VPNs that I picked all have servers that are located outside of China. This is necessary for users to be able to access restricted content.
Accessing most services: The VPNs picked are also able to access services that are usually inaccessible in China. This allows users to be able to access services such as Whatsapp and Facebook.
Strong security: In addition to being able to work in China, the VPNs that I picked for this list had to have strong security measures in place such as excellent 256-bit AES encryption and kill switches.
Speed: With a VPN, your connection speed will be slightly slowed down regardless of the service that you use. However, good VPNs don't slow down your connection by much. This ensures that users are able to enjoy a smooth, hassle-free internet experience.
VPN in China FAQs
Can I use a free VPN in China?
There are a ton of free VPNs available and they can certainly seem tempting. However, you're very unlikely to find a completely free service that works in China. The blocks imposed by the Chinese government are extremely difficult to circumvent, even for paid services that have the resources to invest in superior technology. So the hurdle for free VPNs, which have very limited resources, becomes insurmountable.
You likely wouldn't be satisfied with a free VPN anyway as these services tend to offer a poor user experience. They have small server networks with far too many users clamoring for a spot. The result is long wait times to connect to servers and poor-quality connections. Some free VPNs work on an ad-based profit model, so you may have annoying popups to contend with too.
While using a VPN in China, you'd like to think that your information is secure and private. That's usually not the case with free VPN services. Instead, you might find they offer poor encryption standards, come with malware risks, and log your online activity.
If you want a reliable, secure China VPN, the only option is to pay a nominal monthly fee for a paid provider.
How does the Great Firewall work?
The Great Firewall is actually a nickname for the Golden Shield project. This is an internet censorship system through which internet traffic traveling in and out of China is heavily restricted by state-owned Internet Service Providers (ISPs).
There are just a few access points through which all internet traffic heading outside the country must flow. This allows a high level of close monitoring and the ability to restrict what information passes through.
As a result, users in China have a very different internet experience to those in most other countries. For example, in two provinces (Tibet and Xinjiang), users have access to a heavily censored internet for just a few hours per day.
The government employs various methods to censor web content. These include IP blocking (blacklisting IP addresses), keyword filtering (scanning things like search queries for sensitive keywords), deep packet inspection (for example, to determine if traffic is encrypted with a VPN protocol), and other techniques. An internet police force manually finds and blocks IP addresses and URLs.
Why do some VPNs still work in China?
With the effort that the Chinese government goes to censor traffic and prevent people from using VPNs in the country, it really is a wonder that some VPNs still work there. So what are they doing to keep up these connections?
To work, a VPN has to trick the firewall in several ways. It needs to hide the contents of your traffic as well as where your traffic is going. A VPN encrypts all your traffic before it has left your device, so the contents will be hidden. It also sends your traffic through a secondary VPN server, so that will be the destination that the firewall sees, not your real destination website.
There are still some hurdles to overcome, though. If a VPN server is known to the firewall, it can be blocked, just like the server of a blocked website. This means you need a VPN that stays on top of things and works quickly to resolve such issues.
There's also the potential that deep packet inspection will detect that your traffic is using a VPN protocol. To bypass this, some VPNs disguise their encrypted traffic to look like regular internet traffic, tricking the firewall. This tactic is referred to as obfuscation.
How to use a VPN in China?
Once you've got your VPN set up on your device, using it in China is pretty much the same as using it anywhere else in the world. You open the app, connect to a server in a location of your choice, and surf the web as if you were in that location.
However, the actual setup of your VPN is not as simple as it is elsewhere in the world. Once you're in China, it's very difficult to gain access to any VPN apps.
For desktop clients, you'd normally download the software directly from the VPN provider website. However, many provider sites are blocked in China and only accessible if you already have a VPN installed.
Mobile apps pose an issue too. In 2017, Apple complied with a request from the Chinese government to remove all VPN apps from the Chinese version of its App Store. And with the Google Play Store blocked entirely in China, Android users are out of luck too. As such, I highly recommend you download your VPN apps before traveling to China.
If possible, you should install apps and set them up too. With VPN provider websites blocked, it may be difficult to access setup tutorials, troubleshooting information, and live chat support.
Note that for some VPN apps, you'll need to make adjustments to the settings or choose specific servers for use in China. Again, this information is usually available on the provider's website, so it's a good idea to save it offline for easy reference once you're in China.
Which sites and apps are blocked in China?
It may be easier to answer the question of which websites aren't blocked in China.
According to Freedom House's 2018 report,
China was the world's worst abuser of internet freedom in Freedom on the Net for the fourth consecutive year.
It scored 88/100 with 100 being the "least free."
Here are just some of the sites, apps, and services that are blocked in China:
Google (all services)
YouTube
Facebook
Twitter
Instagram
Skype
WhatsApp
Dropbox
Vimeo
VPN provider websites and apps
Various news websites and apps
There are countless more and blocks are ongoing. You'll find that restrictions on certain sites, especially news and media outlets, are more heavily enforced during times of political unrest. For example, in October 2019, the Quartz website was banned in China because of its coverage of the Hong Kong protests.
Thankfully, as of the time of writing, all of the above services can be accessed using a VPN.
Are VPNs legal in China?
The use of VPNs is banned in China. After all, if users in China were free to use VPNs, there would be no point in the government trying to censor websites. All anyone would need to do is connect to a VPN and they would have instant access to the free web.
While this is still possible with the providers listed above, the Chinese government has cracked down on the use of VPNs. As mentioned, it blocks access to known VPN servers and tries to detect and halt VPN traffic.
With all that said, are VPNs legal in China? Well, connecting to a VPN is not technically illegal and there have been no documented cases of someone being arrested for using a VPN. It appears that the general goal of the VPN ban is to prevent people from bypassing censorship, not to catch and punish people who do so.
However, more recently, some people have been fined for using a VPN, and there is the chance that repercussions could become worse in the future.
Providing a VPN service in China without government approval is illegal, and there has been at least one reported case of someone being arrested for actively selling a VPN service in the country. It was not okayed by the government and the offender received a prison sentence of nine months.
Note: Do not take anything said in this article as legal advice.