A Japanese IP address is required to access Japanese streaming content. Viewers of popular streaming platforms, such as Netflix Japan, are only allowed to access a fraction of their favorite platform's total library if they travel abroad.  A VPN, or a Virtual Private Network, is capable of overcoming these geographical restrictions by giving you the appearance of accessing the internet from back home when you travel. In this article, I look at how to get an IP address for Japan by using a VPN.
VPNs are privacy tools designed to route your traffic through an intermediary server of your choice before you access the web, which will disguise your true location by replacing your IP address with the IP of your chosen VPN server back home. Using a VPN will allow you to access Netflix Japan, Japanese TV, and a variety of other content. With a VPN, you will also be able to browse the web anonymously.
I'll go into detail on each of the VPNs on this list, but for now, here's a quick summary of my top 6 VPNs for getting a Japanese IP address:
How to get a Japanese IP address
Here's how to get a Japanese IP address:
Select your preferred VPN provider. I recommend NordVPN.
Download the VPN app onto your device.
Launch the app and connect to a server in Japan.
Navigate to the geo-blocked website. If you're still locked out, try clearing your cache and cookies before trying again. You might also need to try out a few different servers.
Freely and securely use the Japanese internet!
The best VPN to get an IP address for Japan
The quality of VPN service varies widely from one provider to another. I assembled this list of VPNs based on the following criteria:
Wide server selection, including locations in Japan
High-speed connections
Powerful security protection
No logs policy
Streams HD video with little to no buffering
You can find more detail about my VPN testing processes further in this article. For now, let's look at the best VPNs for an IP address in Japan.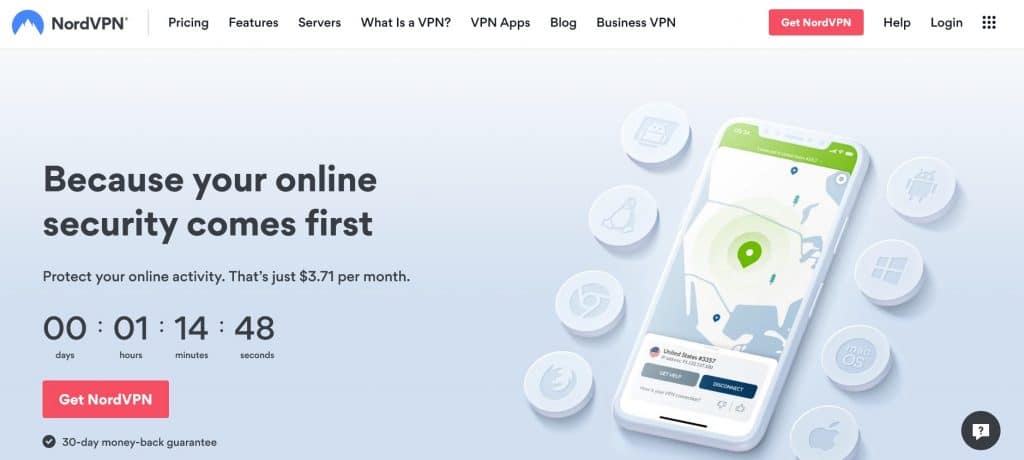 NordVPN is my top choice for its high-security standards and wide selection of servers, more than 80 of which are located in Japan. NordVPN runs a server network of more than 5,200 servers in 59 countries around the world, which means you shouldn't have a problem finding the right server to unblock your favorite streaming content. This VPN promises 99.9% uptime and has always performed excellently in my experience. Up to six devices can be connected at once.
You will find that the NordVPN apps provide a selection of specialty servers that are optimized for a variety of specific functions, including Double VPN, Onion over VPN (combining NordVPN with the Onion network), and servers optimized for streaming and downloading. Your traffic will be secured with military-grade 256-bit AES encryption, an automatic internet kill switch, and DNS leak protection.
NordVPN abides by a strict no-logs policy which means they don't keep records on any of your online activities—in fact, they wouldn't be able to disclose your personally identifiable information even if they wanted to. Furthermore, the company is based in Panama, where there are no data retention laws to comply with.
Apps are available for Windows, macOS, Android, iOS, Linux, and Android TV. Browser extensions are available for Chrome and Firefox.
Pros:
Over 80 servers in Japan
Top-notch server speeds
Strong encryption and security features
Unblocks most popular streaming services
Accepts payments in Bitcoin
Cons:
The desktop app can be a little challenging to use for many
BEST VPN FOR JAPAN:NordVPN is my top choice for getting a Japanese IP address. An excellent general-use VPN that works great with streaming services and meets a high standard of online security. Features a 30-day money-back guarantee so you can try it out first.
Surfshark is a budget-friendly, high-performance option with plenty of server options located in Japan. Surfshark's network of over 3,200 fast servers in 65 countries offers plenty of options for accessing streaming services from around the world, including Netflix Japan, and J Sports. Users with a large number of devices should consider using Surfshark for its unlimited allowance of simultaneous connections.
Surfshark's security offerings include 256-bit encryption, protection against WebRTC, IPv6, and DNS leaks, a kill switch, a malware scanner, and an ad blocker. You can even hide the fact that you're using a VPN at all by scrambling your traffic. Surfshark follows a no-logs policy so that none of your personally identifiable information can be traced back to you.
You can download apps for Android, iOS, Windows, macOS, and Linux. Supported routers require manual configuration.
Pros:
Thousands of fast servers make it ideal for streaming
Bypasses geo-blocks on most streaming platforms
Unlimited simultaneous connections
Strong encryption and leak protection
Cons:
TOP BUDGET PICK:Surfshark delivers high-quality performance for a low price. Its server network includes plenty of fast and secure servers in Japan that can unblock just about anything. You can try it out risk-free for 30 days.
ExpressVPN operates more than 3,000 servers in 160 locations across 94 countries, making it a great option for streaming Netflix Japan in high quality. Its servers in the US and UK also enable ExpressVPN to unblock Netflix US, Amazon Prime, BBC iPlayer, and Hulu with ease.
Your data is secured with 256-bit AES encryption and DNS leak protection. A kill switch automatically halts all internet traffic in case of a sudden loss of connection to the VPN in order to keep you from browsing the web unprotected. Also included is an ExpressVPN browser extension to help you quickly change servers.
ExpressVPN follows a no-logs policy, so you won't have to worry about the company storing records of your personal data. Apps are available for Windows, Mac, Android, iOS, and Linux. Browser extensions are available for Chrome, Firefox, and Safari.
Pros:
Smoothly streams HD video from abroad
Server options in Japan
Unblocks most geo-restricted services
Military-grade encryption protocol, leak protection and kill switch
Cons:
One of the most expensive VPNs on this list
SECURELY STREAM FROM ABROAD:ExpressVPN is an excellent choice for streaming, downloading, and gaming. Delivers fast speeds but doesn't make sacrifices with security. Includes a 30-day money back guarantee.
CyberGhost has over 50+ servers in Tokyo. This user-friendly VPN service offers a total of 7,300+ servers in 91 countries for unblocking content all around the world. CyberGhost offers unlimited bandwidth and a generous allowance of seven simultaneous connections.
I particularly recommend CyberGhost for beginners because of its easy-to-use interface. The VPN allows streaming-focused users to select a server based on which streaming service they want to watch.
Its security package includes 256-bit AES encryption, DNS leak protection, and a kill switch. This VPN provider keeps no records of your activity due to its no-logging policy.
Apps are available for Windows, macOS, Android, iOS, and Amazon Fire Stick. Linux and some routers can be manually configured with CyberGhost.
Pros:
Over 50 Japanese servers
Wide range of servers optimized for streaming and security
User-friendly apps
Strong security features
Cons:
Advanced users may not like its lack of customizable features
No apps for routers
TOP BEGINNER VPN:CyberGhost is easy-to-use, fast, and affordable. Unblock and stream anything with top-not security protections. Features a generous 45-day money back guarantee.
IPVanish offers over 1,600 servers in 75 locations around the world including six in Tokyo. It is one of the few VPNs that provide an unlimited number of simultaneous connections, giving it great value for users who have a lot of devices or want to share it with friends and family. IPVanish is a fast VPN that I was able to unblock Amazon Prime Video and BBC iPlayer with, but it struggled with Netflix and Hulu.
IPVanish keeps your data safe with 256-bit encryption, DNS leak protection, and a kill switch. The company follows a zero-logs policy and accepts payment in crypto for anonymous registration.
IPVanish apps are available for Windows, macOS, Android, iOS, and Fire TV. Manual setup is required for Linux and routers.
Pros:
Runs 20 servers in Tokyo
Remote-friendly interface
Fast and secure internet connections
Unlimited simultaneous connections
Cons:
Struggles with unblocking Netflix and Hulu
No app for Linux
UNMETERED CONNECTIONS:IPVanish lets you protect every device at once. Great for families. Doesn't consistently unblock the top streaming sites, but meets high standards of security. Offers a 30-day money-back guarantee.
PrivateVPN doesn't have as many servers as other providers on this list, but the wide geographic spread across 57 countries gives it considerable unblocking power. I found that PrivateVPN's servers were very fast and capable of streaming on Netflix Japan, BBC iPlayer, and Amazon Prime Video.
PrivateVPN is another easy-to-use VPN that makes it great for beginners. It comes with a simple, user-friendly interface while also featuring an advanced tab for experienced users. The advanced tab includes a stealth VPN feature for bypassing deep packet inspection by disguising VPN traffic as regular internet traffic. Its security offerings include 256-bit AES encryption, a kill switch, and DNS leak protection. The company's zero-logs policy ensures your privacy.
Apps can be downloaded for Windows, macOS, Android, and iOS. Linux and routers must be configured manually.
Pros:
Fast streaming and downloading speeds
Reliable privacy protections
Good security tools
Easy to use
Cons:
A limited selection of servers
Customer support only available during Swedish business hours
Kill switch only available on Windows
STREAM FROM ABROAD:PrivateVPN gets above-average speeds that make it great for streaming. Includes a wide range of security features and lets you get a Japanese IP address from anywhere. Try it out for 30 risk-free days.
Methodology: How I find the best VPNs for an IP address in Japan
I test each VPN to a specific criteria before recommending them to readers. Here are the main things I looked for in a VPN for getting a Japanese IP address:
Servers in Japan – To obtain a Japanese IP address, you will need a VPN with servers located in Japan. I look at how many servers there are, and whether or not they can handle activities like streaming content and downloading files.
Security and privacy – Anonymity and privacy are two of the biggest perks to using a VPN, but not all are capable of providing it. I check all of the tools and features, and look out for things like 256-bit encryption and a network kill switch.
Speed – Some VPNs can slow your internet down, and should be avoided. I run speed tests to check that a VPN can maintain reliable connection speed regardless of your activity.
Value for money –  I'm not just looking for the cheapest VPNs, but the ones that give you the most of your money. This includes subscription cost, free trials, and money-back guarantees.
Want to know more? Read my full VPN testing methodology for all of the details.
Japanese IP address FAQs
Are VPNs legal in Japan?
Yes, VPN usage is legal in Japan, as they are in most countries around the world. There is little censorship or restriction of the Japanese internet, but it is still a good idea to enhance your anonymity and widen the range of accessible content with a VPN. Just remember that any illegal activity is still illegal while using a VPN. 
Can I have a Japanese IP address with a free VPN?
Yes, there are many free VPN services that offer servers in Japan, but free VPNs suffer from poor performance and a lack of security. Every time I've used a free VPN I've always had a problem with much slower speeds than what a trustworthy paid VPN provides. The lack of payment means both that the provider doesn't have the resources to invest in a large network of servers, and that it will attract a significant volume of users—usually too many for the server networks to handle. Browsing the web will be inconsistent at best, and your movie streaming experience will be interrupted with frequent buffering pauses and loss of connection.
VPNs are meant to protect your privacy online, yet free VPNs have a reputation for doing exactly the opposite. The businesses that run free VPN services have to sustain their operation with profits like any other business, and that usually means they profit from selling records of your online activities to third parties without your knowledge or consent. Free VPNs will bombard you with annoying ads and popup windows, and some are laced with malware. Some don't even encrypt your connection. It is best to avoid free services' false sense of security and pay for a high-quality VPN service.
What can I do with a Japanese IP address?
There is a lot you can do with a Japanese IP address. It will bypass geographic restrictions on movies and TV shows, unblock Japan-only websites and online services, use public wifi spots with greater security, and hide your IP address.
Why use a VPN in Japan?
VPNs are useful everywhere because of their security benefits. If you live in Japan, you can prevent your data from being monitored by your internet service provider, government agencies, and malicious third parties by disguising your true IP address with a VPN server's IP. Your location and identity will be hidden even while you use unsecured public networks, which are popular targets for hackers.
Even if you already have access to exclusive Japanese content, having a VPN while in Japan will give you access to content only available back home. If you connect to a US server, for example, you will be able to watch American TV, including access to full streaming libraries of Netflix US, Amazon Prime Video, Hulu, HBO Now, and much more.
Which VPNs provide dedicated Japanese IP addresses?
None of the VPNs on this list provide dedicated IP addresses based in Japan, but NordVPN and CyberGhost offer dedicated IP address options in other parts of the world. Dedicated IP addresses are used exclusively by you, unlike shared IP addresses, so that comes with some advantages. These include faster speeds when the traffic load is high, access to IP-restricted networks, and a reduced risk of being blacklisted.
Who owns IP addresses?
IP addresses were originally created by ICANN (Internet Corporation for Assigned Names and Numbers) and then distributed to businesses and organizations, such as VPNs and your internet service provider. Public IP addresses are the property of the provider, while private IP addresses usually refer to local addresses doled out by the wi-fi router in your home or office.
Can an IP address reveal your identity?
An IP address by itself identifies your device and reveals your location, but not your human identity. The possibility of being identified arises when your IP address is combined with additional data such as your browsing history, timestamps, and downloads. You can keep all of this information and more concealed from prying eyes by obtaining another IP address when you connect to a VPN server.
Why is pocket wifi so popular in Japan?
Pocket wifi is popular in Japan, especially with tourists, because it's a convenient device that allows you to have an internet connection everywhere you go. They can be purchased or rented and used with pretty much any internet-capable device. Whether you're in the city or traveling to a remote region with little or no connection to the internet, pocket wifi devices will always keep you connected.