Looking for a VPN to protect your privacy or access restricted content or streaming services? I'll walk you through the best VPNs for Japan that put an emphasis on security and speed alongside working well with popular streaming services.
Japan is one of the most connected countries in the world. VPN services are popular among both its local population as well as with the thousands of tourists passing through the country every month. Government surveillance and internet censorship is far less pervasive in Japan than in its neighbor China, and has the freedom of speech enshrined in its constitution. Japan has acquired a reputation for being considered as one of the most free countries in terms of internet freedom – but some changes in Japanese law have cast doubt on the country's future.
A VPN, or Virtual Private Network, is a privacy tool used to encrypt the user's internet traffic and route it through an intermediary server located somewhere else in the world, which effectively makes the user's activities anonymous and untraceable while using the web. Users can disguise their true IP address, and therefore their location, by selecting from a list of VPN servers that will provide a new IP address. It is a great way to avoid monitoring from internet service providers (ISPs), government agencies, and malicious third parties in addition to lifting geographical restrictions on popular online content and streaming services.
In this article, I dive into the details of each individual VPN on this list – but if you're short on time, here's a brief summary.
My best VPNs for Japan:
NordVPN: My top choice for Japan. Its 5,600 servers stream high-quality video content abroad, and unblock just about anything. Its security standards are the best in the industry. It comes with a risk-free 30-day money-back guarantee so you can try it out first.
Surfshark: This provider's powerful security features, fast speeds, and no connection limit make it a great deal.
ExpressVPN: A popular choice for streaming HD streaming content from abroad. Its fast connection speeds make it ideal for streaming, downloading, and gaming.
CyberGhost: A beginner-friendly, low-cost VPN that makes no compromises on security or performance. Largest network of servers on this list.
PrivateVPN: A privacy-focused option with fast streaming speeds and strong security measures in place.
IPVanish: A great VPN for torrenting and Kodi users. It streams at high speeds, but really shines in downloading and security.
Private Internet Access: A lightweight VPN option that is customizable and provides strong security measures.
Atlas VPN: This small provider is both fast and secure. It can unblock many different services and supports an unlimited number of connections.
VyprVPN: A solid security option that works in China and other countries with heavy censorship. High performance, but a bit expensive.
With so many great VPNs on the market, it is difficult to determine which ones would be best suited for use in Japan. I assembled this list of VPN providers based on the following criteria:
Fast, reliable servers in Japan
Wide selection of servers worldwide
Works with the top streaming websites such as Netflix and local Japanese services
Keeps no identifying logs
Multiple simultaneous connections
Find out more information about the criteria I used in the testing methodology section further down this article.
The Best VPNs for Japan
The following VPNs are recommended for Japan.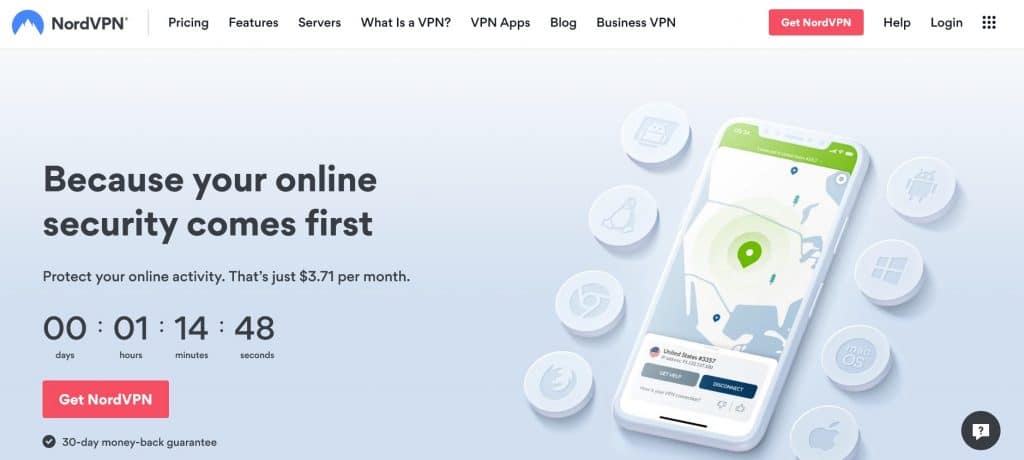 NordVPN is my first choice for a privacy and streaming solution while in Japan. Its zero-logs policy makes it a first-rate VPN for privacy-conscious users of the internet. It retains no data about user sessions, traffic, or timestamps, making it impossible for the company to give records of customer data to the authorities.
NordVPN operates one of the largest server networks on the market with more than 5,600 servers in 59+ countries to choose from and over 80 located in Japan. It also offers specialty servers optimized for anti-DDoS, video streaming networks, double VPN, Tor over VPN, and dedicated IP. NordVPN can circumvent geographical restrictions on popular streaming platforms like Netflix, Hulu, and BBC iPlayer. It supports torrenting as well.
Users of NordVPN have their online traffic protected with 256-bit AES encryption, 2,048-bit SSL keys, and DNS leak protection. A single subscription with NordVPN can protect up to six of your devices at once, and includes support for Windows, Linux, macOS, iOS, and Android.
Pros:
More than 80 servers in Japan
One of the largest server networks
Top-notch security protections
Keeps zero logs
Fast, stable connection speeds
Cons:
Selection based on location only, not by individual server (except in the Windows and Android apps)
Suffered a data breach in 2018
TOP VPN FOR JAPAN:NordVPN is my favorite VPN for Japan. NordVPN provides the strongest security in the industry and features 80 high-speed servers in Japan. Try it out for 30 days before you commit.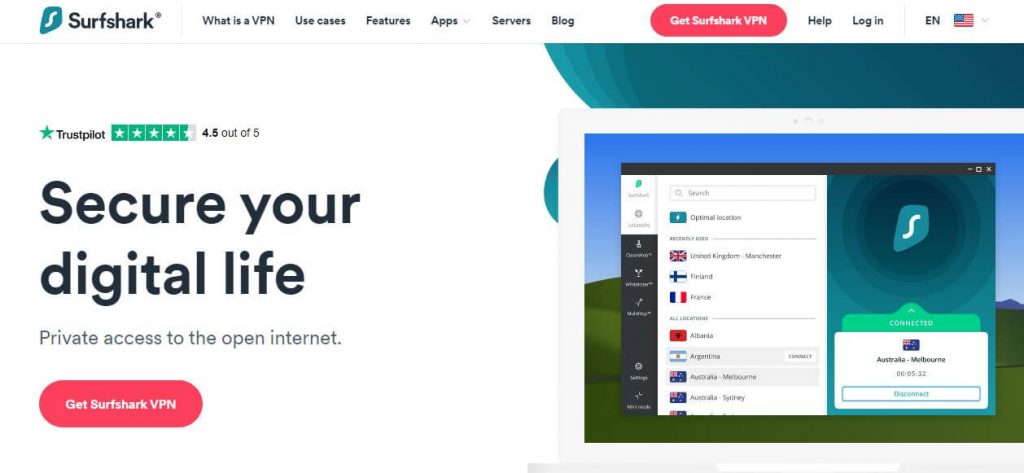 Surfshark is good for internet users on a budget. Like NordVPN, Surfshark keeps no logs on its customers' activities and even accepts payments in Bitcoin, Ethereum, and Ripple for anonymous signup. User traffic is protected with 256-bit encryption and features protection against DNS, IPv6, and WebRTC leaks. A kill switch is included, as well as a NoBorders feature that bypasses country-wide internet blocking.
Surfshark offers about 3,200 servers in more than 95 countries that work with a wide range of geo-restricted online content such as Netflix US, Hulu, and TV Tokyo. It allows unlimited torrenting on all of its servers and has no limits on simultaneous connections, so you can protect all of your devices under a single account.
Apps are available for iOS, Android, Windows, macOS, and Linux. Supported internet routers can be manually configured with Surfshark.
Pros:
Reliable connection speeds for streaming and downloading abroad
Unlimited simultaneous connections
Unblocks most streaming sites
Zero logs policy
Strong security protections
Low price
Cons:
You might encounter a few slow servers
Less established name than NordVPN or ExpressVPN
AFFORDABLE SECURITY AND SPEED:Surfshark is a low-cost option that doesn't slack on security or speed. Gets great download speeds with its wide selection of servers around the globe. Comes with a 30-day money-back guarantee.
ExpressVPN rates highly for its fast and reliable internet speeds. It offers more than 3,000 servers in 94+ countries to choose from for high-quality video streaming, and offers a few different server locations in Japan, although it does not disclose the exact number of Japanese servers.
ExpressVPN does not store traffic logs on its users, but it does keep metadata about the date of connection, choice of server location, and total bandwidth used. Your individual IP address isn't stored, however, so your privacy is still respected. Users who want additional privacy can sign up anonymously by paying in Bitcoin.
This provider uses the 256-bit AES-CBC encryption protocol as well as both HMAC authentication and perfect forward secrecy. An internet kill switch is included to protect your data in the event your connection to the VPN abruptly drops.
Streaming-oriented users will be able to use ExpressVPN with even the most stubborn streaming platforms such as Netflix, Hulu, Amazon Prime Video, and BBC iPlayer. It also supports torrenting.
Mobile and desktop apps are available for Android, iOS, Windows, macOS, and Linux.
Pros:
Fast connection speeds make it ideal for streaming and downloading
Servers in Japan
High level of privacy protections
Stores no logs
24/7 customer support via live chat
Cons:
Only five simultaneous connections
Not the cheapest VPN on this list
FAST DOWNLOADING:ExpressVPN is one of the fastest VPNs out there. Has strong privacy and security features built into its apps. Try it out with its 30-day money-back guarantee.
Due to its location in Romania, CyberGhost is not subject to data retention laws, and keeps no logs on its users' activities. It was recently acquired by a UK-based firm, but the company nonetheless insists that it is still subject to Romanian law. It offers over 9,000 servers in 91+ countries including 53+ in Japan.
User traffic is secured with 256-bit AES encryption on the OpenVPN protocol by default in addition to 2,048-bit RSA keys and MD5 HMAC authentication. An internet kill switch will immediately halt web traffic in case of an abrupt loss of connection to prevent you from browsing the internet without protection.
Pros:
More than 50 servers in Japan
Low cost, high security
Easy to set up and use
Servers optimized for streaming and secure browsing
Cons:
Isn't the best VPN for China or the UAE
Few customizable features
BEGINNER-FRIENDLY:CyberGhost is a good place to start for VPN newcomers. Plenty of fast servers in Japan. It includes a 45-day money-back guarantee.
PrivateVPN has 200+servers in more than 60 countries. This includes a server in Japan. It is a relatively small provider but it does not compromise on quality. Its connection speeds are fast and it can unblock many different services. It is also able to provide secure streaming access to Netflix and other services such as Hulu and HBO Now.
In addition, PrivateVPN's security measures are quite sturdy. Security features include AES 256-bit encryption, protection against IPv6, WebRTC, and DNS leaks, and the service stores no logs. If you want to maintain anonymity, you can pay with cryptocurrency and a burner email address to keep your information even more private.
PrivateVPN provides apps for Windows, macOS, iOS, and Android. Linux apps and routers can also be manually configured to work with this service. One thing to note is that the customer service team is only available during regular Swedish business hours which could be inconvenient for some users. With that being said, the quality of customer service that is offered is very good and the team can even connect to your computer remotely to help you set up the VPN on your system. 10 simultaneous connections are allowed for each subscription.
Pros:
Unblocks many different streaming services
Fast connection speeds
No logs are stored
Works in China
Cons
Small server network
Customer support isn't available 24/7
PRIVACY-FOCUSED VPN:PrivateVPN is a privacy-focused VPN that has features such as AES 256-bit encryption to keep you safe while online. It also offers fast connection speeds. It comes with a 30-day money-back guarantee.
IPVanish operates more than 2,000 servers in 75+ locations around the world with 20+ in Japan. The only data stored by IPVanish are the user details needed to set up an account for the first time, but after that, it logs no further data. It offers 246-bit encryption on the OpenVPN protocol, SHA512 authentication, and a DHE-RSA 2,048 key exchange with perfect forward secrecy. An internet kill switch is included in case the connection suddenly cuts out.
This VPN provider's selection of streaming content is limited in comparison with other VPNs on this list since it can't access geo-restricted content on Netflix and Hulu, but it can access BBC iPlayer. It allows torrenting on all of its servers, which makes it a good choice for users in Japan given the country's strict anti-torrenting laws. IPVanish is popular among Kodi users due to its fast speeds and minimal downtime.
Mobile apps are available for iOS and Android and desktop apps are available for Windows and macOS.
Pros:
Offers 20 fast servers in Japan
Major emphasis on security
Allows torrenting
Keeps no logs
Unlimited simultaneous connections
Cons:
Doesn't work in China
Smaller server network than some of its competitors
GREAT FOR FAMILIES:IPVanish operates a network of super-secure, torrenting-friendly servers. Doesn't consistently unblock Netflix and Hulu. Try it out first or get your money back within the first 30 days.
Private Internet Access (PIA) is a lightweight option with servers in over 80 countries. This includes servers in Japan. It is a good option for bypassing geographical restrictions and provides fast connection speeds thanks to its use of the fast and efficient WireGuard VPN protocol.
Strong security is offered by this provider too. AES 256-bit encryption, a kill switch, and split tunneling are offered to keep users safe while online. This service stores no logs either.
Apps are available for macOS, Windows, Linux, iOS, and Android. PIA's customer service team is available 24/7 via live chat as well and 10 simultaneous connections are allowed.
Pros:
Strong security measures are in place
Provides secure access to many services
WireGuardVPN protocol is supported
Several customization options are available
Cons:
Doesn't work reliably in China
App design is lacking in some ways
SECURE, CUSTOMIZABLE OPTION:Private Internet Access is a lightweight option that has strong security measures in place. It supports 10 simultaneous connections and comes with a 30-day money-back guarantee as well.
Atlas VPN is a smaller provider with around 40 server locations. Its network of servers is fast and the quality of service is excellent, however, despite its small size. It can access services such as Amazon Prime Video and its security measures are strong. It even includes servers in Japan.
The provider comes with serveral security features as well including a kill switch, 256-bit AES encryption, and protection against DNS, WebRTC, and IPv6 leaks. No logs are stored by this server either and if you desire added protection, you can use Atlas VPN's MultiHop servers to encrypt your data twice.
Atlas VPN has apps for Windows, macOS, Android, and iOS as well. It supports an unlimited number of connections too.
Pros:
Can unblock many different streaming services
Fast connection speeds are available
MultiHop servers encrypt data twice
Cons:
Doesn't work in China
Customer service could be better
FAST STREAMING SPEEDS WITH STRONG ENCRYPTION:Atlas VPN has strong encryption measures in place and its connection speeds are fast enough for streaming. This service comes with a 30-day money-back guarantee.
VyprVPN owns and operates its whole server network, which means its users' information passes through fewer hands. Its traffic is secured by the OpenVPN protocol, 256-bit AES protocol, 256-bit AES encryption, 2,048-bit RSA keys without perfect forward secrecy, and SHA256 authentication. It also includes an internet kill switch, and is one of the few VPNs that work in China.
Premium subscribers can access the proprietary Chameleon protocol, which scrambles OpenVPN metadata so deep packet inspection can't recognize it.
It offers over 700 servers to choose from, including plenty in Japan. Apps are available for Android, iOS, Windows, and macOS.
Although the company forbids torrenting, it works with geo-restricted content on Netflix, Hulu, and BBC iPlayer.
Pros:
Servers available in Japan
Company-owned server network
Works in China
Cons:
Slightly slower than some rivals higher on this list
Two-tier pricing structure can be confusing
No cryptocurrency payment method
WORKS IN CHINA:VyprVPN defeats online censorship.  A powerful privacy-oriented VPN and keeps no logs, but is more expensive than many others. Comes with a 30-day money-back guarantee.
Testing methodology: How I found the best VPNs for Japan
The testing procedure for the VPNs I have suggested is very stringent to ensure that users only get the best VPNs for their needs. Here are some of the factors that I considered when looking for the best VPN for use in Japan:
Servers in Japan: Having servers in Japan is necessary for accessing Japanese services that are usually geographically restricted. You will need a Japanese IP address to access these services and can do this by connecting to a Japanese VPN server.
Able to unblock services: Some services are harder to unblock than others. Not all VPNs are capable of unblocking all services. This is especially tricky when it comes to streaming services. You need a powerful VPN service that is able to bypass the anti-VPN measures put in place by some services. I made sure that the VPNs I selected are capable of bypassing a wide variety of different services.
Speeds: You need fast connection speeds when you are trying to do things like stream Netflix. All VPNs will slow down your connection a little bit but this should be barely noticeable. This is the mark of a quality VPN. I carried out speed tests on all of the VPNs that I looked at for this review and only recommended the ones that are capable of providing a mostly lag-free internet experience.
Security measures: A VPN should also provide added security and privacy measures for users. I kept an eye out for strong 256-bit AES encryption when carrying out my testing and also looked for other things like no-logs policies and network kill switches. All of these measures help to keep users' information private and help to protect them from cyber threats.
How free is the Japanese internet?
Freedom House ranks Japan's internet as "free" with a high score of 96/100, noting the absence of restrictions on social media apps, access to online content, or persecution of popular bloggers. The constitution of Japan upholds the value of free speech and explicitly prohibits censorship.
But national concerns within the past decade have led to some shifts in the government's attitude toward free speech and censorship. In 2013, lawmakers in Japan passed the "Act on the Protection of Specially Designated Secrets", which criminalized the publishing of national secrets regardless of intent or content. Freedom House warns journalists, whistleblowers, and civil rights organizations that this act may have some serious consequences for their operations. The United Nations Human Rights Committee commented that the legislation has only vaguely defined the limits of legally acceptable behavior and actions punishable under the act.
The act was drafted following a recommendation by Japan's communication ministry to apply the same regulations to the internet that already defined the limits of legally-acceptable activities for newspapers and broadcast television channels. The report, titled "Final Report on a Comprehensive Legal System for Communications and Broadcasting" stated that "there is a need for an active effort from the government…as it is difficult for Internet Service Providers (ISPs) to individually make judgments regarding concrete harmfulness".
So far, there have been no arrests of media personnel under this new legislation. Those found guilty of revealing state secrets could receive a maximum penalty of a 10-year sentence in prison.
In 2016, Foreign Policy reported on former Prime Minister Abe's restrictions of media freedoms in Japan. According to Foreign Policy, three television anchors were mysteriously removed from their jobs under unclear circumstances, causing some to believe that the dismissals were coordinated by the government.
Developments such as these caused the UN to carry out a fact-finding mission in Japan where UN representatives spoke with journalists, educators, and government officials. After its investigation, the global body declared that the "independence of press in Japan is facing serious threats".
"Across a range of areas, I learned of deep and genuine concern that trends are moving sharply and alarmingly in the wrong direction. This is especially acute in the context of media independence," added David Kaye, UN's special rapporteur. The day after the report, Japan's ranking in press freedom by Paris-based Reporters Without Borders slid 11 places to 72 out of 180 countries surveyed.
Japan VPN FAQs
Can I use a free VPN in Japan?
There is a wide variety of free VPNs to choose from, but I advise against using one. Even though it is tempting to save your money with a free option, free VPNs offer neither the speed nor security of a reputable paid service.
Free VPN providers usually lack the resources to invest in strong encryption standards, a large server network, and other assets necessary to deliver a quality experience. Your internet connection will most likely be disrupted by slow speeds, frequent loss of connection, and bandwidth caps. These are not optimal conditions, especially for those who use VPNs to stream HD video.
The privacy standards on most free VPNs are insufficient as well. Because free providers are obviously not making money from subscription fees, they find alternate sources of revenue in tracking and selling their users' personally identifiable information to third parties without their knowledge or consent. Ad revenue comes from inserting intrusive ads into the user's browser, and some free VPNs are even laced with malware. If an online service is free, usually that means the user is the product, not the client.
How do I access Netflix Japan via VPN?
If you want to access Netflix Japan while travelling outside of the country, just connect to one of your VPN's servers in Japan and you will be able to access your home streaming services from anywhere. If you are still unable to access Netflix Japan, try connecting to other Japanese servers, or clearing your browser's cache and cookies. Failing that, you can always contact your VPN's customer support team.
Is using a Japanese proxy server better than a VPN from Japan?
Proxy servers and VPNs are both capable of replacing your IP address with that of another and letting you browse the web anonymously, but only a VPN encrypts your internet traffic. VPNs are more reliable privacy solutions than proxy servers for keeping your information safe from being monitored by ISPs and other entities.
In which Japanese cities does NordVPN have servers?
At the time of writing, NordVPN offers more than 80 servers in Tokyo. Go to NordVPN's website to find out more about their VPN servers in Japan.
Is torrenting legal in Japan?
Japan is known for its severe anti-torrenting laws. Illegally uploading media such as video games, anime, and manga comes with penalties of up to 10 million yen fines and even two-year prison sentences. In 2013, 27 people were arrested for uploading copyrighted media to the internet without the permission of the relevant copyright holders. Some users of Reddit and Quora have suggested that the focus of the Japanese law enforcement is more focused on catching uploaders of copyrighted content instead of those who download torrents, but the legal risk is nonetheless present for downloaders as well.