You can watch Netflix in Norway, but it isn't the same service as that for the USA – you get a lot fewer shows and movies to choose from. If you want to access US Netflix in Norway, you will need to use a VPN. Read on to find out exactly how easy it is to set up a VPN and which ones to use.
If you are used to the videos available on American Netflix, you will be surprised to see the library that you get in Norway doesn't include all of the options that were available before you left home. This is particularly annoying if you were halfway through watching a series and it suddenly disappears. In some cases, the shows that are available in both the USA and Norway versions are not exactly the same, this is because entertainment has to be edited to suit the laws of each country where it is shown.
The entertainment library available on US Netflix is better than the list of shows available in any other country because it has more titles in English. So, when you go to Norway, you might wish that you could get into the same Netflix that you have available when you are back home.
In this article, I will explain how you can make it appear as though you are in the USA even though you are in Norway. Under these circumstances, you will get access to the US version of Netflix. The key piece of technology that you need to use so that you can get into US Netflix from Norway is called a VPN.
How to get Netflix USA in Norway
To watch American Netflix while you are in Norway, follow these straightforward steps below. The first-time setup is very simple even if you've never used a VPN before.
Here's how to watch Netflix USA in Norway:
1. Sign up for a Netflix-capable VPN. I recommend NordVPN.
2. Download and run the installer and let it set up the VPN app.
3. Open the app and select a Netflix VPN server in the US.
4. Turn the VPN on.
5. Enter netflix.com in your browser, select a video, and watch.
If you're still unable to watch Netflix USA in Norway, try clearing your cache and cookies and then reloading the page.
Not every VPN service can get into Netflix. This is because Netflix knows about VPNs and understands how these services circumvent the company's access controls. So, as well as detecting the origin of each access request, the Netflix web server scans for signs of VPN activity. This should block the chances of getting into US Netflix from abroad. When the web server thinks it has spotted signs of VPN activity, it doesn't send back the video player page, but sends an error message screen instead. You will see this message:
"Whoops, something went wrong. Streaming error. You seem to be using an unblocker or proxy. Please turn off any of these services and try again."
A few very diligent VPN companies have worked out strategies to evade detection. This handful of VPNs can get you into US Netflix from anywhere in the world. One of the strategies that these skillful companies use is to switch the servers that have the ability to get into Netflix – even those companies that can dodge Netflix controls don't put that capability into all of their US servers. Usually, the VPN service will flag the right server to use by putting "Netflix" in the server name. Otherwise, if you can't identify the right server, you just need to contact the Customer Support department and ask them which is the right server to select.
I have reviewed my top VPN picks in detail below but if you're short on time, here's a quick summary:
How to choose the right VPN to watch American Netflix in Norway
The VPNs on this list certainly can get into American Netflix from Norway. However, I also took into account other factors when ranking the best services for this task. These were:
Servers in the USA
Easy-to-use apps that install themselves
Responsive customer support or good user guides online
High speeds
Strong privacy measures
Make sure you read the methodology testing section later in this article for a more in-depth look at the criteria I used.
Best VPNs to access US Netflix from Norway
Here is my list of the eight best VPNs to access US Netflix in Norway.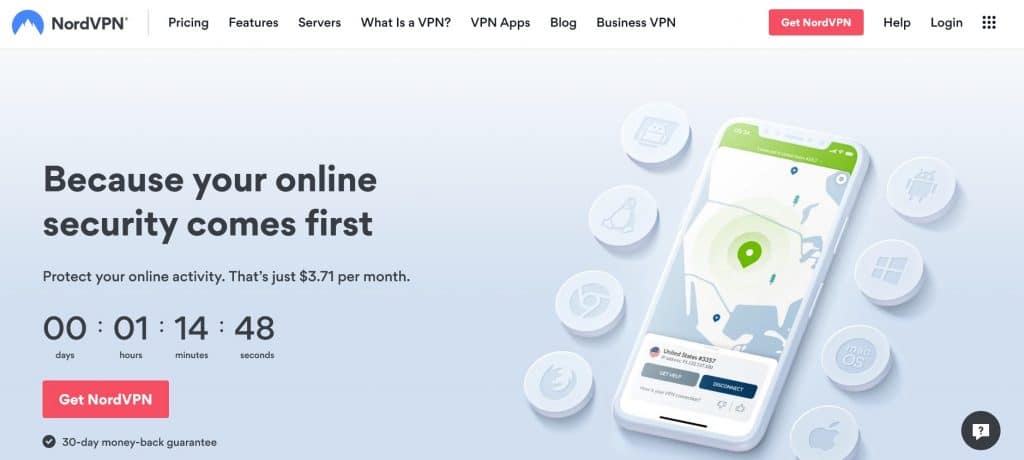 NordVPN is my top pick for a Norway VPN. It has servers in 60+ countries and has a large number of them in the United States. This is one of the least expensive VPNs around but it will still get you into US Netflix from Norway. You will also be able to get into ABC, NBC, CBS, Hulu, and Amazon Prime with NordVPN, plus video streaming services in other countries, such as the BBC iPlayer.
I have tested the speeds of all of the VPNs on this list and NordVPN is the fastest. It's ideal for streaming video from American Netflix to Norway and any other online tasks.
Your privacy is enforced by a no logs policy, connection encryption, and a private DNS system. The apps include a kill switch and a security system that will block infected web pages from loading in your browser.
Apps are available for Windows, macOS, iOS, Android, and Linux and the VPN can be installed manually on routers and set-top boxes. NordVPN produces a browser extension for Chrome and Firefox. You are allowed to connect up to six devices simultaneously.
Pros:
Easy-to-use apps
Large server network in the USA
Lots of security extras
Keeps no logs
24/7 support
Cons:
Desktop app could use an update
BEST NORWAY VPN:NordVPN is my #1 choice for providing secure access to US Netflix in Norway. It's extremely fast and includes some great security extras. You get a 30-day money-back guarantee to assess the service risk-free.
Surfshark is a fantastic budget VPN that won't let you down on the streaming front. It's fast enough for HD streaming and is highly adept at accessing geographically restricted streaming services. Netflix US poses no issues, nor do the other dozen or so Netflix libraries it can provide access to. You'll also be able to access Amazon Prime Video, BBC iPlayer, Hulu, ANC, and lots more. With more than 3,200 servers covering over 90 countries, you'll have access to a virtually endless list of sites.
Concerned about security? Surfshark doesn't fall short there either. It packs a ton of security features including a kill switch, leak protection, automatic WiFi protection, double VPN, and more. Surfshark never keeps any logs of any user activity so even if it were asked to hand over information, it would have nothing to show.
Apps are available for Windows, macOS, Linux, iOS, and Android. You can install it manually on select routers. One of Surfshark's biggest selling points is the fact it has no connection limit so you can use it on as many devices as you like.
Pros:
Use on all devices
Provides access to a range of content
Large network of servers
Excellent speeds
Cons:
Support can be lackluster
BEST BUDGET CHOICE:Surfshark won't break the bank and offers you a fast, reliable service suitable for browsing, streaming, torrenting, and more. A 30-day money-back guarantee sweetens the deal.
ExpressVPN is adept at accessing Netflix US from anywhere, including Norway, and is fast enough to stream HD video. You'll also be able to access ABC, CBS, and NBC from Norway, as well as US subscription services such as HBO Go, MLB, and YouTube TV. ExpressVPN has a server presence in 94+ countries, so you will also be able to access free video streaming services in other countries, such as BBC iPlayer.
Privacy features include a no-logs policy and strong encryption on all connections. A kill switch in the apps stops other software from giving away your real location by connecting to the internet without the VPN being active. A private DNS system protects the address lookup process that your browser has to follow in order to get the internet address of the sites that you ask for.
The ExpressVPN apps run on Windows, macOS, Android, iOS, Linux, Amazon Fire TV, and flashed routers. A browser extension for Chrome, Firefox, and Safari is available, but that also needs the desktop app to be running. You can connect up to five devices simultaneously.
Pros:
Speeds that are good for intercontinental video streaming
Apps for all operating systems, including Linux and some routers
Good at dodging geo-restriction measures
Help team online 24/7 via live chat
Cons:
Simultaneous connection allowance not very big
GREAT FOR SECURE ACCESS TO STREAMING SERVICES:ExpressVPN has high speeds, great customer support, and very straightforward apps. It's great for accessing Netflix USA from Norway and anywhere else in the world. The company offers a 30-day hassle-free money-back guarantee for its VPN service.
CyberGhost can get you into Netflix USA from Norway and it will also give you access to US-based Hulu and Amazon Prime from Europe. The service includes access to server locations in 59 countries and it has very good speeds for constant video streaming.
You get top-strength encryption from CyberGhost – it is as strong as the encryption applied by ExpressVPN. Other connection protection measures include a private DNS service and the apps have a kill switch.
The administrative procedures of CyberGhost were designed for privacy protection. The service keeps no logs and CyberGhost doesn't even hold your bank account details. You pay to a separate company, called Cleverbridge, which gets you a digital voucher for VPN access. You don't need to give any identifying information to the company unless you contact the Help Desk. Support is accessed through a web form and that requires a valid email address for the response.
A subscription gives you the right to use CyberGhost apps for Amazon Fire TV, Amazon Firestick, Windows, macOS, Android, and iOS devices. A VPN connection can be set up manually on Linux computers, routers, and set-top boxes. Each subscriber is entitled to connect to the CyberGhost service seven times simultaneously.
Pros:
High speeds for transatlantic video streaming
Very strong encryption
Comprehensive online knowledge base
Extra security features for free
Cons:
Accessing customer support breaks anonymity
STRONG PRIVACY:CyberGhost go to great lengths to protect your online privacy. The service has very strong encryption for connection and total account anonymity. Subscribers get a 30-day money-back guarantee.
PrivateVPN is based in Sweden, next door to Norway and it has servers in 60+ countries, including the USA. The speeds for this service are great, and, coupled with the system's ability to get you into Netflix USA from Norway, make this a great choice for streaming and downloading.
The organization of accounts is remarkably similar to that practiced by CyberGhost. You pay Cleverbridge for a digital voucher to access PrivateVPN. The company holds no personal information about you and refuses to keep activity logs.
The support department of PrivateVPN goes one better than CyberGhost because the Help Desk is available via a live chat facility, so you don't have to give out your email address in order to get a solution to your problems. The technicians are available during Swedish/Norwegian business hours. They can take control of your computer remotely and fix your problems.
Security features include a kill switch in the apps, DNS leak protection, and encrypted connections. The apps run on Windows, macOS, Android, and iOS and you can set up the VPN manually on Linux, routers, and set-top boxes. You get a 10 simultaneous connection allowance.
Pros:
Speeds good for streaming video from the USA
Help Desk via live chat during Norwegian business hours
Account anonymity measures
Strictly no logs
Cons:
Only has 14 servers in the USA
SCANDINAVIAN SERVICE:PrivateVPN has fast speeds and strong privacy procedures, which include account anonymity and a no-logs policy. All customers get a 30-day money-back guarantee.
IPVanish boasts great speeds which coupled with the company's no logs policy make it the top choice for many torrenters and Kodi users. It will get you into Netflix USA and transport uninterrupted HD video streams to you in your Norwegian location.
You aren't limited to breaking access controls at Netflix because the service can get past the geo-location locks on many US streaming services and its presence in 60+ countries gives you a choice of entertainment from around the world.
The IPVanish apps include a kill switch and install on Windows, macOS, Android, iOS, Linux Mint, Amazon Fire TV, and Amazon Firestick. You can also set up a connection manually on Kali, Fedora, Ubuntu Linux, set-top boxes, and routers. All connections include DNS leak protection and are secured by encryption. You are allowed to connect an unlimited number of devices all at once.
Pros:
Based in the USA
Very fast speeds
Unlimited simultaneous connections
No activity logs
Cons:
Customer support can be slow to respond
HUGE CONNECTION ALLOWANCE:IPVanish's unlimited simultaneous connection allowance, coupled with the best speeds in the industry, make this a great option for streaming and downloading. The service includes a 30-day money-back guarantee.
Private Internet Access (PIA) is a lightweight option that makes use of the efficient Wireguard VPN protocol. Thanks to this it offers fast connection speeds. With servers in over 80 countries, including the US, it is capable of providing secure access to the US Netflix library for Norwegian viewers.
This provider has strong security measures in place as well. These measures include AES 256-bit encryption, a kill switch, and split tunneling. These all contribute to the safety of users while streaming or doing anything online for that matter.
PIA has apps for macOS, Windows, Linux, iOS, and Android. Their customer service is available 24/7 via the provided live chat. 10 simultaneous connections are allowed.
Pros:
Provides secure access to the Netflix USA library for Norwegian viewers
Has strong security measures in place
Supports the fast and efficient WireGuard VPN protocol
Offers several customization options
Con:
Doesn't work reliably in China
App design could use some improvement
LIGHTWEIGHT AND SECURE OPTION:PIA is a good choice since it is lightweight and fast. It also provides strong security and privacy measures. It can provide secure access to the USA Netflix library to users in Norway as well. PIA comes with a 30-day money-back guarantee.
Atlas VPN is a smaller VPN provider with just under 800 servers. Its network is fast and allows for the secure streaming of services such as Netflix without lag or buffering. It offers high-quality service despite its small size.
In keeping with this, Atlas VPN also offers strong security measures such as 256-bit AES encryption, a kill switch, and protection against DNS, WebRTC, and IPv6 leaks. No logs are stored with this service. It also has MultiHop servers which encrypt connections twice for increased security.
Atlas VPN apps are available on Windows, macOS, Android, and iOS. It supports an unlimited number of connections.
Pros:
Offers secure access to Netflix USA
Fast connection speeds
MultiHop servers encrypt data twice
No identifying logs are stored
Cons:
Doesn't work in China
Customer service could benefit from being improved
FAST STREAMING SPEEDS:Atlas VPN is fast and offers strong security. It can also offer secure access to Netflix USA and other streaming services such as HBO Now. It comes with a 30-day money-back guarantee.
Testing methodology: selecting the best VPNs
There are many different VPN services that you can pay to subscribe to. However, not all of them offer top-tier performance. I have reviewed many different VPNs to find ones that perform well enough to give access to major streaming services such as Netflix USA. Here are some of the factors that I considered when making my choices for the best VPNs for providing secure access to Netflix USA in Norway:
Servers: The greater the number of US servers the better. This increases the chances of Norwegian viewers being able to access Netflix USA.
Ability to provide secure access to streaming services: The VPN services that I selected are able to access top-tier streaming services such as Netflix without too much hassle. This is necessary for viewers in Norway who wish to access foreign libraries such as the US library.
Security: In addition to being able to access streaming services, VPN services must also offer users protection against online threats such as hackers on open WiFi networks.
Speed: While all VPNs will slow down your internet connection a little, the difference should be minimal. All of the VPNs I selected provide fast speeds that are necessary for streaming content from platforms such as Netflix.
Find out more about my extensive VPN testing methodology process.
Watching Netflix USA in Norway FAQs
What about free VPNs to provide secure access to Netflix USA in Norway?
Although it is exciting to learn that there are free VPNs available, once you try them out, you will be disappointed. These services are slow and none of them can get into Netflix from abroad. One no-cost strategy that I discovered is to go for the free versions that some good VPNs offer. These are permanently free and don't compromise your security. However, there is a catch. These fee-charging services aren't going to cannibalize their own market by giving away their excellent services for nothing. The free versions usually have a small monthly throughput allowance, slower speeds, and expensive features such as access to Netflix capabilities stripped out.
The free VPNs that are standalone products can actually be dangerous. They cut corners to reduce their costs and many don't include any encryption. A lot of them make you watch ads, delay your connections, or even track your activities on the internet and sell that information to marketers.
Overall, it is a bad idea to entrust your privacy to free VPN services and they are particularly a waste of time if you are trying to get into Netflix. Why not take a look at my cheap VPN recommendations if you're on a tight budget?
Why are there different versions of Netflix?
You may find it strange that Netflix goes to the great expense of changing the video library for each country. It also seems odd that they would spend so much money to limit the enjoyment of paying customers. However, there are good reasons why the video library is different for each version of Netflix.
For one thing, the law is different in each country. There are scenes or phrases that are perfectly legal in the USA, but are considered seditious, blasphemous, or libelous in other places. In some instances, a show or movie may be so completely unsuitable for the law in a country that Netflix doesn't even bother to make it available there. Broadcasters have to be careful to stay within the law and so Netflix has to prevent a customer in one country from seeing a version meant for another country.
Copyright issues are the second category of reasons why Netflix limits viewer freedoms. The company doesn't buy the rights to show a video in every country in the world. The entertainment industry has always split up its sales of broadcasting rights by territory. So, Netflix might not hold the rights to show a video in Norway, while it does have the right to show it in the USA. The company often buys video specifically to please the audience in a particular country and might judge that there is probably no appetite for that video in other regions. So, there are lots of Norwegian language videos available in Netflix Norway that aren't in the library for Netflix Japan or US Netflix.
How does Netflix control the video library?
Netflix access controls begin when you sign up for the service. You have to enter a bank account in order to open a Netflix account. The software that manages account creation checks the location of that bank account against the location that you are in at the time. If the two countries don't match, you can't open a Netflix account.
If you intend to go to Norway from the United States for a short time, you probably won't be opening a bank account there. In that case, you will not be able to open a Netflix account once you are in Norway, so you should sign up before you leave.
The account that gets set up for you includes a language setting. This is set to the language of the country that you sign up in by default. You can change that setting. Whenever you access Netflix and no matter where from, the entire site will be presented in your profile language and you will only be offered videos that are available in your language.
The other main selection criteria for making videos accessible in the library is your present location. It doesn't matter where you signed up for Netflix, you get access wherever you are in the world. However, you get the videos that are permitted in your present location that are also available in your profile language.
How does Netflix know where I am?
Netflix has one web address for access from anywhere in the world: netflix.com. Netflix is available everywhere in the world except for in China, North Korea, Syria, and the Crimea. The account you signed up for in your home country is valid for access when you travel abroad. So, if you go to Norway, you can still keep watching Netflix. However, the video library that you see won't be the same as the one you get in the United States.
When your browser sends a request for the Home page of Netflix, the receiving server checks on the origin of that request. Every computer connected to the internet has a unique identifier, called the IP address. This address can be traced to a physical location and sends back the Home page for that place.
The IP address that identifies your internet session doesn't attach permanently to your computer. Instead, it is allocated by the internet service provider when you connect, so when you travel from the USA to Norway, you don't take your American IP address with you.
You aren't allowed to see the library until you log in. Netflix stores your account details on your device, so you will be logged in automatically when you access the Home page. The account details dictate the language of the website that you are presented with and, together with your location, narrow down the selection of videos listed in the library.
When you use a VPN, you have to select a server and then all of your internet communications run through that server. Those requests to the Netflix server get sent out with the VPN server's return address on them. So, when the Netflix server sees a US IP address and not your real Norwegian address, it sends back the code for the video that you selected. That code gets sent to the VPN server in the USA, which then forwards it all on to your device down a secure connection.
Why wasn't I able to watch Netflix USA with other VPNs?
Netflix checks your location at two points of access: when you enter the site and when you click on a video to watch it.
The second check is tougher than the first because it also includes scanning for VPN activity. There are many VPNs that will get you into the video library, but most of them fail the second test. If your VPN doesn't cut the mustard, you will see the Streaming Error message. The VPNs in our list will all get you through this second lock to enable you to watch US Netflix from Norway, or anywhere else in the world.