Viewership of Paramount+ is limited to the United States due to the company's licensing agreements. Any attempts to watch Paramount+ from other parts of the world will result in an error message. This means that paying subscribers of Paramount+ who live in the States will encounter this issue when traveling outside of the US. Fortunately, travelers will be able to keep up with their favorite streaming content from back home by connecting to a Virtual Private Network, or VPN for Paramount+.
VPNs are privacy tools designed to encrypt your internet traffic and route it through an intermediary server located in another part of the world, often one in another country. The IP address of the VPN server replaces the IP address of your device. This way, every site you access will only see the VPN server's location, therefore granting access to geo-restricted online content. If a US resident travels to Canada and connects to a VPN server based in the US, for example, Paramount+ will not know that the viewer is actually watching from a restricted region.
I get into the fine details of each VPN provider further down in this article, but first, here is a summary of my top six VPNs for watching Paramount+ abroad:
NordVPN: My #1 VPN for Paramount+. Vast server network with more than 2,000 servers in the US alone. Great streaming speeds combined with strong privacy protections. Includes a 30-day money-back guarantee.
Surfshark: Best budget pick for streaming Paramount+. There are thousands of fast servers to choose from and you can enjoy an unlimited number of simultaneous connections too.
CyberGhost: An easy-to-use provider with thousands of servers optimized for HD streaming on Paramount+. Great for beginners and advanced users alike.
ExpressVPN: Unblocks most popular streaming services like Paramount and streams at impressive speeds. Great security features and easy to use.
IPVanish: Preferred by Kodi users for their remote-control-friendly apps. Fast, secure, and offers unlimited simultaneous connections.
PrivateVPN: New and upcoming provider with excellent unblocking abilities, including Paramount+. A relatively small network that gets amazing connection speeds.
Hotspot Shield: Quality performance when streaming Paramount+ from abroad.
The best VPNs for Paramount+
When I searched for the best VPNs to use with Paramount+, I used the following criteria to assess each provider:
Reliably works with Paramount+
Server locations in the US
Fast and reliable connection speeds
High security standards
Has a no-logs policy
Here's my list of the best VPNs for Paramount+: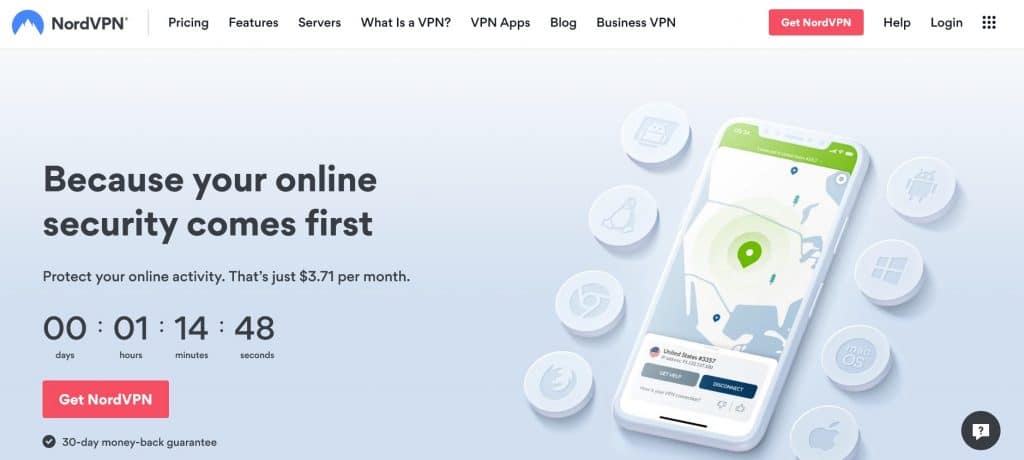 NordVPN is my first choice Paramount+ VPN. It has high speeds, powerful security features, and a wide server network. The company operates a network of more than 5,300 servers in 60 countries around the world including over 1,970 in the United States alone. NordVPN works with streaming platforms like Paramount+ and Hulu while streaming HD video with little to no buffering. You can protect up to six devices at once with a single account.
NordVPN encrypts your internet traffic with 256-bit AES encryption and adds further security with a kill switch and protection against IPv6, DNS, WebRTC, and port forwarding leaks. The kill switch will cut your connection to the internet in case of a sudden loss of connection to the VPN so that you won't browse the web without protection. Its server network includes servers optimized for double VPN usage, Tor over VPN, downloading, and streaming. NordVPN has built its reputation over the years as a no-logs VPN provider, which means the company does not store records of its users' online activities.
NordVPN provides apps for Windows, macOS, iOS, Android, Linux, Amazon Fire TV, and some routers. Supported routers and Linux apps require manual configuration.
Pros:
Over 1,800 servers in the US can unblock just about anything
Fast connection speeds are great for HD streaming
Solid privacy and security
Strict no-logs policy
24/7 live chat support available
Cons:
Server selection is based on city only, not by the individual server
BEST VPN FOR PARAMOUNT+:NordVPN is my #1 pick. Reliably streams HD video at fast speeds and works with the biggest names in streaming. Six simultaneous connections and a risk-free 30-day money-back guarantee.
Surfshark is a budget-friendly solution for the entire family. It is one of the few VPN providers that allows completely unlimited simultaneous connections for one low monthly price. There are over 3,200 servers across 63 countries, including hundreds in The United States. This means that watching streaming platforms like Paramount+, Netflix, and Amazon Prime Video will be effortless, regardless of your location.
Surfshark uses 256-bit AES encryption as well as many other premium security tools like a network kill switch and NoBorders Mode. NoBorders Mode allows you to access the internet in even the most restrictive regions like China. Users can also benefit from Private DNS servers and DNS leak protection. Surfshark also supports split tunneling so that you can choose which sites and apps use the VPN tunnel and which don't.
There is an app for Windows, macOS, iOS, Android, and Linux. The VPN can be configured to some home routers too. There is a 30-day money-back guarantee that can be easily claimed if you're not 100% satisfied with Surfshark.
Pros:
Work with Paramount+
Has thousands of fast servers
Keeps no logs
Supports unlimited devices
Great speeds for streaming
Cons: 
May cause captchas when browsing on mobile
Customer support could be improved
BEST BUDGET VPN:Surfshark allows unlimited devices on a single subscription. Has a large selection of servers in the US for streaming Paramount+ and comes with a 30-day money-back guarantee.
CyberGhost is my recommendation for first-time VPN users. Its intuitive interface will match you with a server optimized for specific activities including browsing the web securely, torrenting anonymously, and watching streaming services like Netflix, NBC, and Paramount+. It runs the largest server network on this list with over 7,200 servers in 91 countries.
It's a great beginner VPN, but CyberGhost doesn't leave behind advanced users. I enjoy using CyberGhost's option to force HTTPS, block ads and malware, and to use a kill switch in case I lose connection to the VPN. CyberGhost uses industry-standard 256-bit AES encryption and includes protection against DNS, IPv6, and port forwarding leaks. CyberGhost stores no logs of user data, and the company is based in Romania where there are no mandatory data retention laws.
Apps are available for Windows, macOS, iOS, Android, Linux, Amazon Fire TV, and some routers. Routers and Linux apps require manual installation.
Pros:
Beginner-friendly
Over 1,200 servers in the US
No issues unblocking Paramount+, BBC iPlayer, and more
Steady speeds and unlimited bandwidth
Quality security features
Cons:
Doesn't work reliably in China or UAE
Few advanced configuration options
HIGH PERFORMANCE:CyberGhost is powerful and easy to use. Great for beginners. Good on privacy, offering a secure network. Streams HD video reliably. 45-day money back guarantee.
ExpressVPN is a popular VPN for streaming thanks to its fast speeds and ability to reliably bypass geographic restrictions. Over 3,000 servers in 94 countries are available on its server network including servers in 14 US cities, giving plenty of coverage options for viewers of Paramount+. ExpressVPN is capable of working with a wide range of popular streaming platforms including Netflix, Amazon Prime Video, and Hulu.
ExpressVPN's security features include 256-bit AES encryption, perfect forward secrecy, protection against DNS leaks, and a kill switch. It accepts payments in Bitcoin for anonymous registration and features a .onion version of the website on the Tor network. ExpressVPN keeps minimal logs on non-identifying information such as the amount of bandwidth used and the date—but not the time—of connection to a VPN server. No IP addresses or browser history is logged.
Pros:
Several server locations in the US
Reliable connections
High-end security features with strong privacy protections
Also unblocks Netflix, Hulu, Amazon Prime Video, and BBC iPlayer
Cons:
Limited advanced configuration may disappoint power-users
More costly than many of its competitors
GREAT STREAMING VPN:ExpressVPN delivers high speeds and the ability to access plenty of major geo-restricted streaming services like Paramount+. Top privacy features and keeps no logs. It even comes with a 30-day money-back guarantee.
IPVanish is a good choice for in the United States streaming because it has server locations in 20 US cities. Its server network spans over 1,900 servers in 75 locations around the world that regularly deliver fast speeds for HD streaming.
IPVanish keeps your online activities private with 256-bit AES encryption, a kill switch, IP switching, traffic obfuscation, and local blocking features. IPVanish follows a no-logs policy so none of your online activities can be traced back to you. IPVanish users get great value with their generous allowance of unlimited simultaneous connections, so you can protect all of your devices at once.
Apps are available for Windows, Android, iOS, macOS, and Amazon Fire TV. Linux and supported routers require manual configuration.
Pros:
Servers in 20 US cities
Unlimited simultaneous connections
Plenty of high-quality privacy and security features
A favorite among Fire TV Stick and Kodi remote control users
Cons:
No live customer support
Requires manual configuration of third-party apps (like OpenVPN) to work in China
PROTECT EVERY DEVICE:IPVanish is great for families that need a lot of simultaneous connections. Good at unblocking most geo-restricted content. Recommended for its high standard of privacy. 30-day money-back guarantee.
PrivateVPN's smaller-than-average server network streams HD video at higher-than-average speeds. 200+ servers are available to choose from in 63 countries which provides considerable geographic variety for unblocking international streaming content. PrivateVPN can reliably unblock Amazon Prime Video, Huli, and HBO in addition to Paramount+.
PrivateVPN keeps your traffic secure with 256-bit AES encryption, a kill switch, and protection against DNS and IPv6 leaks. PrivateVPN doesn't log any of your online activities and provides customer support during European business hours. With your permission, the customer support team can remotely control your device to troubleshoot issues and configure the VPN for you.
PrivateVPN apps are available for macOS, Windows, iOS, and Android. Linux systems and supported routers require manual configuration. You can protect up to six devices at once with a single subscription.
Pros:
Unblocks most geo-restricted streaming platforms
Six simultaneous connections
Strong security and privacy features
Great connection speeds
Cons:
A small selection of servers
Support staff are good, but only operate during European business hours
FAST SPEEDS:PrivateVPN is easy to use. Allows up to six devices on the same account. Offers a smooth streaming experience. Fast connections but could do with having more servers to choose from. 30-day money-back guarantee.
Hotspot Shield is another worthwhile VPN for streaming-focused users due to its network of over 1,800 servers across 80 countries, which will grant access to the libraries of just about any geo-locked streaming library. Hotspot Shield can access American TV services like HBO, Paramount+, and many others.
Hotspot Shield's security package includes 256-bit AES encryption, a kill switch, protection against DNS and IPv6 leaks, and its proprietary Hydra protocol. This VPN includes the option to automatically connect while on unfamiliar networks and the option to bypass the VPN blocks on certain websites. Data collected by Hotspot Shield is cleared as soon as you disconnect from the service, so there are no logs kept. There is live customer support is available around the clock.
Apps are provided for Windows, macOS, Linux, Android, and iOS. Up to five devices can be protected simultaneously under a single account.
Pros:
Fast enough for streaming live HD video
Powerful security features
Good unblocking ability
Cons:
Some past privacy issues
No support for routers
SPEED AND SECURITY:Hotspot Shield streams Paramount+ in high quality without compromising on your security. Includes a 45-day money-back guarantee.
Methodology: How I find the best VPNs for Paramount+
Not every VPN works with Paramount+ and so each service is tried and tested for compatibility and many other aspects. Here are some of the things I look for in Paramount+ VPNs:
Server network – The most popular VPNs have thousands of customers and servers can become slow during busy periods. This is why it's important to have a huge selection of servers with plenty of geographical coverage. I take a close look at the servers before recommending any VPN.
Speeds – Streaming content on Paramount+ uses plenty of data and requires a reliable internet connection. I run speed tests to ensure that the VPN can handle HD streaming, as well as other activities like gaming and downloading.
Security – There are several security and privacy features that I expect to see as standard. Some of these include high levels of encryption, a network kill switch, and a no-logs policy. I check that user safety is a priority for the VPN provider.
Devices – Not only should a VPN be compatible with a number of different devices and operating systems, but a subscription should allow for multiple simultaneous device connections. I check all of these devices before a VPN appears on this site.
Value – The value goes far beyond just the VPN subscription cost. I also take a look at other important aspects like free trials, money-back guarantees and the quality of customer service.
Want to know more about how I assess VPNs? Read my full VPN testing methodology here.
How to watch Paramount+ abroad (outside the US)
Here's how to configure your VPN and watch Paramount+ from abroad:
Sign up with a VPN that can access Paramount+. My top recommendation is NordVPN.
Download and install the VPN app or browser extension for your device.
Open the VPN app and connect to a server in the US. You will obtain an IP address based in the United States.
Go to the streaming platform's website and sign in with your cable provider or Paramount+ account.
You should be able to watch Paramount+ while outside of the US. You may have to try a few different servers before finding one that hasn't been blacklisted. I also suggest clearing your device's cache and cookies to get rid of any location identifiers.
VPN for Paramount+ FAQ
Can I use a free VPN to watch Paramount+?
You will find hundreds of results if you search for a free VPN, but there is a catch. You won't be able to use the web with fast speeds using a free VPN since most of them run small server networks that attract more users than the infrastructure can support. This results in slow connection speeds that often drop out, making video streaming almost impossible. Even if you found one with a decent connection, streaming websites regularly blacklist VPN servers.
The companies that produce free VPN services usually don't always keep their word when it comes to protecting your privacy, either. They have to make their money just like any other business. Free VPNs have been known to insert intrusive ads into the web browser and even spread malware. I believe it's better to pay for a high-quality VPN that you can trust.
Why is my VPN not working with Paramount+?
Paramount+ is very strict about its regional restrictions. Like all major streaming platforms, Paramount+ regularly blacklists VPN and proxy servers in order to limit viewership only to those regions where the company has the broadcasting rights to show certain content. VPN providers invest a considerable amount of their resources finding workarounds for the biggest streaming platforms on the market, which respond in kind by continuously tracking down VPN servers. It is a never-ending game of cat and mouse.
You may have to connect to a few different servers before finding one that hasn't been screened out. Privacy extensions for your browser often interfere with the VPN usage, so try disabling them if problems persist, and clearing your cache and cookies as well. Some VPNs contain ad-blocking features of their own, so those features might need to be temporarily disabled too. If you are still having trouble watching Paramount+, then you may need to contact your VPN provider's customer support.
Is it legal to use a VPN with Paramount+?
Yes, VPNs are legitimate privacy tools that are legal in almost every country. While you won't break any laws by watching streaming content from abroad with the help of a VPN, it usually goes against the terms of service of most streaming platforms. If you're unsure about the legality of your VPN usage, I recommend always doing your research first.
Note: I do not provide legal advice and nothing in this article should be considered as legal advice.
What can I watch on Paramount+?
Classic and modern content alike are available on Paramount+ and new content is being added to their library all the time. Some of the most popular shows and movies on Paramount+ include the following:
Star Trek
Frasier
60 Minutes+
Grease
The Offer
Love Story
Flashdance
Indiana Jones
Forrest Gump
A Quiet Place Pt. 2