Whether you're traveling to the country, or are a resident traveling abroad, a VPN for Hong Kong is a helpful tool to have. A VPN or Virtual Private Network encrypts your internet connection by routing it through an intermediary server located somewhere else in the world. It masks your true IP address with the address of your chosen VPN server and keeps you anonymous on the internet.
But VPNs are capable of much more than keeping your data private. They are also useful tools for accessing geographically-restricted streaming content from home while traveling in Hong Kong or accessing your favorite Hong Kong content while elsewhere in the world. In this article, I'll take a look at the best VPNs for use in Hong Kong, whether you want to protect your internet privacy or simply have access to your usual TV shows while traveling to or from Hong Kong.
Don't worry if you don't have time to read the whole thing. Here is a quick summary of my top 5 VPNs for Hong Kong:
NordVPN: My top VPN for Hong Kong. A longtime VPN provider that offers the strongest security in the business. Fast server speeds for HD streaming and unblocking geo-restricted content. Comes with a 30-day money-back guarantee.
Surfshark: My top budget VPN for Hong Kong. A fast and secure service that works both in Hong Kong as well as in the mainland. Unlimited simultaneous connections and impressive unblocking power. Includes 30-day money-back guarantee.
ExpressVPN: One of the best VPNs for streaming geo-locked content. Features strong encryption and security standards, too.
CyberGhost: Beginner-friendly VPN that unblocks most streaming services.
VyprVPN: A user-friendly VPN that streams HD content seamlessly from abroad. Works in mainland China.
The Best VPNs for Hong Kong
With so many VPNs on the market, it isn't obvious which ones provide the best service in Hong Kong. I've compiled a list of the best VPNs for Hong Kong on the following criteria:
Fast and reliable servers available worldwide including in Hong Kong
Powerful encryption
Lifts geo-restrictions
Zero logs
Multiple simultaneous connections
Here's my list of the best VPNs for Hong Kong: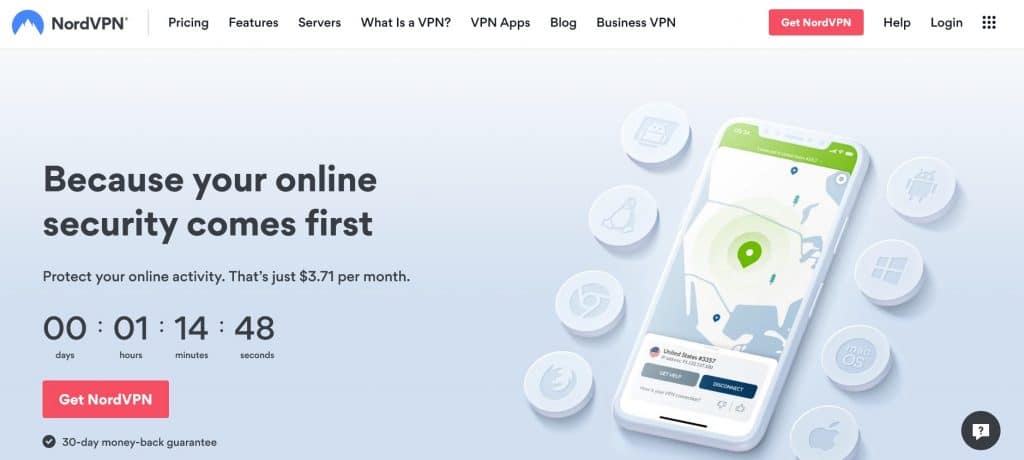 NordVPN has been operating fast and secure servers for over a decade. Its network of over 5,700 servers in 59 countries (including 80+ servers in Hong Kong) makes it one of the largest server networks in the business. NordVPN encrypts its users' internet traffic with 256-bit AES encryption and also features 2,048-bit SSL keys and DNS leak protection.
NordVPN's no-logs policy means that it stores no metadata about its users' browsing habits, timestamps, or choice of servers. It is a great selection for users based in Hong Kong and China because of its track record of thwarting various attempts by authorities to acquire user data—there simply isn't any identifying data on their servers at all. Its headquarters in Panama means the company is not legally required to comply with any data retention laws.
NordVPN easily unblocks content from Netflix, Hulu, and BBC iPlayer and allows a total of six devices to be protected with a single subscription.
Apps are available for iOS, Android, Windows, Linux, and macOS.
Pros:
Over 70 servers in Hong Kong
Exceptional speeds
Strong encryption, plenty of security features
Unblocks streaming platforms from overseas
Keeps zero logs
Cons:
VPN beginners may have difficulty using the desktop app
BEST VPN FOR HONG KONG:NordVPN is my number one VPN for Hong Kong. Fast, versatile, and secure. Six simultaneous connections and a 30-day money back guarantee.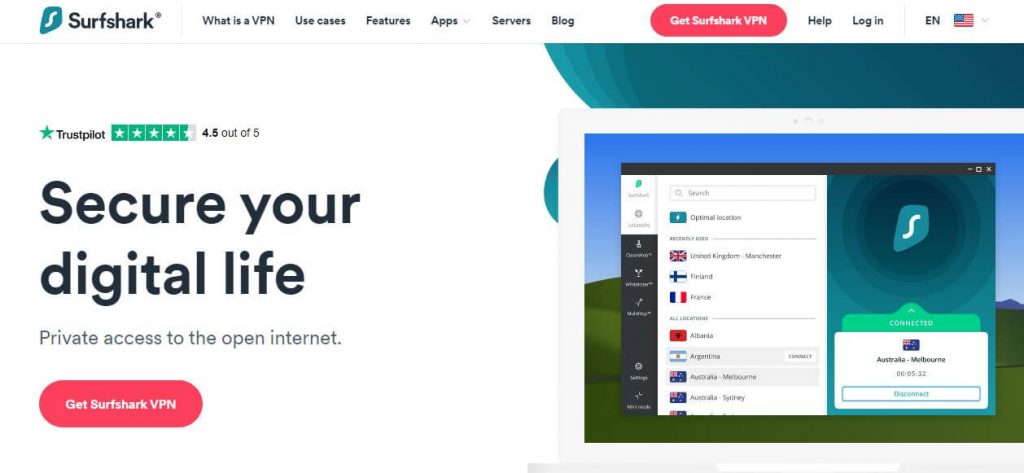 Surfshark's fast speeds are perfect for live streaming, and it offers a selection of over 2,500 servers in more than 60 countries to choose from. It is capable of unblocking some of the most stubborn streaming services on the market including Netflix, Amazon Prime Video, and BBC iPlayer.
Surfshark uses 256-bit encryption, a kill switch, and features protection against WebRTC, DNS, and IPv6 leaks. The NoBorders feature hides the fact that you're even using a VPN at all.
Since this service is headquartered in the British Virgin Islands, it has no legal requirement to retain data on its users' activities. It logs no personally identifiable information so that your online activities cannot be traced back to you, and accepts payment in Bitcoin, Ripple, and Etherum if you want to sign up anonymously.
Surfshark provides apps for Android, Windows, iOS, macOS, and Linux. Supported internet routers require manual installation.
Pros:
Thousands of servers around the world
Fast enough connection speeds for HD streaming abroad
Unlimited connections
Unblocks just about anything
Cons:
Has a couple slow servers on its network
TOP BUDGET PICK:Surfshark keeps your data private without breaking the bank. Protect every device at once. Comes with a 30-day money back guarantee.
ExpressVPN's military-grade encryption, fast speeds, and simple design make it a good choice for first-time VPN users. The company operates over 3,000 servers in 94 countries including Hong Kong.
The only information ExpressVPN records is metadata such as the date of connection, choice of server location, and total bandwidth used. It stores no further logs and doesn't record your IP address.
ExpressVPN offers 256-bit AES-CBC protocols, HMAC authentication, perfect forward secrecy, and DNS leak protection. The service includes an internet kill switch, or "network lock", which will stop all web traffic in the event your connection drops unexpectedly.
ExpressVPN can get around the Netflix VPN ban and works with Hulu and BBC iPlayer as well. It also supports torrenting, three simultaneous connections, and unlimited bandwidth.
Included in the service are user-friendly apps for Android and iOS in addition to desktop clients for Windows, macOS, and Linux.
Pros:
Multiple server options in Hong Kong
Great at unblocking geo-restricted content from abroad
High speeds for streaming, downloading, and gaming
Zero logs and tough security protections
Cons:
A fairly expensive VPN
Streaming servers are not labeled
STREAM ANYTHING FROM ABROAD:ExpressVPN is great for streaming and security alike. Excellent at unblocking Netflix, Amazon Prime Video, and other stubborn streaming sites. Comes with a 30-day money back guarantee.
CyberGhost is easy to set up, fast, inexpensive, and provides military-grade encryption protocols. Users can choose from more than 7,000 servers in 90 countries with 71 servers located in Hong Kong (but none in mainland China). New server location options are being added all the time.
Because CyberGhost is headquartered in Romania, the company has no mandatory data retention laws to comply with. It respects the privacy of its customers by not storing any user data. CyberGhost provides specialized servers for streaming and unblocks both Netflix and BBC iPlayer.
By default, CyberGhost uses 256-bit AES encryption on the OpenVPN protocol and also includes 2,048-bit RSA keys and SHA256 authentication. The service also comes with an internet kill switch in case your connection suddenly drops.
Mobile apps are available for Android and iOS and desktop clients are available for Windows and macOS. Five simultaneous connections are permitted under a single account.
Pros:
60 servers in Hong Kong
Several streaming-optimized servers
Great security and privacy protections
Beginner-friendly and low-cost
Cons:
Doesn't work in mainland China
Not many customizable options
GREAT FOR BEGINNERS:CyberGhost is easy to use. Offers fast and reliable connections for streaming and using the web securely in Hong Kong. Contains a generous 45-day money back guarantee.
VyprVPN operates a network of over 700 high-speed servers, including a few based in Hong Kong, all of which it owns instead of rents. This means that the company has complete control of all web traffic while user data passes through fewer hands. It is also one of the few VPNs capable of bypassing China's Great Firewall.
By default, VyprVPN uses the OpenVPN protocol, 256-bit AES encryption, 2,048-bit RSA keys without perfect forward secrecy, and SHA256 authentication. Users have the option of paying extra for the Chameleon protocol, which scrambles OpenVPN metadata so deep packet inspection can't recognize it. This VPN also includes an internet kill switch.
Mobile apps are available for iOS and Android, and desktop clients are available for Windows and macOS. Premium subscribers can protect up to five devices at once.
Aside from its robust security offerings, VyprVPN can give you access to online streaming content on US Netflix, Hulu, and BBC iPlayer.
Pros:
Delivers fast speeds for downloading and streaming
Works in mainland China
256-bit AES encryption
Access Netflix, Hulu, and BBC iPlayer from abroad
Cons:
Not the cheapest option on this list
A small selection of servers
WORKS IN CHINA:VyprVPN is easy to use for beginners and experienced users alike. Solid privacy and security protections. Contains a 30-day money-back guarantee.
Methodology: How I find the best VPNs for Hong Kong
Not all VPNs are equal, and there are many that either don't work in Hong Kong or are unreliable when they do. I've assessed these Hong Kong VPNs using the following criteria:
Servers in Hong Kong – I take a look at the number of servers in Hong Kong, and whether or not there are specialty servers for specific activities. The more servers, the better, as it means more options during busier periods.
Network speed – Whether you're streaming, downloading torrents, or just browsing, you will want to do so without interruption. I run speed tests to make sure that each VPN can maintain good network speeds regardless of activity levels.
Security – Some of the security and privacy features I look for include a network kill switch, 256-bit encryption, DNS leak protection, a strict no-logs policy, and much more. I only ever recommend the most secure VPNs to my readers.
Value for money – It's not always about which VPN costs less, but which gives you more bang for your buck. So I look at other elements of value, including money-back guarantees and long-term discounts.
Want to know more about my review methodology? You can check out my complete VPN testing guide.
How do I use a VPN in Hong Kong?
I'll walk you through two uses of VPNs: using a VPN while in Hong Kong and acquiring a Hong Kong IP address while abroad. The following steps will help you obtain an IP address from a server located outside of Hong Kong while inside the country.
Here's how to use a VPN in Hong Kong:
Choose a VPN that meets your needs. I particularly recommend NordVPN.
Sign up for the service and download the app for your preferred device.
Clear your cache and cookies to remove lingering location identifiers.
Restart your device.
Launch the VPN app.
Select a server from the country you want to have an IP address from.
Freely use the web with the protection of the VPN. You should be able to access geo-blocked online services now.
The steps outlined below will help residents of Hong Kong that are traveling abroad to acquire a local IP address. This can help with streaming, online banking, and many other activities.
Here's how to get a Hong Kong IP address from abroad:
Select a VPN from my list of recommendations.
Register and pay for the online service. Select either a monthly or annual plan depending on how much you would like to spend initially.
Once that's done, download the companion apps (for your phone) or software (for PC or macOS).
Clear your cookies in all web browsers (Firefox, Chrome, Internet Explorer) to remove old location identifiers.
Restart your device.
Open the VPN companion software and log in.
Select a server in Hong Kong and click connect.
Allow a few seconds for the connection to be established. Once that's done there should be a green notification icon in the taskbar.
Browse the web like you normally would. You'll notice that host websites will assume you're now physically located in Hong Kong.
Hong Kong VPN FAQs
Why do you need a VPN in Hong Kong?
A VPN can overcome any internet censorship issues in Hong Kong that may block access to your home services while visiting the country. 
VPNs will also unblock a variety of streaming content while abroad. If you're a US citizen traveling to Hong Kong and you can't access the content you normally watch at home, a VPN can circumvent the region lock by giving you an American IP address.
Online dangers are not limited to government surveillance. Online threats such as malware, man-in-the-middle (MitM) attacks, and denial-of-service (DoS) attacks are a possibility everywhere you go—especially on public and/or unsecured wifi networks at hotels, restaurants, airports, and cafes. Public networks rarely have good security and they present a multitude of threats to those who travel frequently. A VPN helps to secure them.
In 2018 Hong Kong authorities reported an all-time high in data breaches, underlining the need for online security.
Should I use a free VPN?
It is tempting to save your cash and sign up for a free VPN service, but it is important to understand the risks first.
Free VPNs are not known for high-quality performance or robust security. They usually only offer a small number of servers to choose from and usually deliver slow internet speeds due to the large volume of users on each server. Download data caps and bandwidth throttling are frequently encountered on free VPN servers and will disrupt your movie-watching experience if you attempt to stream online video content.
Their lack of security makes several free VPNs just another set of prying eyes to monitor your online activity. Many free services have been known to make their money by mining and selling user data or at least keeping logs on your activity. Further revenue streams can come from the insertion of ads into your browser and popup windows. I believe free VPNs are more trouble than they're worth, especially for the privacy-conscious.
Are VPNs illegal in Hong Kong?
At the moment, VPNs are legal in Hong Kong and are available on major app marketplaces. For now, Hong Kong has different digital privacy laws than mainland China due to the "One Country, Two Systems" policy. That said illegal activity is still illegal, even when you're using a VPN.
Although we make every effort to research our topics nothing in this article should be taken as legal advice. If you're unsure about local laws, always do your own research. 
Do I still need a VPN if I already have a Hong Kong IP address?
Even if you have no problem unblocking geo-restricted content, VPNs are useful for hiding your online activities from your internet service provider, your employer, and the government. It's always a good idea to enhance your privacy with a VPN each time you access the internet.