Netflix France has a wide selection of exclusive content not available in other countries. This can pose a problem if you're traveling out of the country, as it means you will lose access to the French Netflix library. These geographical restrictions will apply even if you're a French resident paying the full price for a Netflix subscription. To keep access to your French Netflix library, you will need a VPN. A VPN, or a Virtual Private Network, is a privacy tool designed to encrypt your internet traffic and route it through an intermediary server located in another part of the world.
When your data passes through the VPN server, Netflix will only see the IP address of the chosen server instead of your true IP address, lifting any geographical restrictions. This means you will be able to watch your favorite TV shows like Marseille, Braquo, Engrenages, and Wakfu.
I'll go into more detail on each VPN provider, but for now, here's a summary of the best VPNs for Netflix France:
NordVPN: This is my number one choice for streaming French Netflix. NordVPN is a fast service with thousands of servers around the world and the highest security standards. You can try it out first with its 30-day money-back guarantee.
Surfshark: The best budget option. Surfshark offers top-notch security and streaming capabilities without breaking the bank. Offers unlimited simultaneous connections, too.
ExpressVPN: A lightning-fast option for streaming, downloading, and gaming. It has over 3,000 servers to choose from including locations in France and 93 other countries. Unblocks Netflix, Hulu, Amazon Prime Video, and other major streaming services.
PrivateVPN: This up-and-coming VPN from Sweden has a small selection of servers but impressive streaming speeds.
CyberGhost: One of the easiest VPNs for beginners. Its speed and security are excellent and it offers the largest selection of servers on this list. The server network includes more than 7,200 servers in 91 countries, including over 600 servers in France.
The Best VPNs for Netflix France
Not all VPNs are capable of beating geo-blocks and granting access to Netflix France. I've made my selections based on the following criteria:
A selection of servers in France
The ability to stream HD video with fast speeds
Reliable security and privacy features
A strict no-logs policy
Compatible with all popular devices
You can find out more about my testing process further in this article. For now, based on the above criteria, here are my top five VPNs for Netflix France: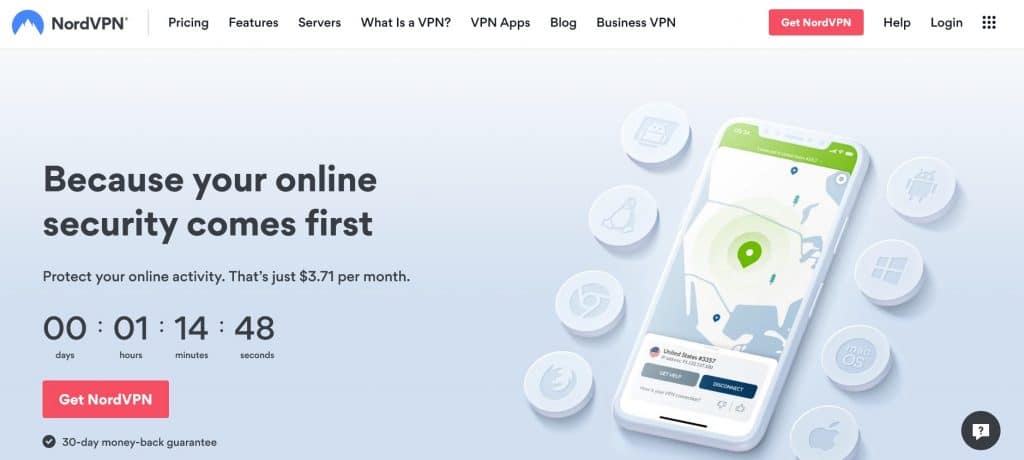 NordVPN's high standards of security and impressive speeds make it my top recommendation. It runs a network of more than 5,200 servers in 60 countries around the world, including 230 in France. NordVPN can grant secure access to Netflix France, Netflix US, Hulu, Amazon Prime Video, and other top streaming platforms.
The security package includes 256-bit AES encryption, a kill switch, protection against IPv6, WebRTC, and port forwarding leaks. Its network of servers includes specialty servers optimized for various functions including Tor over VPN, double VPN usage, and split tunneling (Windows and Android apps only). There are also servers for streaming, gaming, and downloading.
NordVPN is known for following a strict no-logs policy. This means the company never tracks any of your online activities or personally identifying data, so there would be nothing to expose you in the event of a data breach. With its headquarters located in Panama, NordVPN is not subject to any data retention laws.
There are apps are available for Windows, macOS, iOS, Android, Amazon Fire TV, Linux, and some routers. Linux systems and routers require manual configuration. A single subscription will allow you to protect up to six devices at once.
Pros:
Unblocks Netflix France
Fast and stable speeds for HD streaming
Powerful encryption protocols
Plenty of security features
No logs are kept
Cons:
Collects advertising IDs on mobile
TOP VPN FOR NETFLIX FRANCE:NordVPN is my number one choice. It hits all the right marks for speed, security, and servers. Keeps no logs, offers plenty of privacy protections and allows six simultaneous connections. Comes with a 30-day money-back guarantee.
Surfshark provides the highest level of security and fast streaming speeds for a reasonable price. Surfshark's server network covers 3,200 servers in 63 countries with locations in France. Its servers consistently deliver fast connection speeds so you can stream French Netflix content in any country you're visiting with little to no lag. It unblocks most other streaming websites including Amazon Prime Video, BBC iPlayer, Hulu, and several others. It's a popular option for families because it offers unlimited simultaneous connections.
As well as having great unblocking and streaming power, Surfshark also doesn't compromise on security. Your internet traffic is protected with 256-bit AES encryption, a kill switch, and tools to prevent DNS and IPv6 leaks. The kill switch will halt the flow of information to and from your device if it detects a sudden loss of connection to the VPN, so you will never browse the web without protection. Surfshark includes a NoBorders feature that can bypass internet restrictions in censorship-heavy countries like China or the United Arab Emirates. Furthermore, Surfshark abides by a strict no-logging policy so none of your online activities can be matched with your identity.
Surfshark offers apps for Windows, macOS, iOS, Android, Amazon Fire TV, and Linux. Manual configuration is required for Linux systems and supported routers.
Pros:
Fast server speeds
Unlimited simultaneous connections
Unblocks Netflix France and other services
Secure privacy and protection
24/7 live chat customer support
Cons:
Some slow speeds on occasion
Fewer servers than some of the competition
TOP BUDGET CHOICE:You can enjoy fast connection speeds and tough security without spending a fortune. Surfshark is great for streaming Netflix France abroad. It keeps no logs and also offers unlimited simultaneous connections. Try it out first with its 30-day money-back guarantee.
ExpressVPN successfully bypasses restrictions on Netflix France. it is ideal for streaming, downloading and gaming, because of its fast server speeds and reliable connection. As well as French Netflix, ExpressVPN also works with top streaming sites including Hulu, Amazon Prime Video, BBC iPlayer, and more.
It meets a high standard of security by offering 256-bit AES encryption, perfect forward secrecy, a kill switch, and protection against DNS and WebRTC leaks. Perfect forward secrecy regularly rotates the encryption key so that only a small portion of your data will be legible in the event of a hacking attempt. ExpressVPN keeps no logs of your activities and only stores non-identifying data such as your date of connection to the VPN server and total bandwidth consumed.
ExpressVPN offers apps for Windows, macOS, iOS, Android, Amazon Fire TV, and Linux.
Pros:
Lifts restrictions on Netflix France, UK, US
Top-notch server speeds
High levels of security
Easy-to-use apps
No logs
Cons:
Not the cheapest VPN on this list
Lacks advanced customization features
HIGH SPEED STREAMING:ExpressVPN is a popular option for streaming home content during international travel. It works with Netflix France and most other streaming services. Its high speeds and strong security make it a great all-purpose VPN. Comes with a 30-day money-back guarantee.
PrivateVPN is a new option in the VPN market that already works with most of the top streaming services. It is capable of accessing Netflix France from abroad and streaming HD video with little to no buffering time. Although its server network is relatively small with just 200 servers, PrivateVPN delivers faster-than-average connection speeds. Its distribution across 63 countries gives it a wide geographic variety.
PrivateVPN lives up to its name by providing reliable privacy features to all users. You can protect yourself with 256-bit AES encryption, a kill switch, and DNS leak protection. The company stores no logs of user activity and allows up to six simultaneous connections with a single subscription.
PrivateVPN offers apps for Windows, macOS, iOS, and Android. There is no Linux app, but the website does feature a few helpful guides for manually configuring PrivateVPN with your Linux system.
Pros:
Impressive connection speeds
Works with Netflix France, Hulu, Amazon Prime Video, and BBC iPlayer
Plenty of security features
Cons:
A small selection of servers
No Linux support
GREAT UNBLOCKER:PrivateVPN is a solid choice for Netflix users on a budget. It allows secure access to French Netflix from abroad while protecting your privacy. Small selection of servers can be limiting. Includes a 30-day money-back guarantee.
CyberGhost is one of the easiest VPNs to use, which makes it a good place for beginners to start. Its user-friendly interface will match you with a server optimized for your personal needs. It even features servers dedicated to accessing individual streaming sites like Netflix, Disney Plus, Amazon Prime Video, as well as servers for file sharing.
This VPN operates the largest server network on this list, featuring 7,300 servers in 91 countries, with over 600 servers in France. Your connection is fortified with 256-bit AES encryption and features a kill switch, leak protection, and servers optimized for extra security. CyberGhost prioritizes user privacy and anonymity and stores no logs of user data. Because the company is headquartered in Romania, it is not subject to data retention laws.
CyberGhost lets you secure seven devices at once with a single subscription. Apps are available for Windows, macOS, iOS, Android, Linux, and Amazon Fire TV.
Pros:
Unblocks Netflix France, Disney Plus, Amazon Prime Video
Great for beginners
Vast server network
Fast speeds for HD streaming
Cons:
Doesn't work in China or the UAE
Fewer customization options for advanced users
No option for local networking
STREAM FROM ABROAD:CyberGhost is a versatile and user-friendly VPN with thousands of servers to choose from. It can unblock Netflix France and most other sites. Strong security protection. Comes with a 45-day money back guarantee.
My methodology: How I find the best VPNs for Netflix France
I use specific criteria to assess VPNs. Here are the things I look for in the best VPNs for Netflix France:
Server locations – To access the French Netflix library, you will need a choice of server locations in France. I make sure that a VPN has plenty of options so that you can still connect to a local server even during busy periods.
Connection speeds – Streaming HD video requires fast speeds and a reliable connection. I only recommend VPNs that have passed my speed checks and are proven to work with Netflix without buffering. I also ensure that there are no data limits.
Security – Each VPN should have high levels of security that are designed to keep users safe. Some of the things I look for include AES encryption, a no-logs policy, and a network kill switch.
Devices – I check that there are apps compatible with popular operating systems, like Android, IOS, Windows, and macOS. I also look at how many simultaneous device connections are supported.
How to watch Netflix France with a VPN
Getting connected only takes a few minutes. Follow these simple steps to watch Netflix France with a VPN:
First, sign up for a VPN service that has plenty of server locations in France. I recommend NordVPN.
Download and install the VPN app on your preferred streaming device. All of the VPNs on this list come with apps for desktop, mobile, and some smart TV devices.
Launch the app and connect to a server in France.
You should now have access to Netflix France and your home content! If you're still locked out, try clearing your cache and cookies.
Netflix France not working with a VPN?
You have several options for accessing Netflix France if you're still having trouble. Your device is most likely leaking your location to Netflix if the proxy detection system is still filtering you out. Here are some alternative ways to hide your location:
Google may be exposing your location by caching your IP address. Log out of your Google services on your streaming device, including Chrome.
Disable all location services on your device, such as GPS tracking. If you granted Netflix permission to detect your location in the past, you will need to toggle the location setting in your browser.
Clear your browser's cookies, cache, and temp files.
Disable IPv6 on your device. You can turn this off in your wifi properties on Windows systems. You may need to restart your device.
Flush your DNS cache. Windows users can do this by opening the Command Prompt and typing ipconfig /flushdns.
Adjust your device's time zone to the areas covered by Netflix France. France has a total of 12 time zones, but metropolitan France is located in UTC+01:00.
If you have access to your wifi network's router, rename the wifi network name (SSID) and append "nomap" at the end of the name (e.g. privacynomap). You will be opted out of Google's geolocation services. You will have to reconnect your device to the new network in order to access the internet.
Try connecting to a few different servers in France until you find one that works. Netflix regularly blacklists VPN servers, but VPN providers regularly find ways around the ban.
VPN for Netflix France FAQ
Can I use a free VPN to watch French Netflix?
Using a free VPN to watch French Netflix will end in disappointment. Netflix has great VPN detection technology and that even the best VPNs can struggle to overcome at times. Free VPNs don't stand a chance of bypassing geo-restrictions. Even if you do find a free VPN that works with Netflix, it will lack the performance needed to stream in HD without buffering.
Free VPNs usually don't own more than a handful of servers on their network, and because there's no upfront cost, they attract a large volume of users that quickly overwhelm the limited infrastructure. This results in frequent buffering, low resolutions, and dropped connections. Free VPNs almost always come with bandwidth limits or data caps anyway, so your show will be interrupted once you've consumed your limited supply of data.
Despite being advertised as privacy tools, free VPNs are a major privacy hazard. They often make their money by logging their users' online activities and selling personal data to third-party advertisers without their permission or knowledge. Simply signing up for the VPN is the "consent" they need to track your data and sell it, so you become the product, not the client. Furthermore, free VPNs can insert ads into your browser and may even spread malware.
I think it's safe to say that free VPNs aren't worth the trouble.
Can I watch American Netflix in France?
Yes, VPNs that work with Netflix France are usually capable of accessing other regional libraries as well. Simply connect to a server located in the US to get your American IP address and stream from the largest library Netflix has to offer.
Why does Netflix restrict their content by region?
Netflix is only authorized to show certain movies and series in the regions where the company purchased the broadcasting rights. If Netflix buys the rights to add a title to its French library, for example, then the company has a legal obligation to filter out anyone who tries to watch that title from unlicensed regions. Netflix enforces its titles' geographic availability by checking each user's IP address for a match. If the user's location and the chosen title do not match, then the user will receive an error message. Netflix regularly blacklists VPN servers and proxies, but VPN providers are working around the clock to find workarounds.
How does Netflix France differ from Netflix US?
Although Netflix US is the service's largest regional library, France has some exclusive titles not available anywhere else. According to Finder.com, Netflix France has 387 TV shows and 1,485 movies while Netflix USA has 1,157 TV shows and 4,593 movies.