If you want to watch American Netflix from India, you'll need a VPN. I'll show you how to unblock Netflix USA from India and some of the best VPNs for the job.
The US Netflix library has many new TV shows and movies you can't get in any other country. US subscribers get roughly 1,000 more movies and 150 more TV series than their Indian counterparts, despite paying a similar amount per month. So if you want to stream Netflix USA from India, you'll need to convince Netflix that you're in the US.
How to unblock Netflix US with a VPN
You can change your location with a VPN, which encrypts all your internet traffic and routes it through an intermediary server. By routing all your internet traffic through a VPN server in the US, Netflix will think you're in the US and let you stream the American library. Using a VPN is easy. Just follow the steps below.
Here's how to watch Netflix US in India with a VPN:
1. Sign up with a VPN provider. NordVPN is my top recommendation.
2. Download and install the VPN app onto your device.
3. Run the app and choose a server in the USA.
4. Connect to the server.
5. Open Netflix and you'll automatically be directed to Netflix USA.
You should now be able to watch your favorite content. However, if you followed the above steps and are still finding an error message, try clearing your cache and cookies then reloading the page.
Best VPNs to watch Netflix USA from India
Not all VPNs work with Netflix. Netflix blacklists known VPN servers to prevent users from region-hopping. If you attempt to watch Netflix through a VPN that doesn't work, you'll get a proxy error message:
"Whoops, something went wrong. Streaming error. You seem to be using an unblocker or proxy. Please turn off any of these services and try again."
Only a handful of VPNs can bypass Netflix's anti-VPN policy. To help you avoid the proxy error and stream without issue, I've selected the five best VPNs for watching Netflix USA from India based on the following criteria:
Works with Netflix
Fast speeds for HD streaming
Quick, helpful customer support
Strong security and no logs
Comes with a money-back guarantee
Note that even for the VPNs I recommend, not every server in the US will unblock Netflix. You may need to check with the provider's customer support team or on its website to find out which specific servers to use.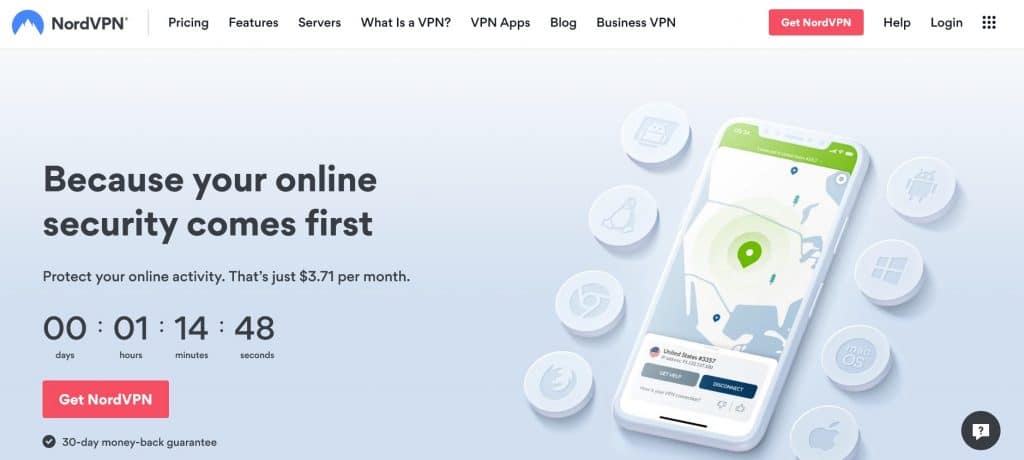 NordVPN is my top choice for accessing US Netflix in India. No matter which NordVPN server you connect to, all of them unblock Netflix. If you connect to a server in a country whose Netflix library NordVPN can't unblock, the VPN will usually redirect you to the US version of Netflix. This makes watching US Netflix from India easier than ever. NordVPN also unblocks Hulu, Amazon Prime Video, and BBC iPlayer, among others. Speeds are the fastest I've seen making this an excellent choice to stream in HD without buffering.
NordVPN doesn't store any logs of what you do online. You get strong encryption, a kill switch, leak protection, and even access to a few specialty servers for added security and anonymity.
Apps are available for Windows, MacOS, iOS, Android, and Linux. You can connect up to six devices at a time.
Pros:
Almost all servers unblock Netflix
Superfast speeds
Strong security and no logs
Huge server network
24/7 support
Cons:
The desktop app could be updated
BEST US NETFLIX VPN:NordVPN is the best VPN for unblocking multiple versions of Netflix. It's incredibly fast and highly secure, plus you get a 30-day money-back guarantee, making it a risk-free option.
Surfshark is a budget-friendly alternative that reliably unblocks Netflix, Hulu, and BBC iPlayer. No matter which server you connect to in any country, it will enable access to Netflix. Many of them will automatically redirect you to Netflix USA, although over a dozen other local libraries are available. Speeds are plenty fast enough to stream in HD.
24/7 live chat support stands at the ready should you encounter any issues. The service doesn't store any logs, and the app uses strong encryption combined with a kill switch to prevent any unencrypted traffic from leaking outside of the secure tunnel.
Apps are available for Windows, MacOS, iOS, and Android. Surfshark is the only VPN on this list to allow an unlimited number of devices per account.
Pros:
All servers unblock Netflix
Unlimited simultaneous connections
Strong security
Round-the-clock live support
Cons:
Customer service might have room for improvement
BEST BUDGET PICK:Surfshark is a low-cost alternative that unblocks Netflix US with ease from anywhere in the world. It includes a 30-day money-back guarantee.
ExpressVPN operates several servers in the US that can reliably unblock US Netflix from India. 24/7 live chat support stands ready to let you know which servers to pick. Subscribers get plenty of bandwidth for HD streaming and no buffering. Besides American Netflix, ExpressVPN also unblocks BBC iPlayer, Hulu, HBO, Amazon Prime Video, and many other streaming services from abroad.
If the device you want to stream Netflix on doesn't support VPN apps, you can alternatively use ExpressVPN's MediaStreamer smart DNS service. You can quickly set it up in the settings of game consoles, smart TVs, and some media streaming boxes.
Aside from streaming, ExpressVPN offers excellent security, including unbreakable encryption, a kill switch, and robust leak prevention. It stores no identifying logs, so everything you do while connected stays private.
Apps are available for Windows, MacOS, iOS, Android, Amazon Fire TV, Linux, and certain wifi routers. You can connect five devices at a time.
Pros:
Works with Netflix and other streaming services
Fast enough to stream in HD
Great round-the-clock live chat support
Strong security
Cons:
Slightly more expensive than the competition
SOLID INDIA VPN:ExpressVPN is a great all-round VPN that unblocks Netflix with ease. It's backed up by a 30-day no-questions-asked money-back guarantee.
CyberGhost is a beginner-friendly option. When you first open the app, instead of a list of countries, you choose how you want to use the VPN. One of those options is streaming, and from there you can select a specific streaming service that you want to unblock. Netflix is among the many choices, which means you don't have to guess at which servers work or ask customer service which to use. You can even leave simple thumbs up, thumbs down feedback on whether the unblocking actually worked.
CyberGhost gets a thumbs up all around from us. It has excellent security and it's blazing fast, with even enough bandwidth to stream 4K HD on some servers.
Apps are available for Windows, MacOS, iOS, and Android.
Pros:
Netflix servers are clearly labeled
Very fast
Top-tier security
Live chat support
Cons:
Apps can be a bit cumbersome
FAST AND SECURE:CyberGhost gets better every time I use it and it works great with Netflix. It comes with a 30-day money-back guarantee.
PrivateVPN is remarkable when it comes to unblocking. In fact, I haven't found much geo-restricted content that it can't unblock. It provides access to more local Netflix libraries than any other VPN on this list, Netflix USA included. It also works with BBC iPlayer and Hulu, among many other streaming sites. Speeds are great, so you should have no problem watching buffer-free HD streams.
The simple apps are locked down tight to keep your activity private and secure. The best servers for streaming video are clearly labeled in the app, so there's no need for trial and error or querying customer support, although live chat is available should you need it.
Apps are available for Windows, MacOS, iOS, and Android. You may connect up to six devices at a time on a standard plan.
Pros:
Unblocks Netflix USA and many other Netflix libraries
Fast enough to stream in HD
Strong security and no logs
Simple, lightweight apps
Cons:
UNBLOCK EVERYTHING:PrivateVPN is adept at unblocking geographically restricted content. Get a 30-day money-back guarantee when you join.
Can I use a free VPN to unblock Netflix from India?
The vast majority of VPNs don't work with Netflix and will result in a proxy error in the video player. Even if you find one that works, it probably won't last long as Netflix routinely adds known VPN servers to its blacklist. Paid providers can afford to stay a step ahead with fresh servers and IP addresses that haven't been blocked.
Free VPNs are also slow due to high demand and server congestion. Many of them impose data caps or bandwidth limits, which result in frequent buffering and low-quality video. Some will require you to wait in a queue before connecting.
Free VPNs are also bad for privacy. Because they don't make money through subscription fees, many free VPNs harvest usage data from users and sell it to third-party advertisers and data brokers. Some even carry malware that will damage your device or steal private data.
Stick to reputable paid VPNs if you want solid service without hassle or stress.
Netflix India vs Netflix USA
As of Q4 2018, Netflix India has a total of 5,255 titles:
1565 TV shows
3690 movies
Netflix USA has 5,839 titles:
1,716 TV shows
4,123 movies
Some of the Netflix USA exclusives that you can't find on Netflix India include:
Avengers: Infinity War
The Seven Deadly Sins
Shameless
NCIS
Black Panther
American Horror Story
Death Note
Solo: A Star Wars Story
Dexter
Netflix is slightly cheaper in India. The most basic plan costs INR 500 (US$6.91) per month at the time of writing. In the US, prices start at $7.99 per month.