Unfortunately for Linux users, they aren't often prioritized by companies developing apps, with most developing for Windows and MacOS first. This also applies to VPN services, and so finding a VPN for Linux can be harder than other operating systems. That's why I have reviewed the best VPNs available for Linux here in this article.
Linux is preferred by many because of its efficient use of system resources and its powerful command-line interface (CLI). Given these powerful features, there's no reason why this operating system shouldn't also have great VPNs.
A Virtual Private Network (VPN) is a tool that routes your internet connection through a third-party server in a different location from where you're actually located. The connection is encrypted and this rerouting masks your IP address and your presence online making it difficult for you to be tracked. VPN use reaps many benefits such as better security when connected to public WiFi and the ability to bypass geographic restrictions. I have reviewed each VPN in depth below but in case you want a quick summary, here are the highlights of the best VPNs available for Linux:
NordVPN: This is my number one pick for a Linux VPN. It is fast, easy to install, and can unblock the most popular streaming sites out there. It comes with a 30-day money-back guarantee and is easy to operate with its CLI app.
Surfshark: This is a great budget option for Linux users. In addition to the great prices for subscriptions, it offers high speeds, strong security, and can protect an unlimited number of devices.
ExpressVPN: ExpressVPN is one of the best options there is when it comes to streaming. It has fast servers that are optimized for streaming and has strong security measures in place.
CyberGhost: CyberGhost has a large network of VPN servers and strong security measures in place. It offers a capable CLI app and worldwide coverage.
PrivateVPN: This is a smaller VPN operation but it doesn't lack quality. It can unblock the most popular streaming sites and offers strong security and privacy protection measures.
Private Internet Access (PIA): PIA offers an app for Linux with a full GUI. This makes it a solid option for users that are new to Linux and getting accustomed to heavily using a CLI.
ProtonVPN: ProtonVPN is a privacy-focused VPN provider. They offer an open-source command-line app for Linux.
There are other popular clients available for Linux such as OpenVPN, OpenConnect, AnyConnect, and Network manager that can be used to facilitate your VPN connection. However, it's hard to beat a client provided by your subscription provider. They require less configuration and come with more features. There are also usually easier to use. Every VPN that we recommend comes with its own app.
The Best VPNs for Linux
To ensure that the VPNs I picked for Linux were up to scratch, I examined them closely. Here are some of the areas I looked at:
The availability of a Linux app in the first place
Fast connection speeds
Strong security measures in place
No logs kept
Ability to bypass geographic restrictions on content from streaming services
Here is a list of the best VPNs for Linux: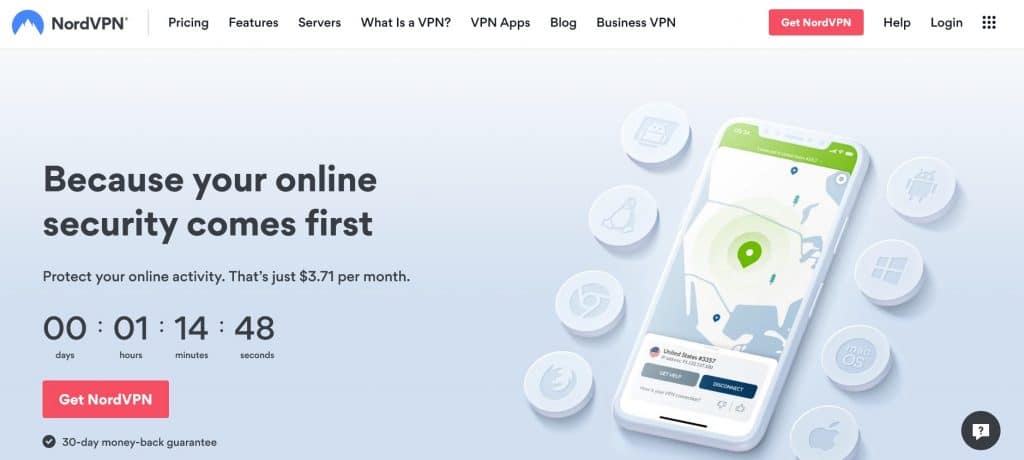 NordVPN's server network is made up of over 5,000 servers in 60 countries. This provider is fast and secure and a great option for streaming and for just securing your internet connection in general. Thankfully a Linux app is offered, catering to the often ignored Linux user. While the app is CLI-based, it is still much easier to navigate than manually configuring a third-party VPN client.
NordVPN's security measures include 256-bit AE encryption, an app-specific kill switch, an automatic ad-blocker, a malware scanner, an app-specific kill switch, and protection against DNS, WebRTC, and IPv6 leaks. No logs are stored either.
Windows, macOS, Android, and Linux apps are available. Live chat support is available. You can contact a customer support agent via this service 24/7. In addition, six simultaneous connections are supported.
Pros:
Strong security measures are implemented
Works with popular streaming services like Netflix and Disney+
Very fast connection speeds
24/7 live chat customer support available
No logs are stored
Cons:
App offered is a CLI app which could be intimidating for beginner Linux users
BEST VPN FOR LINUX:NordVPN is our top pick for Linux. It allows users to use up to connect up to six devices simultaneously, offers fast streaming speeds, and is very secure. It offers a CLI Linux app too and comes with a 30-day money-back guarantee, allowing Linux users to try it risk-free.
Surfshark is an excellent budget VPN. It offers 3,200 servers in more than 60 countries. It works with all of the most popular streaming services such as BBC iPlayer, Amazon Prime Video, and Netflix. It even offers a GUI app for Linux. This makes it easy to use, especially for those who are new to Linux.
Surfshark offers strong security features too. These include protection against DNS, IPv6, and WebRTC leaks, as well as a kill switch that cuts off your internet connection in the event of it dropping out. In addition, 256-bit AES encryption is in place.
There are apps for Windows, Linux, macOS, iOS, and Android in addition to the Linux app. It can also be manually configured on routers. One of the more impressive features of Surfshark is its support for an unlimited number of connections. This is an excellent option for users who have a lot of devices that they need to protect.
GREAT BUDGET VPN:Surfshark is a great budget VPN. It is affordable but still quite capable. It provides many security features and offers an unlimited number of connections. On top of that, it provides an easy-to-use GUI app for Linux users and comes with a 30-day money-back guarantee.
ExpressVPN is an excellent option for users that stream a lot. ExpressVPN's servers are fast and there are over 3,000 of them in 94 countries. It can access popular streaming sites like Netflix and Amazon Prime Video with ease too. Linux users can easily access their subscriptions with the provided CLI app.
Security is a priority with ExpressVPN. This is shown by the provided leak protection (protection against WebRTC, IPv6, and DNS leaks), perfect forward secrecy, AES 256-bit encryption, and the kill switch. There is also a .onion site in place which is accessed over the anonymous TOR network. This allows you to anonymously sign up for your ExpressVPN subscription. You even have the option of paying with cryptocurrency. This means that your name isn't associated with your subscription transaction unlike with a traditional credit card transaction.
In addition to Linux, ExpressVPN has apps available for macOS, Windows, iOS, and Android. It can also be installed on supported routers. Five devices can be connected simultaneously as well and customer support agents can be contacted via the provided live chat 24/7.
Pros:
Fast connection speeds
Can unblock many services
.onion site for increased anonymity
Cryptocurrency payments are accepted
Cons:
More expensive than other providers
Doesn't allow users enough customization options in some cases
GREAT OPTION FOR STREAMING:ExpressVPN offers a reliable Linux CLI app, giving Linux users an easy way of accessing their rapid VPN server network. A 30-day money-back guarantee is offered.
CyberGhost has an impressive amount of servers. With over 7,000 servers spread across the globe, it's hard to beat CyberGhost when it comes to the number of server locations it has. In addition to this, CyberGhost offers a CLI app that makes it relatively straightforward for users to get up and running with a VPN server.
This provider also has excellent security measures in place such as 256-bit AES encryption, a kill switch, and protection against leaks. No logs are stored either, which is great from a privacy standpoint.
Apps are available for macOS, Windows, Android, and iOS. Seven simultaneous connections are allowed and live chat representatives are available to lend you assistance 24/7.
Pros:
Large server network
Allows for the secure streaming of services such as Netflix, Hulu, and BBC iPlayer
No logs are stored
Strong security measures are in place
Cons:
Blocked in China and the UAE
Limited control over advanced features
PrivateVPN is a small but powerful VPN provider. It offers an effective Linux CLI app that lets you stream your favorite services without fear of getting your internet connection throttled. PrivateVPN's network may be small, coming in at just over 200 servers, but you should note that these servers are fast and located in over 60 countries. This means that you shouldn't have much trouble finding a server for your needs.
In addition to Linux, users can download apps for iOS, Android, Windows, and macOS. One thing to note is that live chat support isn't offered 24/7. The customer support team can only be reached during regular business hours. With that being said, the quality of support offered is excellent.
Pros:
Fast connection speeds
Can unblock popular streaming sites such as Netflix
No logs policy
User-friendly
Cons:
Customer support is only available during regular business hours
Small server network
PIA has servers in about 80 countries and is a great option for unblocking services such as YouTube TV. One feature that makes PIA stand out is its Linux app that comes with a GUI. This means that even beginner Linux users can use it.
Security features offered by PIA include AES 256-bit encryption, a kill switch, and split tunnelling functionality. There is also a dedicated IP address addon that is offered. User privacy is also prioritized by not keeping logs.
Apps are also made available for Windows, macOS, Linux, iOS, and Android. Customer support agents are available via a live chat 24/7.
Pros:
Strong security measures are in place
No logs are stored
Can protect up to 10 devices simultaneously
Cons:
Doesn't work in China
Struggles to unblock some streaming services such as Netflix
Proton's basic subscription provides users with access to 4,000+ servers in over 40 countries. It includes 2 simultaneous device connections and it can even access streaming services such as Netflix. This provider offers a CLI app that happens to be open-source.
It is a secure platform, offering security features such as 256-bit AES encryption, a kill switch, and DNS leak protection. In addition, no logs are stored either.
In addition to Linux, apps for ProtonVPN are available for Windows, macOS, iOS, and Android. Unfortunately, ProtonVPN doesn't offer live chat support.
Pros:
Strong security
Works with Netflix
Works for torrenting
Cons:
No live chat support available
Relatively small server selection
Linux VPN testing methodology
I put all of the VPNs above through their paces to make sure that they performed at a high level for Linux users. Here's what I examined when testing out the VPNs above:
Speed: I measured the connection speeds when connected to servers in North America, Europe, as well as Asia to see if speeds were high enough to maintain comfortable internet use.
Security: I ensured that leak protection was in place and that there were no leaks such as DNS, WebRTC, or IPv6 leaks. I also checked for strong VPN encryption.
Streaming services: I ran these tests to ensure that the VPNs on the above list were able to access streaming services such as Netflix and Hulu while users are abroad.
Customer support tests: I carried out tests to ensure that users were able to get assistance if they needed it and in a reasonable amount of time.
Find out more about my VPN testing methodology.
Linux VPN FAQs
Why not just use a free VPN?
Free VPNs may appear to be enticing. However, they don't have the same resources behind them as their paid counterparts. This means that you will most likely experience slower connection speeds with a free VPN. Using a free VPN can even compromise your security since free VPNs don't have the same privacy and security standards as paid alternatives and some have been known to leak personal information. Free VPNs are also not as likely to be able to unblock streaming services such as Netflix since they tend to be easier to be detected and blocked by these services.
How do I connect to a VPN automatically on Linux?
The VPNs I have recommended have dedicated Linux apps that allow you to automatically connect by setting this option in the app's settings. If you're using a third-party app, this could vary and really depends on the app.
Will a VPN slow down my connection?
All VPNs slow down your connection a little. However, this slowing down effect is usually quite small and difficult to notice in most cases. This slowing down can be reduced by choosing a VPN server located near to you if possible.
Does Linux have a built-in VPN?
No, you will need a VPN subscription to be protected by a VPN on Linux.