ESPN's video streaming service is region-locked to the United States, so viewers may find it frustrating when they are unable to catch their favorite broadcasts while traveling outside the country. Attempting to view ESPN from another country will present you with an error message instead of the streaming content, but don't worry; there is a workaround. If you want to catch up with your favorite sports teams while traveling outside of the United States, you can circumvent geographic restrictions by connecting to a VPN for ESPN.
VPNs, or Virtual Private Networks, are privacy tools that are designed to encrypt your internet traffic and route it through an intermediary server, usually one located in another country, to give yourself the appearance of accessing the website from that location. Not all VPNs will work since ESPN regularly blacklists VPN servers, so it is important to invest in a high-quality product with plenty of server options.
I made a list of my top choices for VPNs to use for watching ESPN. I go into detail on each of the VPNs on this list, but for now, you can check out my summary below.
My best VPNs for watching ESPN:
NordVPN: My top VPN for streaming ESPN from abroad! NordVPN delivers on speed, security, and server selection. Comes with plenty of security features. Try it out first with its risk-free 30-day money-back guarantee.
Surfshark: The best budget VPN for ESPN. Its low price point doesn't mean it makes sacrifices on security or connection speeds. This service offers unlimited connections and a 30-day money-back guarantee.
ExpressVPN: Streams HD video seamlessly on ESPN and unblocks every streaming platform I've thrown at it. Excellent security features as well.
CyberGhost: Provides the largest selection of servers on this list with over 8,900 servers in around 91 countries. Fast, secure, and great for beginners. This service includes a 45-day money-back guarantee.
PrivateVPN: A privacy-focused VPN that provides fast streaming speeds and servers in more than 60 countries.
IPVanish: Security-first VPN provider popular with streamers, Kodi users, and torrent fans. Works great with ESPN.
Private Internet Access (PIA): A lightweight and fast option that also has strong security features in place. It works well with ESPN.
Atlas VPN: This is a smaller provider but it doesn't lack when it comes to speed or security. It is a good choice when it comes to streaming ESPN.
There are dozens of great VPNs on the market, but not all of them work well with ESPN. I made my top choices based on the following criteria:
Large selection of US servers
Fast and reliable connection speeds
DNS leak protection to keep your location hidden
Ability to stream ESPN and other streaming sites
Zero logs
Would you like more information about the criteria I used? If so, then check out the testing methodology section later in this article.
The best VPNs for ESPN
For in-depth reviews of each provider I recommend, here is my list of the best VPNs for ESPN: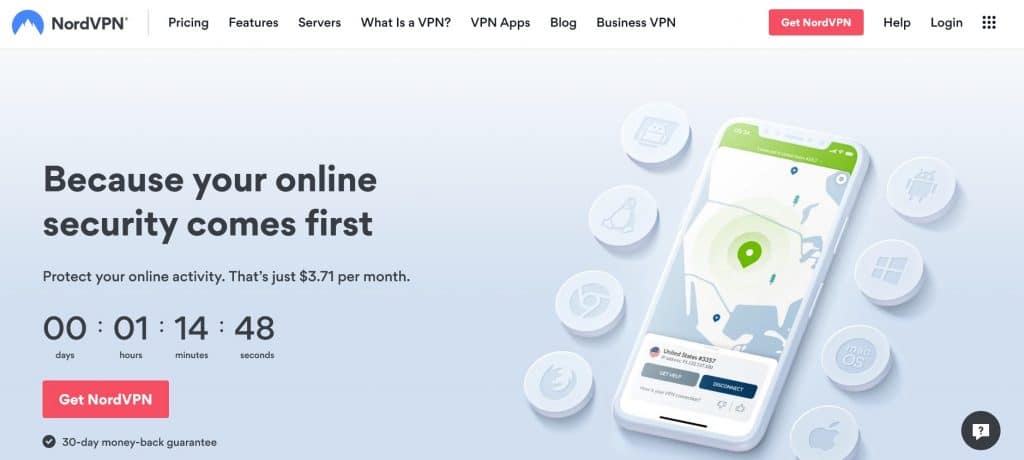 NordVPN has one of the largest server networks on the market with more than 5,500 servers in 59+ countries around the world, including upwards of 1,900 in the United States alone. You can connect to servers in 15 cities, so whether you want to watch a game in Atlanta, New York, or Chicago, you should have plenty of options for lifting ESPN's regional restrictions.
NordVPN protects your data with 256-bit encryption by default and includes an ad blocker, a malware scanner, an app-specific kill switch, and protection against IPv6, DNS, WebRTC, and port forwarding leaks. This provider offers servers optimized for specific functions including double VPN usage, Tor over VPN, and dedicated servers for downloading and streaming live HD video. Its allowance of unlimited bandwidth makes NordVPN a powerful choice for streaming. NordVPN follows a strict no-logs policy so none of your online activities will be recorded and used to identify you. Customer support is available 24/7 over live chat.
Apps are provided for Windows, macOS, Android, iOS, Linux, and Amazon Fire TV. Subscribers can protect six devices with NordVPN at once.
Pros:
Over 1,900 servers in the US
Strong encryption protocol and wide range of security features
Fast, durable connection speeds
Successfully lifts geographic restrictions
Adheres to a strict no-logs policy
Cons:
Desktop app can be slow to connect and awkward to use
BEST VPN FOR STREAMING ESPN:NordVPN is my favorite VPN to use with ESPN. Streams from all of the major platforms while protecting your privacy online. Includes a risk-free 30-day money-back guarantee.
Surfshark's fast speeds, high security, and reasonable price make it my top budget choice. It runs a server network of over 3,200 servers in 95+ countries including 500+ in the United States. Surfshark can stream live HD video at fast and consistent speeds with little to no lag. Surfshark users can protect every device in their household thanks to Surfshark's unlimited allowance of simultaneous connections.
The provider protects your data and your true IP address with a layer of 256-bit AES encryption, a kill switch, and protection from DNS, IPv6, and WebRTC leaks. Users who are particularly privacy-conscious can sign up anonymously by paying with cryptocurrency.
Surfshark offers apps for Windows, macOS, Android, iOS, Linux, and Amazon Fire TV. It can even be configured with some home routers.
Pros:
Unmetered connections
Hundreds of US servers
Fast connection speeds for smooth streaming
Tough security protections
Affordable price
Cons:
Has a couple of slow servers on its network
Customer service could be better
AFFORDABLE SECURITY AND STREAMING:Surfshark protects you online  and streams ESPN for an affordable price. Its unlimited allowance of simultaneous connections makes it great for families. Features a 30-day money-back guarantee.
ExpressVPN's broad geographic variety of 3,000+ servers in 94+ countries gives this VPN tremendous capability for international online services. It can effortlessly stream live HD video from ESPN and all major streaming websites.
ExpressVPN's security features include 256-bit AES encryption and protection against IPv6 and DNS leaks. It also contains a kill switch that will halt the flow of information in case you suddenly lose connection to the VPN, so you won't browse the web without protection. ExpressVPN doesn't keep traffic logs on user data but it does collect metadata relating to server location and the daily amount of data transferred. ExpressVPN is based in the British Virgin Islands where it is not subject to data retention laws.
Apps are available for Windows, macOS, Android, iOS, Linux, and Amazon Fire TV.
Pros:
Incredible speeds for HD streaming, gaming, and downloading
Works with major streaming platforms
Powerful encryption standards and leak protection
Zero logs
Cons:
One of the more expensive providers on this list
Not a lot of advanced customization options
SEAMLESS STREAMING:ExpressVPN can stream just about anything. Works with ESPN, Netflix, Amazon Prime Video, and much more while protecting your security. Thousands of servers and no logs. 30-day money-back guarantee included.
CyberGhost is a VPN with an easy-to-use interface that will match you with a server based on your needs. It provides servers optimized for specific streaming services so you should have no problem watching most major streaming platforms including ESPN, BBC iPlayer, and Hulu. CyberGhost's settings aren't the most customizable on the market, but it is fast, secure, and reliable.
This VPN's server network includes over 8,900 servers in 91+ countries, making it the largest network on this list. Over 1,200 servers are located in the United States.
CyberGhost uses 256-bit encryption on the OpenVPN protocol by default plus 2,048-bit RSA keys and an internet kill switch. It doesn't log user activity and is headquartered in Romania, a country with no mandatory data retention laws. CyberGhost apps can be downloaded for macOS, Linux, Windows, iOS, and Android. Seven simultaneous connections are allowed. In addition, the customer support team is available 24/7.
Pros:
User-friendly apps
Over 1,200 servers in the US
Plenty of optimized servers for streaming and secure web browsing
Top-notch security features
Cons:
Lacks advanced configuration options for experienced VPN users
Doesn't work in China or the UAE
USER-FRIENDLY:CyberGhost is great for beginners and makes no sacrifices on speed or security. Features thousands of servers great for accessing ESPN and other major streaming sites. 45-day money-back guarantee.
PrivateVPN has just over 200 servers. Despite its small size, it still has servers in over 60 countries. This makes it easy for users to access geographically restricted sporting content while traveling, who need to connect to an ESPN streaming service such as ESPN+ from outside of the US. In general, thanks to its fast connection speeds, PrivateVPN is a great option for streaming.
In addition to being a good option for ESPN and ESPN+, PrivateVPN has strong security measures in place. These measures include 256-bit AES encryption, protection from IPv6, WebRTC, and DNS leaks. This service also stores no logs.
Users can download PrivateVPN apps for Windows, macOS, Android, and iOS as well. Linux devices and routers can be manually set up to work with this provider. While the customer service team for PrivateVPN is very competent and helpful, note that they are only available during regular business hours. This service allows for 10 simultaneous device connections with a single subscription.
Pros:
Works in China
Fast streaming speeds
Works well with ESPN and ESPN+
No logs are kept
Cons:
Customer service only available during regular business hours
Smaller server network
PRIVACY FOCUSED AND FAST OPTION:PrivateVPN is a privacy-focused VPN VPN that offers strong security and fast streaming speeds. It works well with ESPN, ESPN+, and streaming services in general. It comes with a 30-day money-back guarantee as well.
IPVanish operates a network of 2,000+ servers in 75+ locations around the world that are fast and dependable enough for streaming HD video, including 1,100 servers in the United States alone. 256-bit AES encryption on the OpenVPN protocol is enabled by default.
It also features SHA512 authentication and a DHE-RSA 2,048 key exchange with perfect forward secrecy. IPVanish is based in the United States and adheres to a strict no logs policy so your online activities can't be traced back to you. This VPN provider is one of the few that owns its entire server network instead of renting it from third parties, so there are fewer vectors for data exposure.
IPVanish apps are available for Windows, macOS, iOS, Android, Linux, and Amazon Fire TV. This provider supports an unlimited number of connections as well and live chat support is available 24/7.
Pros:
Over 2,000 high-speed servers in the US
Company owns every server on its network instead of renting from third parties
Unmetered connections
Remote-friendly interface makes it great for Kodi users
Cons:
Smaller server network than some of its rivals
Doesn't consistently work with Netflix or Hulu
GREAT FOR KODI:Families can protect every device at once. Struggles with accessing some of the top streaming platforms like Netflix, but meets high standards of security. A favorite among Kodi users and torrenters. 30-day money-back gurarantee.
Private Internet Access (PIA) is a lightweight option that provides fast streaming speeds thanks to its use of the fast and efficient WireGuard VPN protocol. It is a good option for streaming ESPN and ESPN+ since PIA has several servers in the US. It can also grant users access to other geographically restricted services.
Strong security measures are in place with this provider too. AES 256-bit encryption, a kill switch, and split tunneling are offered with this service. These measures keep users safe while online.
Apps are available for Windows, macOS, Linux, iOS, and Android. PIA's customer service team can be reached 24/7 via the live chat too. In addition, 10 simultaneous connections are allowed.
Pros:
Strong security measures are in place
Can provide access to many services
WireGuard VPN protocol is supported
There are several customization options available
Cons:
Doesn't work well in China
App design could use some improvement
LIGHTWEIGHT AND SECURE:Overall, Private Internet Access is a good option for streaming ESPN and ESPN+ since it provides fast speeds and keeps your connection secure while you use it. Subscriptions come with a 30-day money-back guarantee.
Atlas VPN is a smaller VPN provider with around 750 servers. It is small but it doesn't lack when it comes to speed or security. It has servers in the US and works well with sports streaming services such as ESPN and ESPN+. In fact, it is a good choice for streaming services in general.
Security features include AES 256-bit encryption, a kill switch, and protection against WebRTC, DNS, and IPv6 leaks. Users also have the option of using the MultiHop server feature that allows for your connection to be encrypted twice as an added security measure. No logs are stored either.
Users can download Atlas VPN apps for macOS, Windows, Android, and iOS. A neat offering from Atlas VPN is that they allow for an unlimited number of connections with a single subscription.
Pros:
Can access many different streaming services
Fast connection speeds
Added security with MultiHop servers which encrypt data twice
No identifying logs are stored
Cons:
Doesn't work well in China
Customer service could be improved
STRONG SECURITY AND FAST STREAMING:Atlas VPN doesn't skimp on security or speed. This makes it a solid option when it comes to streaming services such as ESPN and ESPN+. A 30-day money-back guarantee is included with subscriptions too, ensuring that users can try the service risk-free.
Methodology: How I found the best VPNs for ESPN and ESPN+
A VPN needs to tick many different boxes before being recommended to my readers. The best ESPN VPNs have some very specific features, and my VPN testing methodology separates the good from the bad. Here are some of the things I look for:
Servers: You will need a large selection of US-based servers to stream ESPN from abroad. I check for plenty of US servers, and provide top marks for those that have locations in most major cities. This ensures that you will never miss a game, wherever you are in the world.
Speeds: Every second counts in sport, and a bad internet connection can cause buffering and delays and cause you to miss big moments. This is why I run speed tests to find the fastest VPNs so that you never have to worry about a bad connection.
Privacy: Each VPN has some sort of privacy and security, but some do it much better than others. I only recommend the most secure VPNs, and some of the features I expect to see include a network kill switch, 256-bit encryption, and a no-logs policy.
Devices: You will be able to watch ESPN or ESPN+ on almost any device with the VPNs on my list of recommendations. Why? Because they have apps available on popular devices and operating systems. Most even allow you to connect to five or more simultaneously.
How to watch ESPN with a working VPN
All you have to do to bypass these errors is to sign up for a VPN and connect to a server in the licensed region. Simply follow the instructions below.
Here's how to access ESPN from abroad with a VPN:
Sign up for your favorite VPN provider. My top pick is NordVPN.
Download the VPN app onto your preferred device for streaming.
Launch the app and connect to a server in the United States.
Launch ESPN and play a video to test the connection. You may need to clear your cache and cookies in order for the stream to work. If you still get an error message, try a few different servers until you find one that lifts the geo-restriction.
Where to watch ESPN online
You can watch ESPN content through a few different sources, depending on your preferences. Note that these services are only available in the US and require a VPN to watch from abroad.
Here's where to watch ESPN online:
The first place to check out would be ESPN+, which is ESPN's standalone streaming service.
You can watch live streams on Watch ESPN by logging in with your US cable provider. Watch ESPN acts as the main ESPN website for live streaming.
If you don't have cable or satellite TV, Sling TV is the hardware-less streaming television service for you. ESPN is available through Sling for $30 per month.
YouTube has joined the TV world with YouTube TV. This is a paid service that offers several live channels for a monthly payment of $64.99 including ESPN and ESPN2.
Over 75 on-demand and live channels, including ESPN, are available through Hulu + Live TV.
ESPN VPN FAQs
Can I use a free VPN to watch ESPN?
It is tempting to save your money when the internet offers plenty of free VPN options, but you will almost always be the product instead of the client if you use a free service. They have to make money like any other business, and more often than not, they will resort to unscrupulous means.
By signing up for a free VPN, you are agreeing to have your data collected by the VPN provider which could be sold to third party advertisers without your knowledge. Free VPNs are known for bombarding their users with annoying advertisements, selling idle user bandwidth, and even spreading malware. Some free VPNs don't even encrypt your internet connection. VPNs are supposed to protect your privacy, not compromise it.
Furthermore, free VPNs usually don't offer the performance needed to stream HD video content for platforms such as ESPN. Free VPN providers don't have the resources to own more than a handful of servers on their network, and because there is no cost, they normally attract a volume of users too large for the servers to handle. This causes slow internet connection speeds and a frequent loss of connection in addition to data caps. Using the internet can be a major hassle for tasks as simple as opening your email.
In my opinion, it is always better to pay for a high-quality VPN that you can trust. If you're on a budget, then why not take a look at my cheap VPN recommendations?
Is it legal to watch ESPN with a VPN?
Yes, VPNs are legitimate privacy tools that are legal in almost every country in the world. You should not get into any legal trouble as long as you don't commit cyber crimes while using a VPN, although bypassing geographic restrictions are usually against streaming platforms' terms of service. If you aren't completely sure if VPNs are legal in your area, I recommend understanding the laws of your region first.
Note: I do not provide legal advice and nothing on privacy.net should be considered legal advice.
I can't watch ESPN on my smartphone even though I have a VPN. How do I bypass the region lock?
ESPN has updated its location detection capabilities by scanning for your device's GPS signal, so now your IP address is not the only vector for location exposure. The best workaround is to watch ESPN from your web browser or from a device without GPS functionality, such as an Amazon Fire TV. GPS spoofing on a smartphone doesn't work unless you've rooted or jailbroken your phone, which is not a solution I recommend.
How can I stop my ISP from throttling ESPN?
Because ISPs can normally see what you're doing online and choose to throttle your traffic, you will need to use a VPN to hide your activities. VPNs hide your true IP address and encrypt all of the data flowing to and from your device so third parties won't be able to monitor your internet traffic. I recommend looking for a VPN that offers unlimited bandwidth so you can stream sports on ESPN without suffering from any performance issues.
Why isn't my VPN working with ESPN?
ESPN regularly blacklists VPN servers and proxy services in order to uphold their licensing agreements. If you find that one of your VPN provider's servers isn't working, try connecting to another server in the correct region. You may need to clear your cookies and cache to rid your device of location identifiers.