A resident of the United States will be used to unlimited access to US-based streaming services, including ABC Go and Freeform. However, geo-restrictions will make it difficult to watch your favorite TV shows when you travel abroad. This is why you need a VPN for ABC Go.
If you live in the United States and plan on streaming at some point during your travels, you can keep up with your favorite content back home by using a VPN, or a Virtual Private Network. A VPN will encrypt your traffic and pass it through an intermediary server in a location of your choice, making it appear as though you are physically there. So a VPN server in the United States will give you a US IP address, and grant you access to ABC Go.
I'll dive into the fine details of each of the VPNs on this list, but for now, here's a quick summary of my top 6 VPNs for ABC Go and the Freeform App:
The best VPNs for ABC Go and the Freeform App
Because ABC and Freeform are some of the most difficult streaming platforms to unblock, not all VPNs on the market will work. I made my selections in this list based on the following criteria:
Fast, dependable connection speeds
Plenty of servers in the US
Can unblock ABC and Freeform
Easy to use for beginners
Zero logs
You can find more information about my VPN assessment criteria further in this article.
Here are the best VPNs for ABC Go and the Freeform app: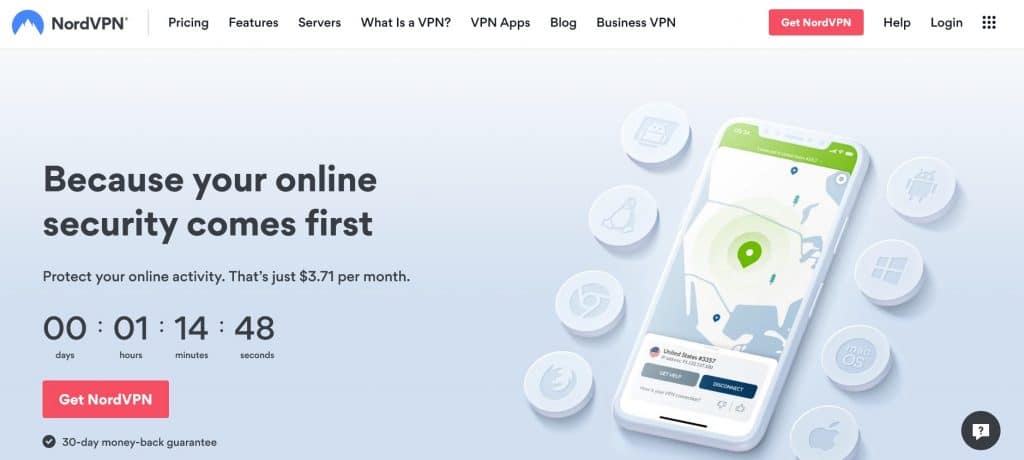 NordVPN is my #1 choice of VPN to use with ABC and Freeform. Running one of the largest server networks on the market at over 5,200 servers in 59 countries, the geographical variety offers powerful unblocking capacity for all major streaming services. NordVPN offers more than 1,900 servers in the United States alone, which is more than enough to access ABC and Freeform from abroad.
The NordVPN apps provide a selection of specialty servers that are optimized for a wide range of specific functions, including Double VPN, Onion over VPN (combining NordVPN with the Onion network), and servers optimized for streaming and downloading. Your traffic will be secured with military-grade 256-bit AES encryption, an automatic internet kill switch, and DNS leak protection.
Apps are available for Windows, Linux, macOS, iOS, Fire TV, and Android devices. It can be manually configured on some wifi routers. NordVPN allows a total of six simultaneous connections, but a wifi router can be connected to an unlimited number of devices while only using up one of NordVPN's six connections.
Browser extensions for Chrome and Firefox are available as well. They are good at bypassing proxy detection systems, but they only protect your browser with the VPN instead of your entire system.
Pros:
Over 1,900 secure servers in the US
Powerful encryption standards and security features
Unblocks all of the top streaming platforms
Effortlessly streams HD video
Accepts anonymous cryptocurrency payments
Cons:
The desktop app can be slow to connect sometimes
STREAM ABC GO FROM ABROAD:NordVPN is my top VPN for ABC Go and Freeform. NordVPN is a fantastic general-use VPN for its streaming capabilities and security features. Comes with a 30-day money-back guarantee.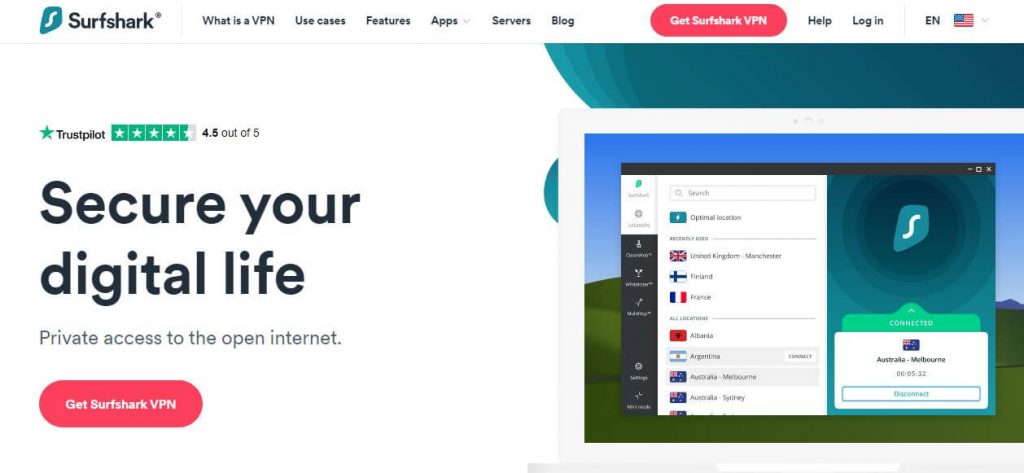 Surfshark offers unlimited simultaneous connections and unblocks most streaming platforms with its 3,200+ servers located in more than 65 countries. Its consistent performance at high speeds makes it perfect for streaming HD video on ABC Go from anywhere in the world.
Surfshark's security offerings include 256-bit encryption, protection against WebRTC, IPv6, and DNS leaks, a kill switch, a malware scanner, and an ad blocker. You can even hide the fact that you're using a VPN at all by scrambling your traffic. Surfshark follows a no-logs policy so that none of your personally identifiable information can be traced back to you.
Surfshark apps are available for iOS, Android, Linux, macOS, Windows, and Fire TV. This VPN can be manually installed on supported routers for users who would like to secure their entire home network.
Pros:
Unblocks ABC, Freeform, and other streaming sites
Unlimited simultaneous connections
Fast and secure servers
Strong encryption protocol and leak protection
Zero logs
Cons:
Has a few slow servers on its network
Customer support can be inconsistent
TOP BUDGET CHOICE:Surfshark is a low-cost option for high-quality performance. Protect every device you own at once. Easily stream ABC Go and Freefrom during international travel. 30-day money-back guarantee.
ExpressVPN operates a sizable network of more than 3,000 servers in 94 countries and can bypass the proxy detection technology used by major streaming services. This includes big names like HBO and Amazon Prime Video. Not all US locations can unblock ABC and Freeform, however, so you may have to try out a few different servers.
ExpressVPN uses 256-bit AES encryption and offers additional protection with DNS leak protection. A kill switch is also included to automatically halt all internet traffic in case of a sudden loss of connection to the VPN, which will keep you from browsing the web unprotected. The apps feature an ExpressVPN browser extension to help you quickly change servers.
ExpressVPN follows a no-logs policy so your online activities will be untraceable. Apps are available for Windows, Mac, Android, iOS, Fire TV, and Linux. Browser extensions are available for Chrome, Firefox, and Safari.
Pros:
Reliably lifts geographic restrictions on ABC Go
Incredible server speeds make it great for HD streaming, gaming, and downloading
User-friendly apps
Military-grade encryption, leak protection, kill switch
Cons:
One of the more expensive VPNs on this list
Streaming servers aren't labeled
STREAM ANYTHING FROM ABROAD:ExpressVPN is a great option for streaming geo-restricted content. Provides access to thousands of servers worldwide while protecting your privacy. Includes a 30-day money-back guarantee.
CyberGhost is a beginner-friendly VPN that easily opens up ABC and Freeform with its wide selection of over 7,300 servers in 91 countries. It consistently runs at high speeds that make it a great and secure option for streaming.
CyberGhost has specific options depending on what activity you need to use the VPN for. One of the available options is Unblock Streaming which will offer a selection of servers optimized for unblocking specific streaming services. ABC and Freeform are not on the list, but if you choose Anonymous Surfing and connect to a server in the United States, you should have no problem getting around the geo-block.
It combines great speed with security and includes 256-bit AES encryption, DNS leak protection, and a kill switch. This VPN provider keeps no records of your activity thanks to its no-logging policy.
Apps are available for Windows, macOS, Android, iOS, and Amazon Fire Stick. It can be manually configured with Linux and some internet routers.
Pros:
Over 1,200 servers in the US for unblocking ABC and Freeform
Intuitive apps make it ideal for beginners
Streaming-optimized servers
Zero logs
Cons:
Experienced VPN users may find it lacking in advanced options
No apps for routers
FAST SPEEDS:CyberGhost is great for first-time VPN users. Unblocks ABC and Freeform with its wide selection of streaming-optimized servers. 45-day money-back guarantee.
PrivateVPN has a relatively small server network of only around 200 servers, but its wide regional coverage in 63 countries gives it a strong unblocking capacity. It has fast servers in nine US cities that can bypass the proxy detection technology used by ABC and Freeform.
Apps are available for Windows, macOS, Mac OS X, Android, Linux, and it can also be configured with supported routers and Fire TV devices. It supports up to six simultaneous connections and counts a router connection as just one, which means you can connect even more devices to PrivateVPN through the router.
Customer support can be contacted through a live chat window and, with your permission, they can even remotely control your computer to configure the VPN for you if you need any help.
Pros:
Sever locations spread across 11 US cities
Impressive speeds
Keeps your online activities private
Six simultaneous connections
Cons:
Limited server selection
Live chat is available only during Swedish business hours
FAST AND PRIVATE:PrivateVPN unblocks US content from abroad with ease. Above average connection speeds. 30-day money-back guarantee.
StrongVPN runs over 500 servers across 43 countries and can bypass ABC's proxy detection systems. StrongVPN recently gave its app a makeover and is now much easier to use than before. In addition to ABC and Freeform, it also works with NBC, Hulu, and most American TV platforms. It is also one of the few VPNs that work in China.
StrongVPN provides apps for Windows, macOS, Mac OS X, Android, and iOS. StrongVPN can be manually configured with Linux systems, routers, Amazon devices, and set-top boxes. It allows five simultaneous connections but can support a limitless number of devices if you connect to the VPN through a router first.
You can rely on StrongVPN to protect your privacy online, too. It has strong 256-bit AES encryption and a strict no-logs policy.
Pros:
Successfully unblocks ABC and Freeform from abroad
Fast server speeds make it great for HD streaming
Easy to use apps
Works in China
Cons:
A small selection of servers
Not the best customer support
Speeds can be slow in certain locations
STREAM ON THE GO:StrongVPN is a fast and secure service. Unblocks US streaming services effortlessly. Requires some manual server configuration. 45-day money back guarantee.
Methodology: How I choose the best VPNs for ABC Go and Freeform
Not every VPN works with ABC Go or Freeform, and both platforms are getting better at blocking VPNs entirely. Because of this, I assessed each service in this article to the following criteria:
US servers – As you can only access ABC Go in the United States, you will need US-based servers. I look at how many servers there are, and what the coverage is like. There should be plenty of options so that you can connect even during busy periods.
Unblocking ability – ABC Go, Freeform, and many other US streaming services are working hard to block VPNs. This means that you need a completely undetectable VPN that can bypass blocks. I test each service to ensure that it can overcome restrictions.
Safety and security – Using the web while traveling can be a risky business. Public wifi like networks in hotels and airports can be a breeding ground for hackers and phishing scams. I look for things like strong AES encryption and a network kill switch to overcome such issues.
Cost – I check that the VPN is reasonably priced, and comes with plenty of additional perks. This includes discounts for a longer subscription, a money-back guarantee, and multiple device connections.
Read my full VPN testing methodology here for even more information on how I assess VPNs.
How to watch ABC Go and the Freeform App with a VPN
A US cable subscription is usually required to sign into the Freeform website, but a VPN will let you stream from outside the US without cable.
Here's how to watch ABC Go and Freeform from abroad with a VPN:
Sign up for the VPN service that meets your needs. I recommend NordVPN.
Download the app onto your preferred streaming device.
Navigate to ABC's website and play a video. For Freeform, Subscribe to one of the streaming services that let you watch Freeform online, such as Hulu, YouTube TV, and Sling TV.
Connect to a server located in the United States.
Play a video on your streaming service to test the connection. If you still get an error message, clear your cache and cookies and try again. You may need to try out a few different servers before you find one that works.
ABC Go and Freeform VPN FAQ
How do the ABC Go proxy detection systems work?
ABC Go and Freeform have invested substantially enough in their proxy detection systems to screen out most VPNs on the market today. This is why it is important to do your research ahead of time so you don't spend money on a lesser VPN only to find yourself locked out of your favorite content. Even paying for a full ABC or Freeform subscription will not lift geographic restrictions if you're watching from outside the US. Fortunately, each of the VPNs on this list comes with money-back guarantees in the event you aren't satisfied with the service, or if you just want to try them out before committing.
Can I use a free VPN for ABC or Freeform?
Free VPNs are usually too under-resourced to overcome sophisticated proxy detection systems, so it is unlikely that a free VPN would bypass ABC and Freeform's geo-restrictions.
Free VPNs usually operate a very small number of servers on their networks which makes it easy for streaming platforms to identify and blacklist most of the servers from a single provider. These small server networks are typically overwhelmed with a volume of users too large to deliver high speeds and reliable connections, so even if you succeed in unblocking these streaming platforms, your movie watching experience will suffer from low quality, frequent buffering, and loss of connection. Security is another factor to consider.
If an online service is free, that usually means that you will be the product, not the client. Free VPN providers need to financially sustain their operation like any other business and they have been known to make their profits by tracking and selling your online activities to third-party advertisers—all without your knowledge or consent.
Paid VPNs build their reputations on protecting their users' privacy, whereas free VPNs don't encrypt your traffic or include kill switches, and some have even been known to distribute malware. Privacy doesn't come without a price. I encourage you to consider paying for some peace of mind with a quality paid VPN.
Why is my VPN connection so slow?
A slow connection can be attributed to a variety of causes. The VPN itself will slow your internet speeds slightly due to the processing power necessary to encrypt your communications. Every encryption protocol comes with its own unique properties and priorities, as some place more emphasis on speed than on security, or vice versa.
Most VPNs use the OpenVPN protocol by default since it balances speed and security, but VPN providers usually offer other options based on your needs. You should be able to find configuration instructions on your provider's website if you want an alternative to your VPN provider's default protocol. In addition, the distance between your computer and your chosen server also affects your internet speed, as speed decreases with distance. I recommend trying out a nearby server before connecting to servers on the other side of the world.
Is it legal to stream ABC from outside America?
While using a VPN to watch American services from outside the country isn't strictly illegal, ABC states that this is a violation of their terms of service, and could result in having your account terminated. If you are still worried about the legal side of the issue, research your country's relevant legislation before watching.