Unfortunately, NBC restricts the viewership of its content to only those located within the United States and screens out anyone who tries to tune in from anywhere else in the world. If you are a US resident traveling abroad, you can keep up with your favorite NBC content from back home by simply connecting to a VPN.
A VPN, or a Virtual Private Network, will encrypt the contents of your internet traffic and route it through an intermediary server located somewhere else in the world. So a VPN will disguise your true IP address with the address of the VPN server. Because of this, when connected to a VPN, NBC will only see the US-based IP address and grant access to the otherwise geo-blocked content.
I go into the fine details of each VPN in this article, but if you just want a quick summary, here's my list of the best VPNs for watching NBC:
NordVPN: This is my #1 VPN for NBC. NordVPN combines first-rate security and speeds. Works with NBC and other streaming services. Offers thousands of servers around the world and a variety of advanced features. Includes a 30-day money-back guarantee.
Surfshark: My top budget choice for NBC. Great for strong security and streaming HD video without breaking the bank. Thousands of servers to choose from, unlimited connections, and a no-logs policy.
ExpressVPN: A popular choice for users focused on streaming. Offers over 3,000 servers in 94 countries around the world for accessing just about anything. Easy to use, five simultaneous connections, and a 30-day money-back guarantee.
CyberGhost This VPN's intuitive apps make it a great place to start for first-time users wanting to watch NBC. Largest server network on this list. Subscribers get great value with this fast and reliable pick.
IPVanish: Kodi and torrent users favor IPVanish because of its strong security and reliable connection speeds.
PrivateVPN: This up-and-coming VPN offers a growing network of fast servers that can access most geo-restricted streaming content, perfect for streaming NBC.
The Best VPNs for NBC
Although there are many to choose from, not all VPNs are capable of overcoming geo-restrictions. Even those that are may not have speeds fast enough for HD video. I've chosen the best NBC VPNs using the following criteria:
Plenty of servers in the United States
Capable of lifting geo-restrictions on NBC and other streaming platforms
Fast and consistent connection speeds
Strong encryption and security features
Little to no logging
You will find more details about my testing process further in this article. But, for now, here's my list of the best VPNs for NBC: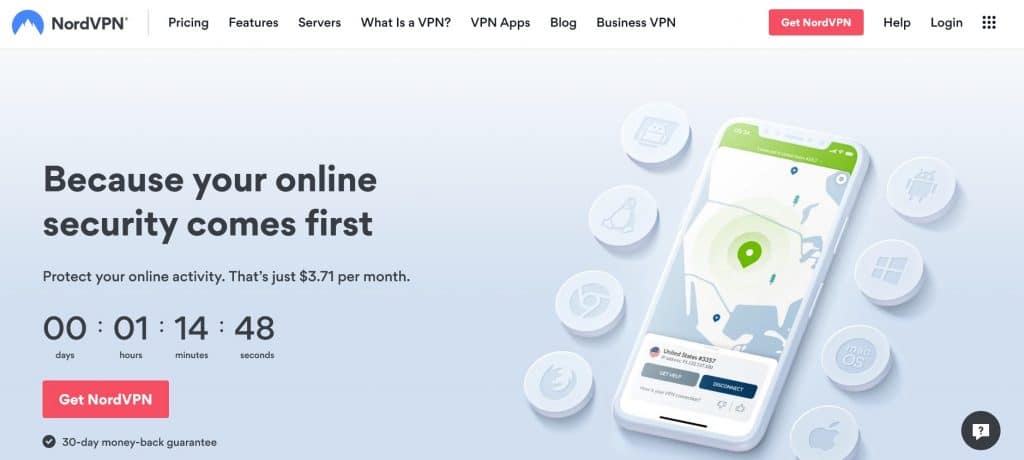 NordVPN has made it to the top of my list. Its network of over 5,300 servers in 60+ countries around the world provides fast speeds for HD streaming and powerful security standards for anonymous web browsing. Its servers are optimized for specialized functions such as Tor over VPN, double VPN usage, anti-DDoS, downloading, and streaming from all the major platforms including NBC. You can protect up to six devices at once with a single account so you will never have to browse the web without protection again.
NordVPN uses 256-bit AES encryption to keep your traffic from being monitored by your ISP and any third parties. An included kill switch will halt the flow of information passing through your device in the event you suddenly lose connection to the VPN. This VPN also includes an ad/malware blocker combo and protection against DNS, IPV6, and WebRTC leaks. The company abides by a strict no-logging policy which means none of your VPN usage data is recorded by the company. NordVPN is headquartered in Panama where the company is not subject to any data retention laws.
NordVPN apps are available for Windows, macOS, iOS, Android, and Amazon Fire TV. Linux systems and supported routers require manual configuration.
Pros:
Over 1,900 servers in the US for accessing NBC and most major streaming platforms
Fast, durable speeds for streaming live HD video
Unbeatable security protections
Works in tricky locations like China and the UAE
No logs policy
Cons:
Server selection is based on location only, not by the individual server (except on Windows and Android apps)
BEST VPN FOR NBC:NordVPN is my top choice. A great all-purpose VPN with fast speeds, powerful security protections, and ability to stream NBC from abroad. Try it out risk-free with its 30-day money back guarantee.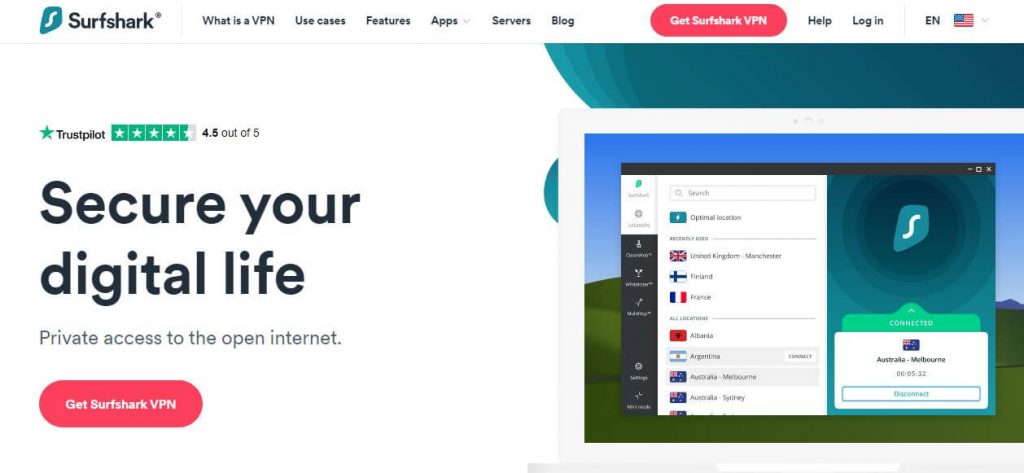 Surfshark is my top budget choice for providing a secure product at a reasonable price. Its network of over 3,200 fast servers in 65+ countries is perfect for watching NBC abroad and streaming live HD video with little to no buffering. It is capable of lifting the geo-blocks on other major streaming platforms as well, including Netflix, Amazon Prime Video, and Hulu. Surfshark comes with great value as it provides an unlimited number of simultaneous connections with a single subscription, so you can protect every device.
Surfshark uses 256-bit AES encryption and protects against IPv6, DNS, and WebRTC leaks. A kill switch is included to protect your unencrypted data from leaking out, and you can bypass nationwide internet restrictions in censorship-heavy places with the NoBorders feature. Surfshark won't record your online activities and it even accepts Bitcoin payments.
Apps are available for Windows, macOS, iOS, Android, Amazon Fire TV, Linux, and some routers. Linux and routers require manual configuration.
Pros:
Wide network of fast servers
Unlimited simultaneous connections
Strong security and privacy protections
Works with most popular streaming sites
Reasonable price
Cons:
Some servers are slower than others
Customer support could be improved
BEST BUDGET VPN:Surfshark can protect all of your devices for fast and secure HD viewing. It works with most major streaming services from abroad. Includes a 30-day money-back guarantee.
ExpressVPN is one of the best options for streaming because it can reliably stream HD content with little to no lag or buffering. Its network of 3,000 servers in 94 countries can easily bypass geo-locks on major streaming sites such as Netflix, Amazon Prime Video, and Hulu. ExpressVPN features servers in 14 US cities capable of unblocking NBC and other US-exclusive content. You can stream on up to five devices at once with a single account.
Your data is encrypted with 256-bit AES encryption with perfect forward secrecy and protects against DNS and WebRTC leaks. ExpressVPN comes with a kill switch in the event you abruptly lose connection to the VPN. ExpressVPN collects some non-identifying data such as the date (but not the time) of your connection to the VPN server and the amount of bandwidth consumed, but nothing that could be used to reveal your identity. For additional privacy, ExpressVPN accepts payments in Bitcoin.
Apps are available for Windows, macOS, iOS, Android, and Amazon Fire TV; Linux and some routers must be configured manually to work with ExpressVPN.
Pros:
Servers in 14 US cities and 94 countries
The fast server network is great for streaming in HD
Unblocks Netflix, Hulu, Amazon Prime Video, and BBC iPlayer, and more
Minimal logging of non-identifying data
Cons:
Limited advanced features in apps for power-users
Relatively expensive
STREAM NBC FROM ABROAD:ExpressVPN's fast and durable connections are perfect for streaming from abroad. Works with most major streaming services including Hulu, Netflix, Amazon Prime, and NBC. Solid security features. Comes with a 30-day money back guarantee.
CyberGhost is great for first-time VPN users because of its user-friendly apps. CyberGhost will match you to a specialized server based on your planned activities, which includes dedicated servers for using specific streaming sites as well as servers optimized for browsing the web securely. CyberGhost can lift the geographic restrictions on most major streaming platforms including Netflix, Hulu, and NBC while smoothly streaming live HD content.
While CyberGhost is great for novices, it doesn't leave advanced users behind—it operates the largest network of servers on this list at over 7,000 servers in 91 countries with fast speeds and unbreakable security features. Over 1,200 servers alone are located in the US. This VPN uses 256-bit AES encryption, a kill switch, forced HTTPS, an ad/malware blocker combo, and protection against IPv6, DNS, and port forwarding leaks. Furthermore, CyberGhost is a no-logs provider based in Romania where the company is not subject to data retention laws.
CyberGhost provides apps for Windows, macOS, iOS, Android, and Amazon Fire TV. Manual configuration is required for Linux systems and supported routers.
Pros:
Intuitive apps perfect for beginners
Vast server network
More than 1,200 servers in the United States
Impressive connection speeds
Strong encryption and no logs
Cons:
Doesn't work in China or the UAE
No local networking option
Complicated router configuration
VALUE AND PERFORMANCE:CyberGhost is easy to use and comes with a modest price. Its fast servers stream HD content well and usually work with streaming sites, but occasionally have difficulty with some. Includes a 45-day money-back guarantee
IPVanish is one of the few VPN providers to own its entire network of servers and data centers rather than renting from a third party, which means better uptime and no data exposure. Over 1,100 of its 1,900+ servers are located in the United States, and they can lift the restrictions on NBC for international viewers. It works with CW TV, HBO, and PBS, but isn't as reliable when it comes to Netflix. IPVanish allows torrenting and provides a remote-friendly interface popular among Kodi users.
IPVanish stores no logs of your online activities and uses 256-bit AES encryption to keep your data secure. It comes with a variety of other security features such as LAN traffic blocking, a kill switch, periodic IP address switching, OpenVPN obfuscation, and support for multiple VPN protocols including OpenVPN, WireGuard (beta only), and IKEv2. This VPN provides a generous allowance of unlimited simultaneous connections so all of your devices will be protected.
IPVanish includes apps for Windows, macOS, iOS, Android, and Amazon Fire TV. Linux and some routers are supported but require manual configuration.
Pros:
1,900 servers in 75 locations, including 1,100 US servers
Fast speeds and reliable connections
Works well with Kodi add-ons for remote control users
Top-notch security and privacy protections
Zero logs
Cons:
Doesn't work in China
Struggles to unblock Netflix
No live chat support
INDEPENDENT SERVER NETWORK:A fast and secure VPN favored by torrent and Kodi users. Owns every server so none of your information will be revealed to third parties. Great security, but not the best at unblocking streaming content. Comes with a 30-day money-back guarantee
PrivateVPN is a Sweden-based VPN with a small but growing server network that streams at impressive speeds. It runs a network of more than 200 servers spread across 63 countries that are capable of handling Netflix, Hulu, and NBC. Secure most or all of your devices with an allowance of six simultaneous connections.
PrivateVPN stores no traffic logs and protects your connection with 256-bit AES encryption. Additional security features include an optional kill switch and protection against DNS and IPv6 leaks. The provider's customer support team can remotely configure the VPN for you and troubleshoot problems, but they are only available during Swedish business hours. The company is located in Sweden where it is not subject to data retention laws.
PrivateVPN apps are available for Windows, macOS, Android, Amazon Fire TV, and iOS. Linux systems and certain routers are compatible but require manual installation.
Pros:
Fast servers in 11 US cities
Swedish based provider with a strict no-logs policy
Six simultaneous connections
Great customer service
Cons:
Can sometimes work in China, but not consistently
Support staff are good, but only operate during Swedish business hours
A small selection of servers
GREAT FOR SPEED:PrivateVPN is a great VPN that works with NBC at HD resolution. Server network is small but features impressive speeds and durable security protections. Lacks 24/7 support. 30-day money back guarantee.
My methodology: How I find VPNs for NBC
I test each VPN myself before recommending them to my readers. Here's what I look for in the best VPNs for NBC:
Servers in the US – You will need a server from back home in the US if you want to access NBC abroad. I check that there are plenty of American servers to choose from, including those specifically designed for streaming.
Connection speeds – To stream without any interruptions, a VPN will need to have fast and stable speeds. I run speed tests to find the most reliable VPNs for streaming HD video.
Security and privacy – Not all VPNs protect your privacy, but the ones I recommend do. I look for security features like AES encryption, a network kill switch, and a no-logs policy.
Value – Subscription fees should be fair and affordable, with discounts for longer commitments. I look at things like simultaneous connections and money-back guarantees to determine the true value of a VPN.
Read my full VPN testing methodology to find out more about how I review VPNs.
How to use VPN with NBC
I thought setting up a VPN would be a difficult task the first time I used one, but I soon found out that anyone can configure one in minutes.
Here's how to watch NBC online from anywhere:
Choose your preferred VPN provider. I recommend NordVPN.
Download the VPN app for your preferred device. Most VPNs have options for desktop, mobile devices, routers, and other devices.
Connect to a server based in the United States.
Navigate to the NBC website to view on-demand and live content.
Test the VPN connection by playing a video. If your chosen server hasn't been blacklisted, you will be able to watch NBC content. If you are still receiving an error message, try connecting to another server on your VPN provider's network. It may take a few tries before you find a working server. You may also need to clear your cache and cookies to rid your device of any location identifiers. If problems persist, contact your VPN provider's customer support team.
VPN for NBC FAQ
Can I use a free VPN to watch NBC?
While you will be able to find plenty of well-reviewed free VPN services online, you won't get the same quality of performance and security available through a first-rate paid VPN. In fact, free VPN providers have a reputation for endangering their users' privacy instead of protecting it, despite how they might advertise their product.
Streaming HD video with a free VPN is nearly impossible due to the insufficient infrastructure provided by free VPN services. These companies usually don't have enough money to own more than a handful of servers on their networks, and because it costs nothing to connect to a server, they are usually overloaded with more users than they can handle. Low video quality, frequenting buffering, and dropped connections will interrupt your streaming experience. Even if you manage to find a good free VPN, your show or movie will be cut short once you exceed the data cap or bandwidth limit. Whenever I encounter a free online service, I always ask the following question: how is the company making its money?
The absence of any up-front costs forces free providers to make a profit through less scrupulous means, which usually involves the tracking and sale of user data to third parties. Users of free VPNs are regularly bombarded with loads of ads and are often infected with malware. Some don't even encrypt your connection. VPNs are supposed to be privacy tools, but free services are anything but private. I believe it's better to invest in a high-quality service instead of learning the hard way.
Why do I need a VPN to watch NBC?
You only need a VPN to watch your home NBC content while traveling outside of the United States. Subscribers are prevented from tuning in from abroad because of NBC's proxy detection systems, which identify the location of each device based on its IP address. An undetectable VPN will bypass this restriction by giving you the IP address of your chosen VPN server. VPNs are not only useful for streaming purposes, but their encryption and security features prevent your traffic from being monitored by third parties such as your internet service provider, your employer, and malicious hackers.
What can I watch on NBC?
As one of the top television stations in the US, NBC offers a variety of on-demand content. Some of their most popular shows include:
Law and Order: Special Victims Unit
Chicago Fire
The Voice
Dateline
The Tonight Show
Good Girls
Can I watch NBC on Roku?
Yes, Roku offers an official NBC Roku channel that you can add to your device. It offers plenty of on-demand video content but live broadcasts are not included. You will need to provide your cable provider information in order to tune into live content on NBC's website. The same is true for many other NBC streaming apps, such as the NBC app available on Amazon Fire TV.