US residents may be dismayed at the error message that appears when trying to stream Vudu while traveling outside of their home country. The good news is that you can avoid losing access to your favorite streaming content when traveling by signing up to a VPN provider.
A VPN, or a Virtual Private Network, encrypts your internet traffic and routes it through an intermediary server located in another part of the world, giving you the appearance of accessing Vudu from the selected region. Your true location is disguised with the location associated with the IP address of the VPN server, so you can lift the restrictions on geo-restricted content.
In this article, I'll go into plenty of detail about the best VPNs for watching Vudu. If you don't have the time for a full analysis, then just check out my summary below.
My best VPNs for Vudu:
NordVPN: My #1 VPN for Vudu. NordVPN runs a vast server network that works with almost any streaming service, including Vudu. This VPN provider has offered strong security standards since its launch in 2012. Includes a risk-free 30-day money-back guarantee.
Surfshark: The top budget option. Surfshark features powerful, fast server speeds, no connection limit, and the ability to access almost anything, including Vudu. All for a reasonable price.
ExpressVPN: This easy-to-use VPN is a popular choice for streaming Vudu because of its fast servers and wide range of locations in 94+ countries. High speeds and impeccable security.
CyberGhost: User-friendly apps make CyberGhost a great choice for first-time VPN users trying to access Vudu. Fast speeds, a wide selection of servers, and seven simultaneous connections allowed.
PrivateVPN: This is a newer privacy-focused VPN that has servers in around 60 countries including the US. It can successfully access Vudu.
IPVanish: Popular among Kodi and Fire TV Stick users. Speeds are great for watching Vudu, but it can struggle with Netflix or Hulu. Unlimited simultaneous connections are provided.
Private Internet Access (PIA): This is a customizable lightweight option with servers that are capable of accessing Vudu outside of the US.
Atlas VPN: A smaller provider. It provides fast speeds, is secure, and allows for secure access to streaming services such as Vudu outside of the US.
While compiling my list of the best VPNs for Vudu, here are some of the most important aspects I looked for in each service:
Fast connection speeds that can handle HD streaming
A large selection of servers, including plenty in the US
The ability to successfully bypass geographical restrictions
High levels of security and privacy included
For more detailed information about the criteria I used, take a look at the testing methodology section found later in this article.
The Best VPNs to watch Vudu abroad
Here's my list of the best VPNs to watch Vudu abroad.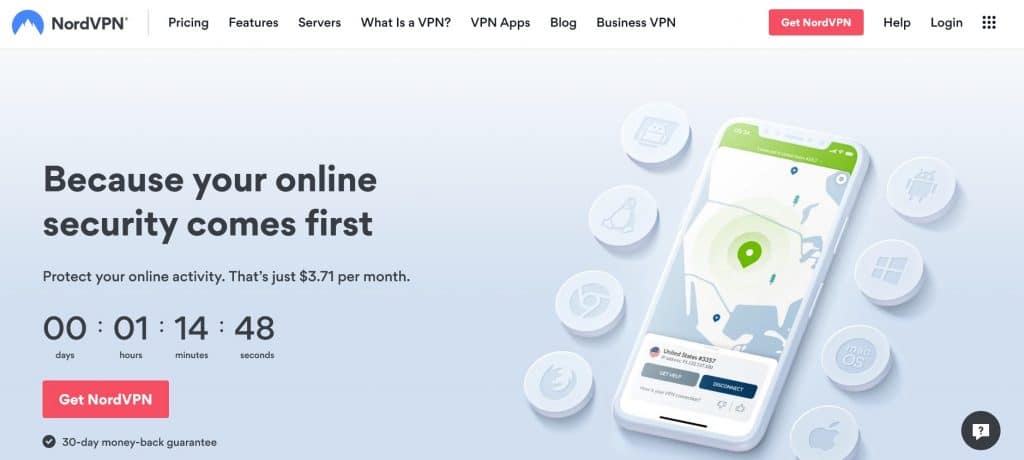 NordVPN has earned the #1 spot on this list because of its high standards of security, fast and reliable connection speeds, and ability to access online streaming services like Vudu and Netflix. NordVPN operates a vast network of 5,600+ servers in 60+ countries with more than 1,950 in the United States. So you will have plenty of options for watching Vudu while abroad. You can protect up to six devices at once with a single subscription.
NordVPN's security features include 256-bit AES encryption, 2,048-bit SSL keys, and protection from DNS leaks. Many of the servers on its network are optimized for a variety of individual purposes including Tor over VPN, double VPN usage, anti-DDoS, downloading, and streaming.
This VPN follows a strict no-logs policy, which means none of your online activities will be recorded. Even if law enforcement confiscated NordVPN's servers, there would be no user data to be disclosed in the first place. To top it all off, NordVPN is based in Panama where the company is not subject to any mandatory data retention laws.
Apps are available for Windows, macOS, iOS, Android, Amazon Fire TV, and Linux. It can be manually configured with some wireless routers. Customer support is available 24/7 over live chat.
Pros:
Fast speeds for HD streaming without buffering or interruptions
Over 1,900 servers in the US
Strong encryption, no logs, Panama-based headquarters
Supports apps for multiple platforms
24/7 live chat support
Cons:
Selection is based on city only, not by individual server
BEST VPN FOR VUDU:NordVPN is my top choice. Easily grants access to Vudu from abroad and meets high standards of security. Comes with a risk-free 30-day money-back guarantee.
Surfshark is my top budget choice for providing a fast and secure VPN at an affordable price. This provider operates a server network of more than 3,200 servers in 95+ countries around the world and features locations in the United States. Surfshark's low price affords you not only reliable speeds and security, but an unlimited allowance of simultaneous connections so you can protect every device you own.
Surfshark's security offerings include 256-bit AES encryption and protection against DNS, IPv6, and WebRTC leaks. Surfshark features a kill switch that halts the flow of data to and from your device in the event of a sudden loss of connection to the VPN. This feature will prevent you from browsing the web without protection in such an event.
Additional features include the option to use two VPNs, split-tunneling functionality, traffic obfuscation, and a malware/ad blocker combo. Surfshark is another no-logs VPN so you can cover your tracks online without fear of monitoring. 24/7 customer support is available over live chat.
Apps are available for Windows, macOS, Linux, Android, Amazon Fire TV, and iOS. Supported routers can be manually configured.
Pros:
Fast servers for uninterrupted HD streaming
High security and privacy standards
Successfully accesses geo-restricted content
Unlimited simultaneous connections
Cons:
The occasional slow server
Customer support could be better
HIGH QUALITY, LOW PRICE:Surfshark is an inexpensive VPN that doesn't compromise on performance or security. Works with Vudu, Netflix, and other streaming platforms. Reliable connection speeds, unlimited simultaneous connections, and a 30-day money-back guarantee.
ExpressVPN is a fast and easy-to-use VPN popular among streaming-focused users. It provides over 3,000 servers in 94+ countries to choose from that can reliably access some of the most stubborn streaming services while traveling including Netflix, BBC iPlayer, and Vudu.
ExpressVPN uses 256-bit AES encryption, DNS and IPv6 leak protection, a kill switch, and perfect forward secrecy to protect your data online. ExpressVPN logs no identifying user data but does keep some logs for diagnostic purposes, such as choice of server location, total bandwidth used, and date (not time) of connection to the server. Users who are particularly conscious about privacy can sign up anonymously by paying in Bitcoin.
This VPN provides apps for macOS, iOS, Windows, Android, Amazon Fire TV, and Linux. Supported routers can be manually configured with ExpressVPN. Five simultaneous connections are allowed under a single subscription, and customer support is available 24/7.
Pros:
Fast server speeds are great for HD streaming and downloading
Server availability in many US and Mexican cities, and can easily access most streaming sites from abroad
Powerful encryption standards
Bypasses geographic restrictions on almost everything
Cons:
More expensive than most services
Streaming servers are not labeled
STREAM FROM ANYWHERE:ExpressVPN is a great choice  for streaming. Its ability to access geo-restricted content makes it great for streaming internationally. Maintains high security standards without logging personally-identifiable information. A 30-day money-back guarantee is included.
CyberGhost is a great choice for first-time VPN users due to its easy-to-use interface. CyberGhost will match you with a server based on your needs and even provides optimized servers for specific streaming platforms such as BBC iPlayer and Hulu. It runs a network of more than 8,900 servers in 91+ countries including locations in the US, so watching Vudu from abroad should be fast and easy. CyberGhost works with Netflix US but it has difficulty accessing the Netflix libraries of other countries.
CyberGhost features 256-bit encryption, IPv6 and DNS leak protection, and a kill switch in case of a sudden loss of connection to the VPN. CyberGhost provides an allowance of seven simultaneous connections so you can protect most or all of your devices with a single subscription. CyberGhost doesn't store records of user activity, and live customer support is available 24/7.
The company is headquartered in Romania where it is not subject to any mandatory data retention laws. It was recently acquired by an Israeli firm registered in the UK, however, so I will have to keep my eyes peeled for any changes to its privacy policy.
Apps are provided for Windows, Android, macOS, iOS, Linux, and Amazon Fire TV. Some network routers can be manually configured with CyberGhost.
Pros:
Easy configuration for beginners
Above average HD streaming speeds
Largest number of servers on this list
No logs are kept
Cons:
Works with Netflix US but struggles with other libraries
Lacks customizable options for experienced users
BEGINNERS' CHOICE:CyberGhost is a great first VPN for new users. Easy-to-use apps that don't compromise on security. Come with a generous 45-day money-back guarantee.
PrivateVPN is a smaller VPN provider that has just over 200 servers. Its network is spread out among about 60 countries. Despite its small server network, it doesn't compromise on quality. It provides strong connection speeds and security measures. On top of this, it can successfully access services such as online banking while abroad and streaming services such as Amazon Prime Video and Vudu.
Security measures included in this service include AES 256-bit encryption, and protection from WebRTC, IPv6, and DNS leaks. PrivateVPN doesn't store logs either.
This provider has apps available for macOS, Windows, iOS, and Android. Linux devices and routers can be manually configured to work with this service. PrivateVPN offers high-quality customer service as well. However, you should note that the customer service team can only be reached during regular business hours. 10 simultaneous device connections are allowed per subscription.
Pros:
Accesses Vudu and other streaming services
Fast connection speeds
No logs stored
Functions in China
Cons:
Small server network
Customer support isn't available 24/7
SECURE OPTION WITH FAST STREAMING:PrivateVPN packs a punch despite its small network size, with reliably fast connection speeds and security measures. Comes with a 30-day money-back guarantee.
IPVanish is a privacy-focused VPN with 2,000+ servers in 75+ locations around the world including the US. Its dependable streaming speeds make it a good option for streaming Vudu, Paramount+, and other leading platforms.
This provider's encryption standards feature 256-bit AES encryption on the OpenVPN protocol by default and a kill switch in case of a sudden loss of connection to the VPN. IPVanish is one of the few VPN providers that offer an unlimited number of simultaneous connections.
Apps are available for Windows, macOS, iOS, Android, Linux, and Amazon Fire TV.
Pros:
Plenty of server locations in the US
Unlimited simultaneous connections
Works with Vudu, ABC GO, and other popular platforms
Cons:
Struggles with granting access to Netflix and Hulu
Small number of servers
PROTECT EVERY DEVICE:IPVanish is a security-first service. Unlimited simultaneous connections and streams Vudu with little to no lag. Doesn't work for every service, however. 30-day money-back guarantee.
Private Internet Access (PIA) is a lightweight VPN option that won't chew up your system resources. On top of this, it allows users to customize the app's interface. It allows for smooth lag-free streaming, thanks to its use of the fast and efficient WireGuard VPN protocol.
Strong security measures are in place with PIA. This can be seen from its provision of AES 256-bit encryption, a kill switch, and split tunneling.
PIA apps are available for a number of platforms too. These include Windows, macOS, Linux, iOS, and Android. PIA has customer service that is available via their 24/7 live chat as well. This service allows for 10 simultaneous connections as well.
Pros:
Strong security measures are in place
Can provide secure access to many services
Supports the WireGuard VPN protocol
Allows for several customization options
Cons:
Doesn't work well in China
App design could be improved
LIGHTWEIGHT AND CUSTOMIZABLE OPTION:PIA is a lightweight option that can provide users with secure access to several different streaming services including Vudu. It is also customizable and comes with a 30-day money-back guarantee.
Atlas VPN is a smaller VPN provider that has over 750 servers in 40+locations. Its network of servers is also fast enough to allow for the streaming of services such as Netflix without lag or buffering. It also works well with Vudu. Clearly, while this VPN doesn't have the largest server network, it is a high-quality offering that is secure and a solid option for streaming.
It also comes with several security features such as 256-bit AES encryption, a kill switch, and protection against DNS, WebRTC, and IPv6 leaks. This service stores no logs either and has an option for MultiHop servers which adds more security by encrypting your connection twice.
Atlas VPN apps are available for Windows, macOS, Android, and iOS. An unlimited number of connections is supported.
Pros:
Can access many different streaming services
Fast connection speeds
MultiHop servers encrypt data twice
Cons:
Doesn't work well in China
Customer service could be better
FAST, PRIVACY-FOCUSED OPTION:Atlas VPN is a strong performer when it comes to speed and accessing geo-restricted content. In addition, it is a secure platform, offering advanced security features such as MultiHop servers which encrypt your data twice. This service also offers a 30-day money-back guarantee.
Methodology: how I found the best VPNs for watching Vudu
Not all VPNs are suitable for streaming, and some don't even work on the Vudu platform. I used my thorough VPN testing processes to identify the very best VPNs for watching Vudu. Here are some of the things I looked for:
Servers: To access Vudu while traveling, you will need a VPN server back in The United States. The more servers there are, the better chance you have of staying connected during busier periods. I only recommend VPNs that have plenty of servers available, including those with speciality streaming options.
Speeds: Reliable speeds are a must-have if you plan to use a VPN for streaming. I conduct my own speed tests and put each product through its paces before recommending it to my readers. You will find the top performers on this page.
Security: Open WiFi networks like those at an airport or hotel can be a real threat to security. If you want to watch Vudu while on the road, you need a VPN that can keep you protected. I look for specific privacy features including a no-logs policy and a kill switch.
Value: I don't just look for VPNs with the lowest price tag. I look at the whole package before determining value, including costs, money-back guarantees, customer support, and much more.
How do I use a VPN to watch Vudu?
If you're a first-time VPN user, don't worry, using a VPN could hardly be easier.
Here's how to use a VPN to watch Vudu:
Choose your preferred VPN service. I recommend NordVPN.
Download the relevant app onto the device you use for streaming.
Log into the VPN and connect to a server in either the US or Mexico. You will get faster speeds by using a server closer to you.
Test out the VPN by starting a stream on Vudu's website. If you still get an error message, I suggest clearing your cache and cookies and then trying again. Online streaming websites regularly blacklist VPN servers, so you may also need to try out a few different servers before you find one that works.
Best VPNs for Vudu FAQs
Should I use a free VPN to unlock Vudu?
I advise against using even the "best" free VPNs – the poor security and performance make them more trouble than they're worth.
Free VPNs won't help if you want to stream HD video. Streaming platforms regularly blacklist VPN servers to uphold the regional restrictions included in their licensing agreements, and free VPN providers typically lack the resources to overcome the well-financed efforts of major platforms like Netflix and Vudu.
Free VPNs can also often compromise the security of their users rather than offer protection. They have been known to make their money by tracking the online activities of their users and selling records of this data to third-party advertisers. Free VPNs insert loads of obnoxious ads into their users' browsers and sometimes spread malware. Some free VPNs don't even encrypt your connection, and a VPN without encryption is no VPN at all.
Will a VPN slow down my Vudu streams?
VPNs may slightly lower your connection speed because your data has to be encrypted and sent to a distant server before it reaches the streaming website. If you choose a server that's relatively close to you, the connection speed will be faster than it would be from a server on the other side of the world. 
Reduced speeds should be negligible on high-end VPN providers with fast server speeds and unlimited bandwidth. If you experience throttling from your ISP, you should have even faster speeds when connected to a VPN, especially if the server isn't too far away.
What devices can I watch Vudu on?
Vudu is compatible with a large number of desktops, mobile devices, smart TVs, and many other devices. This includes Windows and Mac for desktop; Android and iOS for mobile; Amazon Fire TV, Chromecast, Roku, Tivo, and Xfinity for streaming devices; LG, Samsung, and Vizio for smart TVs; Playstation, Xbox, Nvidia for game consoles; and LG, Samsung, and Sony for Blu-Ray players.