Users of the internet in the Kingdom of Saudi Arabia (KSA) will be familiar with restrictions. Popular VoIP apps including Skype, WhatsApp, and FaceTime are blocked in the country and internet access in general is limited to websites approved by the state.
A VPN, or Virtual Private Network, will mask your location and protect your data while using the web. The tool will send your internet traffic through an intermediary server in another location beneath a layer of encryption, effectively making you invisible online.
Once you're connected to the VPN server, you use the server's IP address instead of your own, giving you the appearance of accessing the web from that region instead of your true location. This will help unblock online services such as the blocked VoIP apps, as well as content from popular streaming platforms while you're visiting Saudi Arabia. This is especially useful for Saudi citizens traveling abroad who want to access the same streaming content they usually watch back home, but can't reach from outside the country.
I'll walk you through each of these VPNs individually, but if you're short on time, check out the summary below of my top eight VPNs for Saudi Arabia:
Keep in mind that not all VPNs provide the same quality of service for use in Saudi Arabia. I assembled this list of recommended VPNs based on the following criteria:
Fast and reliable servers around the world
Capable of unblocking censored online content
Powerful suite of security protections
Easy to use
Multiple simultaneous connections
I will cover the criteria I used in a lot more detail in the methodology testing section further down the article.
Best VPNs for Saudi Arabia
Based on the criteria stated above, here is my list of the best VPNs for Saudi Arabia: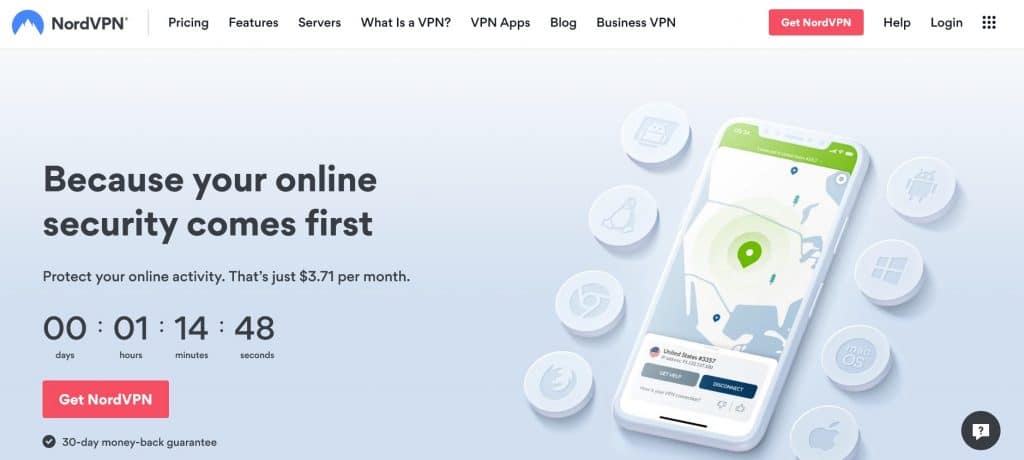 NordVPN has accrued a reputation as one of the most secure VPN services since its first release in 2012. NordVPN is popular partly because of its zero-logs privacy policy, which means that the company doesn't keep any information about its users or their activity. Even when the company has received official requests from government agencies for records of user data, the company was unable to comply because they never stored that information to begin with. Furthermore, the company is based in Panama, where there are no data retention laws that companies are required to comply with.
With more than 5,500 servers located in approximately 59 countries, NordVPN runs one of the largest server networks on the VPN market. It is one of the few providers that offers specialty servers that have been optimized for specific functions, including anti-DDoS, video streaming, double VPN, Tor over VPN, and dedicated IP.
NordVPN is good for streaming-focused users due to its ability to stream platforms like Netflix, Hulu, and BBC iPlayer. It supports torrenting as well.
The VPN's security offerings include 256-bit AES encryption and 2,048-bit SSL keys. DNS leak protection is enabled. Users who are especially conscious about privacy can sign up anonymously by paying in cryptocurrency, including Bitcoin and Ripple.
Apps are available for Windows, Linux, macOS, iOS, and Android.
Pros:
Toughest security on the market
Fast connection speeds for HD streaming
Thousands of servers available worldwide
Keeps no logs of your online activities
Accepts Bitcoin payments for anonymous signup
Cons:
The desktop app can occasionally be slow to connect
TOP VPN FOR SAUDI ARABIA:NordVPN is my number one choice for a Saudi Arabia VPN. One of the most secure VPNs on the market today, you can connect up to six devices at once. Comes with a risk-free 30-day money-back guarantee.
Surfshark is definitely worth considering for those on a budget. Its low price doesn't reflect the quality of its service as it runs over 3,200 high-speed servers in roughly 95 countries, offering plenty of geographical variety for accessing geo-restricted services like Netflix, Hulu, and BBC iPlayer. It features server locations in some Middle Eastern countries such as Turkey and Israel, but not Saudi Arabia.
Surfshark's security features include 256-bit encryption enabled by default and protection against DNS, WebRTC, and IPv6 DNS leaks. It also contains an internet kill switch, dual VPN functionality, and blocking for malware and ads. Like NordVPN, Surfshark doesn't log any personal information.
24/7 customer support is available via live chat. Surfshark apps are available for Windows, macOS, iOS, Android, and Amazon Fire Stick. This VPN is a great option for users with many devices because it offers unlimited simultaneous connections under a single account.
Pros:
Fast speeds for downloading, streaming, and gaming
Meets a high standard for online security
Unblocks most popular streaming sites like Netflix
Unlimited simultaneous connections
Cons:
Network has a couple of slow servers
Customer support can be slow to respond
TOP BUDGET VPN:Surfshark offers great security protections without costing too much. Streams fast and consistently, and lets you protect every device you own. Includes a 30-day money-back guarantee.
ExpressVPN operates a server network of 3,000+ servers in approximately 94 countries, including locations in the Middle East, making it a good option for Saudi Arabian citizens traveling abroad to stay connected with content available back home. The wide variety of server locations means that you can easily access content on Netflix, Hulu, and BBC iPlayer. Torrenting is supported as well.
Users of ExpressVPN in Saudi Arabia are well-protected by the strong 256-bit AES-CBC protocol in combination with HMAC authentication and perfect forward secrecy. An internet kill switch is included to halt all internet traffic in the event of a sudden loss of connection, protecting you from browsing the web without the VPN's protection.
ExpressVPN won't log your data, except for metadata regarding the time you connect to the device, your preference of server location, and total bandwidth used. No personally identifiable information is stored, and the stored metadata is for service improvement purposes only.
You can sign up anonymously by paying in Bitcoin and using a burner email account for additional privacy. ExpressVPN provides Android, iOS, Windows, Linux, and macOS apps.
Pros:
One of the fastest VPNs for streaming, downloading, and gaming
Tough security protections make it great for avoiding surveillance
Accepts Bitcoin for anonymous signup
Keeps no logs
Cons:
One of the most expensive VPNs on this list
Streaming servers are hard to identify
FAST AND SECURE:ExpressVPN focuses on security so you can avoid online surveillance. Fast speeds are great for streaming, too. Includes a 30-day money-back guarantee.
CyberGhost has a large server network that spans around 90 countries. It offers lots of different server options that KSA users can use to access restricted services.
This provider's security measures are strong and include 256-bit AES encryption, as well as protection against IPv6 and DNS leaks. No logs are stored either. A kill switch is included as well, which prevents your IP address from being exposed in the event of your VPN connection being disrupted.
CyberGhost provides apps for Linux, macOS, Windows, and Amazon Fire TV. Some routers can also be manually set up to work with this service. Customer support is available 24/7 and seven simultaneous connections are provided by this service.
Pros:
Fast connection speeds
Strong security measures in place
Easy to access blocked services with this VPN
No logs stored
Cons:
Unreliable access in the UAE and China
Doesn't work reliably with torrenting
LARGE SERVER NETWORK:CyberGhost's large network makes it easy to access restricted content from many different countries and is a very secure option. CyberGhost also comes with a generous 45-day money-back guarantee.
IPVanish is a strong option for streamers. This is why it has been trusted for many years by the Kodi community. It is a fast option that is capable of unblocking many different services.
The security offered is also strong. Security measures include 256-bit AES encryption, a kill switch, and protection against DNS and IPv6 leaks. Traffic scrambling is also offered and no logs are stored by this provider.
IPVanish provides apps for Android, Windows, Amazon Fire Stick, Amazon Fire TV, and macOS. This VPN can also be manually set up on some routers and on Linux devices. IPVanish supports an unlimited number of connections and live chat support is available 24/7.
Pros:
Fast connection speeds
Unlimited number of connections allowed
No logs are stored
Great option for torrenters and Kodi users
Cons:
Some servers don't work with Netflix
Users may encounter connection problems in Saudi Arabia
UNLIMITED NUMBER OF CONNECTIONS:IPVanish is a great option for users who like to stream and have several devices, as you're able to protect all of your devices without worrying about any limits. It is also a fast and secure service. IPVanish offers a 30-day money-back guarantee.
PrivateVPN offers only a little over 200 servers in around 63 countries, but its fast speeds, high security standards, and reliable unblocking abilities make it a worthy contender.
PrivateVPN uses 256-bit encryption, an internet kill switch, WebRTC, DNS, and complete IPv6 protection. It can easily access Netflix, Hulu, BBC iPlayer, and other platforms. Up to 10 devices can be protected at once with a single subscription.
It stores no user logs or IP addresses. For additional security, you have the option of signing up anonymously with a burner account and paying with Bitcoin. Apps are available for Windows, macOS, iOS, and Android.
Pros:
Works in Saudi Arabia
Unblocks a wide range of geo-restricted content
Impressive connection speeds
Military-grade encryption and security protections
Cons:
Small number of servers
Customer support isn't available 24/7
STREAM FROM ANYWHERE:PrivateVPN excels at unblocking and streaming without sacrificing your security. Comes with a 30-day money-back guarantee.
Atlas VPN is a smaller VPN provider with servers in approximately 40 locations. Its network of servers is fast enough to allow for the streaming of services such as Netflix without lag or buffering.
Strong security is in place as well. It offers 256-bit AES encryption, a kill switch, and protection against DNS, WebRTC, and IPv6 leaks. There is also the option of connecting to MultiHop servers, which encrypt your connection twice. This may be appealing for users in restrictive social climates such as KSA users.
Atlas VPN has apps for Windows, macOS, Android, and iOS. An unlimited number of connections is supported, which makes it a great pick for families.
Pros
Can unblock many different streaming services
Fast connection speeds
MultiHop servers encrypt data twice
No identifying logs are stored
Cons
Doesn't work in China
Customer service could be better
FAST STREAMING SPEEDS:Atlas VPN punches above  its weight when it comes to security and speed. Despite having a small network, it is a fast, secure, and resilient provider. On top of that, users have an unlimited number of connections at their disposal and a 30-day money-back guarantee is included with subscriptions.
VyprVPN is popular for being one of the only VPN providers that owns its server network instead of renting it. This means the company has total control over each of its 700+ servers and that your data will pass through fewer hands. VyprVPN's impressive encryption standards are high enough to make it one of the few VPNs that can bypass the Great Firewall of China. Residents of Saudi Arabia or travelers going to the country will benefit from a VPN that can bypass the restrictions of government agencies.
VyprVPN uses 256-bit AES encryption on the OpenVPN protocol, 2,048-bit RSA keys without perfect forward secrecy, and SHA256 authentication. It comes with an internet kill switch as well. This VPN can access your favorite streaming content from Netflix, Hulu, and BBC iPlayer. VyprVPN is a zero-logs provider, so you can browse the web anonymously.
Apps are available for Android and iOS for mobile, and Windows and macOS for desktop.
Pros:
Works in censorship-heavy countries like China and Saudi Arabia
Fast and secure apps for a variety of platforms
Independently-owned server network
Military-grade encryption
Cons:
One of the more expensive VPNs
Doesn't accept payments in Bitcoin
Relatively small selection of servers
DEFEAT ONLINE CENSORSHIP:VyprVPN delivers fast speeds while protecting everything you do online. A bit expensive, but comes with a 30-day money-back guarantee.
How to connect to a VPN in Saudi Arabia
If you are looking to bypass censorship in Saudi Arabia by connecting to a VPN, follow these steps to get up and running:
Sign up for a premium VPN service. I recommend NordVPN. However, Surfshark or ExpressVPN are decent alternatives too.
After signing up, download the app for the VPN you've selected that is compatible with the device you will be using.
Now, connect to a VPN server in a country that doesn't have strict internet restrictions. For example, you could choose a US server.
After connecting to the right server, you can try logging in to a service, such as Skype, that is usually restricted. If you aren't able to access the service, try clearing your browser's cache and cookies where appropriate or restarting your device. If this still doesn't solve the issue then you should contact your VPN's support team for further assistance.
Methodology: how I found the best VPNs for Saudi Arabia
Saudi Arabia is a notoriously difficult location for VPNs, and not all services work there. I have created a VPN review process that allows me to identify the very best on the market for Saudi Arabia. Here are some of the things I look for:
Plenty of servers: Servers in Saudi Arabia are essential, but I also expect to see a lot of other servers around the world. This means that you will be covered by the VPN no matter where you travel to, and you won't have to fight for bandwidth during busy periods.
Tight security: If you're bypassing government censorship, it's important that you keep yourself undetectable. This means the toughest security measures possible. Things I look for in any VPN include 256-bit encryption, a kill switch, and much more.
Fast speeds: This is essential if you plan to use your VPN for file sharing, streaming, or downloading. Some VPNs can slow you down considerably, so I'm careful to eliminate those. The services I recommend are guaranteed to be the fastest.
Compatibility: A great VPN is useless if you can't use it on your specific device. I check that the service has apps available for most popular devices and OS first and foremost. I then check their compatibility with specific streaming platforms and popular online services to ensure they work.
Value: From subscription cost to the number of simultaneous devices and the money-back guarantee conditions, I look at all aspects of value.
VPNs for Saudi Arabia FAQs
Are VPNs legal in Saudi Arabia?
While the Saudi government blocks access to the websites of many VPN providers, using a VPN is not illegal. 
Note: I do not provide legal advice, and nothing in this article should be taken as legal advice. If you're unsure about whether or not your online activity is illegal in Saudi Arabia, I highly recommend that you research local laws.
Should I use a free VPN?
Free VPN services need to make money like any other business, and that usually comes in the form of marketing user data. Free providers have a long history of tracking what their users do online and selling their personally identifiable information to third parties without their knowledge or consent. Further revenue may be derived from inserting intrusive ads into your web browse or spreading malware in some cases. A VPN is supposed to keep you safe online, not expose you to even more online threats than before. If a service is free, that usually means that you are the product, not the client.
Quality of performance is another variable to take into account. Free providers normally lack the resources to invest in a network of more than a handful of servers, and they are usually overwhelmed with a large volume of users devouring the bandwidth all at once. Browsing the web with a free VPN typically involves slow speeds, frequent buffering, and loss of connection. If it's a struggle to simply open up your email account with a free VPN, then you can forget about streaming HD movies and shows from Netflix.
If you're on a tight budget, then take a look at my recommended cheap VPN options.
Will the internet ever be free in Saudi Arabia?
Saudi Arabia is one of the most connected countries in the world with more than 70 percent of its users connected to the web—but citizens can only access a small portion of the full internet. According to The Guardian, Saudi Arabia censors the internet most heavily out of all the Arab states by using "sophisticated filters" to block websites deemed "immoral" by the authorities, encompassing content such as pornography, extremist political views, and criticisms of the Saudi royal family. An anti-terrorism law passed in 2014 has even criminalized liking or commenting on posts that could be interpreted as "harmful" to the country and its values. The government also financially promotes websites and publications that align with the state's political values and applies financial pressure to publications critical of the state. It's hard to predict whether the internet will ever be free in KSA.
Is it safe to video call in Saudi Arabia?
Restrictions were placed on the usage of VoIP services in 2013 and lifted in 2017. It is currently legal to make voice and video calls over the internet with services like WhatsApp, Skype, Facetime, and others. Safety is another question, however, as the authorities can still monitor when and where you use VoIP apps. I recommend using a VPN to protect your communications while in Saudi Arabia.
Is Facebook private in KSA?
Anything you post on Facebook is public, whether or not you're based in Saudi Arabia. Facebook is also willing to give data on Saudi accounts to the country's government in response to valid legal requests. Facebook states that it complied with one of the three requests for user data filed by the Saudi government since 2013. The government also filed six "preservation requests" for a total of 10 accounts. When a preservation request is made, according to Facebook, "[...] we will preserve a temporary snapshot of the relevant account information but will not disclose any of the preserved records unless and until we receive formal and valid legal process." 
Can I use my phone in Saudi Arabia?
Yes, phones can be legally used in Saudi Arabia. If you're traveling to Saudi Arabia, then I suggest downloading the VPN onto your device prior to entering the country since many VPN providers' websites are blocked there. Once the VPN app is installed onto your smartphone, all you have to do is open the app, select a location, and connect. When your connection to the VPN server is secured, then you will be able to access the internet anonymously and view blocked content. You may also need to acquire a SIM card from a local operator unless you've set up international roaming with your existing operator. That means you will need an unlocked phone that works on a GSM network. You may need to provide identification and five fingerprints to register a new SIM card in the KSA.
Is it legal to stream music in Saudi Arabia?
Yes, it is legal to stream music in Saudi Arabia, including from some of the most popular music streaming services like Spotify, Apple Music, and Deezer. If some content is geo-blocked due to licensing and copyright agreements, you can use a VPN to circumvent these restrictions by connecting to a server located outside of the country, such as the US.
Why is my VPN not working in Saudi Arabia?
Using a Virtual Private Network (VPN) to access the internet from Saudi Arabia can be difficult as the government of Saudi Arabia blocks access to many VPN providers' websites. This is because VPNs are often used to bypass government-imposed restrictions on internet usage, which include websites and content that are banned in certain countries such as Saudi Arabia.
In order for your VPN connection to work, you must first find a provider that does not have its website or services blocked by the Saudi Arabian authorities. All our recommended VPNs work in the KSA, so don't worry once you arrive.