Spotify allows its users to stream over 70 million songs, free (with ads) or with a paid subscription. However, not all of its music library is available in every country, and in some regions, you can't set up a Spotify account at all. The good news is that it's possible to get around these restrictions by using a VPN for Spotify.
A VPN allows you to pass your internet traffic through a server in a different country, making it appear as if you're browsing from within that country. This can help you to bypass country restrictions and access Spotify no matter where you are in the world.
There are other benefits, such as allowing you access geo-blocked content from services such as BBC iPlayer or Netflix US as well as keeping your connection secure and private when using public wifi.  I'll take a look at some of the providers in more detail below, but if you're in a hurry, here are my best VPNs for Spotify:
Best VPNs for Spotify
There are many VPN options out there. Not all VPNs are created equal, however, and some VPNs are better suited for use with the music streaming service. so I've used the following set of criteria to narrow it down to the best VPNs for Spotify:
Apps for Android and iOS so you can listen to Spotify on the go
Fast speeds for high-quality streaming without buffering
A privacy policy that doesn't store any usage or personal data
Solid security to keep your traffic protected at all times
A good selection of servers around the world
Easy to set up and use
I will dig further into my testing methodology later in this article.
For now, here's my list of the best VPNs for Spotify: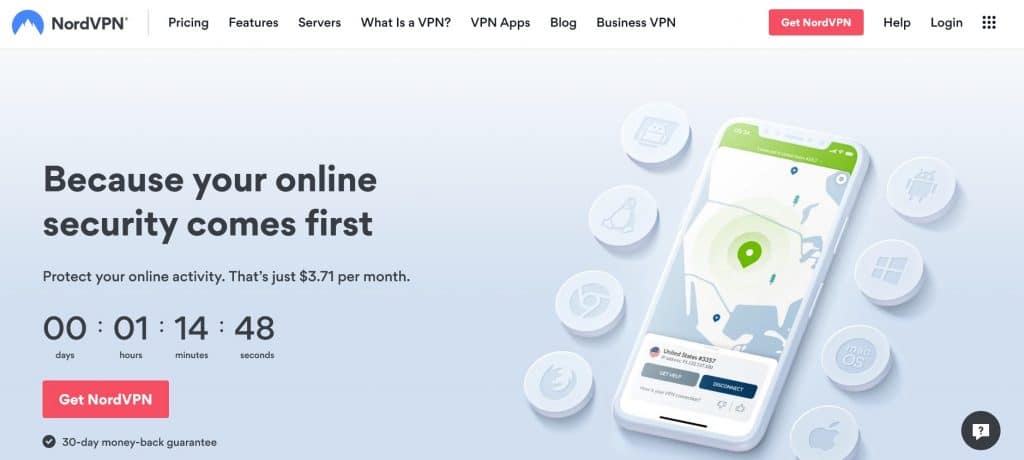 NordVPN is my top pick for the best VPN for Spotify. It's fast, secure, and easy to use. This makes it an ideal choice if you're trying to listen to Spotify, no matter where you are. It also offers plenty of other great features if you need a VPN for other uses such as streaming geo-blocked movies and TV.
NordVPN has more than 5,400 servers in 59 countries around the world. That means you can not only listen to your usual Spotify content when you're abroad, but you can also access Spotify libraries in other countries.
Although using a VPN to listen to Spotify is unlikely to have the NSA busting down your door, it's still good to know that NordVPN keeps your information private. It has a no-log policy that means that information such as your IP address, traffic data, and session information won't be stored anywhere. Even if NordVPN was requested to supply that information by the authorities, it wouldn't be able to since none of it is recorded.
NordVPN is also highly secure. It uses industry-standard AES 256-bit encryption and offers leak protection to prevent your real IP address from being exposed. If the secure connection to the VPN server drops at any point, there's an automatic kill switch that cuts off access to the internet so that none of your activity can be monitored.
NordVPN is available on Android and iOS so you can listen to Spotify on the go, and there are also apps for Windows, macOS, and Linux. You can have up to six simultaneous connections or devices.
Pros:
Over 5,400 servers worldwide
No-log privacy policy to keep your information hidden
256-bit AES encryption
Fast speeds for streaming high-quality audio
Excellent security
Easy to use mobile apps
Cons:
The desktop app can be a little awkward to use
BEST VPN FOR SPOTIFY:NordVPN is my number one choice as the best VPN for Spotify. You get fast speeds and good privacy with a wide range of servers to choose from. You can try NordVPN out with a risk-free 30-day money-back guarantee.
Surfshark may not have quite as many servers as NordVPN, but it still offers more than 3,200 servers in 65 countries, so you should have no trouble finding a server for using Spotify. It's very fast too and offers a "NoBorders" mode which allows you to use Surfshark even in countries that block the use of VPNs.
Surfshark has a no-log privacy policy and uses RAM-only servers, which provide an additional layer of protection. These servers save all data to RAM, which requires power to retain information. It means that when the servers restart, any data stored on them is lost, keeping your information safe from hackers.
Surfshark uses AES 256-bit encryption as standard and has a dedicated kill switch as well as robust leak protection. You can choose to use Multihop, which passes your traffic through two different servers for additional security.
There are dedicated apps for Android and iOS as well as macOS, Windows, and Linux. Unlike most of its competitors, Surfshark allows unlimited simultaneous connections so you can use it on as many devices as you like, which is great for larger households. It should be noted that each Spotify account only allows you to stream on one device at a time.
Pros:
Unlimited simultaneous connections
Good selection of servers
NoBorders mode to bypass VPN restrictions
Multihop for additional security
Fast speeds
Cons:
BEST VALUE PICK:Surfshark offers fast speeds, a good selection of servers, and is one of the few VPNs to offer unlimited connections. If you're a large household with a lot of devices online at the same time, Surfshark is a great value option. It comes with a 30-day money-back guarantee.
ExpressVPN lives up to its name by consistently offering some of the fastest speeds out there. ExpressVPN is easy to use, has strong security features, and keeps your data private. It has more than 3,000 servers in almost 100 countries, so it's a good choice if you're looking for servers in more obscure locations. Some of these are virtual though, meaning that the physical server is located in one country but appears as if it is located in another. All its servers are RAM-only for added security.
ExpressVPN has a proven no-log privacy policy; in 2017 one of its servers was seized as part of a criminal investigation, but it was found to contain no identifiable user information. Security is strong, with military-grade AES 256-bit encryption as standard and a dedicated kill switch which ExpressVPN calls Network Lock. It runs its own encrypted DNS on every server to keep your browsing history hidden from DNS server providers.
There are dedicated iOS and Android apps for listening to Spotify on the go, as well as clients for Linux, macOS, Windows, and some routers. You can have up to five simultaneous connections.
Pros:
Great server coverage
Proven no-log privacy policy
Consistently fast speeds
RAM-only servers
Strong security including private DNS
Cons:
Not as well-priced as some rivals
Streaming servers are hard to find
BEST VPN FOR SPEED:ExpressVPN is a fast and secure VPN that is ideal for streaming high-quality audio or HD video. It offers strong security and is one of the few VPNs whose no-log privacy policy has been publically proven to hold up. There's a 30-day money-back guarantee.
CyberGhost is a great VPN that offers an impressive array of servers, solid and consistent speeds, and no-log privacy. It also offers some useful additional features, including the option of a dedicated IP address. At the time of writing, CyberGhost has more than 7,100 servers in 91 countries, meaning that it offers the largest selection of servers on my list. Some of these are virtual, but CyberGhost makes clear which servers are not physically located in each country.
CyberGhost has a strong privacy policy. The only information that is stored is an email address for accessing your account, and your payment information. If you have concerns about sharing payment details, there is the option to pay anonymously using Bitcoin.
Traffic is protected with 256-bit AES encryption and there's an automatic kill switch, although, unlike most VPNs, you're not able to deactivate it. You also have the option of paying a little extra for a dedicated IP address. Some streaming services block traffic when multiple accounts are using the same IP address, so a dedicated IP can help you bypass these restrictions.
There are dedicated iOS and Android apps that offer split tunneling, allowing you to decide which apps use the VPN and which use your standard connection. There are also clients for Linux, Windows, and macOS. You can connect up to seven devices simultaneously.
Pros:
Huge selection of servers
Solid speeds
No-log privacy policy
Dedicated IP addresses are available
Cons:
Blocked in some countries such as China
Kill switch can't be turned off
BEST VPN FOR BEGINNERS:CyberGhost is easy to set up, has a huge choice of servers, and takes some decisions (such as whether to use a kill switch) out of your hands. It makes it a great choice for beginners looking for something they can get up and running quickly and easily. There's a 45-day money-back guarantee.
IPVanish is a fast and lightweight VPN with a strong focus on privacy and security. With over 1,600 servers, it may not offer as much choice as some rivals, but those servers are still spread across more than 75 locations, so you should be able to find servers in most parts of the world.
IPVanish doesn't keep a log of any activity, traffic, or connection data, so you can use it without fear of your usage being tracked. There's also a kill switch for the macOS, Windows, and Android clients, but if you're using Linux or iOS this isn't an option.
256-bit AES encryption is used as standard, and there are additional security features such as a Scramble mode. This disguises your traffic to hide the fact that you're using a VPN. It allows IPVanish to bypass restrictions in countries that try to monitor and block VPN traffic.
One major benefit of IPVanish is that connections are not limited. That means that you can have as many simultaneous connections as you want, allowing you to use IPVanish on an unlimited number of devices at the same time. The desktop apps are also very lightweight, making IPVanish a good choice if you're using older hardware.
Pros:
Unlimited simultaneous connections
Lightweight desktop apps
Can bypass VPN restrictions
Cons:
There is no kill switch for Linux or iOS
Doesn't accept Bitcoin
FAST AND LIGHT:IPVanish offers fast speeds in a lightweight client that can run without issue on older or underpowered hardware. Its generous unlimited connections make it a good choice for households with a lot of people online at the same time. There's a 30-day money-back guarantee.
PrivateVPN doesn't offer the wide choice of servers that some of its rivals can boast, but it's still a solid VPN with consistent speeds. As the name suggests, PrivateVPN has a strong focus on privacy.
PrivateVPN may only have just over 200 servers worldwide, but these are spread across 63 countries, so you can usually find a server in most regions. It's easy to set up and use thanks to clear step-by-step instructions for every platform as well as free remote support.
There's a no-log privacy policy that ensures that the only data stored is the email you use to register for an account and your payment details. You can choose to use Bitcoin if you want to pay anonymously.
PrivateVPN uses strong 256-bit AES encryption by default, but since VPN traffic is blocked in some countries, you also have the option of a Stealth Mode which uses obfuscation to disguise the fact that you're using a VPN. The kill switch feature is only available on Windows, which is something to bear in mind if you're looking for a VPN for mobile or Mac.
There are clients for Android, iOS, Windows, and macOS but there's no dedicated Linux client. You can still use PrivateVPN on Linux, however; there's a step-by-step guide to help you set it up. You can have up to six simultaneous connections.
Pros:
Cons:
Kill switch only available for Windows
Fewer servers than most rivals
PRIVACY FOCUSED:PrivateVPN has a strong focus on privacy meaning that you can feel confident that your data isn't being logged and your activity isn't being monitored. Stealth mode and dedicated streaming servers make it a good choice for streaming geo-blocked video content, too. There's a 30-day money-back guarantee.
Methodology: How I find the best Spotify VPNs
Each VPN is tried and tested by me, using my assessment criteria. Here are some of the things I look for in a VPN for Spotify:
Speeds: Streaming HD audio uses a lot of bandwidth, and you need a VPN that can handle it. I run speed tests to check that the VPN connection is fast and reliable, and only the ones that come out on top are recommended.
Servers: Spotify libraries are different across the world, and to access specific ones, you will need a server in that location. I check that there is a wide selection of servers available including backups for when it's busy.
Security: Any good VPN keeps its users safe. That's why I look closely at security and privacy features. Some of the specific tools I expect to see include a network kill switch, 256-bit AES encryption, and a no-logs policy.
Value: Subscription price is just the beginning of how I assess value. I also take a look at the money-back guarantee, the level of customer support, and the number of simultaneous connections.
Want to know more about how I review VPNs? Read my full VPN testing methodology.
Spotify VPN FAQs
Can I use a free VPN for Spotify?
The short answer is yes, but there is a catch. VPNs aren't charities. Every VPN needs to make money somehow or other to cover overheads such as server costs and to ultimately make a profit. If a VPN isn't making money from subscription fees then it must be making it somewhere else.
Some free VPNs make money by selling your data to third parties, or can just be reckless with data in general. Some VPNs have been known to share your bandwidth with other users, and others make money by installing malware on your devices.
Most of the VPNs on the list offer regular deals and discounts that mean you can have access to a private and secure VPN for little more than the price of a cup of coffee every month. It's a small price to pay for the peace of mind that comes with using a reputable VPN that will keep your online activities private.
How do I change countries on Spotify?
If you have a free Spotify account, you can listen to music in a different country for up to 14 days before you'll need to change your country settings. This allows people who are just going on holiday to keep using Spotify whilst they're away.
After 14 days you'll need to change countries if you want to continue listening. You'll also need to do this if you're using a VPN to listen to a free Spotify account via a server that isn't in the country your account was originally set up in.
To change country on Spotify, complete the following steps:
Log in to your account
Select EDIT PROFILE
Scroll to Country and select the relevant option from the dropdown box
Select SAVE PROFILE
The dropdown box will only show the country you're currently in, so if you're trying to change the country in order to use Spotify with a VPN, you'll need to connect to a server in the relevant country before you complete the steps above.
If you have a Spotify Premium account, you shouldn't need to change your account settings to listen with a VPN. If you do want to change the country in your Spotify account, you'll need to change your payment method to one that was issued in that country.
Will I be breaking the law by accessing Spotify outside its region?
There are currently no laws in most countries explicitly stating that it's illegal to access Spotify from outside the intended region. It is, however, against Spotify's terms of service, which states that 'circumventing any territorial restrictions applied by Spotify or its licensors' is 'not permitted for any reason whatsoever'.
Spotify may suspend or terminate your account, but it is unlikely to go much further. You should bear in mind, however, that there are some countries, such as Iraq and North Korea, where the use of VPNs themselves is illegal. In these countries, using a VPN to access Spotify or for any other reason could land you in trouble with the law.
Note: It's important to do your own research about the legality of VPNs in your country. We do not provide legal advice and this guide is intended for information purposes only.