The United Arab Emirates is one of the most censorship-heavy countries in the world, and its biggest telecommunications provider, Etisalat, is responsible for regulating the internet. In this guide, I will reveal the best VPNs for Etisalat, designed to help you overcome such limitations.
A Virtual Private Network (VPN) is a type of privacy tool that protects your online activities. When you connect to a VPN, your internet traffic will be secured with a layer of encryption and travel through an intermediary server located somewhere else in the world. This process prevents your internet service provider (ISP) from tracking your internet activity. It's also a great option if you're going to be using public or open WiFi networks.
VPNs are also great for accessing geographically restricted content only available in other countries. If you plan on traveling to the UAE, download one of the VPNs on this list if you want to keep your access to the online services you normally have access to back home. I will provide a detailed review for each VPN, but for now, here's a summary of the best VPNs for Etisalat:
NordVPN: The number one VPN for Etisalat. NordVPN is one of the leading VPNs in the industry. It offers powerful security protection, fast connection speeds, and plenty of additional features. Try it for 30 risk-free days.
Surfshark: Surfshark is an affordable VPN option that provides value for money, strong security, and the ability to unblock many different services that may be banned by entities such as Etisalat.
ExpressVPN: A VPN that provides some of the fastest streaming speeds I've seen. ExpressVPN works with just about anything, including popular streaming platforms.
PrivateVPN: A newcomer with a small server network but it reliably unblocks online services banned by Etisalat and overcomes UAE censorship.
VyprVPN: This is a great option for people who live in restrictive regimes since it uses a special protocol that stops the VPN from being easily detected.
Best VPNs for Etisalat
There are dozens of VPNs, but not all of them are reliable in the UAE. These VPNs for Etisalat meet the following criteria:
Unblocks restricted content in the UAE
256-bit AES encryption
Keeps no logs
Worldwide server selection
Fast and stable connection speeds
Check out my methodology testing section later in this article to learn more about the criteria I used.
Here is my list of the best VPNs for Etisalat: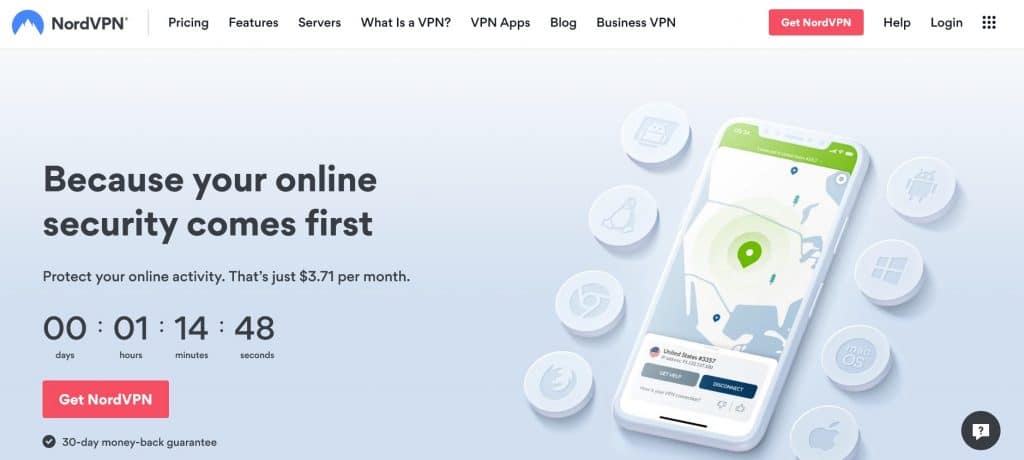 NordVPN is my top recommendation to use on an Etisalat network in the UAE. This provider has set the standards for security, speed, and other features since its launch in 2012. NordVPN runs a server network of over 5,500 servers in 60+ countries around the world, so you will get a wide choice for accessing international web services. It's also capable of lifting geographic restrictions on top streaming sites like Netflix, Hulu, Amazon Prime Video, and several others. One subscription lets you protect up to six devices at once.
NordVPN's security features include 256-bit AES encryption, a kill switch, split tunneling (Windows and Android app only), and protection against DNS, IPv6, and WebRTC leaks. Its server network includes a selection of specialty servers optimized for Tor over VPN, double VPN usage, and servers for streaming, downloading, and gaming. NordVPN is known for sticking to a strict no-logs policy. That means nothing you do online is ever recorded by the provider. For extra privacy, you can also pay in Bitcoin.
It makes apps for Windows, macOS, Android, iOS, Linux, Amazon Fire TV, and a selection of routers. Chrome and Firefox browser extensions are also available.
Pros:
Over 5,500 servers
Top-notch security features
Impressive speeds
Zero logs
Works with most popular streaming sites
Cons:
Desktop app sometimes takes a while to connect
BEST VPN FOR ETISALAT:NordVPN is my number one selection. This industry leader delivers the toughest security protections on the market without making sacrifices on speed. NordVPN comes with a 30-day money-back guarantee.
Surfshark is an affordable option that offers great value for money. Even though it is a budget option, the quality of service provided is good. It has a network of over 3,200 servers in 95+ countries and can unblock services in countries that deal with strict censorship. This means that it is a good option for those using Etisalat, which operates in the UAE, as customers are subjected to the government's censorship of the internet.
The provider also has strong security measures in place which include 256-bit AES encryption, protection against IPv6, WebRTC and DNS leaks, and a kill switch. There is also a traffic scrambling option included. If you ever run into any trouble using this service, you can contact the customer service team which is available 24/7 via a live chat. Cryptocurrency payments are also accepted which are a more anonymous form of payment. This means that names aren't associated with transactions, ensuring that your privacy is better protected.
Surfshark has apps available for macOS, Windows, Android, and iOS. It can also be installed on some routers manually. This provider offers an unlimited number of connections which is a great option for those with many different devices.
Pros:
Traffic scrambling keeps web activity private
No logs are stored
Unlimited connections
Can unblock many different services
Strong security measures are in place
Cons:
Support could be improved
Some servers are occasionally slow
BEST BUDGET-FRIENDLY VPN:Surfshark is a genuinely good VPN option and it works well with Etisalat. It is also an affordable provider, making it a top performer when it comes to VPNs for use with Etisalat. Surfshark plans come with a 30-day money-back guarantee.
ExpressVPN delivers some of the fastest and most stable connection speeds, making it an ideal choice for streaming, downloading, and gaming. It runs a network of over 3,000 servers in 94+ countries around the world that are capable of lifting geo-restrictions on Netflix, Hulu, BBC iPlayer, and many other streaming sites. Not only is it great for streaming, but it also works with Skype, WhatsApp, Facebook Messenger, and other communication services banned by Etisalat. Its fast servers let you make voice and video calls from abroad with little to no lag.
The provider is also reliable for security. It secures your connection with 256-bit AES encryption and protects against DNS leaks. A kill switch is also included in the event you suddenly lose connection with ExpressVPN. This provider logs none of your personal data and only stores some non-identifying usage data such as the date of connection to a server and total bandwidth consumed.
ExpressVPN apps are available for Windows, macOS, Android, iOS, Linux, Amazon Fire TV, and some routers. Chrome and Firefox browser extensions are available, too.
Pros:
Unblocks streaming, messaging, and VoIP services
Over 3,000 fast servers
Easy to use
Reliable privacy and security protections
Cons:
One of the most expensive VPNs
Streaming servers aren't labeled
INTERNET FREEDOM:ExpressVPN gives you internet freedom in places with strict regulations. Provides some of the strongest security protections and incredible server speeds. Includes a 30-day money-back guarantee.
PrivateVPN has a smaller-than-average server network, but with over 63 locations to choose from, there are more than enough options. PrivateVPN works with Netflix, Skype, Amazon Prime Video, and other online services. Despite having fewer servers, PrivateVPN delivers fast and stable connection speeds ideal for streaming, file sharing, and calling.
The provider is an easy-to-use service that's very accessible to VPN newcomers. You can quickly find a server that works with your favorite streaming platform because they are labeled by the streaming site it's optimized for. Its security offerings feature 256-bit AES encryption, an internet kill switch, and DNS leak protection. PrivateVPN is a no-logs provider, so none of your online activities can be traced back to your identity.
PrivateVPN offers apps for Windows, macOS, iOS, and Android.
Pros:
Above-average connection speeds
Unblocks messaging and VoIP services
Bypasses geo-blocks on streaming services
10 simultaneous connections
Cons:
A small number of servers
Customer support only available during Swedish business hours
Kill switch is only available on Windows
GREAT PERFORMANCE:Making international calls is easy with PrivateVPN. Includes a 30-day money-back guarantee.
VyprVPN stands out when it comes to circumventing censorship due to its Chameleon protocol. This enables access to the content that you like from virtually anywhere in the world. VyprVPN can also provide secure access to streaming services such as Amazon Prime Video and Netflix. It has over 700 servers in over 70 countries as well.
It has strong security features in place too. These include a kill switch, leak protection, perfect forward secrecy, and 256-bit encryption. VyprVPN stores no logs either.
Apps are available for Windows, macOS, iOS, and Android. Linux devices and some routers can be configured to work with this service manually. Five simultaneous connections are allowed.
Pros:
The Chameleon protocol disguises VPN traffic
A kill switch is included along with other useful security features
No logs are stored
Cons:
Cryptocurrency payments aren't accepted
STEALTHY OPTION:VyprVPN's ability to mask traffic with the Chameleon protocol makes it a great option for those looking to bypass restrictions in the UAE. It's a fast and secure provider and comes with a 30-day money-back guarantee.
My methodology: how I found the best Etisalat VPNs
I have tried and tested each VPN on this list. Here's exactly what I look for in an Etisalat VPN:
Server coverage: To overcome censorship and restrictions, you will need a choice of servers to connect to. I check that there are plenty of servers, including specialty options for streaming.
Security: VPN usage needs to be undetectable to avoid IP bans or account issues with Etisalat. I look for things like AES encryption, a network kill switch, and a no-logs policy.
Speeds: A VPN needs to be fast enough to handle all activities, from browsing to streaming and gaming. I run speed tests to ensure that I am only recommending the fastest options.
Value: The VPN should pose good value for money. This isn't just about subscription costs, but what you get for the price. I take a close look at monthly costs, discounts for annual plans, and other valuable aspects like money-back guarantees.
Want to know more about how I assess VPNs? Read my full VPN testing methodology.
How to use a VPN with Etisalat
Even if you're a beginner, getting started is easy. Here's how to use a VPN with Etisalat:
Choose a VPN that is capable of bypassing censorship and flying under the radar. I highly recommend NordVPN.
Download and install the VPN app on your chosen device. The services on this list all work with Windows, macOS, IOS, Android, and others.
Launch the app and log in using your username and password.
Connect to a server in your location of choice.
You can now use the internet freely, without restrictions from Etisalat.
Etisalat VPN FAQs
Can I use a free VPN with Etisalat?
No, Etisalat has banned most VPNs from the UAE, including free ones. Companies that produce free VPNs rarely have the resources to overcome the might of government restrictions on the internet – in fact, they can't even access streaming sites most of the time. I recommend staying away from free VPNs in general, even if they could circumvent Etisalat's firewalls.
Free VPNs usually compromise their users' security instead of fortifying it. Because they don't make their money from upfront subscription payments, they resort to tracking user data and selling it to third-party advertisers without the user's knowledge or consent. If a service is free, you will end up being the product instead of the client. Many free VPNs have been known to spread malware and insert annoying ads into your web browser. Furthermore, free VPNs just don't stand up to the same level of performance as a paid VPN. They almost always lack the money to run more than a handful of servers on their network, which quickly fill up with more users than the infrastructure can support.
Overloaded servers mean slow speeds and frequently dropped connections. Occasionally you might find a VPN with adequate performance, but free VPNs usually come with data caps. My recommendation: stick to one of the VPNs on this list instead of risking your privacy.
Is a VPN legal in the UAE?
Using a VPN is legal in the UAE. The law only prohibits VPNs if they are used to commit crimes or to access prohibited content. 
The Telecommunications and Digital Government Regulatory Authority (TDRA) state on their website that punishment of imprisonment and a fine will be imposed on those that use a VPN "for the purpose of committing a crime or preventing its discovery."
Keep in mind that illegal activity while using a VPN is still illegal. We do not provide legal advice and strongly recommend that you do your own research on local laws if you're unsure.
Is Etisalat the only internet provider in UAE?
No, the other major internet provider is Du, which is smaller than Etisalat. The same online restrictions apply to both providers, but they can be overcome by using one of the VPNs on this list.
Does Etisalat track my online activities?
Etisalat's privacy policy states that the company may "monitor your use of the services and record any calls made to the Etisalat Contact Centre for training, financial control, quality control and regulatory purposes." On the same page is a list of personal information Etisalat may collect on you while using the internet.