Some sports betting sites prevent access from overseas, which means that registered customers will be unable to place bets when traveling abroad. However, you can securely access your sports betting sites from back home with the help of a Virtual Private Network (VPN). A VPN for sports betting will not only allow you to place bets on holiday but will also protect your online privacy.
VPNs are security tools designed to route your internet traffic through an intermediary server of your selection while securing it with a layer of encryption.  Just select a server based in the region where your desired service is located and you will have access to the website as if you actually lived in that area.
VPNs aren't just great for sports betting, online gambling, and streaming —their primary purpose is to improve your online security. A VPN will hide the content of the internet traffic entering and exiting your device so your ISP won't be able to see what websites you visit, and the websites you visit will only see the location of your chosen VPN server.
While gambling sites may not be accessible in certain countries and states, it is important to note that betting is illegal in others and VPNs should not be used as a means to gamble where it is prohibited. I'll get in to more detail on this later.
If you don't have time to go into my detailed reviews further down in this article, then take a look at my summary below of my top 6 VPNs for online gambling:
NordVPN: My number one VPN for sports betting and online gambling. Offers the toughest security on the market in addition to reliable speeds and thousands of servers. Comes with a 30-day money-back guarantee.
Surfshark: The best budget VPN for betting and gambling sites. With high connection speeds, loads of security features, and unlimited simultaneous connections for a low price, Surfshark is great value. Try it out first with its 30-day money-back guarantee.
ExpressVPN: Streams at exceptional speeds and unblocks just about every streaming platform I've thrown at it. Great for Netflix, Amazon Prime Video, Hulu, and more.
CyberGhost: The best option for first-time VPN users. Comes with specialty servers optimized for streaming and security and includes more than 7,000 servers, making its server network the largest on this list.
IPVanish: A security-first VPN with Kodi-friendly apps and solid security. The company owns every server on its network instead of renting from third parties.
PrivateVPN: This newcomer VPN comes with impressive streaming speeds and security features.
The best VPNs for accessing betting websites abroad
There are hundreds of VPNs on the market, but not all of them work with sports betting or gambling sites. I've selected the best betting VPNs best on the following criteria:
Works with major gambling websites like Betfair, Bovada, and Bet365
High standards of security
Doesn't record your online activities
High connection speeds
Helpful customer support services
I'll go into more detail about my VPN testing methodology later in the article, keep reading to find out more.
Here's my list of the best VPNs for accessing betting websites abroad: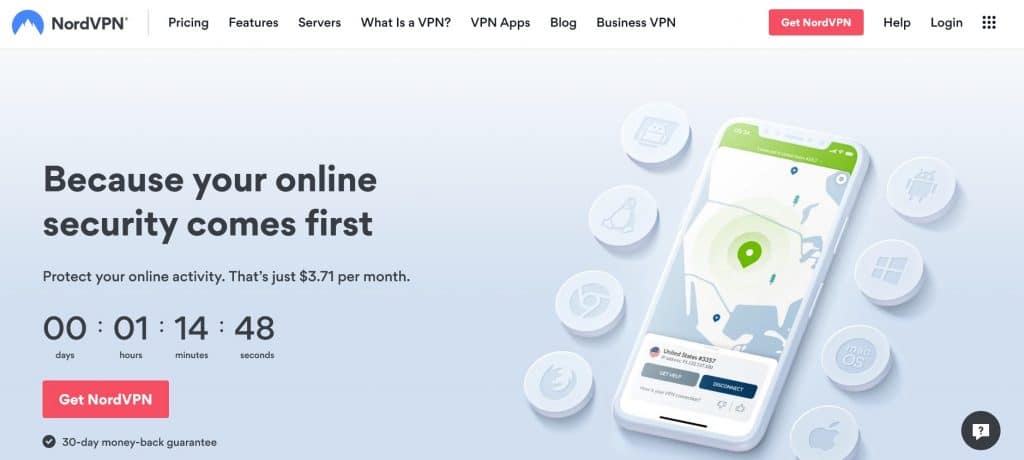 NordVPN is my top selection for its impeccable security standards, reliable connection speeds, and a large number of servers. NordVPN protects your online privacy by encrypting your traffic with a layer of 256-bit AES encryption with perfect forward secrecy. The service comes with DNS leak protection, an internet kill switch, and automatic wifi protection for Android devices. NordVPN doesn't keep records of user data so none of your online activities can be traced back to you.
NordVPN provides access to one of the largest server networks on the market today, featuring over 5,200 servers in 59 countries, including specialty servers optimized for streaming, downloading, Tor over VPN, and double VPN usage. Streaming-focused users can effortlessly lift geographic restrictions on streaming sites like Netflix, Hulu, HBO, BBC iPlayer, and Amazon Prime.
Customer support is available 24/7 over live chat. NordVPN comes with an allowance of six simultaneous connections. Apps are available for Windows, macOS, iOS, Android, and Linux.
Pros:
Bypasses geo-locks on betting sites
Wide range of security features
Military-grade encryption protocol
Fast speeds are ideal for streaming
Wide server selection
Cons:
The desktop app can be somewhat difficult for VPN beginners
BEST VPN FOR ONLINE GAMBLING:NordVPN is my number one choice when it comes to online betting sites. It meets high standards of security, speed, and unblocking ability. Great for streaming as well. Try it out by making use of its 30-day risk-free refund period.
Surfshark is my top budget choice. Surfshark's security features include 256-bit encryption, a kill switch, a malware and ad blocker, and protection against DNS, IPv6, and WebRTC leaks. Surfshark follows a no-logs policy to protect your identity online.
Surfshark runs a network of over 3,200 servers in 65 countries with stable connection speeds and adequate unblocking capability. It can lift geo-restrictions on gambling sites and some of the most stubborn streaming services like Netflix, BBC iPlayer, and Amazon Prime Video.
Its customer support team is available 24/7 and provides apps for Android, Windows, macOS, iOS, and Linux.
Pros:
Unlimited simultaneous connections
Bypasses geographic restrictions while abroad
Fast server speeds
Plenty of security features
No logs
Cons:
Not many advanced customization features
Has a few slow servers
GAMING ON A BUDGET:Surfshark offers great speed and security without breaking the bank. Comes with a 30-day money-back guarantee.
ExpressVPN is a security-first VPN provider with a wide range of more than 3,000 server options in 94 countries. Its broad geographical variety gives it considerable unblocking ability when overcoming the geographic restrictions on gambling platforms and streaming sites like Netflix and Hulu.
It protects your traffic with industry-standard 256-bit AES encryption, perfect forward secrecy, a kill switch, and DNS protection. ExpressVPN keeps no logs of user data and is headquartered in the British Virgin Islands, where the company is free from data retention laws.
ExpressVPN apps are available for Windows, macOS, iOS, Android, Linux, and supported wifi routers.
Pros:
Excellent at unblocking gambling and streaming sites from abroad
Streams HD video seamlessly
Unbreakable security
No logs or data retention requirements
Cons:
One of the more expensive services on this list
Advanced users may find its features lacking
STREAM ANYTHING FROM ABROAD:ExpressVPN is perfect for streaming, gaming and downloading,  but it doesn't sacrifice on security either. Fast speeds, wide server selection, and a 30-day money-back guarantee.
CyberGhost is a great VPN for those who have never used one before. Its user-friendly interface matches you with a server optimized for your needs whether you want to browse the web as securely as possible or access a favorite betting website. CyberGhost runs the largest server network on this list with 7,000+ servers in 91 countries, also making it great for bypassing geo-blocks on streaming platforms like Netflix, BBC iPlayer, Amazon Prime, and Hulu.
Your data is protected with 256-bit encryption, perfect forward secrecy, DNS leak protection, and a kill switch to keep you from using the internet without the VPN's protection. CyberGhost is based in Romania where there are no data retention laws that could otherwise expose your personal data to the authorities. It doesn't store records of user activity.
Apps are provided for Windows, macOS, iOS, Android, and Amazon Fire Stick. It can be manually configured with Linux systems and some wifi routers.
Pros:
Fast servers optimized for streaming and security
Over 7,000 servers in 91 countries
No logs or data retention requirements
Lifts geo-blocks on almost everything
Cons:
Experienced users may find it lacking in advanced features
Doesn't work in China
BEGINNER'S CHOICE:CyberGhost is a great first VPN. Impressive privacy protections, fast speeds, and easy-to-use apps. Might not be customizable enough for advanced users. Includes a 45-day money back guarantee.
IPVanish's server network includes over 1,600 servers in 75 countries and reliably provides fast connection speeds. This VPN is especially popular among Kodi users and torrents fans. While it isn't the best VPN for streaming, it does offer robust security features such as 256-bit encryption and perfect forward secrecy, in addition to a kill switch and DNS leak protection. IPVanish doesn't keep logs of user data. The customer support team is staffed with knowledgeable experts who are available 24/7 through a live chat feature.
Apps are available for Windows, macOS, iOS, Android, and Linux. An unlimited number of simultaneous connections are provided for users who want to share IPVanish with their friends and family.
Pros:
Tough security features
Unlimited simultaneous connections
Remote-friendly interface for Kodi users
Fast and durable security speeds
Cons:
Doesn't work in China
Struggles to unblock major streaming sites
UNLIMITED DEVICES:IPVanish lets you protect every device you and your family own. Not the best for streaming but works with gambling sites and meets the needs of security-focused users. Relatively small number of servers. 30-day money-back guarantee.
PrivateVPN is a new provider with a relatively small network of 200 servers in 63 countries, but it meets a high standard of security. You have the option between using 128-bit or 256-bit encryption to protect your internet traffic, and additional features include perfect forward secrecy, a kill switch, and DNS leak protection. PrivateVPN's no-logging policy will keep your identity hidden from being monitored by ISPs, government agencies, and hackers.
PrivateVPN also shines when it comes to fast connection speeds, which is important for live online gambling as well as streaming. It consistently works with Netflix, BBC iPlayer, Hulu, and many others.
Customer support can be reached through live chat and you can even give the support team permission to remotely configure your VPN for you. Five simultaneous connections are allowed under a single subscription.
Apps are available for Windows, macOS, iOS, and Android. This means you can encrypt your phone and every other device you own.
Pros:
Impressive server speeds
Bypasses most VPN blocks
Easy-to-use apps
Streams HD video effortlessly
Cons:
Small server network
Customer support only available during Swedish business hours
FAST SERVERS:PrivateVPN may not have many servers, but it reliably delivers fast speeds and considerable unblocking abilities. No 24/7 support, however. Includes a 30-day money back guarantee.
---
Methodology: How I find the best VPNs for sports betting
Before a VPN is recommended to my readers, its subject to a full assessment. Here are some of the things I look for in VPNs for sports betting:
Servers: To access gambling sites you will need VPN servers in an acceptable location. The geographical restrictions depend on the betting brand, so I like to see plenty of servers with wide coverage to overcome any blocks.
Security: Getting caught using a VPN could result in your betting account being banned. This means a VPN needs to be undetectable. Some of the security and privacy tools I look for include encryption, a no-logs policy, and a network kill switch.
Speeds: Sports betting is fast, especially if the event is live. Slow speeds could mean you miss out. I conduct speed tests to ensure that the VPN is capable of maintaining a reliable connection with no downtime.
Value: Not just the cheapest VPN, but the VPN that provides the best value for money. I look at free trials, money-back guarantees, and subscription costs, as well as the number of simultaneous connections allowed.
Find out more about how I assess VPNs by reading my testing methodology.
How to use a VPN on a gambling website
Once you've decided on a VPN provider, follow the steps below to unblock access to your favorite online gambling website:
Select a suitable VPN from the list above. My top pick is NordVPN.
Clear your cache and cookies.
Open your VPN app.
Select a VPN server location from the region of your favorite betting website.
Log in to the website and begin playing.
Laws and regulations for accessing betting websites abroad
The laws regulating online casinos vary from place to place, so take care to understand the law of your region before signing up for an online gambling website with a VPN. Online gambling is completely banned in some countries such as Afghanistan and the UAE while others require licenses from gambling websites in order to operate, like Lithuania and Switzerland.
Online gambling becomes even more complicated in countries where the gambling legislation is unclear. In the United States, for instance, it is illegal to accept online sports bets but not to place them. In Canada, players are free to place bets with offshore operators, but when legal discrepancies appear between two or more countries involved in a single game, the legality of the activity drifts into a legal gray area.
VPNs add yet another variable to the equation. While VPNs are legal in most countries, using a VPN to circumvent geographic firewalls may violate the terms of service of individual casino websites and could result in the termination of your account and forfeiture of your winnings. Violating the TOS of a private company usually isn't as severe as breaking a law, but it is best to avoid using a VPN to access a gambling website in a region where online gambling is outlawed entirely.
Some websites allow residents of licensed regions to retain access to the betting site even while traveling. Bovada is one of these websites, which may deliver an error message with the following note: "If you already have a Bovada account and are visiting us while traveling, you can close this window, sign in and continue playing."
Important: Some countries have completely banned online casinos and gambling while others don't have clear online gambling legislation. I do not encourage or condone illegal activities or the use of a VPN to spoof geographic locations to break local laws. It's important to do your research and investigate the online gambling laws within your country before using a VPN to access betting or gambling websites. If the laws and penalties of your region still aren't clear to you, then I strongly discourage taking legal risks.
Access Gambling sites from Abroad FAQ
Can I use a free VPN to access betting websites abroad?
Hundreds of free VPNs can be found on app stores, including plenty with positive reviews. I often feel the temptation to save my money by opting for a free VPN service, but most free VPNs are low-quality tools plagued with serious security threats. In my opinion, they just cause trouble.

If you find yourself locked out of your favorite betting website because you don't live in the right region, a free VPN isn't likely to lift the geographic restriction. They usually don't have the resources to invest in more than a handful of servers, so your geographic options will be limited. Because they're free, that means they attract a large enough volume of users to overwhelm the available servers and cause slow speeds and frequent loss of connection. Participating in online bets becomes extremely difficult if not impossible if your game is interrupted.

Furthermore, free VPN providers commonly profit from monitoring and selling their users' personally identifiable information. They track user activity and sell these records to third-party advertisers in order to insert intrusive ads into the web browser. Some free VPNs, even those that come from official app stores, are known to spread malware and sell idle user bandwidth. You can save yourself a lot of headaches by investing in a quality paid VPN.
How do I access Sky Bet abroad?
Accessing the popular betting site Sky Bet is easy. Just follow these steps to sign up and place your bets:
Select a VPN provider and sign up for your chosen subscription length. I recommend NordVPN.
Download the VPN app and log in using your new credentials.
Connect to a server in the UK. Any UK server should work.
Access your Sky Bet account as usual and you should be good to go.
Can I use my Coral account abroad?
Coral is a great betting site for travelers because of its wide international reach. This UK-based website allows access from a large number of countries including; Albania, Argentina, Belarus, Croatia, Czech Republic, Georgia, Gibraltar, Guernsey, Iceland, Isle of Man, Jersey, Liechtenstein, Luxembourg, Macedonia, Malta, the Netherlands, New Zealand, Republic of Ireland, San Marino, Slovakia, Slovenia, St Kitts and Nevis, Sweden, and the United Kingdom.

If you have trouble accessing the site from one of these regions, try using a VPN to connect to another country on this list. The list of available regions is liable to change, so check in with the Coral website or customer support for current information.
Is online poker in the UAE legal and safe?
Online poker is outlawed in the UAE, and gambling websites based outside of the country might not allow UAE citizens to use their services.
Is it legal to bet through Bet365 from India?
Although India restricts gambling within the country, online gambling laws only affect gambling activities involving servers located within India. This means Indian citizens are free to use Bet365 since it is a UK website that operates servers located outside of India. However, things can change quickly, and you should do your own research about laws before gambling online.
Can casinos detect VPNs?
Each gambling site has its own set of rules. Some might not care at all if one of their users accesses the website with a VPN while others may use proxy detection systems to screen out VPN users. Violating a gambling website's terms of service could result in the termination of the user's account. VPNs with high standards of security and performance can bypass proxy detection systems—but as always, make sure to understand the online gambling laws of your region to avoid doing something illegal with a VPN.