Trying to find a VPN for the UK? A VPN is a handy tool for anyone living in or traveling to the UK. Not only does it allow you to access your favorite streaming services while traveling abroad, but it also keeps your connection secure when you go online. In this article, I reveal the best VPNs for the UK, plus how to get set up.
Residents of the UK can also use a VPN to protect their online privacy from monitoring by internet service providers, advertisers, and hackers. Using a VPN in Britain is one of the best ways to shield your online activities from surveillance. Plus it will also keep your data safe when you access important services like online banking.
A VPN, or Virtual Private Network, secures all of the internet traffic entering and exiting your device by encrypting the data first, making it unintelligible to anyone who tries to monitor your activities. The VPN then routes your data through an intermediary server located in another part of the world and disguises your true location with the IP address of the chosen VPN server instead of your device's IP address.
In this article I examine the fine details of my top eight VPNs for the United Kingdom, but if you're short on time, here's a quick summary of my best VPNs for the UK:
NordVPN: My top VPN for the UK. Successfully accesses most UK streaming content from abroad while protecting your security. Comes with a risk-free 30-day money-back guarantee.
Surfshark: Provides excellent security and server speeds without breaking the bank. Smoothly stream UK content from abroad.
ExpressVPN: A popular streaming VPN that accesses BBC iPlayer, Netflix, SkyGo, and most other UK streaming services. Doesn't compromise on security either.
CyberGhost: First-time VPN users will have an easy time streaming HD video with CyberGhost. Offers more than 8,900 servers optimized for streaming and secure web browsing.
PrivateVPN: Despite having a smaller server network, this provider still offers fast speeds and is a secure platform.
IPVanish: A privacy-first VPN favored by torrent and Kodi users. Comes with a remote-friendly interface.
Private Internet Access (PIA): This is a lightweight option with servers in around 80 countries. It is fast and secure.
Atlas VPN: A fast, secure platform that lets users stream without hassle. Offers unlimited simultaneous connections.
Not all VPN providers are the same and the services they offer can vary greatly. Therefore, my list of the best VPNs for the UK is based on the following criteria:
Servers in the United Kingdom
Fast and reliable connection speeds
Solid security features
Keeps no logs
Apps for all of the major platforms
I'll explain more about my VPN testing methodology process later in this article.
Best VPNs for the UK
Now, here are the eight best VPNs for the UK.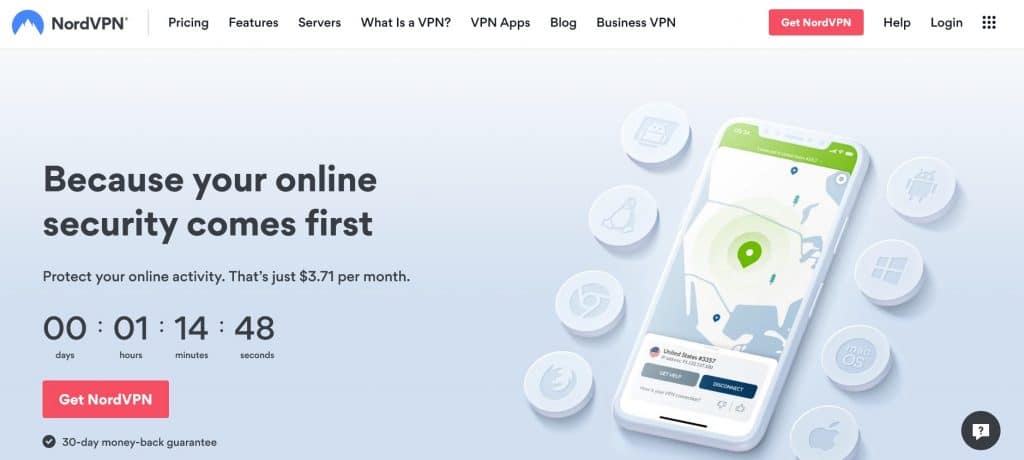 NordVPN operates a sizable network of over 5,600 servers in 60+ countries around the world including more than 440 in the United Kingdom. NordVPN's high security standards and unblocking capability make it my first choice.
It secures your traffic with 256-bit AES encryption with 2,048-bit SSL keys by default. NordVPN provides protection against DNS leaks, functionality for Tor over VPN and double VPN usage, and offers dedicated servers optimized for downloading, streaming, and gaming. This VPN consistently overpowers the geographic firewall around Netflix UK thanks to its 440+ UK servers. It allows up to six simultaneous connections so you can protect most or all of your devices.
NordVPN follows a strict no-logs policy which means that the company stores no records of your online activities. No one will be able to trace what you do online back to you.
Apps are available for Windows, macOS, iOS, Android, Linux, and Amazon Fire TV.
Pros:
Runs more than 400 UK servers
Fast, reliable connection speeds
Accesses popular streaming sites
High standards of security
Zero logs
Cons:
The desktop app is somewhat difficult for VPN beginners to use
TOP VPN FOR THE UK:NordVPN is my top pick for UK streaming. Offers the strongest security protection available on the VPN market today. Reliably streams UK content from abroad. Includes a risk-free 30-day money-back guarantee.
Surfshark is my top budget choice for combining high standards of privacy and performance at a great price. Surfshark is a security-focused VPN provider with over 5,200 servers in 95+ countries with locations in London, Manchester, and Glasgow, making it a great VPN for BBC iPlayer and Netflix UK. This VPN is based in the British Virgin Islands where the company is not subject to any UK data retention laws.
Your internet traffic is secured with 256-bit encryption and protects against WebRTC, DNS, and IPv6 leaks. This VPN includes a kill switch that halts the flow of data in case of a sudden loss of connection to the VPN, which keeps you from browsing the internet without protection. Surfshark doesn't log any of your personal information so there will be nothing for the company to hand over to the authorities if the company servers were ever confiscated. Privacy-conscious users can even sign up anonymously by paying in Bitcoin.
Unlike most VPN providers, Surfshark has no limit on simultaneous connections so you can secure every device you own and even the devices of your friends and family.
Surfshark provides apps for Windows, macOS, iOS, Android, Linux, and Amazon Fire TV.
Pros:
Reliable security protections
Bypasses geographically-restricted UK websites
Affordable price
Unlimited simultaneous connections
Cons:
The occasional slow server
HIGH SECURITY, LOW PRICE:Protect every device you own with Surfshark. Successfully streams HD video from geo-restricted British streaming platforms. Stay secure online without breaking the bank. Comes with a 30-day money-back guarantee.
ExpressVPN is a fast and secure VPN that operates a network of 3,000+ servers in 94+ countries – the wide geographic variety gives it considerable power to lift geography-based restrictions. It has four server locations in the United Kingdom for accessing domestic streaming content like BT Sports, Sky, and BBC iPlayer.
ExpressVPN's security package includes industry-standard 256-bit AES-CBC encryption in addition to both HMAC authentication and perfect forward secrecy. A kill switch is also included to keep your unencrypted data from leaking onto the internet. This VPN keeps some metadata logs of non-identifying information such as the date (not time) of connection to a server, choice of server location, and total bandwidth used. Other than that, no personal data is stored by the company. Furthermore, ExpressVPN is based in the British Virgin Islands, which is actually beyond the jurisdiction of authorities in the United Kingdom. Anonymous registration via payments in Bitcoin is an option for privacy-conscious users.
Apps can be downloaded for devices running Windows, macOS, iOS, Android, Linux, and Amazon Fire TV.
Pros:
Accesses just about anything, including UK streaming services
Excellent server speeds
Easy to use
Strong encryption protocol and security features
No logs
Cons:
Fairly pricey
Advanced users might find more customizable features elsewhere
STREAM ANYTHING FROM ABROAD:ExpressVPN is one of the best VPNs, for streaming, downloading, and gaming. Lifts restrictions on all major streaming services including Netflix, Amazon Prime, and BBC iPlayer. Solid security protections. Comes with a 30-day money-back guarantee.
CyberGhost provides 8,900+ servers in 91+ countries including 617+ in the United Kingdom, and it works with the most popular streaming platforms including BBC iPlayer and Netflix UK. CyberGhost is a beginner-friendly VPN with an easy-to-use interface that matches you with a server optimized for your needs, including servers dedicated to individual streaming platforms. UK citizens traveling abroad will easily regain access to geo-restricted content only available back home as well as exclusive international services.
The provider uses 256-bit AES encryption on the OpenVPN protocol by default along with 2,048-bit RSA keys. The company is headquartered in Romania where it is not subject to any data retention laws, and it doesn't keep records of user data. This VPN also features an internet kill switch to protect your data in the event of a sudden loss of connection.
Pros:
Offers more than 600 servers in the UK
Servers optimized for streaming and security
Easy to use for beginners
Top-notch security
No logs or data retention requirements
Cons:
Doesn't work in China or the UAE
Lacks advanced features for experienced users
GREAT FIRST VPN:CyberGhost is easy to use for beginners, and doesn't compromise on security or speed. Keeps no logs and offers a wide selection of servers. 45-day money-back guarantee.
PrivateVPN is a small VPN provider with a network of just over 200 servers. Its server network is spread over around 60 countries, however. This makes it easy to find servers in many different countries such as the UK, meaning you can access content that is usually geographically restricted to areas outside of the country. With a PrivateVPN UK server, you can also access UK services that are geographically restricted while traveling. Overall, PrivateVPN provides fast speeds and is a secure platform too.
PrivateVPN also has strong security measures in place. These include AES 256-bit encryption, protection from IPv6, WebRTC, and DNS leaks and it stores no logs. In addition, this provider accepts cryptocurrency payments that don't associate your name with the payment. This leads to greater anonymity.
PrivateVPN provides apps for Windows, macOS, iOS, and Android. Linux apps and routers can be manually set up to work with this service. Customer service with PrivateVPN is only available during Swedish working hours, however. This could be a detraction for some. With that being said, the quality of customer service offered is excellent. 10 devices can be connected simultaneously using a single subscription.
Pros:
Accesses Netflix and many other streaming sites
Fast speeds
No logs are stored
Works in China
Cons:
Small server network
Customer service team isn't available 24/7
PRIVACY-FOCUSED OPTION:PrivateVPN is a privacy-focused VPN option. It is also good for streaming and offers several strong security features. This service comes with a 30-day money-back guarantee.
IPVanish is a security-oriented VPN with strong encryption standards, featuring 256-bit encryption on the OpenVPN protocol by default, SHA512 authentication, and a DHE-RSA 2,048-bit key exchange with perfect forward secrecy. This VPN features a kill switch and a no-logs policy to keep your online activities hidden from third parties. It is also based in the United States, far away from British data retention laws. This VPN keeps no records of internet traffic logs or metadata.
IPVanish runs a server network of 2,000+ servers in 75+ locations which includes over 100 servers in the United Kingdom. It doesn't consistently access Netflix or Hulu but it is one of the best VPNs for BBC iPlayer. It is also popular among Kodi users because it allows users to directly download the Android APK onto their device, and because it features a remote control-friendly interface for users without a mouse and keyboard. An unlimited number of simultaneous connections are allowed under a single account.
Apps are available for iOS and Android on mobile devices as well as on Windows, macOS, and Linux for desktop. Support for Amazon Fire TV and some routers is also available.
Pros:
More than 100 UK servers
A remote-friendly interface that is popular with Kodi users
Excellent security standards
Unlimited simultaneous connections
Cons:
Doesn't consistently work with Netflix or Hulu
Slow responses from customer support
SECURE EVERY DEVICE:IPVanish puts your security first. Comes with strong security protection you can trust, and lets you protect every device in your household. Remote-friendly and includes a 30-day money-back guarantee.
Private Internet Access (PIA) is a lightweight option that has servers in over 80 countries. This means that users have lots of choice for bypassing geographical restrictions if needed. PIA is also customizable, allowing users to change the app's appearance. This service offers fast connection speeds thanks to the fast and efficient WireGuard VPN protocol.
In addition to being fast, PIA has put strong security measures in place. These include AES 256-bit encryption, a kill switch, and split tunneling.
PIA apps are available for Windows, macOS, Linux, and Android. PIA's customer service is available 24/7 and there is a live chat that is available 24/7.
Pros:
Strong security measures are in place
Can provide secure access to many services
WireGuard VPN protocol supported
Customizable interface
Cons:
Doesn't work reliably in China
App design could be better
FAST AND LIGHTWEIGHT OPTION:PIA is a lightweight option that isn't too heavy on system resources. It is also one of the faster options out there thanks to its use of the WireGuard VPN protocol. It comes with a 30-day money-back guarantee.
Atlas VPN is a smaller VPN provider that has around 750 servers in about 40 locations. Its connection speeds are fast despite this being a small operation. It can also access services effectively and provide secure streaming access to streaming platforms such as Netflix.
Its security features include 256-bit AES encryption, a kill switch, and protection against DNS, WebRTC, and IPv6 leaks. This service stores no logs either and has servers that encrypt your data twice known as MultiHop servers.
Atlas VPN has apps available for Windows, macOS, Android, and iOS. An unlimited number of connections is supported.
Pros:
Can access many different streaming services
Fast connection speeds
MultiHop servers provide increased security
No logs are stored
Cons:
Doesn't work reliably in China
App design is lacking in some ways
FAST WITH STRONG SECURITY:Atlas VPN is a secure option that provides the speeds needed to stream while abroad and can access different services for UK citizens who need this kind of access. This VPN's subscriptions come with a 30-day money-back guarantee.
Testing methodology: how I found the best VPNs for the UK
Each VPN is tried and tested by me before it is recommended to my readers. Here are the testing methodology criteria I used for the best UK VPNs:
Servers in the UK: To access geo-restricted UK websites and content, you will need a UK server. I check that the VPN has plenty of servers to choose from in the UK, including coverage of major cities like London, Manchester, and Newcastle. The servers are tested for uptime and reliability to ensure the best experience.
Security: Security is one of the most important aspects of a VPN. Any premium service should include a selection of features designed to protect its users. These should include AES encryption, a network kill switch, and more. I only recommend the best VPNs for privacy and security.
Speeds: Streaming, gaming, and downloading use a lot of data. Only the fastest VPNs can handle such activities. I run speed tests and only recommend the services that produce no lag or buffering.
Value: There are three main areas of value; subscription costs, guarantees, and level of service. I check how much a plan costs, and what you get for your money. I also look at the refund guarantee and how good the service provided is.
Find out more about what goes into my VPN reviews by reading my complete VPN testing methodology.
Can I use a free VPN for the UK?
You could opt for a free VPN if you want, but don't expect quality performance or security from a free VPN. Free providers usually offer only a handful of servers since they lack the resources to invest in thousands. Because they're free, they attract a large number of users that devour the limited bandwidth on the small server networks, inevitably causing slow and unreliable connections. If you're getting a VPN for data-intensive activities like streaming, gaming, or downloading torrents, then you won't have any luck with a free VPN. Even if you get decent speeds with one, they usually cut off service once you've reached their data cap.
If an online service is "free", then that means you are the product, not the client. Users of free VPNs are frequently bombarded with irritating ads, with some companies even injecting javascript to do so. Some free VPNs don't even encrypt your data at all, which means they aren't truly VPNs in the first place.
I believe it is best to skip all that trouble and pay for a high-quality VPN service. It might cost less than you think – there are many affordable VPNs out there, especially if you commit long-term.  If you only need a VPN for a short period of time, such as a trip to or from the UK, then I suggest taking advantage of NordVPN's 30-day money-back guarantee to use a paid VPN service for free.
Best VPN for the UK FAQs
Is using a VPN legal in the UK?
Yes, VPNs are legitimate privacy tools that are legal in most countries, including the United Kingdom. Keep in mind that a VPN can provide you with great online security but will not protect you in the event you use a VPN to commit cyber crimes. I recommend familiarizing yourself with the laws of your region before using a VPN if you aren't sure. It is also legal to use a VPN to bypass geographic firewalls as well, although doing so violates the terms of service of most streaming platforms. Netflix, for example, could blacklist the VPN server you used to access another country's streaming library.
Which is the best UK VPN app for mobile?
While there are plenty of great VPNs on the market, the "best" VPN depends on your personal needs. Some users need it to protect their privacy while others are more interested in accessing the streaming libraries of other countries. I recommend trying out NordVPN to get the best of both worlds. NordVPN is a great VPN provider that offers mobile apps for iOS and Android.