Websites are routinely blocked in Turkey and traffic for popular communication apps like Whatsapp and Telegram are restricted. Anyone visiting Turkey can continue to access their services from back home with the help of a VPN.
A VPN for Turkey allows you to channel your traffic through a server in another location, making it look as if you are browsing the internet from that country. Although, in recent years Turkey has made consistent efforts to restrict VPN services and traffic. Some VPNs are still able to overcome Turkish online censorship, however.
These services allow you to access blocked websites and apps in Turkey, as well as stream geo-restricted content or torrent anonymously. I'll take a look at some of the best VPNs for Turkey in more detail below but, if you're in a hurry, here is a summary.
The best VPNs for Turkey:
Not all VPNs work in Turkey, and even some that do might not be worth the investment. I've selected the best Turkey VPNs based on the following criteria:
Servers located in Turkey
The ability to bypass geo-restrictions
Strong encryption and security features
Good value for money
Available on multiple devices
If you want more information about the criteria I used, I'll go into more detail about my VPN methodology testing further down this article.
Best VPNs for Turkey
Here are the very best VPNs for Turkey.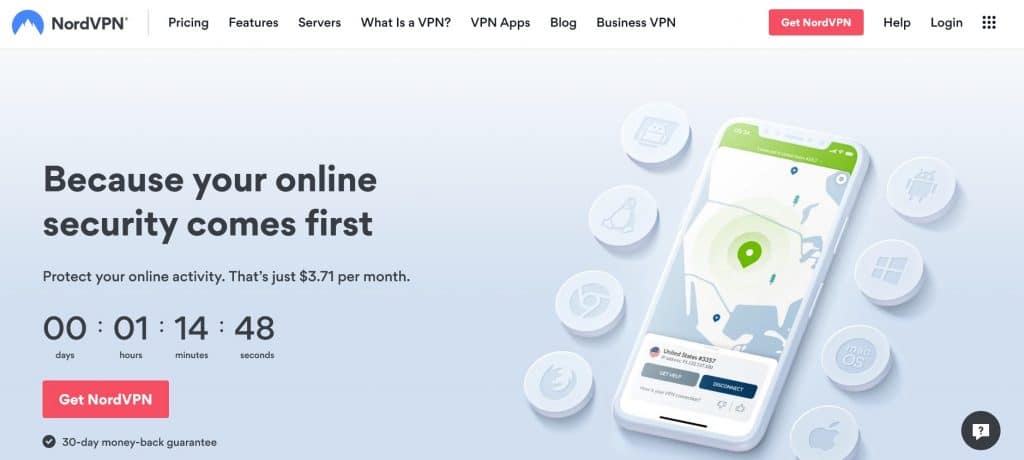 NordVPN is my number one choice if you're looking to find the best VPN for Turkey. It offers great speeds, strong security, and has a no-log privacy policy that ensures that no one has access to any information on how you use the internet or the sites you visit.
This is particularly important in a country where access to sites such as Facebook, Twitter, and even Wikipedia are regularly blocked. The no-log privacy policy makes clear that there is no record of the sites that you visit, your IP address, or even the times that you are connected. You can opt to pay by cryptocurrencies such as Bitcoin or Ethereum to protect your privacy further.
NordVPN has over 5,600 servers in 60+ countries. This includes servers in Turkey itself, so you can watch home content from Turkish IPTV services such as Tivibu even when you're abroad. It also uses obfuscated servers, which mask the fact that you are using a VPN. This helps to bypass the restrictions on VPN traffic that Turkey has in place. It also uses military-grade AES 256-bit encryption as standard. There's also the option to use Double VPN, which sends your traffic via two different servers, adding an additional layer of security. A kill switch will automatically cut off all traffic if your connection to the VPN drops, so you never have to worry about your internet usage being exposed.
NordVPN is available on Windows, Linux, macOS, Android, and iOS. You can have up to six simultaneous connections or devices. There's also a risk-free 30-day money-back guarantee, which even applies to cryptocurrency payments.
Pros:
No-logging policy
Large selection of servers, including some in Turkey
Fantastic security features
Obfuscated servers
Bitcoin payments
Fast speeds
Cons:
Desktop apps aren't the most user-friendly
BEST VPN FOR TURKEY:NordVPN is my number one choice for a Turkish VPN. It offers great speeds, plenty of security features, and has a no-log privacy policy that keeps you safe from prying eyes. There's a risk-free 30-day money-back guarantee.
Surfshark is a great-value option if you're looking for a VPN for Turkey. It has a robust no-log privacy policy, strong security, and offers features that can help you to bypass Turkey's VPN restrictions.
It may not have as many servers as my first choice, but Surfshark still offers more than 3,200 servers in 95+ countries, including Turkey. You can also use obfuscation (which Surfshark calls Camouflage Mode) to hide the fact that you are using a VPN, helping you to bypass VPN blocks. This mode is used as standard if you're using the OpenVPN protocol. In addition, NoBorders Mode will come into play if Surfshark detects restrictions on your network. This mode automatically provides you with a list of servers that are intended to perform best under network restrictions.
Surfshark has a clear no-log privacy policy, so there's no data stored on your browsing history, session information, or IP address. In addition, all of its servers are RAM-only. When these types of servers disconnect, all of the information stored on them is lost, adding a further layer of protection for your data. Surfshark uses industry-standard AES 256-bit encryption, offers leak protection, and has a dedicated kill switch. You can also use Double VPN for added security (a feature Surfshark calls MultipHop).
Surfshark is available for Windows, macOS, Linux, Android, and iOS, and you can have an unlimited number of simultaneous users or connections. This makes it an ideal choice for larger households that have multiple devices online at the same time.
Pros:
Keeps no logs
NoBorders Mode to bypass VPN restrictions
RAM-only servers
Unlimited simultaneous connections
Competitive pricing
Cons:
Not as fast as some options
BEST VALUE VPN:Surfshark is a great value option, thanks to its competitive pricing and unlimited simultaneous connections. Useful features help to bypass VPN restrictions, including obfuscation and a NoBorders mode. Offers a 30-day money-back guarantee.
ExpressVPN offers excellent speeds and a proven privacy policy. What's more, it is able to bypass Turkish VPN restrictions, giving you access to the web without censorship. It's a great option if you're looking to stream content from abroad such as Netflix US or BBC iPlayer.
The provider has more than 3,000 servers in almost 100 countries, although some of these are virtual servers that aren't physically located in the country itself. Notably, there is at least one physical server located in Turkey. The servers make use of what ExpressVPN calls TrustedServer technology. This means that not only are the servers RAM-only so that all data is wiped when they are powered down, but they also completely reinstall the OS and software each time they restart. That means every one of its servers is always running the most up-to-date software, reducing the risk of vulnerabilities.
ExpressVPN's privacy policy makes it clear that it stores no connection or activity logs. It also uses AES 256-bit encryption, runs a kill switch by default, and allows up to five simultaneous devices or connections. There are clients for Windows, Linux, macOS, Android, and iOS.
Pros:
Fast speeds great for streaming
Premium security features
Worldwide servers, including locations in Turkey
Up to five simultaneous connections
Cons:
Not the cheapest of options
Servers drop occasionally
BEST VPN FOR STREAMING:ExpressVPN offers fast speeds and the ability to bypass VPN restrictions and geo-blocked content. This makes it a great choice for streaming HD or 4K movies and shows. You can also rest easy thanks to the proven privacy policy. There's a 30-day money-back guarantee.
CyberGhost has the largest number of servers on this list. It has almost 9,000 servers in around 90 countries. It also offers fast connection speeds and is capable of providing secure access to many different services. It can also bypass restrictions in Turkey.
The provider has strong security measures in place as well. These include protection against IPv6 and DNS leaks. There is also 256-bit AES encryption in place. In addition, CyberGhost stores no logs. A kill switch is included as well, which stops your IP address from being exposed in the event of your VPN connection dropping out.
CyberGhost provides apps for Linux, macOS, Windows, and Android. In addition, some routers can be manually set up with the service. Customer support is available 24/7 and seven simultaneous connections are supported.
Pros:
Easy-to-use apps make it great for beginners
Specialty servers optimized for streaming and security
Keeps no logs
Excellent security features
Cons:
Limited configuration options
Doesn't work in China
LARGE SERVER NETWORK:CyberGhost provides many options for bypassing restrictions. With almost 9,000 servers, Turkish residents have many choices. This VPN is also great for beginners. CyberGhost provides a 45-day money-back guarantee aCyberGhost provides many optionss well, allowing subscribers to try the service risk-free.
PrivateVPN may not have the same amount of servers that some of its rivals can offer, but it's still a strong choice, with excellent security and a focus on privacy. It also has some useful features that can help you to bypass VPN restrictions in Turkey.
PrivateVPN only has around 200+ servers, but these are spread around 63 countries, but the good news is that one of these servers is located in Turkey. It also uses obfuscation — what it calls Stealth VPN — to disguise the fact that you're using a VPN and help you to bypass Turkish VPN restrictions.
As the name suggests, privacy is a key part of what PrivateVPN offers. There's a clear no-log privacy policy; the only data that is stored is your account email and payment information. Even payment details aren't stored if you choose to pay by Bitcoin. PrivateVPN uses AES 256-bit encryption as standard. There's also a kill switch, but this is only available on the Windows app. If you are on Windows, PrivateVPN offers some useful extra features, including the ability to automatically shut down specific apps if your VPN connection drops.
PrivateVPN offers clients for Windows, macOS, Android, and iOS. There's no Linux client, although it does provide step-by-step instructions on how to use PrivateVPN on Linux. You can have up to 10 simultaneous connections or devices.
Pros:
Obfuscated servers
No-log privacy
Reliable speeds
Bitcoin payments accepted
Cons:
Kill switch only available on Windows
Fewer servers than many rivals
BEST VPN FOR PRIVACY:PrivateVPN has a strong no-log privacy policy and allows Bitcoin payments to keep you anonymous. Although it has fewer servers than some rivals, it still covers more than 60 countries and has dedicated streaming servers for watching geo-blocked content. There's a 30-day money-back guarantee.
IPVanish is a secure platform with over 2,000 servers in 75+ countries. Its server network is fast and has been trusted by the Kodi community for years. It is also capable of bypassing Turkish and geographical restrictions.
In addition, IPVanish has strong security measures in place. These include a kill switch, which cuts off your internet connection in the case of your VPN connection dropping out, protection against DNS and IPv6 leaks, and AES 256-bit encryption. In addition, no logs are stored with this service.
IPVanish also has apps for Windows, macOS, Android, and iOS. It can be set up manually on routers and Linux devices too. A great addition for users with many devices is the ability to connect an unlimited amount of devices simultaneously to VPN servers with a single subscription. If users are in need of assistance they have the privilege of being able to access the company's live chat service 24/7.
Pros:
Fast connection speeds
Can bypass restrictions comfortably
Unlimited connections allowed
No logs are stored
Cons:
Doesn't work in China
May have problems with some streaming services
BYPASS RESTRICTIONS AND ENJOY STREAMING:IPVanish is capable when it comes to bypassing restrictions and has established itself as a great option for streaming, especially with the Kodi community. In addition, its solid security measures protect users in the online environment. This service comes with a 30-day money-back guarantee.
Private Internet Access (PIA) is a lightweight option with servers in over 80 countries. It is capable of bypassing Turkish restrictions too. It is also fast and efficient thanks to its use of the WireGuard VPN protocol.
The provider's security measures ensure the protection of users and this service stores no logs. Security measures include AES 256-bit encryption, split tunneling, and a kill switch. These measures all protect the privacy and security of usears.
PIA provides apps for a number of platforms including Windows, macOS, iOS, and Android. Its customer service team is available 24/7 too, allowing users to get help anytime they have a problem. A satisfactory 10 simultaneous connections are supported.
Pros:
Fast connection speeds
Uses fast and efficient WireGuard VPN protocol
Can bypass Turkish restrictions
Provides several customization options
Cons:
Doesn't work reliably in China
App design is lacking in some ways
LIGHTWEIGHT AND EFFICIENT OPTION:Private Internet Access isn't heavy on system resources and provides strong security measures along with fast speeds. This service comes with a 30-day money-back guarantee, allowing subscribers to test drive the service without risk.
VyprVPN is a heavily privacy-focused VPN that uses clever techniques to bypass VPN restrictions in countries like China and Turkey. Although it's a smaller provider, it still packs a punch with strong security and good speeds. It has around 700 servers in more than 70 locations, with a cluster located in Turkey. Countries such as Turkey, China, and South Korea, use a method called Deep Packet Inspection to try to spot traffic that is using VPN protocols such as OpenVPN. VyprVPN scrambles OpenVPN packet metadata making it harder to recognize, which helps it to consistently bypass VPN restrictions.
The provider is also very open about its dedication to privacy. It had its no-log privacy policy put to the test by independent auditors, who found that VyprVPN doesn't track or retain any user activity when connected to its servers. There's no option to pay by Bitcoin, however.
VyprVPN uses AES 256-bit encryption as standard, and both the macOS and Windows apps offer an automatic kill switch to stop any internet traffic if the VPN connection is dropped. There are also clients for Android and iOS, as well as a guide for setting up VyprVPN on Linux. You can have up to 30 simultaneous connections making it a great choice for larger households.
Pros:
Servers located in Turkey
Up to 30 simultaneous connections
Scrambled packet metadata helps bypass VPN restrictions
Cons:
Fewer servers than most rivals
No Bitcoin payments
BEST VPN FOR TRANSPARENCY:VyprVPN is dedicated to privacy and is very clear about its policies, even going as far as publishing the results of the independent audit. If you're looking for a VPN that can bypass VPN restrictions and is open about how it operates, then VyprVPN is a good choice. There's a 30-day money-back guarantee.
Methodology: How I found the best Turkish VPNs
I test each VPN myself before they appear on my website, and I only recommend the very best to readers. Here are the things I look for in VPNs for Turkey.
Servers in Turkey: A Turkish VPN needs to have server locations in Turkey. Ideally more than one for backups during busy periods. I also look at the worldwide server coverage so that users have plenty of options for accessing content abroad.
Security and privacy: Security is of the utmost importance. I only recommend VPNs that are capable of protecting privacy, and some of the tools I look for include; 256-bit AES encryption, a network kill switch, and multiple protocols.
Bypass censorship: Good security doesn't necessarily mean that a VPN can overcome censorship. I test each VPN and its ability to bypass geo-blocks and restricted websites in Turkey. Only those proven able appear on this list.
Speed: Slow speeds mean lag, dropped connections, and error messages. So I run speed tests to check that I'm only recommending the fastest VPNs. These services are capable of handling streaming, gaming, file sharing, and much more.
Value: The VPN must be affordable and give you plenty of bang for your buck. I look at things like subscription cost, discounts, free trials, and money-back guarantees. Simultaneous connections also play a part in determining value.
Find out more about how I assess VPNs by reading my full VPN testing methodology.
Privacy and censorship in Turkey
Turkey has a poor record when it comes to allowing a free and open internet, rating just 35 out of 100 on Freedom House. Web pages are regularly blocked or filtered, social media sites are being threatened with bandwidth throttling if they don't allow content to be removed by court order, and VPN traffic is restricted.
Authorities use a method known as Deep Packet Inspection to identify internet traffic that is using common VPN protocols. If detected, the VPN traffic is restricted, effectively rendering the VPN unusable. All of the VPNs in my list use techniques such as obfuscation or proprietary protocols to hide the fact that the traffic is passing through a VPN, thus bypassing VPN blocks.
With recent internet legislation in Turkey giving the authorities even more power to restrict access to free internet, VPNs have never been more necessary. Since most VPN websites are blocked in Turkey, I would recommend installing a VPN before you travel there.
VPN for Turkey FAQs
Can I use a free VPN for Turkey?
All the VPNs in my list require a subscription to access their core features. Free VPNs are available, but I don't recommend using one. Every VPN needs money to cover overheads such as staff and server costs. If you're not being charged a fee, then these businesses have to make money elsewhere.
Free VPNs are more likely to leak your personal information to third parties for advertising purposes or worse. Other free VPNs have been found to use your devices for cryptocurrency mining or to install other malware.
Another reason why I don't recommend using a free VPN for Turkey is that the majority of them will use one of the common VPN protocols such as OpenVPN, L2TP, or PPTP. All of these protocols have been targeted by Turkish authorities and without additional features such as obfuscation, the VPN will be mostly unusable. 
All of the VPNs in my list offer at least a 30-day money-back guarantee, and some VPNs are cheap. I would recommend giving one of them a try first rather than risking a free VPN.
Are VPNs legal in Turkey?
Despite the fact that VPN traffic is restricted in Turkey, it's not currently illegal for you to use one. There are no reports of anyone having been arrested or charged for using a VPN in Turkey.
Their use is clearly frowned upon, however, with the government attempting to block VPN traffic. That's why it's important to choose a VPN with a strong privacy policy and good security so that you can use a VPN without revealing your IP address or other identifying information.
Laws are constantly changing, so it's important that you do your research into the current rules in Turkey before you use one as nothing in this article should be considered legal advice. I do not recommend using a VPN in a country where it is illegal to do so and any illegal activity conducted while using a VPN is still illegal.