If you are a resident of Germany, you may want to consider using a German VPN to protect your data online. Although the country has good pro-consumer data protection laws, the 2013 leaks from Edward Snowden shed light on the government's surveillance activities that may cause some trepidation for privacy-conscious internet users. Torrent users, in particular, are regularly targeted by the German Government following the outlawing of P2P filesharing of copyrighted content.
A VPN service is designed to encrypt the user's traffic and route it through an intermediary server in a location of the user's choice. It will mask the user's true IP address by substituting it with the IP address of the chosen server, providing a layer of anonymity. But VPNs aren't just privacy tools. A good VPN has the power to access region-locked content on streaming platforms like Netflix and Amazon Prime, so if you're a German citizen traveling abroad, or just interested in Germany-only streaming content, a VPN will circumvent those geographical restrictions.
I'll dig into the fine details of each of the VPNs listed below, but if you're short on time, here's a quick summary of my top picks of the best VPN providers for use in Germany:
NordVPN: My top choice VPN for Germany. Runs one of the largest VPN server networks and delivers fast and consistent streaming speeds. Comes with a 30-day money-back guarantee.
Surfshark: My top budget German VPN. Thousands of fast servers around the world excel at bypassing geographic restrictions. Comes with unlimited simultaneous connections and a 30-day money-back guarantee.
ExpressVPN: Streaming-focused users should consider ExpressVPN. Excellent speeds for smooth HD streaming, gaming, and downloading in Germany. Unblocks just about everything.
CyberGhost: A low-cost, beginner-friendly VPN that offers over 7,000 servers in 91 countries. Provides servers optimized for streaming and security in Germany.
IPVanish: This VPN's remote-friendly interface makes it a popular option for streaming. Allows torrenting.
StrongVPN: A secure option for streaming while abroad in Germany and other locations.
Best VPNs for Germany
There is a wide range of VPN services to choose from, but not all of them get the same results. I compiled this list of recommended VPNs for use in Germany based on the following criteria:
Server locations in Germany
Supports the OpenVPN protocol
Powerful encryption standards
Unblocks geo-locked websites from abroad
Fast and stable internet connections
Zero logs
Here are the best VPNs to use in Germany: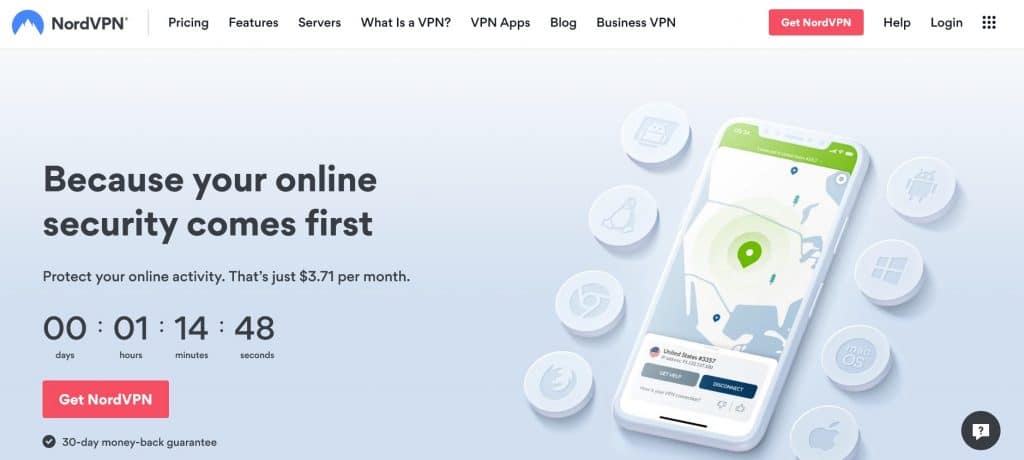 NordVPN runs over 5,000 servers around the world across 60 countries, including more than 240 German servers. A zero-logs policy, 256-bit AES encryption, a built-in kill switch, and support for the OpenVPN protocol make NordVPN a great privacy-oriented VPN. Additional features include double VPN, Tor over VPN, anti-DDoS servers, and servers optimized for ultra-fast streaming.
In addition to privacy, it excels at unblocking geo-restricted content from streaming services like Netflix, BBC iPlayer, and Hulu. You can protect up to six devices at once with this VPN.
Apps are available for Windows, macOS, iOS, and Android.
Pros:
240+ servers in Germany
Capable of unblocking geo-restricted services from abroad
Secure encryption and privacy protections
24/7 customer support
Extraordinary streaming speeds
Cons:
Selection by location only, not by the individual server (except in the Windows and Android apps)
The desktop app is occasionally slow to connect
TOP VPN FOR GERMANY:NordVPN is my favorite VPN for Germany. Strongest security protections on the market and incredible server speeds. Includes a 30-day money-back guarantee.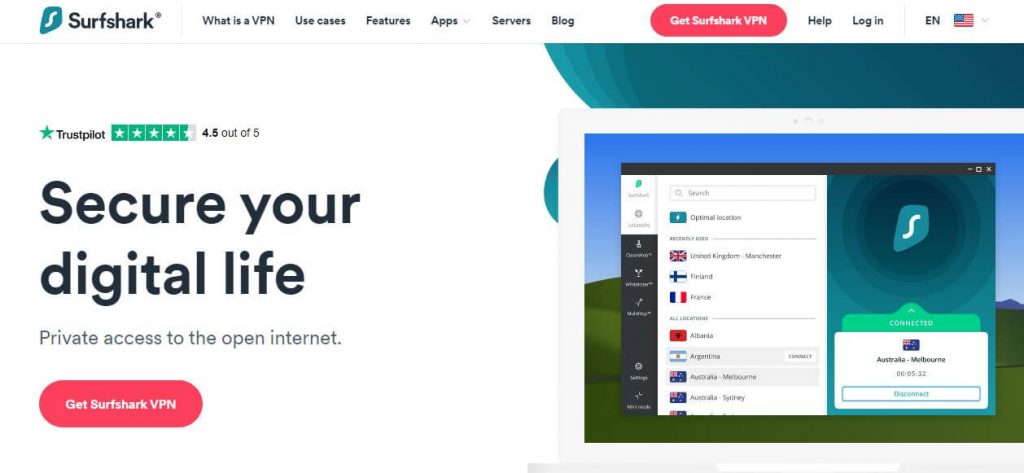 Surfshark puts privacy first for a great price. This VPN features 256-bit encryption, a kill switch on all platforms, protection against DNS, WebRTC, and IPv6 leaks, automatic ad-blocking, malware-scanning, and even the option to scramble your traffic. Surfshark keeps no logs of your online activity so that the company can't reveal any of your information, even if requested by the authorities.
Surfshark's strong security is combined with high speeds for streaming high-quality video content. It is capable of unblocking even the most stubborn streaming services while you watch from Germany, including Netflix USA and BBC iPlayer. Customer support is available 24/7 via live chat.
Surfshark apps are available on Windows, macOS, Android, iOS, and Linux. Some routers can be manually configured with Surfshark.
Pros:
Unlimited simultaneous connections
Unblocks most streaming services
Strong encryption standards and security features
Keeps zero logs
24/7 customer support
Cons:
AFFORDABLE SECURITY:Surfshark is a low-cost, high-performance VPN that easily bypasses geo-blocks on Netflix, BBC iPlayer, and more. Protect every device. Includes a 30-day money-back guarantee.
ExpressVPN uses the OpenVPN protocol by default and encrypts user traffic with industry-best encryption, authentication, perfect forward secrecy, and a built-in kill switch in case the VPN connection drops. This VPN does not log any traffic content or the source IP of its users, making it a considerable security-focused service.
Its reputation for reliably unblocking Netflix catalogs from multiple countries makes it a good streaming pick as well, in addition to other popular platforms like Hulu, Amazon Prime, and BBC iPlayer. A 24/7 live support team is available to help match your desired streaming platform with a compatible server.
ExpressVPN apps are available for Windows, macOS, iOS, Android, Linux (command-line), and some wifi routers.
Pros:
Fast and reliable server selection in Germany
Great for streaming, downloading, and gaming
Unblocks most streaming platforms from abroad
No logs
24/7 customer support
Cons:
One of the most expensive VPNs I've used
FAST STREAMING IN GERMANY:ExpressVPN delivers fast speeds that makes it great for data-heavy activities such as streaming. Doesn't compromise on security. Comes with a 30-day money-back guarantee.
CyberGhost stores no logs and refrains from recording any of your online activity. This VPN features 256-bit AES encryption and the OpenVPN protocol.
This Romania-based VPN has dramatically improved its servers since its recent change in management. Its network of servers has increased to more than 7,000 servers in 111 locations spread across 89 countries, including more than 600 servers in Germany capable of unblocking ZDF, ARD, 7TV, German YouTube and more. Users even have the option of choosing a VPN server based on the streaming service you want to unblock.
CyberGhost apps are available for Windows, macOS, iOS, Linux, and Android.
Pros:
More than 800 servers in Germany
Easy-to-use apps are great for beginners
Specialty servers optimized for speed and security
Keeps no logs
Cons:
Doesn't work in China or the UAE
Advanced users may find its features limiting
TOP VPN FOR NOVICES:CyberGhost is an easy VPN to use. Unblocks German websites with ease. Stores no logs. Comes with a 45-day money-back guarantee.
IPVanish is one of the few VPNs that owns and operates its own servers instead of renting them. For users, that means your data passes through fewer hands, and no metadata or traffic logs are stored, either. It owns more than 1,000 servers around the world including more than 40 in Germany. This VPN is a popular choice for torrenting and for Kodi users as well.
IPVanish secures its users' connections with military-grade encryption authentication. It isn't the best VPN for unblocking streaming content from Netflix and Hulu, but it works for most other sites and works particularly well for unblocking BBC iPlayer.
Apps are available for Windows, macOS, iOS, and Android.
Pros:
More than 50 German servers
Powerful encryption standard
A remote-friendly interface makes it easy for Kodi users
Unlimited simultaneous connections
Cons:
Not the best for bypassing geo-locks on Netflix or Hulu
PROTECT EVERY DEVICE:IPVanish is a privacy-first VPN. Secure every device in your household with its unlimited allowance of simultaneous connections. Not the best streaming VPN. Comes with a 30-day money-back guarantee.
StrongVPN is another solid, secure VPN with a no-logs policy for traffic contents and metadata. It secures user traffic with 256-bit AES encryption, enabled by default. OpenVPN is one of the many protocols available to StrongVPN users.
StrongVPN is one of the few services that work with Hulu and Netflix in a web browser. It offers unlimited bandwidth and no data caps, and support is available around the clock.
I'm not enthusiastic about the desktop app design, but apps are available for Windows macOS, iOS, and Android.
Pros:
8 servers in Germany
Great unblocker
Strong encryption protocol
Cons:
Inconsistent speeds
Requires some manual configuration
STRONG ENCRYPTION:StrongVPN keeps no logs on your data. Offers excellent security but takes some manual configuration to get there. Includes a 45-day money back guarantee.
VPNs to avoid in Germany
I suggest steering clear of the following VPN services:
1. HideMyAss
This UK-based VPN has logged its users' identifying information in the past which led to the arrest of one of its internet users. Any VPNs that log personal information are no better than the internet service providers that a good VPN will shield you from.
2. Hide.me (free)
Watch out for free VPNs. The free version of Hide.me ranks highly in Google for the search query "Germany VPN," but its speeds are limited to 3Mbit/s and limits data usage to 2GB. Free users are limited to only three VPN server locations and OpenVPN is not supported. The premium plans aren't too bad, though, and the service does not store traffic connection logs.
3. ZenVPN
ZenVPN may not log your browsing history but it does log your IP address and other identifying information on your devices. The paid version is limited to 5GB of data per day.
How to use a VPN in Germany
If you've never used a VPN before, rest assured that the setup is very simple. Follow the steps below to set up an encrypted connection to the internet.
Here's how to use a VPN for Germany:
Choose a VPN to subscribe to. NordVPN is my top choice.
Download the VPN app onto your device.
Launch the app and select a server located in Germany.
Press Connect.
Wait a few seconds for the connection to complete. Your data is now protected, but if you still can't access content outside Germany, try reloading the web page after clearing your browser's cache and cookies.
After completing these last few steps, your activity should be hidden from your ISP, and you will have access to a range of geo-blocked online content.
Methodology: How I find the best VPNs for Germany
I test each VPN thoroughly before recommending them to my readers. Here are some of the things I look for in a VPN for Germany:
German servers – To bypass restrictions on German content, you will need servers located in Germany. Otherwise, if you want to unblock international content while traveling in Germany, you will need a VPN that can operate in Germany. We look at the choice of servers for users to connect to and ensure that there are enough of them.
Unblocking ability – German streaming services likeProSieben and ZDF place geographical restrictions on their content. Only particular VPNs are capable of bypassing such blocks and remaining undetected. I only recommend those that can fly under the radar and unblock content.
Speeds – Speed is everything when it comes to VPNs, especially if you're going to be using it for streaming, gaming, or file sharing. I run speed tests to look for the fastest VPNs and publish the highest performers.
Security – The internet is full of threats and so a VPN that can keep you secure and protect your privacy is essential. Some of the specific tools I expect to see include a network kill switch, a no-logs policy, and 256-bit AES encryption.
Read my full VPN testing methodology to understand more about how I test VPNs at Privacy.net.
VPN for Germany FAQ
Can I use a free VPN in Germany?
It is tempting to save your money and settle for a free VPN, but they come with a number of performance and security issues. A free VPN service is less reliable than a reputable paid VPN, and the speeds are usually slower and less consistent since they typically host a small number of servers with an overwhelming volume of users.
If security is a major consideration for you, be advised that free VPNs are usually plagued with major violations of user privacy. Free providers still need to make money to keep their operations going and that frequently involves exploiting their users' data for profit, such as inserting intrusive ads and malware, and even logging user data to be later sold to third parties without your knowledge or consent.
I believe it is worthwhile to pay for quality security features and good performance.
Can I watch German TV from abroad using a VPN?
Yes, there is a workaround for geographical restrictions on streaming video content. German residents may not be able to watch their favorite shows while traveling outside of their home country, but a VPN will bypass region-locked services by concealing your true IP address with that of a server located in Germany. You should have no problem accessing German streaming platforms such as ARD, ProSieben, and ZDF without a problem.
Is torrenting legal in Germany?
It is illegal to torrent copyrighted material in Germany and doing so can result in fines. Law firms, also called copyright trolls, are known to monitor torrents for German IP addresses in order to catch pirates in the act and profit from the ensuing litigation. Traditional torrents such as those on popular sites like ThePirateBay or KickassTorrents are outlawed as well as apps that use torrents to stream video content, such as Popcorn Time, and websites featuring infringing content like Couchtuner and Project Free TV.
Please note that I do not provide legal advice, and illegal activity even while using a VPN, is still illegal. If you're unsure about whether or not your online activity is illegal, please check laws within your current country.
What are Germany's data retention laws?
The German government has been emphatic about data retention laws in recent years. Although the obligations were suspended in 2017, enforcing the provisions would require all telecommunication and internet service providers to retain user metadata for up to ten weeks.
That includes your IP address, the time when you used either a mobile or landline phone, send or receive text messages, download or upload anything, send emails, and browse the web.
The content of internet traffic or phone conversations would not be included, although text messages would be fully recorded. Content data is protected by the German Bundesdatenschutzgesetz (BDSG), a federal data protection act, though most metadata is up for grabs. Germany has no laws requiring firms to implement backdoors or submit to gag orders.
Does Germany engage in internet surveillance?
Germany's Federal Intelligence Service (BND) is known to have cooperated with the United States National Security Agency (NSA) in spying and surveillance efforts in Germany. In 2014, a BND employee was arrested for handing over secret documents to the NSA, and WikiLeaks later published a trove of leaked documents on the two agencies' cooperation.
Reports estimate that the BND collects 220 million sets of metadata per day. This metadata contains information about communications that travel over phone, satellite and internet networks. They record who, when, where, and for how long someone communicates.
Is using a VPN in Germany legal?
Yes, it is legal to use a VPN in Germany, but I do not provide legal advice and you should consult local laws if you are unsure as to whether your internet activity is illegal or not.
Is streaming movies illegal in Germany?
It is not illegal to stream movies, TV shows, and music in Germany unless it is derived from an unauthorized source that does not have the copyright holder's permission. Services like Netflix and Hulu are legal, but torrents are not.
How do I access Hulu in Germany?
If you are an American traveling to Germany, you can watch Hulu US if you have a valid Hulu account and connect to a VPN server located in the United States. Not all VPNs will work, so I suggest finding a VPN in this article that is also in this list of the best VPNs for Hulu.
Why do I need a VPN in Germany?
A VPN provides improved online privacy and allows access to region-locked content. You can access full libraries of American streaming services like Hulu and HBO Max from Germany by connecting to a VPN server located in the US. Germany's fair use laws may not provide any protection if you copy or access copyrighted content, so take care to hide your torrents, downloads, and IP address with a VPN.
How do I access my home Netflix in Germany?
You can access another country's Netflix catalog with a VPN in case the content you want to watch isn't available in the German Netflix library.
All of the VPNs recommended in this article unblock US Netflix, and most of them unblock a few other countries as well, including the UK, France, Brazil, and Canada. Not every country's Netflix library can be unblocked, however, which will result in a proxy error.
How do I unblock Hulu in Germany?
Since Hulu is only available in the US or Japan, it will be blocked in Germany unless you connect to a VPN server located in either one of the available countries. Hulu blocks many VPNs, so check out the best VPNs for Hulu for more information. Hulu also requires a US or Japanese method of payment.