Fortnite is one of the most popular games in the world, serving millions of players. Losing access to your Fortnite account because of an IP ban is a devastating blow to frequent players, but you can change your IP address, overcome bans, and keep playing Fortnite by using a VPN.
VPNs are designed to give you a new IP address. Your IP address is a unique string of digits associated with your internet-connected device that Epic Games uses to detect and restrict your access to the game if you're caught violating the game's terms of service. When you connect to a VPN, your internet traffic is encrypted and routed through an intermediary server in another part of the world. Every website you access will only see the IP address of the VPN server instead of your actual address, so you can get a second shot at playing Fortnite if Epic hasn't blacklisted the VPN server. In addition to IP bans, they can bypass other IP-based restrictions such as the geographic limits placed on streaming platforms.
In this article, I go into great detail on each provider. For now, here's a quick summary of the best VPNs for Fortnite:
NordVPN: My top VPN for playing Fortnite. Offers more than 5,200 fast and reliable servers and 256-bit AES encryption for top-notch security. Try it out first with its 30-day money-back guarantee.
Surfshark: A great budget pick for Fortnite. Delivers high performance and strong security features for an affordable price. Unlimited simultaneous connections for unlimited streaming, gaming, and downloading.
ExpressVPN: Over 3,000 super-fast servers make it a popular option for streaming. Unblocks most of the top streaming platforms and streams HD video with little to no lag.
CyberGhost: This VPN's intuitive apps make it my top recommendation for first-time VPN users.
IPVanish: A popular pick among Kodi and torrent users. Allows an unlimited number of simultaneous connections.
VyprVPN: Solid security option that even works in China and the UAE.
Best VPNs for Fortnite
There are dozens of great VPNs on the market, but not all of them work with Fortnite. Some VPNs prioritize security while others are tailored for streaming, gaming, and downloading. I've selected the best Fortnite VPNs based on the following criteria:
High-speed connections for online gaming
A large number of servers
Strong security features
No logging policies
Evades detection from Epic's anti-cheating system
You will find more information about my VPN testing process further in this article. In the meantime, here are the 6 best VPNs for Fortnite: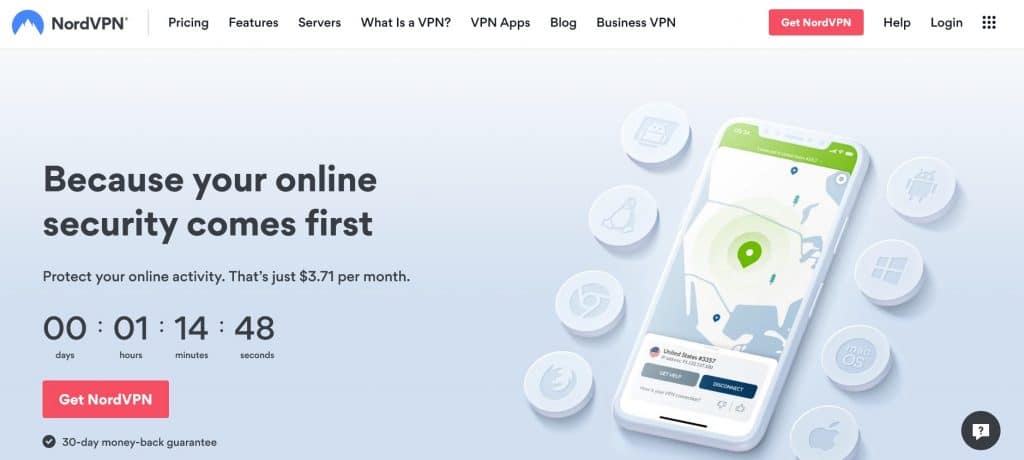 NordVPN is my top pick VPN for Fortnite. This long-time VPN provider combines reliable connection speeds, unbreakable security standards, and a wide selection of servers into a single product. Its server network includes more than 5,200 servers in 60 countries around the world including specialty servers optimized for a range of different functions, including double VPN usage, Tor over VPN, gaming, downloading, and streaming. Some players launch DDoS attacks on others in order to gain an unfair competitive advantage, but NordVPN's DDoS protection will absorb the impact so your connection won't be interrupted.
NordVPN excels on the security front by using 256-bit AES encryption, a kill switch, and protection against DNS, IPv6, and WebRTC leaks. The kill switch will automatically stop your internet if you abruptly lose connection to the VPN so you will never browse the web without protection. A single subscription grants you an allowance of six simultaneous connections.
NordVPN doesn't log any of your personal information thanks to its no-logs policy, so nothing you do online can be traced back to you. NordVPN's apps are available for Windows, macOS, iOS, Android, and Amazon Fire TV. Linux and select routers are supported but require manual configuration.
Pros:
Top speeds for fast and secure online gaming
256-bit AES encryption and plenty of security features
DDoS protection for gamers
Bypasses geo-locked streaming platforms including Netflix
Excels at streaming and downloading
Cons:
Server selection is based on location alone, not by the individual server (except in the Windows app)
The desktop app takes some getting used to
TOP VPN FOR FORTNITE:You can't do much better than NordVPN for online gaming. Hits all the right marks on speed and privacy. Offers a 30-day money-back guarantee so you can try before you buy.
Surfshark is my number one budget choice. It offers a wide selection of over 3,200 servers in 65+ countries that regularly delivers fast connection speeds for seamless gaming, downloading, and streaming. Its servers are capable of bypassing IP-based restrictions including IP bans and geographic restrictions on streaming platforms such as Netflix and Amazon Prime Video. Surfshark is one of the few VPNs that offers an unlimited number of simultaneous connections so you can protect every device you own.
Its security package includes 256-bit AES encryption, split tunneling, an ad/malware blocker combo, and protection against WebRTC, DNS, and IPv6 leaks. Surfshark doesn't keep any logs on user data so the company won't know anything about you. Surfshark also accepts anonymous payments in Bitcoin.
Surfshark makes apps for Windows, macOS, iOS, Android, and Amazon Prime Video. Linux and routers are supported but require manual installation.
Pros:
Fast servers for gaming, streaming and downloading
Privacy-focused
Affordably priced
Unlimited connections
Unblocks most streaming platforms
Cons:
Has a few slow servers
Customer support could be improved
PROTECT EVERY DEVICE:Surfshark's low price doesn't mean low performance. Its servers are fast enough for playing Fortnite with little to no lag and secure enough to protect your privacy. Get great value with an unlimited number of connections. Comes with a 30-day money-back guarantee.
ExpressVPN's fast servers and great unblocking power make it a popular choice for gaming. A subscription grants access to 3,000 servers spread across more than 90 countries capable of unblocking geo-restricted content on Netflix, Hulu, and Amazon Prime Video. This level of performance makes it a great option for online gaming as well.
While ExpressVPN is a great streaming and gaming option, it doesn't compromise on security either. Your internet connection is secured with 256-bit AES encryption, a kill switch, perfect forward secrecy, and DNS leak protection. ExpressVPN logs some anonymized usage data but doesn't record anything that could expose your identity or online activities.
You can keep up to five devices encrypted at once with a single subscription. ExpressVPN provides apps for Windows, Android, macOS, iOS, and Linux systems. Linux and some supported routers require manual configuration.
Pros:
Fast servers ideal for gaming, streaming and downloading
Strong privacy protections and no identifying logs
Unblocks Netflix, Hulu, Amazon Prime Video, and BBC iPlayer
Wide selection of over 3,000 servers in 90+ countries
Cons:
One of the most expensive VPNs on this list
Specialty servers are not labeled
FAST AND SECURE ONLINE GAMING:You will have a smooth gaming experience with ExpressVPN. An easy-to-use VPN that puts your privacy first. Includes a 30-day money back guarantee.
CyberGhost's user-friendly apps are great for beginners that want a VPN to play Fortnite. Its interface is designed to match you with a server based on your needs so you will get an optimized online experience every time. Some of its specialty servers are dedicated to individual streaming platforms so you should have no problems lifting the geo-blocks on services such as Netflix, Amazon Prime Video, and Hulu.
Your privacy is secured with 256-bit AES encryption, a kill switch, HTTPS redirection, ad/malware blocking, and protection against DNS, IPv6, and port forwarding leaks. CyberGhost's no-logs policy ensures none of your online activities can be used to identify you. The company is headquartered in Romania where it is not subject to any data retention laws.
CyberGhost's apps can be quickly set up on Windows, Android, macOS, iOS, Amazon Fire TV, and Linux. Some internet routers are supported as well, with some manual configuration.
Pros:
Beginner-friendly apps
Low-latency, high-speed servers
The largest amount of servers on this list
No logs and secure privacy features
Cons:
Experienced users might find it lacking in advanced options
Doesn't work in China or the UAE
No apps for routers
BEGINNER-FRIENDLY:Easy to use and plays online games, including Fortnite, with little to no lag. Comes with a generous 45-day money back guarantee.
IPVanish's server network includes over 1,900 servers in 75 locations worldwide that can play Fortnite and other online games with ease. This is a security-oriented VPN that includes 256-bit AES encryption, a kill switch, and protection against DNS and IPv6 leaks. Its more advanced security features include blocking LAN traffic, obfuscating OpenVPN traffic, and regularly changing your IP address so you will be untraceable online. IPVanish keeps your activities private with its no-logging policy. IPVanish is one of the few VPN providers that actually owns and operates its entire network of servers instead of entrusting its management to third parties.
This VPN is particularly popular among Kodi users for its remote-friendly interface and allows torrenting at high download speeds. Apps are available for Windows, Android, macOS, iOS and Amazon Fire TV.  You can protect an unlimited number of devices at once with a single subscription.
Pros:
Low-latency servers great for gaming and streaming
Unlimited simultaneous connections
No logs and owns all servers
Advanced security options
Cons:
Doesn't work in China
Relatively small server networks
No split tunneling
No app for Linux
UNMETERED CONNECTIONS:Features plenty of low-latency servers that protect your privacy while playing Fortnite. Doesn't reliably unblock Netflix but can stream and download at fast speeds. Try it out first with its 30-day money back guarantee.
VyprVPN is one of the best VPNs for evading the IP ban because it employs its proprietary Chameleon protocol to hide the fact that you're even using a VPN at all. VyprVPN is so elusive online that it can even bypass China's Great Firewall. It runs a self-owned and operated server network spanning over 700 servers in 70 locations worldwide. Not only is it useful for online gaming, but it can unblock and stream HD video content from the top streaming services like Netflix and Hulu.
This security-first VPN features 256-bit AES encryption, a kill switch, and DNS leak protection. Apps are available for Windows, Android, macOS, iOS, and Linux.
Pros:
Cons:
One of the more expensive VPNs on this list
Doesn't accept Bitcoin payments
Small server network compared to others
HIDE YOUR IP:Features a secure and consistently fast network of servers around the world. Comes with its exclusive Chameleon protocol. 30-day money back guarantee.
---
Methodology: How I find the best Fortnite VPNs
I test each VPN using specific criteria to determine which makes the shortlist. Here's some of what I look for in Fortnite VPNs:
Server selection – If you have an IP ban, you will need to change your IP address. The bigger the server selection, the more IP addresses you will have access to. I check server numbers and locations before recommending a VPN.
Speeds – Playing Fortnite without lag requires reliable speeds and a stable connection. I run speed tests to ensure that the VPN can handle gaming and other activities like streaming and downloading.
Security – Encryption and strong protection against DDoS attacks and hackers are vital in a VPN for Fortnite. I check for these features and others, including a network kill switch and a no-logs policy.
Value – I look at subscription costs, discounts for annual plans, and the money-back guarantee period to assess whether a VPN is good value. The number of simultaneous device connections also plays a role.
Read my VPN testing methodology to find out more about my VPN review processes and how I come to my conclusions.
Can I play Fortnite with a free VPN?
Free VPNs don't have enough servers with fast and stable connection speeds to play Fortnite without lag, or at all. Their limited server selection quickly fills up with more users than the infrastructure can support and leads to slow connections that frequently drop out. Even if you found a free VPN that performed well with Fortnite, there is a high probability that its servers have been blacklisted by Epic Games. The company invests a lot of time and effort into prohibiting access from VPN servers and proxies, and free VPN companies simply don't have the resources to beat the ban.
Furthermore, free VPNs will expose you to steep security risks despite being advertised as security tools. Many free VPN companies develop a subpar product and release it for free so they can track your every move online and sell records of user data to third-party advertisers. Free VPNs often come with loads of annoying ads and sometimes spread malware. Some don't even encrypt your traffic at all, which means it isn't actually a VPN. If you want to evade monitoring by your ISP, using a VPN will only let another set of eyes invade your privacy.
I advise investing in a quality product instead of dealing with the headaches free VPNs will give you. There are plenty of affordable options on this list that will deliver fast connection speeds, a high level of security, and peace of mind.
Why won't my VPN let me play Fortnite?
You must have received one of the three kinds of bans used by Epic Games: one kind is based on your IP address, one is based on your device's Hardware ID (HWID), and one on your system's components (usually the motherboard). VPNs will easily bypass the IP ban by giving you the IP address of your chosen server.
It is possible to lift hardware bans, although it's less straightforward. You can use a different PC, reinstall your operating system, or change your HWID in the registry editor—although I don't recommend the last option, as you could risk causing irreversible damage to your device. There is always the option of sending an appeal to the support staff.
How to remove an IP ban with a VPN
There are many reasons why one could receive an IP ban, as listed in the error message seen by banned users: "You were removed from the match due to internet lag, your IP or machine, VPN usage, or for cheating. We recommend not utilizing VPN or proxy services while attempting to play Fortnite."
You can in fact remove an IP ban by using a VPN. The best VPNs won't reveal you are using them to Fortnite unless a particular server has been blacklisted. Don't be intimidated if you've never used a VPN before, it's easy to set one up in minutes.
Here's how to remove a Fortnite IP ban with a VPN:
Select a VPN that matches your preferences. My highest recommendation goes to NordVPN.
Download the VPN software and install it onto your gaming system.
Connect to a server. You will get faster connection speeds with servers that are closer to you.
Launch Fortnite and begin playing. If you still can't play the game, try clearing your cache and cookies first to rid your device of any location identifiers that could be lingering on your device.
VPN for Fortnite FAQ
How do I use a VPN with my game console?
Video game consoles usually don't offer native support for VPN protocols, but you can still protect your gaming console's internet connection with a few workarounds.
A VPN-configured router will provide protection to every device connected to it and effectively grant you an unlimited number of connections. Keep in mind that not all routers support VPN protocols like OpenVPN, so you will have to make sure you get a VPN that works with your router or acquire a VPN-compatible router.
Another option is to sign up for ExpressVPN and use its MediaStreamer feature. MediaStreamer is ExpressVPN's smart DNS technology that acts as a proxy capable of evading IP bans and accessing geo-locked content. The configuration steps vary by console, but each console involves manually modifying the device's DNS settings. Here's a detailed set of instructions for configuring MediaStreamer on Xbox Series One and Xbox One. Note that MediaStreamer is not a VPN and will not encrypt your console's connection, although it may help lift IP bans.
Where are the Fortnite servers located?
Epic Games doesn't specify precisely where its servers are located, but lists these general regions:
North America: East, West
Brazil
Europe
Oceania
Asia
Middle East
How can I get a lower ping on Fortnite?
There are a number of ways you can reduce your ping, including:
• Switching from a wireless connection to a wired one
• Connecting to a VPN server close to you
• Use port forwarding
• Set up your device closer to your router
Does Fortnite work on Linux?
Linux systems are filtered out by Epic's anti-cheating detection system as if it were a proxy or a VPN, so you won't be able to play Fortnite on a Linux system.