You won't be able to watch Netflix US when you're in Sweden unless you have a US IP address. Find out how to get past the Netflix access restrictions with a Virtual Private Network (VPN) and the best VPNs for the job.
Netflix is available in almost every country in the world, with just a few exceptions. However, Netflix shows you different content depending on where you're located. If you're in Sweden, you'll get a different Netflix video library to the one that's available in the USA, even if you signed up in the US. American Netflix has more titles than other country versions. Lucifer, The Bodyguard, and the US version of The Office are just a few examples of shows available on US Netflix but not in the Swedish Netflix library.
You can access US Netflix from Sweden using a VPN. A VPN will make it look as though you are connecting from the USA by replacing your real IP address with a US one. Note that Netflix knows about VPNs and tries to block them. If you try to watch a video on American Netflix with most VPNs, you will see this message:
"Whoops, something went wrong. Streaming error. You seem to be using an unblocker or proxy. Please turn off any of these services and try again."
Many VPN providers will tell you that no service can bypass these blocks. This is not true. Fortunately, there are some VPNs that can circumvent the geo-restriction measures and help you access Netflix USA from Sweden or anywhere else in the world.
In this post, I'll explain how to watch Netflix USA from Sweden and reveal the best VPN services available today.
How to watch Netflix US in Sweden
To watch American Netflix while you are in Sweden, follow these simple steps below. If you complete the steps and are still unable to watch Netflix USA, try clearing your cache and cookies then reloading the page.
Here's how to watch Netflix USA in Sweden with a VPN:
1. Sign up for a suitable VPN. I recommend NordVPN.
2. Download and run the install file and allow it to set up the VPN app.
3. Open the app and select a VPN server in the US.
4. Wait for a connection to be established.
5. Navigate to the Netflix site and you should be presented with the US library. Select a video and enjoy.
Defeating the Netflix VPN checks is an expensive and time-consuming task, which is likely why so few VPN services take on the challenge. Even services that can enable access to American Netflix from abroad don't build that capability into all of their US servers. As such, you may need to contact your VPN's customer support team to find out which server to connect to.
How to choose the right VPN to watch American Netflix in Sweden
An obvious requirement of a Netflix VPN is that it can bypass Netflix's geo-blocking measures. Apart from that attribute, I researched other key criteria when looking for the best VPNs to watch US Netflix from Sweden. These are:
Multiple servers in the USA
High speeds
Strong encryption and additional security features
A no-logs policy
Easy-to-use apps for multiple operating systems
Competent and fast customer support
Best VPNs to unblock Netflix USA from Sweden
Through extensive testing, I have found these to be the five most reliable VPNs to access US Netflix in Sweden.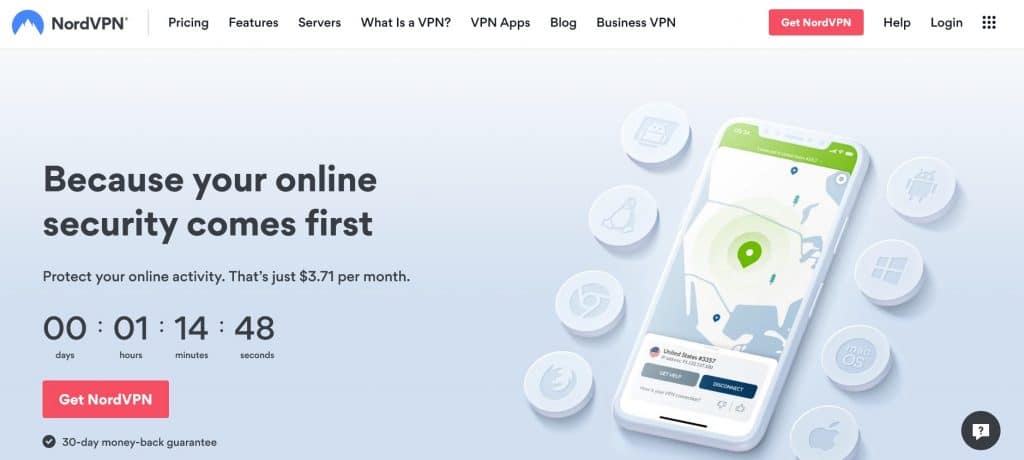 NordVPN is my first choice for a Sweden VPN. It operates more than 5,000 servers in 62 countries and has a significant network in the United States. This is one of the best VPNs for accessing US Netflix from Sweden and it has a low price. It can unblock multiple other Netflix libraries as well as other popular services such as BBC iPlayer, Hulu, Amazon Prime, and ABC, NBC, and CBS in the USA. NordVPN's speeds are blazing fast, ideal for watching uninterrupted video streams.
Security features of the service include a kill switch and an extra anti-malware system, called CyberSec. Connection security includes DNS protection and encryption for all communications. The company doesn't keep any logs, protecting your privacy further.
Apps are available for Windows, macOS, iOS, Android, and Linux. The service can be installed manually on routers and set-top boxes. If you just want to protect your browser traffic, you can use the NordVPN browser extension for Chrome and Firefox. You are allowed to connect up to six devices simultaneously.
Pros:
Large server network in the USA
Excellent price offer
Lots of security features
A no-logs policy
Technical support available around the clock via live chat
Cons:
Serve switching on desktop can be slow
BEST SWEDEN VPN:NordVPN is my first choice for unblocking streaming sites. It's super fast and packs excellent security features. You get a 30-day money-back guarantee making this a risk-free deal.
Surfshark is a wallet-friendly alternative that has a great reputation when it comes to streaming. With over 3,200 servers in more than 65 countries, you'll be able access content from almost anywhere. Surfshark readily unblocks Netflix US and UK (and many other versions), Hulu, Amazon Prime Video, ABC, CBS, BBC iPlayer, and more. It doesn't impose any device limit so you can stream anytime from anywhere.
Surfshark performs well on the privacy and security front too. It boasts military-grade encryption, perfect forward secrecy, a kill switch, and leak protection. Split tunneling enables you to select which traffic travels through the VPN and a multihop feature lets you send your traffic through two servers in different locations. Other extras include an ad-blocker and automatic wifi protection. This VPN will never log your data.
Mobile apps are available for iOS and Android and you can download desktop clients for Windows, MacOS, and Linux. You can set up the VPN manually on certain home routers. There are browser extensions for Chrome and Firefox.
Pros:
Unblock over a dozen Netflix libraries
Very fast speeds
Connect as many devices as you like
Excellent suite of security features
Cons:
Customer support isn't the best
BEST BUDGET PICK:Surfshark is easy on the wallet and will have you streaming Netflix US in no time. It's fast, reliable, and secure and unblocks restricted content with ease. Plans include a 30-day money-back guarantee.
ExpressVPN has a number of servers that can unblock Netflix USA from Sweden. If you run into any issues finding the right server, you can find help via 24/7 live chat. ExpressVPN has fast speeds, and streaming HD video poses no issues.
This provider operates servers in 94 countries, so you can use it to watch video from a large number of locations, not just the USA. It enables access to online content from many popular broadcasters, including ABC, NBC, CBS, BBC, ITV, and more. You can also unblock HBO Go, Amazon Prime Video, and MLB.com, provided you have accounts with those platforms.
The security features of the ExpressVPN service are top-tier. Your identity online is protected by a number of built-in features, including extremely strong encryption, a kill switch that prevents you from connecting to the internet without the VPN, DNS leak protection, and a no-logs policy.
Easy-to-install apps are available for Windows, macOS, iOS, Android, Amazon Fire TV, Linux, and flashed routers. There are ExpressVPN browser extensions for Chrome, Firefox, and Safari, which are designed to work alongside the desktop apps. You can connect up to five devices at the same time.
Pros:
Excellent at bypassing geo-restriction measures
Great speeds for long-distance video streaming
Strong focus on security and privacy
Apps for all major operating systems, including Linux and some routers
Cons:
The lowest simultaneous connection allowance on this list
SOLID SECURITY:ExpressVPN is a great alternative for accessing Netflix USA from Sweden thanks to its high speeds, great customer support, and ease of use. The company offers a 30-day no-questions-asked money-back guarantee.
CyberGhost offers a sleek VPN app that will enable access to Netflix USA from Sweden. It also unblocks Hulu and Amazon Prime Video, as well as many other services originating from the 59 countries where CyberGhost has servers. The service is very fast and is ideal for streaming video.
This provider uses 256-bit encryption, DNS leak protection, a kill switch, and a no-logs policy to keep your connection secure and private. Account procedures remove the need to hold your personal information on the CyberGhost system. You pay for the service with a separate company so your internet activities can't be linked to you through your bank details.
CyberGhost provides apps for Windows, macOS, Android, and iOS operating systems. It's possible to set up a connection on routers, set-top boxes, and Linux computers via manual configuration. There's also an app available for Amazon Fire TV or Amazon Fire Stick. You're allowed up to seven simultaneous connections under one plan.
Pros:
Fast speeds for streaming video
Very strong encryption
Extensive knowledge base for guidance
Extra security features for free
Cons:
Can't access customer support anonymously
BEGINNER-FRIENDLY APP:CyberGhost's easy-to-use apps are great for streaming and give access to a fast and secure VPN service. The company offers a 30-day money-back guarantee on all subscriptions.
IPVanish has fast speeds and is able to unblock US Netflix from Sweden. The company has servers all around the world, located in 60 countries, which gives you access to entertainment from a wide range of sources. The overall capabilities of this VPN service make it a top choice for torrenters and Kodi users.
The security features of the IPVanish VPN include a private DNS service and military-grade encryption. The app has a kill switch and the company keeps no logs, so your real IP address can't be revealed while surfing the web or afterward.
IPVanish provides apps for Windows, macOS, Android, iOS, and Linux Mint. You can also get an app for Amazon Fire TV and Amazon Fire Stick. It's possible to set up a VPN connection manually on routers, set-top boxes, and Ubuntu, Kali, and Fedora Linux. There is no limit to the number of devices you can connect at a given time.
Pros:
Based in the USA
Very fast speeds
Large simultaneous connection allowance
No activity logs
Cons:
Customer support can be slow
Doesn't accept cryptocurrencies
CONNECT UNLIMITED DEVICES:IPVanish can offer access to US Netflix from anywhere and doesn't impose a simultaneous connection limit. 30-day money-back guarantee.
PrivateVPN has great unblocking abilities and can enable access to multiple Netflix libraries (including the US one) as well as other services like BBC iPlayer and Amazon Prime Video. The speeds of this service are excellent for streaming American Netflix and many other overseas online entertainment services.
PrivateVPN is based in Sweden and has a great technical support team that is available via live chat (not quite 24/7 but almost). Representatives can even take control of your device remotely and fix any problems for you.
Security is assured by a kill switch in the app, a private DNS service, and strong connection encryption, and a no-logs policy. PrivateVPN customers are only identified by an account number. The company uses the same administrative procedures as CyberGhost to remove the need for holding bank details of clients on their system – payments are collected by a separate company, called Cleverbridge.
Easy-to-use PrivateVPN apps are available for Windows, macOS, Android, and iOS. You can set up a VPN connection manually on Linux, routers, and set-top boxes. You get a six simultaneous connection allowance under each plan.
Pros:
Fast speeds ideal for streaming video from the USA
Able to unblock multiple popular platforms
Strong security features
Strictly no logs
Cons:
Only 14 servers in the USA
Live chat isn't 24/7
PRIVACY-FOCUSED:PrivateVPN is great for streaming and has very strong privacy procedures, including account anonymity and a no-logs policy. The company gives all customers a 30-day money-back guarantee.
Can I use a free VPN to unblock US Netflix in Sweden?
A free VPN seems too good to be true and, in most cases, free VPN services are not nearly as useful as they claim to be. Running a VPN incurs a lot of costs and you have to ask yourself why any company would provide such a service without any possibility of breaking even.
One way these free VPNs make the breakeven point more attainable is by cutting costs. Low costs often translate to a slow, unreliable service. In fact, many free VPNs slow down your connection to such an extent that they make it impossible for you to stream video. The high cost of dodging VPN detection by Netflix means that only a few VPNs can help you American Netflix from Sweden, and it's unlikely a free VPN will be among them.
You need to be doubly careful about using a free VPN. I have found many cases where so-called free VPNs not only fail to protect your privacy, but they actually undermine it. At least one VPN, which is called Hola! was found to sell the internet bandwidth of free users by channeling the traffic of their paying customers through the connections of the non-paying community. Hola! doesn't apply any encryption to connections and neither do a surprisingly large number of free VPNs. Connection encryption is a key element of a VPN, so those services without encryption aren't really VPNs at all.
A number of really good VPN services offer free versions. Unfortunately, the free version is never as good as the paid service because otherwise how could those companies tempt the users of their free edition to upgrade to a paid account? Benefits that are usually removed from the free versions of bona fide VPNs include high speeds, unlimited data throughput, access to a large network of servers, and the ability to get into Netflix.
Overall, it's worth it to pay a few dollars for a reliable service that doesn't impose restrictions.
Signing up for a Netflix account in Sweden
Netflix doesn't offer a free service; you have to pay for it. However, everyone is offered the first month of Netflix for free, so you can check out the service before you are fully committed. You have to enter your bank details for the subscription payment before the free trial month begins. Remember to cancel your account before the first month expires if you want to avoid continuing with the paid service.
When you sign up for Netflix, you have to be located in the country in which you have a bank account. So, if you are traveling to Sweden for a short period and you don't expect to open a bank account there, set up a Netflix account before you leave the USA. If you are living in Sweden long-term, you might as well sign up for the service there. The other option is to use a VPN and connect to a server in the location that matches your billing address, in which case you can sign up from anywhere.
The language that Netflix presents in its screens is set to the language of the country that you sign up in by default. You will always see the service in that language no matter where you log in from. However, you can change this in your profile settings.
How Netflix video libraries work
The profile language of your account is important because it is one of the factors that controls the list of videos that you are allowed to access. When you access Netflix in the USA, you use the address netflix.com. When you are in Sweden, you also use netflix.com because there is no netflix.se. In fact, all Netflix users all over the world access the service with the URL netflix.com.
Netflix web servers use a system called "redirection." When you visit the Netflix site, the servers detect your location and present the Netflix homepage for that country. When you log in to your account, the profile language settings of your account influence which version of the site you see. If you have your browser set up to store your Netflix account details, both the location and account influencers will be active as soon as you access the website.
Netflix buys the rights to show each video in a list of countries. In many cases, it doesn't have the right to show that video in every country in the world. Your detected location gives the web-server criteria by which it selects a list of available videos. If you are in Sweden, it will select only those videos that can be shown there.
As well as producing its own content and buying in videos from US producers that might be of interest to people all over the world, Netflix buys the rights to shows and movies in the countries where it's accessible. Most of these are intended to attract viewers in the country of their production.
The video library of Netflix in Sweden includes many Swedish shows and movies that aren't available in the USA. The company won't have produced English subtitles for all of its Swedish videos. Those options will be removed from the library made available to you if your profile language is English.
Accessing Netflix with a VPN
There are far more English-language videos available to those who log in to Netflix from the USA than in Sweden. When you use a VPN and select a VPN server in the USA, all of your internet traffic gets diverted through that server.
When your browser sends a request for the Netflix homepage, that message travels through US VPN server. The request arrives at the Netflix system with a return address on it that comes from the VPN server and not your computer. The returning code for the homepage gets forwarded back to your computer via the VPN server.
Remember that not every VPN service can perform this location trick on the Netflix system because when the server checks for your location, it also examines the incoming request for signs of VPN activity. Very few VPN services pass these tests. All of the VPNs on my list will get you into Netflix USA from Sweden.
See also: Best VPNs for the dark web