Internet censorship makes browsing the South Korean internet a challenge for many internet users, especially when your personal information is exposed without an encrypted connection. South Korea may not censor its internet as heavily as China or the UAE, but there are several restrictions in place – and several workarounds as well. By using a VPN you can encrypt your internet traffic and keep the government, your Internet Service Provider (ISP), and malicious third parties from seeing your data.
VPNs also allow their users to bypass geo-blocked services by routing their traffic through servers located in other countries around the world. Streaming services such as US Netflix, BBC, and many others are not available in South Korea without a VPN. Similarly, VPNs can be useful for streaming your favorite South Korean TV shows while traveling abroad.
In this article, I'll go into depth on some of the best VPNs to use in South Korea. But to keep things short, here's a summary list of the best VPN service providers for South Korea.
Best VPNs for South Korea:
When looking for a VPN to use in South Korea, I made sure my final selections met the following criteria:
Able to bypass South Korean internet restrictions
Offers a fast, reliable connection
Has a large network of servers, with multiple servers in high-traffic countries like the US
Uses effectively uncrackable encryption and offers additional, more advanced security features
Does not log any personally identifiable information. Ideally keeps no logs whatsoever
Includes apps for all of the most popular operating systems and devices
For more in-depth information about the criteria I used, make sure you check out the testing methodology section found later in this article.
Best VPN service providers for South Korea
So, without further ado, here are the best VPN providers for South Korea.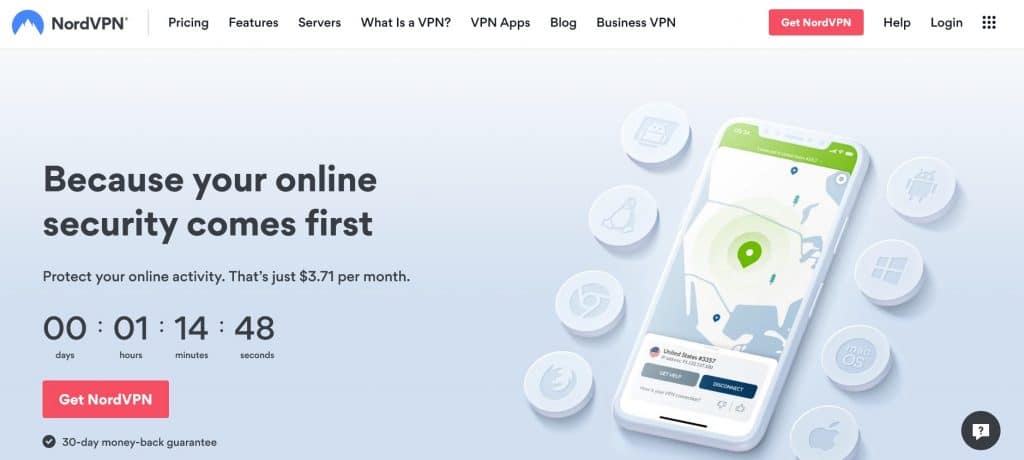 NordVPN is my top pick for using a VPN in South Korea. It has one of the largest server networks on the market with more than 5,600 servers spanning 59+ countries, including 10+ servers in South Korea. Its high speeds stream live HD video with no noticeable buffering and the provider can access some of the most popular streaming services such as Netflix, Hulu, and Sling TV. In addition, NordVPN offers dedicated servers optimized for P2P file sharing, DDoS protection, and usage within countries with strict online censorship.
The provider includes a wealth of security features. Your traffic is encrypted with 256-bit encryption and is protected against WebRTC, DNS, IPv6, and port-forwarding leaks. Automatic ad-blocking and malware-scanning features are also included. Users can use two VPNs simultaneously and even access Tor over VPN.
NordVPN has a strict no-logs policy that keeps your activities private and prevents your activities from being traced back to you. If you want to register anonymously, you can use a disposable email address and pay with Bitcoin. NordVPN apps are available for Windows, macOS, Linux, iOS, and Android. Network routers can be set up manually.
Pros:
Unmatched download speeds
Huge network of servers
More security options than most VPNs
Servers optimized for various tasks
Zero logs kept
Cons:
The desktop app can be slow to connect
BEST VPN FOR SOUTH KOREA:NordVPN is my top pick. It enables you to perfectly tailor your security setup. It's a strong, general-purpose VPN with high speeds, great unblocking ability, and servers optimized for specific tasks. Includes a risk-free 30-day money-back guarantee.
Surfshark provides great value if you're looking for a less costly alternative. Its 3,200+ VPN server locations in more than 95 countries (including South Korea) make it a worthy candidate. Surfshark provides unlimited bandwidth, reasonable internet connection speeds, and excellent unblocking ability. Unlike most VPNs, Surfshark has no connection limit, so you can protect every device with just a single account.
Surfshark combines great performance with great security. It encrypts your traffic with 256-bit encryption, features a kill switch, and protects you against IPv6, DNS, and WebRTC leaks. The built-in split tunneling functionality lets its users bypass the VPN if the occasion requires it. This VPN specializes in censorship workarounds with its NoBorders feature that lets you browse freely in countries with lots of online restrictions. This service does not log any personally identifiable information of its users, and you can pay in Bitcoin, Ethereum, and Ripple for additional anonymity. Support is available 24/7 via live chat.
Apps are available for iOS, Android, Windows, macOS, and Linux. It can also be manually installed on supported internet routers.
Pros:
Unblocks a wide range of region-locked services
Fast enough for HD streaming
Takes your security and online privacy seriously
Unlimited connections
Around-the-clock support
Cons:
Some slow download speeds
BEST BUDGET VPN:Surfshark lets you browse the internet freely in South Korea, and its powerful security and privacy features mean you're effectively untraceable once connected. This VPN is fast, allows an unlimited number of connections, and comes with a 30-day money-back guarantee.
ExpressVPN is a fast and secure service that provides access to more than 3,000 servers in 94+ countries. It is a versatile VPN with multi-platform support and the option to select servers not only by country, but by city as well. Major streaming platforms like Netflix, BBC, iPlayer, and Amazon Prime Video are accessible while you travel with ExpressVPN.
It uses 256-bit AES military-grade encryption, DNS and IPv6 leak protection, and includes perfect forward secrecy. A kill switch is included to automatically block any data transfer if your connection is suddenly interrupted. This service follows a strict no-logging policy to keep your data secure and anonymous, and allows for Bitcoin payment for additional privacy.
ExpressVPN's apps are available for Windows, macOS, Android, iOS, and Linux. Manual configuration is required on routers, but ExpressVPN comes with custom firmware to make setup as straightforward as possible.
Pros:
Fast speeds
Highly secure
Apps for all popular platforms
Great for video streaming
Cons:
More expensive than other providers on this list
PRIVACY-FIRST VPN:ExpressVPN is in my top three thanks to its fast download speeds, ease of use, expansive server network, and the number of services it can access. Plans include a 30-day money-back guarantee.
CyberGhost is a beginner-friendly VPN with more than 9,000 servers in over 90 countries and fast connection speeds. CyberGhost makes finding a server easy by displaying a list of suitable servers based on your selected task, such as torrenting or streaming. CyberGhost allows up to seven simultaneous connections and one-click unblocking for plenty of streaming platforms.
This novice-friendly VPN comes with a variety of effective security features. Its traffic is encrypted with 256-bit AES encryption, features port forwarding, and protects its users against WebRTC, IPv6, and DNS leak protection. An included kill switch keeps its users from browsing the internet without protection. And finally, CyberGhost refrains from logging any personally identifiable information.
Pros:
Versatile, inexpensive VPN
One-click unblocking
High download speeds
Large network of servers
Cons:
Doesn't work in China or the UAE
GOOD FOR NOVICES:CyberGhost is a low-cost friendly service that offers high speeds, the ability to access various streaming platforms, and comprehensive protection for people new to VPNs. Includes a 30-day money-back guarantee.
PrivateVPN's relatively small server network is made up for by its faster-than-average connection speeds. It has over 200 servers in around 60 countries and can smoothly stream live HD video. This VPN can reliably unblock popular services like Netflix, Hulu, and Amazon Prime Video, and allows up to 10 connections at once.
256-bit encryption is enabled by default and PrivateVPN also protects against DNS, IPv6, and WebRTC leaks. You can sign up anonymously by using a throwaway email address and paying in Bitcoin. Your personally identifiable information is secure with its strict zero-logs policy. If you need help installing the VPN, the support staff can remotely connect to your computer and install or configure the software for you.
PrivateVPN provides apps for Windows, Android, macOS, Linux, and iOS. Supported internet routers can be manually configured.
Pros:
Faster than average connection speeds
Good unblocking potential
Accepts Bitcoin
Zero-logs policy
Cons:
Smaller network than most
No live chat support
GREAT FOR STREAMING:PrivateVPN provides fast connections and allows you to access a wide range of geo-blocked services abroad. Further, its no-logging policy provides peace of mind for security-conscious users. Comes with a 30-day money-back guarantee.
Do you have a lot of devices that need securing? Unlike most VPNs, IPVanish allows unlimited simultaneous connections at once. IPVanish is a fast VPN service that can stream HD video without any buffering or stuttering. It has over 2,000 servers in more than 60 countries and offers a wide range of otherwise inaccessible content to South Korean users.
256-bit encryption and DNS and IPv6 leak protection are enabled by default. IPVanish also features a kill switch on both mobile and desktop versions, a LAN traffic blocker, OpenVPN obfuscation, and the ability to change IP addresses at preset intervals. IPVanish doesn't log any personally identifiable information that could be used to identify you online. Customer support is available over live chat 24/7.
Apps are available for Windows, macOS, Android, iOS, Amazon Fire TV, and Firestick. Linux systems and select internet routers can be manually configured with IPVanish.
Pros:
Lightweight apps, good multi-platform support
Fast connections
Several unique security features
Unlimited connections permitted
Cons:
Can't access as many streaming services as some of its rivals
No anonymous payment options
UNLIMITED SIMULTANEOUS CONNECTIONS:IPVanish makes it easy to protect all of your connected devices at once. With high connection speeds and advanced security features on offer, it's a solid general-purpose VPN. Comes with a 30-day money-back guarantee.
Private Internet Access (PIA) is a lightweight VPN provider that allows users to customize its app interfaces based on their preferences. It offers fast connection speeds, in part thanks to its use of the fast and efficient WireGuard VPN protocol. It is also capable of providing secure access to restricted services such as Amazon Prime Video and BBC iPlayer.
In addition, PIA has strong security features available. These include AES 256-bit encryption, a kill switch, and split tunneling. This service stores no logs.
PIA provides apps for Windows, macOS, Linux, iOS, and Android. Its customer support team is available 24/7 too via the provided live chat and 10 simultaneous connections are allowed.
Pros:
Uses the fast and efficient WireGuard VPN protocol
Strong security measures in place
Stores no logs
Can be customized
Cons:
Doesn't work well in China
App design could be improved
LIGHTWEIGHT AND SECURE VPN PLATFORM:In addition to being fast and stable, PIA also offers strong security measures. This service comes with a 30-day money-back guarantee for added peace of mind when you sign up.
Atlas VPN has around 750 servers in over 40 locations. Its server network is fairly small. However, this doesn't detract from the quality of service offered by the provider. Streaming is fast and users can securely access popular streaming services such as Hulu and Netflix.
In addition to being a good option for streaming, Atlas VPN is also very secure. It has measures in place such as 256-bit AES encryption, a kill switch, protection against DNS, WebRTC, and IPv6 leaks, and no logs are stored. If users need added security, they have the choice of connecting to MultiHop servers which encrypt your data twice.
Atlas VPN apps are available for  Windows, macOS, Android, and iOS. An unlimited number of connections is supported.
Pros:
Can unblock many streaming services
Fast connection speeds offered
No identifying logs are stored
MultiHop servers offer added protection
Cons:
Doesn't work in China
Customer service could be better
FAST STREAMING SPEEDS:Atlas VPN has strong security measures in place such as double encryption with its MultiHop servers. It also provides fast connection speeds and can unblock many services. This service includes a 30-day money-back guarantee.
Testing methodology: How I found the best VPNs for South Korea
I used a rigorous testing methodology to find the top VPNs. Here are some of the things that I looked for when trying to find the best VPNs for South Korea:
Servers in South Korea: To access content that is geographically restricted to South Korea, you will need access to South Korean servers so that you can be granted a South Korean IP address. This is especially useful for South Korean citizens traveling abroad.
Ability to unblock services: To access services such as online banking or Korean streaming TV channels, you will need a VPN that is capable of unblocking these services. This can be tricky for streaming services since they tend to employ measures to prevent users from bypassing geographical restrictions. However, the best VPNs don't have any problems bypassing these restrictions.
Fast connection speeds: While a VPN will slow down your connection a little, it shouldn't do this in a very noticeable way. The change should be almost undetectable if it even is at all. I run speed tests to ensure that the VPNs that I suggest are capable of meeting the standards needed to use the internet to do things such as streaming high-definition media easily.
Security: A VPN should offer users additional security such as 256-bit AES encryption and a kill switch. These features help to keep users' data protected while they operate in the online environment.
Can I bypass South Korea's internet censorship with a free VPN?
Lack of security and poor performance makes free VPNs a bad choice, especially when used in South Korea. Most free VPNs can't bypass government-imposed internet restrictions, but even if you manage to connect to your favorite services, they don't perform well. They operate at slow speeds and suffer from frequent interruptions since they usually have a small number of servers and a large volume of users chewing up the bandwidth.
Free VPNs often fail to bypass geo-blocking restrictions on popular streaming services like Netflix and can't be relied upon as a long-term solution due to data limits and queuing systems. For users where privacy is paramount, for example using VPN over Tor to access the dark web, we particularly recommend avoiding free VPNs.
Most free VPNs aren't safe to use anyway. According to a 2016 study of 283 free VPNs, more than 38 percent tried installing malware, 18 percent didn't use any encryption at all, and 84 percent were vulnerable to IPv6 leaks. Even the most popular free services have misled and endangered their users, such as the time when Hola sold idle user bandwidth to facilitate a botnet. I suggest paying for a reputable VPN that respects its users' privacy by staying true to a no-logging policy.
How to access the wider internet in South Korea
But don't worry: bypassing regional restrictions is easy even for someone who has never used a VPN before.
Here's how to access websites in South Korea with a VPN:
Begin by signing up to a suitable VPN provider (I recommend NordVPN).
Install the VPN app, making sure to get the right version for your operating system.
Log in and connect to a server in your desired location. To access geo-blocked services, you'll have to use a server in the appropriate country, for example, the UK for the BBC iPlayer.
You should now be free to access the internet without restrictions. If a given site still doesn't work, try clearing your browser's cache and cookies before reloading the page, or try connecting to another server.
What online content is restricted in South Korea?
The South Korean government restricts specific types of content, including:
Pro-North Korea sites and comments
Dissenting political opinions, particularly those concerning the President
Gambling sites
Pornography
Users of the South Korean internet are required to identify themselves in the event they want to publish anything publicly visible online, such as a comment, or to navigate to web pages considered inappropriate for minors. The identities of South Korean citizens are verified by using a Citizen's Reference number, or a copy of a user's passport for non-citizens.
While censorship in South Korea may not be as strict as it is in China or North Korea, it still presents some difficulties for many internet users. These restrictions are the result of the country's "cyber defamation" law.
South Korea's defamation legislation, the Act on Promotion of Information and Communications Network Utilization and Information Protection, Etc., 2008, criminalizes the disclosure of information intended to harm a person's reputation, whether the information is true or false. This legislation has allegedly been used as a tool to persecute critics of the government and its officials.
Why else should I use a VPN in South Korea?
There are plenty of additional benefits to using a VPN when traveling to South Korea. For example, you can avoid activating your bank's automated fraud prevention system when logging into your bank account from another country, which could otherwise lock you out of your account. If you route your traffic through a server located in your home country, your bank will not detect your actual location and spare you the fraud alert.
VPNs also allow you to use your favorite services as you would back home. For example, you can access gambling and gaming sites (you should of course check it is legal to do so first), stream your home country's Netflix library, or check the news from a source otherwise unavailable within South Korea. In addition, VPNs protect your data when using public WiFi.
How to get a free VPN for Korea (free-trial hack)
Do you have only a short-term need for a VPN, such as a trip to South Korea? You can use a paid VPN service at no cost for a limited period of time by following the steps below.
Here's how to get a "free VPN" for South Korea:
Decide which of the VPNs above you'd like to use. I particularly recommend NordVPN.
Visit the provider's website and select the one-month plan.
Enter your payment information like you normally would and finish checking out.
Your payment method will be charged, but all of the services we've recommended come with at least a 30-day money-back guarantee. As such, you can use them as much as you like, then simply ask for a refund before your subscription renews to effectively get free access to a paid VPN for a month.
Don't worry about losing your money – I've tested every VPN on this list and can confirm that they all provide a full refund!
South Korea VPN FAQs
How can I change my IP address to South Korea?
It takes only a few minutes to get a South Korean IP address by connecting to a South Korean VPN server. I recommend sticking with VPNs instead of trying out a Smart DNS service or proxy server, since these services are less secure. While they can give you the appearance of using the internet in another country, they do not encrypt your online traffic and instead leave your information exposed to your ISP, the government, and malicious third parties. VPNs, on the other hand, will keep your activity safe and give you the freedom to access your favorite websites and online services.
Is online gambling legal in South Korea?
Chapter 23 of the Criminal Act (PDF) makes it illegal to gamble "for the purpose of gaining property", but makes an exception if it's only for "momentary pleasure". Although no online casinos are legally allowed to operate, you can find plenty of places within the country where you can place bets.
Is Netflix in South Korea any good?
Users in South Korea can watch a huge range of content including all of the Netflix Original shows like Riverdale. There's also a strong selection of Korean content, with dramas like Crash Landing On You, and blockbuster hits like Okja, Reply, and Snowpiercer. Of course you can change your Netflix region with a VPN to watch content from other countries.
Does every VPN have South Korean servers?
No, not every VPN has servers in South Korea, but it is one of the most common locations for servers in East Asia, after Japan. With the rising popularity of Korean movies, shows, and music, there is a high demand for Korean-only services. South Korea's aggressive defamation laws may also be providing some incentive for South Korean citizens to acquire a VPN in order to freely speak their minds online.