Why would you need an IP address based in Switzerland? Most video streaming services usually restrict access to their full range of content based on the location of each user's IP address, meaning that content available in some countries isn't available in others. If you are a Swiss citizen traveling abroad, a VPN will allow you to connect to the internet via an intermediary server based in Switzerland and unblock the desired content that isn't available outside of Switzerland. Or, if you want to access content and services from outside the country, a VPN will grant you that access all the same.
I found these to be the best VPNs for obtaining a Swiss IP address:
How to get a Swiss IP address
Start by signing up for one of the VPNs recommended in this article.
Download the software and install it on each device that you want protected.
Connect to one of the VPN's Switzerland-based servers.
Test the connection by accessing a geo-blocked Swiss website. If the block persists, refresh the page after clearing your cache and cookies.
How to get a free VPN for a month
GET A PAID VPN FOR FREE: Only need short-term VPN coverage? Perhaps you're going on vacation or just want to watch one specific event? In these situations, you can take advantage of NordVPN's 30-day money-back guarantee. Upfront payment is required, but you can cancel at any point within 30 days to claim a full refund, effectively giving you free VPN access.
Best VPNs for getting an IP address from Switzerland
Make sure to choose a VPN that meets the following criteria:
Has servers in Switzerland
Provides consistent, high-speed connections
Uses powerful encryption and offers additional security features
Comes with apps for all the most popular operating systems
Doesn't log any information that could identify you
For more details, read below to find out more about the best VPNs for accessing Swiss services.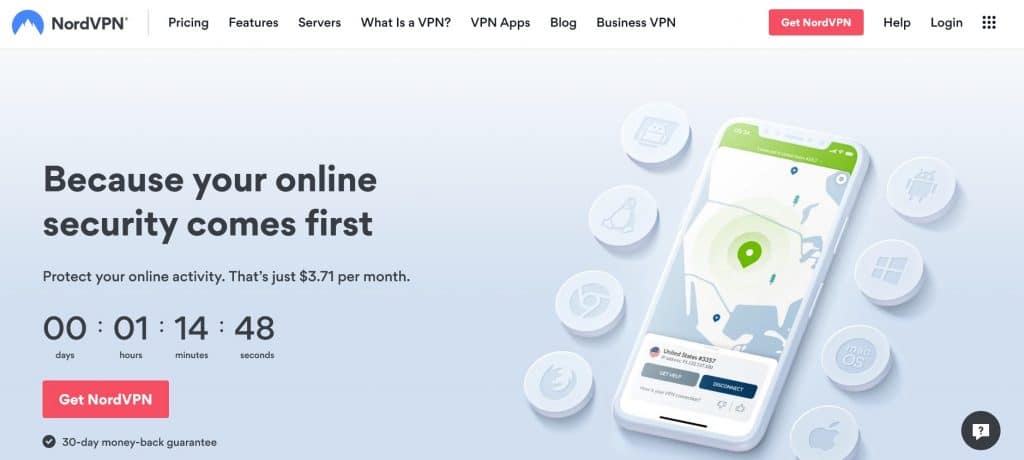 NordVPN is my top pick for obtaining a Swiss IP address. It outperforms its rivals in speed and has over 5,700 servers across 60 countries to choose from, with 113 data centers in Switzerland alone. It streams HD video with no issues and unblocks popular streaming services such as Netflix US, BBC iPlayer, and Amazon Prime Video. NordVPN permits six simultaneous connections so you can protect several of your devices with a single account.
You can customize your own security setup with its wide variety of security features. This includes 256-bit AES encryption, a program-specific kill switch, an ad-blocker, malware-scanner, and protection against WebRTC, IPv6, port forwarding, and DNS leaks. It can easily access Tor over a VPN for safely accessing the dark web and has a double VPN feature for an extra layer of encryption. NordVPN does not log any identifying information and accepts Bitcoin payments as well. Support staff is available to help 24/7 via live chat.
This provider offers apps for Windows, MacOS, Linux, Android, and iOS. It can be manually installed on select wireless routers.
Pros:
Plenty of options for advanced users
Superfast for HD streaming
Great at unblocking popular services
High number of Swiss servers
No logs kept at all
24/7 support
Cons:
Server connection takes slightly longer than some of its rivals
Suffered a data breach in 2019
BEST VPN FOR SWITZERLAND:NordVPN is my first choice. It's versatile and fast and offers enough advanced options to keep experienced users happy without isolating novices. Includes a 30-day money-back guarantee for a risk-free deal.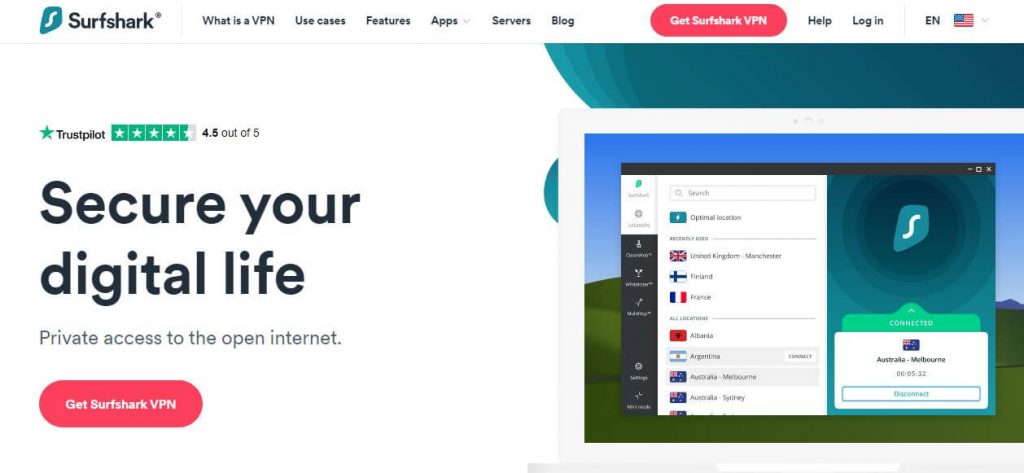 Surfshark is a budget alternative with an impressive network of 1,700 servers in 65 countries. This makes it a great provider for unblocking geo-restricted platforms like Netflix US, RTS, and SRF when traveling. Surfshark offers unlimited bandwidth and allows torrenting.
Among its security features includes 256-bit encryption, a kill switch, and protection against IPv6, DNS, and WebRTC leaks. Furthermore, Surfshark features an automatic ad-blocker, split tunneling functionality, and a NoBorders feature that lets you bypass VPN blocking.
Surfshark is a great provider for privacy because it keeps no traffic logs at all, so you don't need to worry about your online activities being traced back to you. It also accepts three different cryptocurrencies—Bitcoin, Ripple, and Ethereum—making it easy to sign up anonymously.
Surfshark offers apps for MacOS, Windows, iOS, Android, and Linux and can be manually configured to work with wireless routers. It can support an unlimited number of devices so every device you own can be protected.
Pros
Keeps no logs
No connection limit
Strong focus on security
24/7 live chat
Cons
Support isn't always up to par
BEST BUDGET VPN:Surfshark provides high speeds, strong security features, and a no-logs policy. Additionally, it allows you to connect as many devices as you like. All plans include a 30-day money-back guarantee.
ExpressVPN is especially adept at bypassing geo-restrictions thanks to its 3,000+ location servers across 94 countries, including Switzerland. Unblocking content from platforms like Netflix US and Amazon Prime Video should not be a problem. Its high speed enables its users to stream live HD and 4K video without any interruptions.
Your online activity is protected with 256-bit encryption, a kill switch (desktop versions only), perfect forward secrecy, and protection against DNS and IPv6 leaks. ExpressVPN maintains a .onion mirror site, and you can sign up anonymously by paying with Bitcoin.
It's true that ExpressVPN isn't completely logless, but it does not store any personally identifiable information. Users share an IP address with everyone else on the same server, so it is nearly impossible to determine which user accessed which website.
ExpressVPN has apps available for Windows, Android, MacOS, Linux, and iOS. Also included is custom firmware that can be used to install ExpressVPN on your home router. A total of five devices can be connected at once.
Pros
Fast, secure connections
Strong unblocking ability
Wide server network
Swiss local IP addresses
Has its own .onion site
Cons
Slightly more expensive than other providers
GREAT UNBLOCKER:ExpressVPN is fast and secure, and great at unblocking geo-restricted services from abroad. Plans include a 30-day money-back guarantee.
CyberGhost is a great first VPN to use because it is designed for novice users. This easy-to-use VPN has over 5,800 high-speed servers to choose from across 90 countries including 150 data centers in Switzerland, and comes with a wide range of pre-configured security features.
This service protects its users by keeping its kill switch on all the time. It will encrypt your connection with 256-bit encryption and IPv6 and DNS leak protection, and provides automatic ad and malware-blocking. CyberGhost doesn't log any personally-identifiable information and accepts Bitcoin payments for an additional layer of anonymity. All users on a given server share the same IP address, so your activities can't be traced back to you. Live chat is available 24/7.
CyberGhost offers apps for MacOS, Android, Windows, and iOS. Linux systems and internet routers are compatible through manual configuration. A single account supports up to seven simultaneous connections.
Pros:
Very fast
Minimal configuration required
Kill switch on every platform
Anonymous sign up possible
Cons:
Doesn't work in China or the UAE
Not quite as fast as the VPNs higher on this list
GOOD VALUE VPN:CyberGhost is a low-cost, easy-to-use VPN with high connection speeds, strong unblocking capability, and a high number of simultaneous connections. It includes a 45 day money-back guarantee.
IPVanish is a fast and affordable VPN offering access to 1,300 servers in 60+ countries, including 9 servers in Zurich, Switzerland. It offers unlimited data usage and network speeds, which makes it great for streaming HD video without interruption. IPVanish even allows a single account to have up to ten simultaneous connections when most other services only allow three to six.
Don't be fooled by this service's low price: its data security offerings are formidable and even includes a few features most VPNs do not. This includes LAN traffic blocking and OpenVPN traffic obfuscation, and the option to regularly change your IP address at predetermined intervals. IPVanish does not log any personally identifiable information that can be traced back to you.
IPVanish apps are available for Windows, MacOS, Android, and iOS. Linux and some internet routers can be configured manually.
Pros:
Very lightweight apps
High-speed connections
10 connections allowed
Cons:
Struggles to unblock platforms with stubborn geo-restriction
Users can't register anonymously
COMPREHENSIVE SECURITY:IPVanish is a privacy-first provider that comes with a great price—and still offers high speeds and unlimited bandwidth, to boot. This VPN includes a 7-day money-back guarantee.
PrivateVPN may have fewer servers than many of its competitors—fewer than 90 servers in 59 countries, including 2 in Zurich—but it provides better-than-average speeds. Furthermore, its unlimited bandwidth allows its users to torrent to their hearts' content.
PrivateVPN secures your internet traffic with 256-bit encryption, a kill switch, and protection against IPv6, WebRTC, and DNSleaks. It even has a cloaking feature designed to hide the fact that you're using a VPN at all. PrivateVPN can also be manually configured for VPN-over-Tor. It keeps no logs or data retention but still accepts Bitcoin payments in case you want to have as much anonymity as possible. Customer support does not include live chat and is conducted solely through email, but the staff are very helpful and can even remotely install the software for you.
Mobile apps are available for Android and iOS, and desktop clients are available for Windows and MacOS. Linux and some internet routers can be configured manually.
Pros:
Faster than most other VPNs
Zero-logs provider
Very fast, reliable connections
Able to unblock many popular sites and services
Cons:
Doesn't offer support via live chat
Limited network size
GREAT FOR STREAMING:PrivateVPN is an especially fast service and includes a wide range of security and privacy features. A 30-day money-back guarantee is included.
Can I get a Swiss IP with a free VPN?
I recommend paying for a reputable VPN instead of using a free one. Free VPNs typically have small server networks and large volumes of users that result in slow speeds, long buffering times, and occasional disconnection from the VPN server. Streaming platforms regularly improve their geographical restrictions that block users of free VPNs, while paid services usually have the resources to continuously find new workarounds.
Since free services obviously don't make any money from their users with up-front payments, they generate ad revenue by inserting obnoxious ads into the web pages you visit. Some services use tracking cookies to collect information about your internet activity and compile them into consumer profiles to be sold to third parties later, without your knowledge or consent.
If that wasn't bad enough, malware is commonly found in free VPN apps. A 2016 survey of 283 free VPN apps shows that 37 percent contained malware. 18 percent of the uninfected apps did not use encryption, leaving their users no more protected than if they hadn't used a VPN at all. Even well-known free VPN services come with plenty of risks, such as the botnet Hola was using to sell idle user bandwidth.
Can I watch Swiss TV online with a VPN?
When connected to a Swiss server, you can use the internet as you would if you were actually in Switzerland. This will give you full access to streaming sites such as Netflix, Netzkino, Watchbox, and Hollystar from anywhere in the world.
Why else might I need an IP address from Switzerland?
If you are traveling to Switzerland and attempt to access your bank account, you may find yourself locked out of your account until you can prove your identity. Most online banking services will automatically freeze account access if it detects a login from a country other than the one you live in, in order to keep out potential cybercriminals.
But if you live in Switzerland and use a Swiss IP to log into your bank account while traveling abroad, the bank won't notice anything.
Which sites are blocked in Switzerland?
Switzerland doesn't block much online content aside from gambling and gaming sites based outside of Switzerland, following the results of a 2018 referendum. The efficacy of this restriction is questionable, as most VPNs can easily bypass geo-restrictions.
Swiss IP FAQ
Is VPN usage legal in Switzerland?
Yes, VPNs are legal privacy tools in Switzerland. But if you engage in illegal activities online while using a VPN, you may have some trouble with the law all the same.
How do I watch Netflix US in Switzerland?
You can watch Netflix US in Switzerland by connecting to a VPN.
Is my personal data safe using a VPN?
If you use a reputable VPN with strong privacy features and a no-logs policy, your personal data will be safe from prying eyes. That being said, a VPN only protects data in transit between your device and the VPN server. You are still responsible for securing data at rest and any data you hand over to third parties while using the VPN.
What cities does NordVPN operate in Switzerland?
At the time of this writing, NordVPN only offers access to Zurich. You should have no problem having a high-speed connection even during evenings or weekends thanks to its 100+ available servers.
Can I open a Swiss bank account abroad with a VPN?
It is technically possible to open a Swiss bank account from abroad using a VPN, but if you're not a resident, you can expect a significant amount of paperwork. For instance, unless your chosen bank has a branch in your current location, you'll have to mail a copy of your passport which can take quite some time. You'll notice that this completely negates any semblance of anonymity that Swiss-numbered accounts offer. It might also be worth asking yourself if you really need a Swiss bank account. Times have changed, after all, and these are no longer untouchable havens for your money. In fact, banks are legally required to monitor accounts for signs of shady transactions or money laundering.