Most IPTV services are bound by copyright laws to restrict their viewership to certain regions and will therefore filter out anyone who attempts to access the service from outside of the licensed country.  These restrictions can be bypassed by using a VPN for IPTV so you can get access to hundreds of channels from providers like Xumo, Philo, and Hulu + Live TV. It all begins with knowing how to install a VPN on an IPTV box.
A VPN, or Virtual Private Network, is a privacy tool that routes your internet traffic through an intermediary server located somewhere else in the world. Your IP address and location will be masked with the IP address of your chosen VPN server, so the IPTV's proxy detection system will believe you are streaming from within the licensed region and grant you access. VPNs are not only great for streaming, but they will protect your privacy from the intrusive monitoring practices of your internet service provider (ISP), government agencies, and malicious hackers.
I explore the fine details of each VPN further down in the article, but if you're short on time, here's a quick rundown of my top 6 choices for the best VPNs to use with IPTV:
NordVPN: This is my number one choice VPN for IPTV. NordVPN has set the standards for security and speed since its launch in 2012. Works with IPTV and the top streaming platforms with fast connection speeds. Comes with a 30-day money back guarantee.
Surfshark: My top budget choice for IPTV users. Offers strong security protections and fast streaming speeds for a low price. Unlimited simultaneous connections and a 30-day money back guarantee.
ExpressVPN: Excels at accessing top streaming sites and delivers fast speeds for streaming on IPTV. The speeds also make it a great choice for downloading and gaming.
CyberGhost: An affordable and easy-to-use VPN with a wide selection of optimized servers to choose from. Great for beginners and works with IPTV.
IPVanish: This privacy-first VPN owns every server on its network instead of rents from third parties. Popular among IPTV and Kodi users.
PrivateVPN: A VPN newcomer that delivers some of the fastest speeds I've seen. Works seamlessly with IPTV boxes.
How to use IPTV with a VPN:
If you plan on traveling beyond the range of your favorite IPTV services, you can still keep up with your favorite content by connecting to a VPN. Follow the steps below to unblock IPTV.
Here's how to use IPTV with a VPN:
Sign up with a VPN on this list. I recommend NordVPN.
Download the app onto the device you use for streaming.
Launch the VPN app and connect to a server.
Navigate to your IPTV service and test the connection by playing a video.
If you still get an error message,  you may need to clear your cache and cookies, and connect to another server.
The Best VPNs for IPTV
There are hundreds of VPN services on the market today, but they vary widely in their quality of service. I made my top 6 choices based on the following criteria:
Capable of unblocking IPTV services
Fast internet speeds for streaming HD video
Strong encryption for anonymous web browsing
Quality customer support services
Mobile support
Here's a list of the best VPNs for IPTV: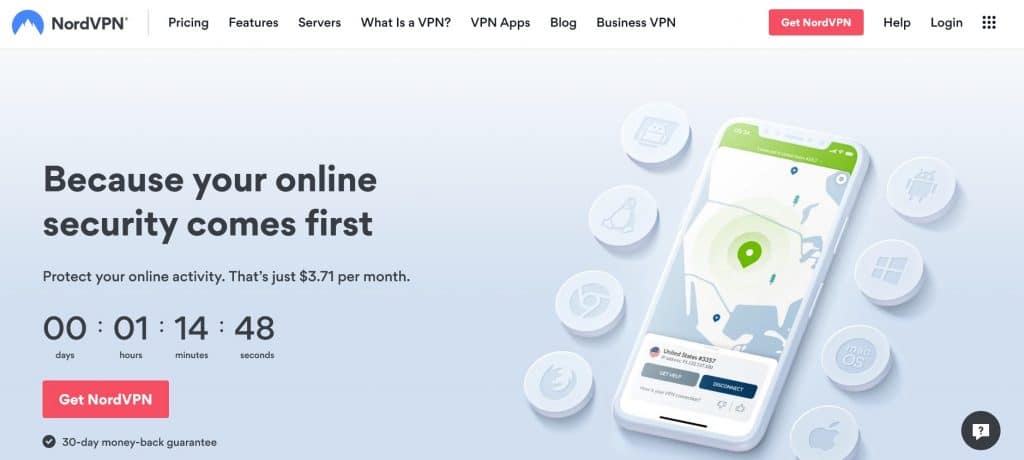 NordVPN's sizeable network of more than 5,200 servers in 59 countries makes it an excellent choice for watching online content. After doing some tests with Netflix I found that NordVPN works with the libraries for the USA, the UK, Canada, France, and India. It also successfully bypassed restrictions on Hulu's American and Japanese libraries, in addition to ABC in the USA and ITV and Channel 4 in the UK. The biggest drawback for me was not being able to choose an individual server, as it only allowed me to select by country.
NordVPN's security offerings include military-grade 256-bit AES encryption, an automatic internet kill switch, and DNS leak protection. This provider adheres to a strict no-logs policy which means that they don't keep any logs on your data, so your online activities can't be traced back to you. NordVPN is also based in Panama where there are no data retention laws.
Apps are available for Windows, macOS, iOS, Android, and Linux. NordVPN allows up to six devices to be connected at once.
Pros:
Wide selection of servers around the world
Features several strong security features
Lifts geo-restrictions on all of the top streaming platforms
High speeds make it ideal for streaming
Zero logs
Cons:
Desktop app can be slow to connect sometimes
THE BEST VPN FOR IPTV:NordVPN's high security standards and fast speeds makes it my number one choice. Meets the needs of streaming- and security-focused users alike. Excellent security features and no logs. Features a 30-day money-back guarantee.
Surfshark's wide geographic variety of over 3,200 servers in 65 countries gives it considerable streaming power. It can works with popular platforms such as Netflix, Hulu, and BBC iPlayer and stream HD video at high speeds. Unlike most VPNs, Surfshark places no limits on simultaneous connections, making it the perfect option for users who want to share it with their friends and family, or secure a large number of devices. This VPN is also one of the few that currently works in China.
Surfshark secures your traffic with 256-bit encryption, blocks ads and malware, and automatically prevents IPv6, DNS, and WebRTC leaks. It also features a kill switch that halts all of your internet traffic in case of a sudden loss of connection to the VPN, which keeps you from browsing the web without protection. Furthermore, Surfshark also abides by a no-logs policy, so the company wouldn't be able to disclose your personal data even if they wanted to.
Surfshark apps are available for Windows, macOS, Android, iOS, and Linux.
Pros:
High-speed servers smoothly stream HD video
Powerful security features
Unlimited simultaneous connections
Keeps no logs
Works in China
Cons:
Has a few slow servers on its network
Customer support could be improved
TOP BUDGET PICK:Surfshark is an affordable option that works well with IPTV services. Strong security and reliable connection speeds. Features a 30-day money-back guarantee.
ExpressVPN's 3,000+ servers reliably stream at high speeds across 94 countries and effortlessly bypasses geo-blocks while you're away from home. It works with US Netflix from outside the country as well as Netflix's libraries for the UK, Canada, and Germany. Hulu Japan, Hulu US, Sky Go, BBC iPlayer, and Amazon Prime Video are accessible as well.
Its security package includes 256-bit AES encryption, DNS leak protection, and a kill switch. An ExpressVPN browser extension is available for Chrome, Firefox, and Safari. This VPN allows five simultaneous connections and comes with a 30-day money-back guarantee.
Pros:
Streams HD IPTV content from abroad
Fast server speeds make it great for streaming, gaming, and downloading
Top-notch security standards
24/7 customer support
Cons:
One of the most expensive VPNs on this list
Streaming servers are harder to identify
IDEAL STREAMING VPN:ExpressVPN unblocks just about anything. Streams HD video content from IPTV services. 30-day money back guarantee.
CyberGhost is great for first-time VPN users. This service's user-friendly interface includes pre-set options to select a VPN server based on activity, which includes dedicated menu options for specific streaming services. Once selected, the app automatically configures its settings to optimize itself for streaming video or browsing the web securely. CyberGhost performs well with international services and can stream almost anything while you're traveling abroad. CyberGhost runs over 7,000 servers in 91 countries and includes more than 200 servers in the US.
CyberGhost's session establishment encryption is strong enough to work in countries with strict government control over the internet, such as China, Iran, and Saudi Arabia. Its strong security doesn't slow down internet speeds, so it can stream HD video without a problem.
Apps are available for Windows, macOS, Android and iOS.
Pros:
Easily streams IPTV from abroad
7,000+ servers in 91 countries, the largest server network on my list
Servers optimized for streaming and secure web browsing
No logs
Cons:
Doesn't offer many advanced features for experienced users
Doesn't work in China
TOP VPN FOR BEGINNERS:CyberGhost is great for novices. Streams IPTV content with little to no buffering, and logs none of your activities. Includes a 45-day money-back guarantee.
IPVanish is another good streaming option as it can access most major TV channels, including NBC and CBS in the United States, and ITV and Channel 4 in the UK, in addition to the Netflix USA library. The company is one of the few VPN providers to own its entire server network instead of renting it, so your data passes through fewer hands.
IPVanish runs more than 1,600 servers in 75 locations around the world, including 417 in the United States with locations in 17 US cities. Sports streamers in the US have a variety of options for staying a few steps ahead of sports broadcasters who blacklist VPN servers. IPVanish offers an unlimited number of simultaneous connections so you can secure every device you own.
Apps are available for Windows, macOS, and Amazon Fire. IPVanish can be manually installed on Linux devices, internet routers, and set-top boxes.
Pros:
Independently-owned server network
Fast servers spread across the globe
Unlimited simultaneous connections
Zero logs kept
Cons:
Apps don't work in China
Doesn't accept Bitcoin
GREAT FOR FAMILIES:IPVanish lets you protect every device in your household. Unlimited simultaneous connections. Streams IPTV from abroad. 30-day money back guarantee.
PrivateVPN is a relatively new VPN that features over 200 servers in 63 countries including locations in 11 US cities. This Sweden-based provider gets high speeds that make it great for streaming, and can successfully access most of the world's biggest TV stations that stream their content online. It is great for Netflix viewers because it works with Netflix USA, UK, Canada, Japan, Spain, Brazil, Italy, and France.
Its security offerings include 256-bit AES encryption, a kill switch, DNS leak protection, and a no-logs policy. At the time of this writing, PrivateVPN works in China, but its OpenVPN service is blocked there. Users within the Great Firewall of China can use the company's L2TP VPN system.
Apps are available for Windows, macOS, iOS, and Android. PrivateVPN includes a 30-day money-back guarantee.
Pros:
Accesses IPTV services from abroad
Incredible server speeds
Tough encryption protocol and security features
No-logs policy
Cons:
Small server network
Customer support only available during Swedish business hours
LIGHTNING FAST:PrivateVPN is a good general-use VPN. Small server network but delivers impressive connection speeds. Comes with six simultaneous connections and a 30-day money back guarantee.
Methodology: How I find the best VPNs for IPTV
Not all VPNs work with IPTV, and even some that do, aren't services I would recommend. I use strict VPN assessment criteria to determine the very best providers on the market. Here are some of the things I looked for in IPTV VPNs:
Compatibility – The VPN needs to work with IPTV, first and foremost, before it appears on this list. But I also look at compatibility with other devices and operating systems, so that you don't need multiple subscriptions. The VPNs in this guide are compatible with almost everything.
Servers – Plenty of servers mean plenty of choice. So no matter where you are traveling, or how busy the network is, there will always be a server for you to connect to. The VPNs on this list have some of the biggest and strongest server networks on the market.
Speed – Watching content on IPTV requires a stable connection and fast speeds, particularly for HD content. I run speed tests to ensure that I am only recommending the very fastest VPNs that will never slow you down.
Security – Security is incredibly important when using the internet. A good VPN will help you to stay undetected, while also protecting you from hackers, malware, and other online threats. Some of the security features I look for include 256-bit encryption and a network kill switch.
IPTV providers
Here's a list of the most popular IPTV providers:
Xumo
Pluto.TV
Sling TV
Hulu + Live TV
Philo
Note: The legality of many IPTV services has been disputed. While the services listed below are legitimate, I recommend researching your local laws and any IPTV services you plan on using before signing up. 
IPTV Piracy Issues
There are Free IPTV providers out there, but they should be avoided. Free IPTV providers often sell access to TV channels at a lower price than the channel's official pricing, which is usually an indication that the provider is selling pirated content, and puts free users at risk of breaking the law.
It is possible to use a free IPTV service without realizing that you're illegally pirating online content, so if you're going to use IPTV at all, use a paid service so that you won't put yourself in danger of privacy and legal risks.
IPTV VPN FAQ
Can I use a free VPN for streaming IPTV?
I find it tempting to save my money by opting for a free VPN, but my experience has shown me time and again that free VPNs are incapable of lifting geographic restrictions, protecting my privacy, and delivering speeds fast enough for streaming. Video streaming services invest a substantial portion of their time and budget in advanced proxy detection systems that can identify and filter out VPN users and viewers from unlicensed regions. Even a lot of paid VPNs struggle to overcome the content blocks on major platforms such as Netflix, Hulu, and Amazon Prime.
VPNs aren't just streaming tools—they're primarily used to protect your privacy online. While you can keep your data protected with a high-quality paid VPN, free VPNs usually expose you to even more risks than you would otherwise encounter without one. One of their methods of making money involves tracking and selling records of your online activities to advertisers without your knowledge or consent. They frequently insert obnoxious ads into your web browser and even spread malware. Some don't even encrypt your online communications, which means that these services aren't actually VPNs at all. Beware of anything free—it usually means that you are the product, not the client.
Why am I having IPTV streaming problems?
International access blocks present some of the biggest problems facing users of IPTV and other online streaming services. The main reasons why video streaming services enforce regional restrictions involve broadcast licensing laws. Video streaming services have to pay for the rights to broadcast shows and movies within a given area, and the contracts they usually sign with entertainment producers contain the obligation to prevent people from outside the country from accessing the licensed content. Streaming services enforce this condition by using proxy detection technology to prevent viewers in unlicensed regions from tuning in.
This is why VPNs come in handy during travel. The same content isn't always available from one country to the next, but a good VPN will let you watch anything from anywhere with a high level of security.
What internet speeds do I need for streaming HD video?
Watching live HD video streams requires a good VPN just as much as it requires a good internet connection. Even if you have a fast connection to the internet, your HD streaming experience will be disrupted by a slow VPN. The processing power necessary for a VPN to encrypt your communications will slow the overall internet speed slightly, but it can be much worse if you do not invest in a high-quality VPN.
Your location affects your speed as well. I suggest connecting to the closest VPN server you can find before moving outward from there, because your internet connection will decrease in speed in proportion to the distance it must travel from the VPN server and the website you're trying to access. This can be especially troublesome if your IPTV service or VPN server is located overseas.
Which is better for online streaming: VPN or SmartDNS?
VPNs are always the better option because they protect your data with a layer of encryption. However, SmartDNS services can be useful for people who watch online streaming content from devices with limited app stores, such as game consoles and smart TVs. This makes it difficult to install a VPN, so resorting to a SmartDNS is a suitable workaround for bypassing regional restrictions. But it will not encrypt your network traffic, so your online activities may be monitored by your ISP, government agencies, or malicious hackers.
Are subscriptions to IPTV legal?
Most paid IPTV services are legal, including fuboTV, YouTube TV, and Hulu. Free services, or ones that offer "too good to be true" deals, are known to resell pirated content, which means their subscribers have inadvertently become pirates of licensed content.