The Tor network (or just "Tor" for short) lets you surf the web anonymously and visit certain sites that are otherwise inaccessible. Tor encrypts the traffic traveling to and from your device so that it can't be read by anyone who intercepts it.
However, your Internet Service Provider (ISP), as well as government agencies, can see that you're using Tor. This isn't ideal as while Tor has many legitimate uses, it has a reputation associated with illegal activity. As such, using it may raise some red flags, and in some countries, ISPs block Tor traffic entirely.
Using Tor in conjunction with a Virtual Private Network (VPN) can hide the fact you're using Tor at all. A VPN adds a layer of encryption and routes traffic through a secondary server. This server can be in any location you choose. Your VPN provider will be able to see you're using Tor, but no one else will.
If you don't have time to read the full post, here's a brief look at my top VPNs for Tor:
NordVPN: Best VPN for Tor. Boasts a huge network of high-speed servers and comes with lots of security extras. Accepts Bitcoin and includes a risk-free 30-day money-back guarantee.
Surfshark: Best budget option. Offers a growing network of servers and doesn't impose a device limit.
ExpressVPN: Fast, security-conscious VPN with its own .onion site.
CyberGhost: Speedy, private VPN with a ton of server options.
IPVanish: Secure, fast, and keeps no logs.
PrivateVPN: Log-free service that is simple to set up and accepts Bitcoin.
Atlas VPN: A secure provider that accepts cryptocurrency payments.
While there are a ton of VPNs out there, they're not all made the same, and they're definitely not all suitable for use with the Tor browser. If you're short on time, here's a summary list of the main criteria I considered when choosing my recommendations:
Doesn't keep logs
Uses strong security
Pegs fast speeds
Includes Tor-specific features
Accepts cryptocurrency payments
You can find more detailed information about the methodology testing process I used further down in this article.
Best VPNs for Tor
Here's my list of the best VPNs for Tor:
NordVPN is my first choice for a Tor VPN. It's a mainstay in the industry and offers extremely fast speeds and a large global network of servers. It has a Tor over VPN option which means your traffic is automatically routed through the Tor network.
Security is top-notch and includes a strict no-logs policy, military-grade encryption, and perfect forward secrecy. There's also automatic wifi protection, leak protection, and a kill switch (in all apps except Android). The latter can be tweaked to apply to specific applications. NordVPN offers a list of special obfuscated servers as well as double VPN options.
You can download NordVPN desktop clients for Windows, Linux, and macOS, and mobile apps are available for iOS and Android. A paid plan allows for up to six simultaneous connections. This provider accepts a few different cryptocurrencies: Bitcoin, Ethereum, and Ripple.
Pros
Super fast VPN
Built-in Tor over VPN option
Zero-logs provider
Accepts cryptocurrency
Around-the-clock support
Cons
Server switching can be slow on desktop
BEST TOR VPN:NordVPN is my top choice. It offers a huge network, great speeds, and lots of security features. Plans include a 30-day money-back guarantee, even on cryptocurrency payments, making this a risk-free deal.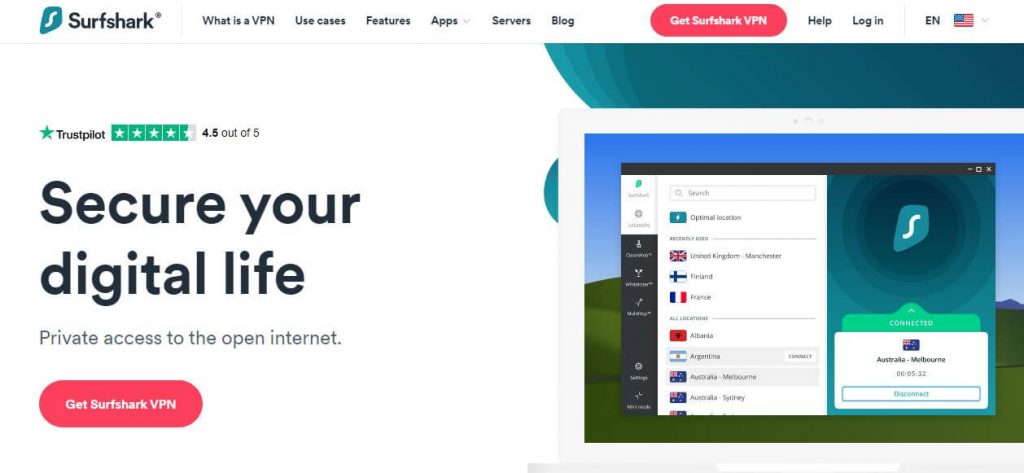 Surfshark is a great low-cost choice. It's newer than the other providers on this list, but it's already proven itself as a strong contender for a multitude of uses, including as a Tor VPN.
This provider gives you reliable connections secured by military-grade encryption, along with perfect forward secrecy. All apps have a kill switch and leak protection. Surfshark packs several extra features including automatic wifi protection, split tunneling, traffic obfuscation, and MultiHop servers. You can pay using various cryptocurrencies for added privacy.
One of the big perks of a Surfshark subscription is there's no limit to the number of devices you can connect. This provider has desktop clients for Windows, macOS, and Linux, and mobile apps for iOS and Android.
Pros
Lots of security extras
No device limit
No logs whatsoever
24/7 live chat
Cons
BEST BUDGET TOR VPN:Surfshark goes above and beyond with a number of security extras. It has a strict no-logs policy and accepts Bitcoin and other cryptocurrencies. Surfshark extends a 30-day refund policy (which includes cryptocurrency payments).
ExpressVPN is a solid alternative for a Tor VPN. It puts a huge emphasis on security and privacy and has great speeds. It also works in countries with strict digital censorship like the UAE and China.
Security features include 256-bit encryption with perfect forward secrecy, protection against leaks, and a kill switch (called a network lock) in the desktop apps. The latter will kill the internet connection should the VPN connection drop so that your data remains protected.
This provider will never keep any logs of user-identifying data. You can pay using Bitcoin which allows for better anonymity. ExpressVPN has a .onion site that can only be accessed through Tor, which means you can sign up anonymously.
Apps are available for Windows, macOS, Linux, iOS, and Android. Select routers can be set up manually or using ExpressVPN's custom firmware. You can connect up to five devices at a time. Live chat is available 24/7 to help with setup and troubleshooting.
Pros
Offers fast speeds
Doesn't keep logs of personally identifiable information
Provides tight security
Has a .onion site
Cons
Priced a bit higher than rivals
PRIVATE AND SECURE:ExpressVPN is fast and secure and respects user privacy. It offers a 30-day money-back guarantee (even on Bitcoin payments).
CyberGhost is probably the strongest VPN out there when it comes to online security and privacy. Plus it has reliable connections, fast speeds, and a rapidly expanding server network.
Your traffic is protected at all times with 256-bit encryption, perfect forward secrecy, a kill switch (in all apps), and leak protection. You can activate automatic wifi protection on familiar networks or block trackers automatically. CyberGhost doesn't store any logs and accepts Bitcoin payments. Signup email addresses are encrypted and users are assigned an anonymous ID, adding a layer of privacy.
CyberGhost allows for seven devices to be logged in at a time. Apps are available for Linux, Windows, macOS, Android, and iOS.
Pros
Superior security and privacy
Strong speeds
Seven-device limit
Cons
NO LOGS VPN:CyberGhost has always been known for its strong security and privacy. It uses tight encryption and never maintains logs. CyberGhost comes with a 45-day money-back guarantee (including when you pay using Bitcoin).
IPVanish has been around for many years and has gained a loyal following. Fast speeds mean you shouldn't see a noticeable slowdown to your Tor connection.
Strong encryption is provided in conjunction with perfect forward secrecy. There's a kill switch (in the desktop apps) and protection against leaks. IPVanish doesn't store any user-identifying information. There's also a traffic obfuscation feature that makes your VPN traffic look like regular traffic, though this is only available with OpenVPN. WireGuard connections are supported too, in case you're looking to maximize speed. In addition, IPVanish accepts cryptocurrency payments.
IPVanish apps are available for Windows, macOS, iOS, and Android. You can connect an unlimited number of devices at any given time.
Pros
Speedy VPN
Doesn't keep logs
Traffic obfuscation feature
Cons
Doesn't accept cryptocurrency payments
PRIVACY-FOCUSED:IPVanish is secure and private. It provides fast and reliable connections and extends a 30-day refund policy.
PrivateVPN is another VPN that performs well in terms of privacy and security. It even offers a special option for Tor users: VPN over Tor. I discuss this in more detail below, but this setup can help you access sites that block Tor traffic.
This provider doesn't store any traffic or connection logs and protects traffic with military-grade encryption in conjunction with perfect forward secrecy. Other security features include protection against leaks and a kill switch, although the latter is only available in the Windows app. You can pay for this VPN with Bitcoin and as it acts as its own ISP, there are no middlemen between you and PrivateVPN. PrivateVPN also accepts cryptocurrency payments.
PrivateVPN has a smaller server network than others on this list but speeds are excellent. Apps are available for Windows, macOS, iOS, and Android. Up to 10 simultaneous connections are allowed.
Pros
VPN over Tor guide
Great speeds
Strong encryption
Cons
Kill switch is Windows-only
FAST AND PRIVATE:PrivateVPN keeps no logs, accepts Bitcoin, and has a strong suite of security features. Plans come with a 30-day money-back guarantee, even if you pay with Bitcoin.
Atlas VPN is a smaller provider with just under 800 servers in about 40 locations. It provides fast and secure browsing.
Atlas VPN's security features include 256-bit AES encryption, a kill switch, and protection against DNS, WebRTC, and IPv6 leaks. This service stores no logs either and even offers MultiHop servers that can encrypt your data twice. It also accepts cryptocurrency payments.
Atlas VPN apps are available for Windows, macOS, Android, and iOS. This service supports an unlimited number of connections.
Pros:
Fast connection speeds
MultiHop servers can encrypt data twice
No identifying logs stored
Cryptocurrency payments accepted
Cons:
Doesn't work in China
Customer service could be better
STRONG ENCRYPTION:Atlas VPN is an excellent offering with strong security in place. You can also make your payments more anonymously for your subscription by paying with cryptocurrency, ensuring that your name isn't associated with the transaction. Atlas VPN offers a 30-day money-back guarantee.
Testing methodology: finding the best VPN for Tor
There are a number of different VPN services out there. However, not all of them are that great. In order to find the best VPN for you, I reviewed many different providers in order to arrive at the final list above. Here are some of the factors that I considered while creating my list:
Servers: There should be several different options for users, ensuring that they are able to choose a secure server in a location of their choice.
Security: In order to keep users' identities private, strong security measures must be in place to encrypt data and prevent information from being leaked.
Speed: While some reduction in speed is expected, the speeds offered by a VPN must be fast enough to allow users to use the internet at a comfortable speed, even after connecting to the Tor network.
Cryptocurrency payments: Cryptocurrency payments allow for a greater level of anonymity since users' names aren't associated with their payments. This is essential for those seeking to mask their presence through the use of VPNs and the Tor network. The VPNs on this list all allow for cryptocurrency payments.
You can find out even more information about my extensive methodology testing process here.
How to use a VPN with Tor
The simplest way to use a VPN with Tor is to set up Tor over VPN, this just means that you connect to your VPN and then open Tor. Don't worry if that sounds complicated, we'll explain the simple steps below.
Here's how to use a VPN with Tor:
Sign up with your chosen VPN provider. I recommend NordVPN.
Choose a server and ensure a connection is established.
Open Tor browser.
You're ready to surf the web.
The alternative is a setup known as VPN over Tor, which involves connecting to the Tor browser first. Read on for more details on the pros and cons of each setup.
VPN over Tor versus Tor over VPN
The above steps show you how to set up Tor over VPN, which is usually preferable. However, it's worth knowing about both setups and their advantages and drawbacks.
Tor over VPN: You connect to the VPN then Tor. Outgoing traffic is encrypted by both Tor and the VPN. It then goes to the VPN server before going through the Tor network.
VPN over Tor: You connect to Tor then the VPN. Outgoing traffic is still encrypted by both but it now goes through the Tor network before going through the VPN server.
Here are some of the main features of each setup:
VPN for Tor FAQs
Can I use a free VPN with Tor?
Free VPNs can seem very appealing, but they're generally a bad idea, especially so for this use case. Free VPNs are notorious for their lack of security and privacy. Many track information about users including their real IP addresses and the sites they visit – not what you want when you're trying to improve anonymity.
Free VPNs also tend to have very slow speeds. They typically have a huge number of users vying for a small number of servers. With the Tor browser already slowing down your internet connection, you really need a fast VPN to keep browsing at a bearable pace.
Paid VPNs prioritize user privacy and offer much faster speeds, making them far better options for Tor VPNs. If you're on a budget, then why not check out my cheap VPN recommendations?
Are VPNs safe?
Yes, VPNs are safe to use. Using a VPN while browsing is actually safer than not using one. With a VPN, your IP address is masked and your browsing activity is protected from the prying eyes of governments and internet service providers. Adding the protection offered by a VPN together with that provided by TOR further increases your protection.
Are VPNs legal?
Yes, VPNs are legal. However, VPNs don't protect users from the consequences of committing illegal activities while using one. With that being said, don't take anything in this article as legal advice.
Will my internet connection be slow?
When you connect to just the Tor network you will notice a slow down, as Tor routes your internet connection through many different relays. Therefore, when used in conjunction with a VPN, speeds that are slightly slower than the usual Tor speeds are to be expected.
Is the Tor network legal?
The Tor network is legal but it has been linked to some illegal activity in the past, which can lead to it being viewed in a dim light by ISPs and governments who may try to block access to it. However, using Tor over VPN can hide that you're using Tor in the first place, allowing you to bypass any blocks.