9Now is a popular online streaming service based in Australia that uses geographical restrictions to limit its viewership to Australian residents. Attempting to access the service from abroad produces an error message that reads, "Sorry, 9Now is only available in Australia." If you're an Australian resident traveling internationally, the service will determine your location from your IP address and lock you out of the platform.
But there is a workaround for streaming outside of Australia. By using a VPN, or a Virtual Private Network, you can spoof your true location by substituting your true IP address with the IP address of a server located somewhere else in the world. VPNs are privacy tools that encrypt your internet traffic and route it through an intermediary server of your choosing, and each of the VPNs on this list offer thousands of server locations in several countries all around the world. This means you should have no problem securely logging into 9Now when traveling outside of Australia or accessing the full libraries of your other home streaming platforms from abroad. Because the VPN encrypts your traffic, you will also be able to browse the internet anonymously and evade monitoring from your internet service provider and advertisers.
Listed below are my top 6 VPNs for unblocking 9Now. I'll dig into the fine details of each individual VPN, but if you're short on time, here's a summary of my top picks:
With so many great VPNs options on the market, it can be difficult to identify the ones with the best speed, security, and for streaming 9Now when overseas. I compiled this list based on the following criteria:
Capable of securely accessing 9Now and other streaming services
Wide selection of servers around the world, including locations in Australia
High-speed connection speeds for HD streaming abroad
Reliable privacy protections
Keeps no logs
How to unblock 9Now from abroad with a VPN
Don't worry if you've never used a VPN before—unblocking geo-restricted platforms like 9Now is fast and easy, even for beginners. Follow the steps below:
Select a VPN that meets your needs. I recommend NordVPN.
Download and install the VPN app for your streaming device.
Connect to a server located in Australia
Access the 9Now website and play a video to test the connection. If you encounter an error message, try clearing your cache and cookies before trying again. You may also need to try a few different servers before finding one that works.
If you only have a short-term need for a VPN, like going on a vacation, there is a way to get a quality VPN service for free. You can utilize NordVPN's free 30-day money-back guarantee to your benefit and receive a full refund after using the service on your trip. You can cancel at any time, no strings attached.
The best VPNs for 9Now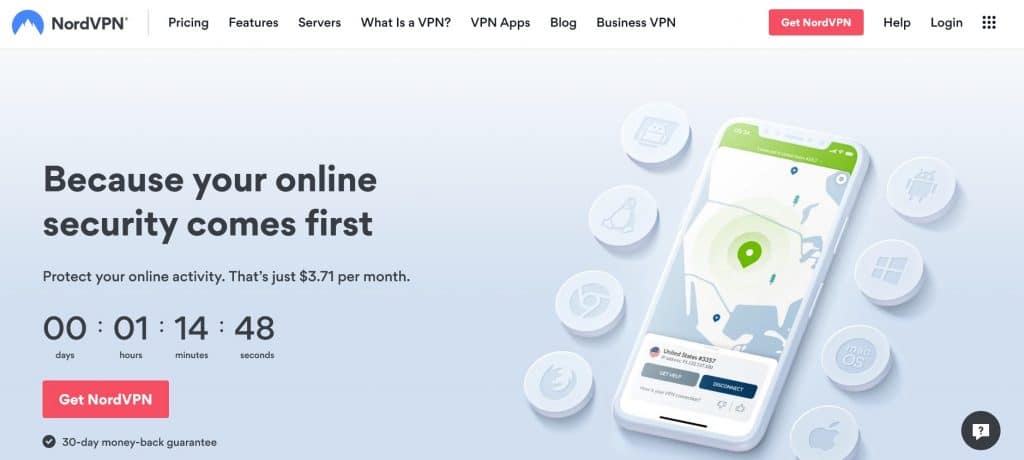 NordVPN's wide selection of servers, fast speeds, and strong security make it my first choice for streaming 9Now. With more than 5,300 servers in 59 countries around the world, NordVPN operates one of the largest server networks on the market—and that includes more than 190 servers in Australia alone. NordVPN offers servers optimized for P2P file-sharing and DDoS protection, six simultaneous connections, and is capable of securely accessing popular streaming platforms like 9Now, Netflix, and Hulu.
Users' traffic is protected with 256-bit encryption, an application-specific kill switch, automatic ad blocking, a malware scanner, and protection against IPv6, DNS, WebRTC, and port forwarding leaks. Users can fortify themselves with additional security by using double VPNs, using Tor in combination with a VPN, and signing up anonymously by paying in Bitcoin. NordVPN follows a strict no-logs policy to keep you anonymous and untraceable while using the internet.
Apps are available for Windows, Linux, MacOS, iOS, and Android devices. Network routers can be manually configured to work with NordVPN.
Pros:
Over 190 servers in Australia
Excellent server speeds for HD streaming
A suite of powerful security features
Stores zero logs
24/7 customer support
Cons:
Desktop app can be difficult for VPN beginners to use
TOP CHOICE FOR 9NOW:NordVPN is my number one option for 9Now. Features the strongest security on the market and fast connection speeds. Offers six simultaneous connections and zero logs. Try it risk-free for 30 days.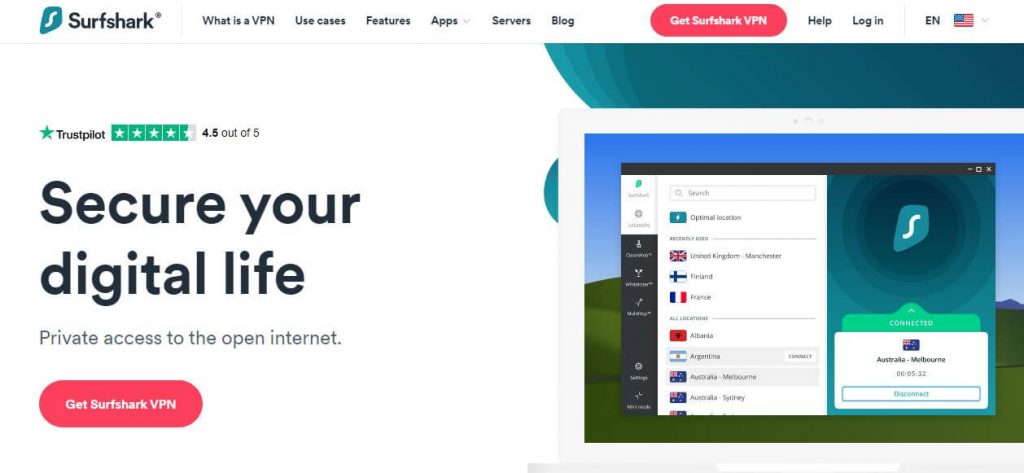 Surfshark is a great VPN for streaming-oriented users on a budget. Customers can overcome geographical restrictions by having access to more than 3,200 servers in 65 countries. In addition to 9Now, Surfshark users can watch the full video libraries of major platforms like Netflix US, BBC iPlayer, and Amazon Prime Video. Surfshark's unlimited simultaneous connections make it a worthy option for those who own a lot of devices.
Your privacy is protected with 256-bit AES encryption, a kill switch for sudden connection loss, and protection from WebRTC, IPv6, and DNS leaks. Surfshark's built-in split tunneling feature will let you access different services from a variety of different countries without having to switch the VPN on and off. Surfshark keeps no logs on its users so your online activities can't be traced back to you. Like NordVPN, Surfshark's payment options include Bitcoin. Customer service is available 24/7 over live chat.
Apps are available for Linux, Windows, MacOS, Android, and iOS. It can be manually configured to work with supported network routers.
Pros:
Meets high standards for security
Streams HD video content from abroad
Unblocks most popular streaming sites including 9Now
24/7 live chat
Unlimited simultaneous connections
Cons:
You might run into a few slow servers here and there
LOW-COST SECURITY:Surfshark's low price of does not mean low quality. Streams at fast speeds while protecting your privacy. Includes a 30-day money-back guarantee.
ExpressVPN streams live content at fast speeds from more than 3,000 servers in 94 countries, including locations in four Australian cities. It is one of the best VPNs for circumventing geo-blocked content and can unblock services like Netflix, Amazon Prime Video, and BBC iPlayer from abroad.
This VPN combines speed and security with 256-bit encryption, a kill switch on the desktop version, perfect forward secrecy, and DNS and IPv6 leak protection. ExpressVPN logs none of its user's personally identifiable information and allows anonymous payments in Bitcoin.
ExpressVPN apps are available for Linux, Windows, MacOS, Android, and iOS. The company provides custom firmware for wireless routers to make manual installation simple and fast.
Pros:
Plenty of server locations in Australia
Fast speeds for HD streaming, downloading, and gaming
Features a high quality of privacy protections
Unblocks everything I've thrown at it, including 9Now
Cons:
One of the pricier VPNs on this list
SMOOTH STREAMING:ExpressVPN unblocks 9Now, and most other streaming services from abroad without compromising on security. Comes with a 30-day money-back guarantee.
If you've never used a VPN before, CyberGhost is a good first VPN. It is designed to be as user-friendly as possible and allows its users to pick a server based on which streaming service you want to watch. There are more than 6,900 servers around the world to choose from, including 179 in Australia that for securely accessing Australian content including 9Now.
CyberGhost uses 256-bit encryption and always leaves its kill switch on, which will instantly halt all internet traffic in case you suddenly lose connection to the VPN. Users are protected from IPv6 and DNS leaks at all times. CyberGhost won't record any of your session or activity data and accepts anonymous Bitcoin payments. Customer support is available 24/7 over live chat.
Beginner-friendly apps are available for Windows, Android, Linux, and iOS. Supported internet routers can be manually configured.
Pros:
Over 200 servers in Australia
Easy-to-use apps are great for beginners
Streaming-optimized servers
Protects your privacy online
Zero logs
Cons:
Blocked in China
Advanced users might want to look elsewhere for customizable features
FIRST-TIME VPN:CyberGhost helps beginners get started with their first VPN. Fast streaming speeds and reliable security standards. Includes a 45-day money-back guarantee.
IPVanish is another worthwhile choice for people with a lot of devices, thanks to its unlimited simultaneous connections. IPVanish operates more than 1,600 high-speed servers in 75+ locations around the world, including 67 in Australia.
This VPN uses 256-bit encryption, a kill switch, and DNS and IPv6 leak protection to keep your personal data safe. Some other features include the option to obfuscate OpenVPN traffic, change your IP address regularly, and block all local traffic. IPVanish follows a no-log policy to keep your identity hidden online. You can reach out to the company's 24/7 customer support if you encounter any problems.
IPVanish apps are available for Windows, MacOS, iOS, Android, and Amazon Fire apps. Linux systems and wireless routers must be configured manually.
Pros:
Over 50 servers in Australian cities
Unblocks 9Now from abroad
Major emphasis on privacy and security
Unlimited simultaneous connections
Cons:
Customer support can be slow to respond
Not the largest selection of servers on this list
UNLIMITED DEVICES:IPVanish puts your privacy first with its strong security features and no-logs policy. The lack of device limit makes it great for families. Yearly plan comes with a 30-day money-back guarantee.
PrivateVPN's relatively small server network (80 servers, 1 in Australia) is evened out by its higher-than-average connection speeds that can stream 9Now in high quality with few or no pauses. PrivateVPN is also capable of unblocking Netflix and Hulu.
Your online traffic is safe with 256-bit encryption, an internet kill switch, and protection against DNS, IPv6, and WebRTC leaks. This VPN allows anonymous payments in Bitcoin and logs none of its customers' personally identifiable information. Customer support is available 24/7 over live chat and they can even help remotely install the VPN for you, with your permission.
Pros:
Offers Australian servers for unblocking 9Now from overseas
Fast speeds and allows P2P
Six simultaneous connections
256-bit encryption, a kill switch, and leak protection
Cons:
Small server network
Customer support is not available 24/7
FAST AND RELIABLE:PrivateVPN lifts restrictions on 9Now and most other streaming sites. 30-day money-back guarantee.
Can I watch 9Now with a free VPN?
It is tempting to save your cash by opting for a free VPN, but I advise against them. First of all, your streaming experience will be ruined by slow internet speeds and frequent buffering due to the poor performance of free VPNs. Most free providers operate small server networks that are usually overwhelmed by a large volume of users at once. Furthermore, 9Now and other popular streaming services have strict geographical restrictions that free providers usually don't have the resources to circumvent.
If an online service is free, you can bet that your information is being harvested for profit. They usually derive their revenue from ads that are inserted into your web browser or by selling your personal information to third parties, usually through tracking cookies. Malware threats lurk on dozens of free VPNs in the Google Play Store, and many don't even encrypt your traffic, putting you at risk of monitoring as well as DNS and IPv6 leaks. Even the most popular and trusted free providers aren't safe—Hola, for instance, was caught facilitating a botnet by selling its users' idle bandwidth.
If want to retain your privacy online, stick with a reputable, paid VPN—free services are no better about protecting their customers' privacy than internet service providers.
Can I sign up for 9Now from abroad?
Yes, a VPN will allow you to sign up for a 9Now account if you live outside of Australia. Unlike most streaming services, the entire 9Now website is geo-locked instead of just its video content, which means you won't be able to register at all without a VPN. Signing up is free and takes only a minute—you just need to verify your email address.
What can I watch on 9Now?
9Now offers a wide range of live and on-demand video content, including the following popular titles:
2 Broke Girls
Borderline
Ellen
ER
Love Island Australia
Steven Universe
The Big Bang Theory
The Voice
Yokai Watch
Young Sheldon
See also:
Stream 9Now FAQ
How do I activate 9Now on my TV?
To activate 9Now and stream it to your TV, perform the following steps: 1.Log into the 9Now website or app (or create a new account if you don't have one yet). 2.Open the 9Now app on your TV and click on a show. Click the Login button. 3.Now, you should see a six-character code on your TV. Type this into the 9Now app or website on your phone or PC to finish linking your devices.
Is streaming 9Now with a VPN legal?
Yes, VPNs are legitimate privacy tools that are legal in almost every country, including Australia. However, when accessing any content with (or without) a VPN you should check you the legal right to do so.
Can I also stream live sports from Australia?
Yes, there are a wide range of Australian streaming services specializing in live sports content. Among these are Kayo, Foxtel Now, FOX Sports, Optus Sports, and beIN Sports Connect.
Can you download TV episodes from 9Now?
Unfortunately, 9Now is not a streaming service that supports a download feature for offline viewing. The only way to download 9Now content is to use a third-party downloader script, and I can't verify if any of these would be safe to use.
How do I download 9Now on my smart TV?
9Now supports Samsung, Sony, Apple TV, and LG smart TVs, in addition to an official app featured on the Google Play Store. The app should be available on any Android-based TV. The app is only available in Australia, however, so you will have to change your Google Play region in order to download it. There are alternatives available for those with TVs from other brands or don't have access to the Google Play Store. 9Now can be installed on Playstation and Chromecast devices. I do not recommend sideloading unsupported apps onto your TV, as it could be permanently damaged by the attempt.