When you visit Spain, you'll notice that the Netflix video library is different from what you'd get in the US. I'll explain how to use a Virtual Private Network (VPN) to watch US Netflix in Spain and the best VPNs for the job.
You can access Netflix from Spain even if you signed up for the service in the United States or any other country. However, the library offered by Netflix is different depending on where you're located. The service offers a wider choice of titles with US Netflix, particularly if you only speak English.
A Virtual Private Network (VPN) can help you watch US Netflix from Spain or anywhere else in the world. A VPN will encrypt your traffic and tunnel it through a server in a location of your choice. When you choose a US server, your Spanish IP address will be replaced with a US IP address, making it appear to Netflix and other streaming sites that you're located in the US.
Very few VPNs can perform this relocation trick convincingly. A lot of websites, including Netflix, can tell when a request has been delivered by a VPN, which is a type of "proxy." If your VPN is no good, you will see this message when you try to play a video on Netflix:
"Whoops, something went wrong. Streaming Error. You seem to be using an
unblocker or proxy. Please turn off any of these services and try again."
In this article, I'll explain how to access US Netflix from Spain and the best VPNs for a US IP address. I'll also explain more about the mechanisms that Netflix uses to alter its website for each country.
How to get American Netflix in Spain
If you want to watch US Netflix while you are in Spain, follow the simple instructions below. Don't worry, even if you've never used a VPN before, the set-up is easy.
Here's how to watch Netflix USA in Spain:
1. Sign up for a Netflix VPN. I recommend NordVPN.
2. Install the appropriate app for your device.
3. Open the app and select a Netflix VPN server in the USA.
4. Turn the VPN on.
5. Go to netflix.com in your browser, select a video, and enjoy.
If you're still having trouble try clearing your cache and cookies and then reloading the page.
Some VPNs that enable you to access Netflix from abroad don't put that capability into all of their US servers. The appropriate servers are usually labeled, but if you can't spot them, you can contact your VPN provider's customer support team for help.
How to choose the right VPN to unblock Netflix USA in Spain
Apart from being able to unblock Netflix, VPN services need other qualities in order to make it onto my list of recommendations. These are:
A large server list in the USA
Fast speeds
Easy-to-use apps
A prompt and knowledgeable customer support service
Strong privacy measures
Best VPNs to watch Netflix USA in Spain
Here are the best VPNs to watch US Netflix in Spain: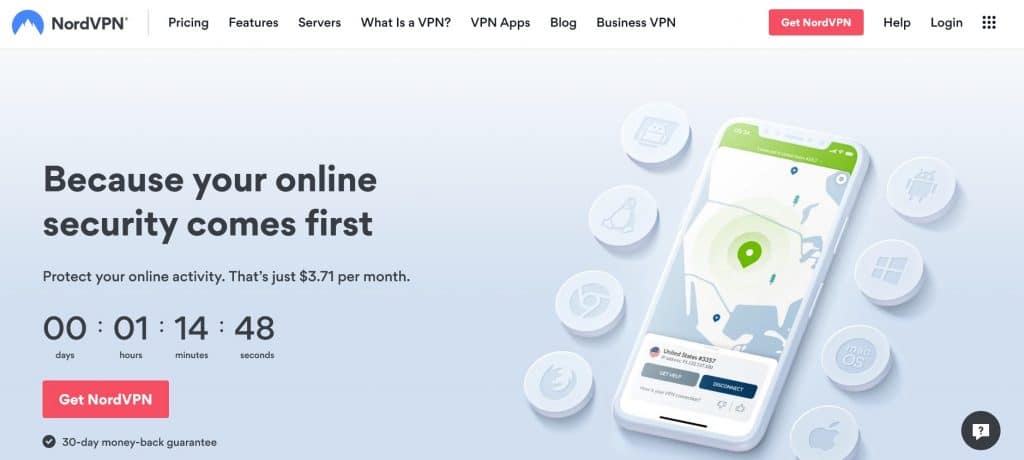 NordVPN is my first choice for unblocking Netflix USA from Spain, as well as other US online video services, including ABC, NBC, CBS, and Hulu. The service offers blazing fast speeds and gives you access to locations in 62 countries, so you'll be able to enjoy video streaming sites from all over the world, including the UK's BBC iPlayer.
Apps will run on Windows, macOS, iOS, Android, and Linux. They include a kill switch and CyberSec. The latter strips out ads, blocks pop-ups, prevents infected web pages from loading and stops your computer from becoming part of a botnet to launch DDoS attacks. The VPN can be set up manually on routers and set-top boxes. NordVPN gives each customer a six-device simultaneous connection allowance.
Connection security includes a private, protected DNS lookup service and encryption to secure all of your internet communications. The company doesn't keep activity logs.
Pros:
Easy-to-use apps
Incredible speeds
Large server network in the USA
Extra security measures
Keeps no logs
Cons:
Server switching can be slow
BEST SPAIN VPN:NordVPN is my first choice for a Spain VPN. The ability to unblock US Netflix is a feature that is usually only available with the most expensive VPN services. You get a 30-day money-back guarantee with your subscription making this a risk-free option.
Surfshark is a budget VPN that is excellent at unblocking. It can help you access Netflix US and more than a dozen other libraries, as well as Hulu, Amazon Prime Video, NBC, CBS, ABC, and many more channels. It operates more than 3,200 servers spanning 65 countries, so you have plenty of choice.
Apps are available for Windows, MacOS, Linux, Android, and iOS. You can set up the VPN manually on select routers. No matter what app you're using, Surfshark never maintains any logs of your activity. A huge bonus is there's no limit on the number of devices you can connect at a given time.
Security is in the form of 256-bit encryption, a kill switch, and leak protection. There are plenty of extras including split tunneling, automatic wifi protection, automatic ad blocking, and an optional private search feature.
Pros:
Fast speeds
Great at unblocking
Doesn't keep any logs
Unlimited connections
Cons:
Customer support could be refined
BEST BUDGET VPN:Surfshark is a great wallet-friendly alternative that offers fast speeds, tight security, excellent unblocking potential, and no connection limit. Plans include a 30-day money-back guarantee.
ExpressVPN has servers in the USA that can bypass US Netflix access restrictions from Spain. It's fast and lets you stream HD video from American Netflix to Spain without interruption.
Aside from Netflix, ExpressVPN can help you unblock ABC, NBC, CBS, and Fox, as well as premium subscription online TV services, such as C SPAN, HBO Go, and Hulu, as long as you have accounts with them. ExpressVPN has servers in 94 countries, so you can sample video from streaming services all over the world, such as BBC iPlayer in the UK.
A kill switch in the desktop apps prevents other programs on your device from exposing your real location by connecting to the internet without VPN protection. ExpressVPN uses 256-bit encryption, provides DNS leak protection, and doesn't log any personally identifiable information.
Apps are available for Windows, macOS, Linux, Android, iOS, Amazon Fire TV, Amazon Fire Stick, Fire tablets, and flashed routers. Five simultaneous connections are allowed on each account. Live chat support is available 24/7.
Pros:
Fast speeds
Apps for all major operating systems
Great for unblocking
24/7 live chat
Cons:
A bit pricier than others on this list
GREAT FOR NETFLIX:ExpressVPN is another solid pick for unblocking US Netflix from Spain. This service gives you strong security, fast speeds, ease of use, and ability to evade detection. ExpressVPN offers a 30-day no-fuss money-back guarantee.
CyberGhost is great at unblocking US Netflix from Spain. It has servers in 59 countries so it is able to unblock many other sites from around the world. This is a very fast service, so it's a good choice for streaming HD video from anywhere and is great for torrenting too.
The company refrains from keeping any logs and it doesn't even collect payments itself, so it avoids having to keep identifying customer bank details on file. Security features include strong encryption, DNS leak protection, and a kill switch.
Apps are available for Windows, macOS, Android, iOS, Amazon Fire TV, and Amazon Firestick. The VPN system can be set up manually on Linux computers, routers, and set-top boxes. A subscription includes an allowance of seven simultaneous connections.
Pros:
Fast speeds for international video streaming
Very strong encryption
No-logs policy
Cons:
Accessing customer support breaks anonymity
STRONG ENCRYPTION:CyberGhost gives you industry-leading encryption protection and thorough account privacy. All new customers get a quibble-free 45-day money-back guarantee.
IPVanish offers fast speeds making it a great option for streaming HD videos — including US Netflix from Spain — and torrenting. IPVanish runs its own servers in 60 countries so you'll be able to access video streaming services from various locations.
All of your connections will be secured by encryption and your privacy is protected further by DNS leak protection and a kill switch. IPVanish adheres to a strict no-logs policy.
Apps run on Windows, macOS, Android, iOS, Linux Mint, Amazon Fire TV, and Amazon Fire Stick. You can set up the VPN manually on Ubuntu, Kali, and Fedora Linux, routers, and set-top boxes. IPVanish's unlimited connection allowance is one of the most generous in the industry.
Pros:
US-based service
Fast speeds
Allows 10 simultaneous connections
Cons:
Customer support can be slow to respond
Doesn't unblock as many streaming sites as rivals
FAST AND PRIVATE:IPVanish is fast for downloading and streaming, and allows a whopping 10 simultaneous connections. It offers a 30-day money-back guarantee.
PrivateVPN was created by internet freedom activists. Its ability to unblock US Netflix from Spain is an example of that freedom. It's known for its ability to unblock lots of other streaming services too, so with servers in 59 countries, you'll have plenty of options when it comes to viewing online content.
Another important feature that you need for streaming video is the great speed offered by this VPN. That high transfer rate and strong privacy protection also make this an attractive VPN for torrenters. Security measures include strong encryption, DNS leak protection, and a kill switch.
As you would expect from privacy specialists, PrivateVPN does not keep activity logs. You pay for the service via a separate company, Cleverbridge, which is the same payment processor that CyberGhost uses. PrivateVPN doesn't keep any information about its customers. You don't even need to give your email address to get a response from the customer support team which is available via live chat during Western European business hours.
Apps run on Windows, macOS, Android, and iOS. The VPN can be set up on Linux, routers, and set-top boxes. You get an allowance of six simultaneous connections.
Pros:
Good speeds for streaming video from the USA
Account anonymity measures
Strong no logs policy
Cons:
Only has 14 servers in the USA
Live chat not available 24/7
EUROPEAN VPN:PrivateVPN is based in Sweden and offers very strong privacy protection. The company includes a 30-day money-back guarantee in all subscription packages.
Can a free VPN unblock Netflix US in Spain?
Now you know how clever VPNs are, it probably comes as a surprise that some of them are free. How can a business afford the resources it takes to unblock Netflix without charging users? The answer is: they can't. Free VPNs typically can't enable access to Netflix. In fact, even the vast majority of paid VPNs can't unblock Netflix from abroad.
VPNs have to pay carriers to get their traffic across the internet. As with anything, the more you pay, the better service you get. The services in my list pay a lot for high speeds, but free VPNs cut costs by compromising on the speeds they get out of their carriers. So, most free VPNs are so slow, you couldn't possibly use them for streaming video.
Aside from being a poor choice for streaming, free VPNs are typically lacking from a security and privacy standpoint too. They often offer weak encryption (if any at all), and some track user data for sale to third-party advertisers.
Overall, it's better to pay a few dollars per month for a reputable provider.
How does Netflix detect your country?
Netflix offers a very sophisticated international service. The address for the site is exactly the same all over the world. You access the website in the USA with the address netflix.com. In Spain, everyone uses the same address because there is no netflix.es. This system prevents you from specifying a country version.
The Netflix web server detects the origin of each request for the Home page and sends the version that is appropriate for that country. Your experience of the website is adapted to the country of your location from then on.
The way that the Netflix server knows where you are is by looking at the return address on the request. Every device connected to the internet has a unique identifier, called an IP address. That address isn't permanently allocated. Usually, it is owned by your Internet Service Provider (ISP). So, when you connect to the internet in the United States you will be allocated an address there. When you take your laptop to Spain, the IP address doesn't travel with you. When you connect to the internet in Spain, the ISP that facilitated that connection will give you an address from its own pool. Based on your IP address, Netflix servers can tell which country a request came from and adapt the returned web page accordingly.
The Netflix site will look similar wherever you access it from. However, the language of the text will match the default language of the country that your IP address is registered to.
How Netflix language settings work
You can't get beyond the Home page of Netflix without logging into your account. Each account holder has a profile, and a language setting is part of that record. By default, the Netflix membership system logs the profile language as that of the country that the member was in at the time of signup.
However, it's possible to change your profile language. This factor is very important because the Netflix server uses that information to tailor the whole site. Once you log in, the language of the text on the site will change to your profile language.
When you log in to an account for the first time, the system stores your username and password in a cookie on your computer. So, on subsequent visits, you will be logged in automatically. When you no longer need to log in, you are taken past the Home page in the local language straight to the viewer selection page, which will be displayed in your profile language.
Netflix video library
By the time you get to the video selection page, the system knows your location and your profile language. The video library presented to you is influenced by these two factors. Up to this point, with all of the site text being in English and not Spanish, you probably won't notice any difference between US Netflix and Spanish Netflix. They both look exactly the same, even when you get to the video library.
Netflix owns a lot of English-language videos that it has the right to show in Spain. You will only notice if some options are missing if you were already halfway through watching a series in the USA and that option does not appear in the video library that you see from Spain. Take a look at the following screenshot of the video library in US Netflix:
Now look at a snapshot of the video in Spanish Netflix that was taken just a few minutes after the US Netflix image:
At first glance, both look the same. However, not all of the videos available in the US Netflix version are available in Spanish Netflix, although most are there. In this instance, "Waco" is available in US Netflix, but not in Spanish Netflix. I executed a search in Spanish Netflix for this title to check whether it is available elsewhere in the system, but it isn't.
This demonstration gives you an accurate understanding of the situation with Netflix when you move from one country to another. Because of the ability of the system to present the website in your home language, the whole site seems exactly the same. Also, because Netflix buys the right to show a lot of US entertainment in a lot of other countries, such as Spain, the video library will seem, at a cursory glance, to be exactly the same. It is only when you look for a specific title that you will realize that there is a difference.
You can see that you will get plenty of US videos to watch when you are in Spain. However, if you plan to be there for a while, you will soon run through the backlog of unwatched videos and new videos are not added at a pace that could keep you entertained daily.
A VPN will divert your traffic through a server location that you choose. All of your internet communications get forwarded on by the VPN server with its address as the origin of the request. If you choose a VPN server in the United States, your requests will arrive at the Netflix server with a US return address on them. This will fool Netflix into giving you the US version of the site, even though you are in Spain.