Netflix isn't the same in Denmark as it is in the US – it has a lot fewer shows to choose from. We explain how to use a Virtual Private Network (VPN) to access US Netflix from Denmark, and the best VPNs for the job.
You can access Netflix from almost anywhere in the world, but the content library is different depending on your location. You get a much wider selection of shows and movies with US Netflix than in Denmark, particularly when it comes to English-language content.
A Virtual Private Network (VPN) can help you access the US Netflix library from Denmark or anywhere else in the world. A VPN tunnels your traffic through an intermediary server. This helps you evade location detection systems by replacing your IP address with one from a location of your choice. If you want to access American Netflix, you simply connect to a US VPN server.
Not every VPN can fool Netflix, and with the wrong provider, you will see this message when you try to watch US Netflix from Denmark:
"Whoops, something went wrong. Streaming Error. You seem to be using an unblocker or proxy. Please turn off any of these services and try again."
In this article, I'll explain how to use a VPN to bypass Netflix's geo-restriction measures and reveal the best VPNs for the job. I'll also explain more about how Netflix controls access to its videos.
How to get Netflix USA from Denmark
If you want to watch US Netflix while you're in Denmark, follow the simple instructions below.
Here's how to watch Netflix USA in Denmark:
1. Sign up for a competent VPN. I recommend NordVPN.
2. Download and run the install file to set up the VPN app.
3. Open the app and select a Netflix VPN server in the US.
4. Turn the VPN on.
5. Navigate to netflix.com, select a video and watch.
If the steps above don't work immediately try clearing your browser's cache and cookies then reloading the page.
For some providers that can unblock Netflix, not every US server will work. Some top VPNs put that capability only in a few servers so that they can concentrate their firepower. Netflix-compatible servers will often be labeled as such, but if you can't spot them, just ask your VPN provider's customer support team which server will unblock American Netflix in Denmark.
How to choose the right VPN to unblock Netflix US in Denmark
The VPNs on this list can reliably unblock American Netflix from Denmark. However, I also took into account other factors when ranking the best services for this task:
A wide US server network
High-speed connections
An easy-to-use app that installs itself
Solid customer support
Strong encryption and privacy measures
Best VPNs to access US Netflix from Denmark
After extensive testing, I have compiled a list of the five most reliable VPNs to access US Netflix in Denmark and you can read about them below.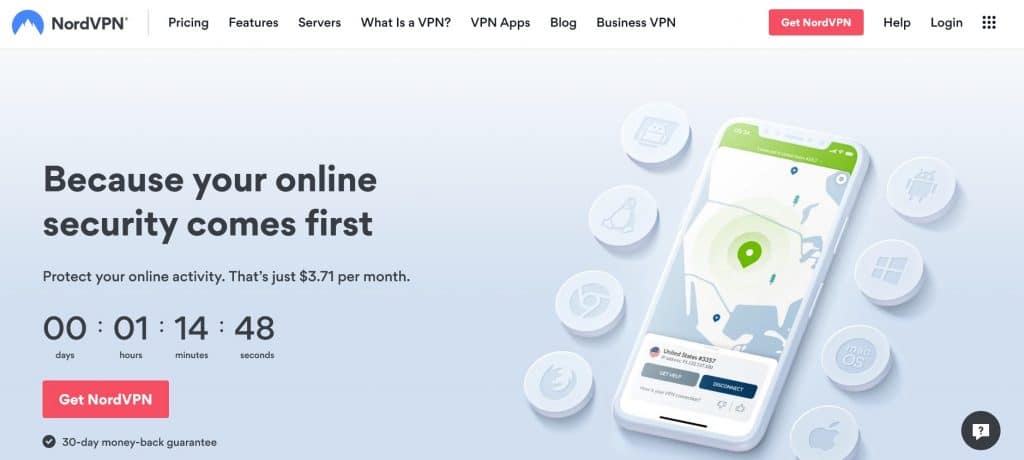 NordVPN is my top choice for accessing Netflix USA from Denmark. It will also unblock Hulu, Amazon Prime Video, ABC, NBC, and CBS, among other video streaming sites. The company's server network covers 62 countries, giving you the opportunity to sample entertainment from services in other regions, such as BBC iPlayer in the UK. NordVPN speeds are the fastest I've seen and are more than good enough for continual streaming from US Netflix.
Apps contain a kill switch and a security system, called CyberSec. This blocks infected web pages, strips out ads, prevents pop-ups and stops your computer from being used as part of a botnet to launch DDoS attacks. Connection security includes protected DNS calls and encryption to obscure the details of your connections. The company does not keep activity logs.
Apps install on Windows, macOS, iOS, Android, and Linux, and there are browser extensions for Chrome and Firefox. You can create VPN connections manually on certain routers and set-top boxes. You get a six-device simultaneous connection allowance.
Pros:
Large server network in the USA
Many extra security options for free
Keeps no logs
Less expensive than many rivals
24/7 support
Cons:
Desktop app could be refined
BEST DENMARK VPN:NordVPN is your best option for streaming Netflix from anywhere. The ability to access US Netflix is a feature that's usually only available with the most expensive VPN services. You get a risk-free 30-day money-back guarantee with your subscription.
Surfshark is a great budget alternative that offers all the bells and whistles you'll find from pricier VPNs. This VPN operates a growing network of over 3,000 in more than 60 countries. It pegs great speeds and can unblock more sites than most competitors. Unblocking Netflix US in no problem and you'll also have access to many other Netflix libraries as well as content from platforms like Amazon Prime Video, NBC, Hulu, and CBS.
Security is top-notch and includes 256-bit encryption with perfect forward secrecy. You can also expect a kill switch, leak protection, automation wifi protection, multi-hop VPN, and split tunneling. Surfshark operates with a strict no-logs policy.
You can download desktop clients for Windows, Linux, and MacOS, as well as mobile apps for Android and iOS. Browser extensions are available for Chrome and Firefox. The VPN can be manually configured with select routers. Surfshark is one of the rare VPNs that doesn't pose a limit on the number of devices you can connect at the same time.
Pros:
Great speeds for streaming
No device limit
Lots of security extras
Doesn't track user activity
Cons:
Customer service isn't the best
BEST BUDGET VPN:Surfshark is a low-cost option but that doesn't make it any less powerful. It's fast, secure, and excellent at unblocking, making it ideal for browsing, streaming, and more. Plans come with a 30-day money-back guarantee.
ExpressVPN is a great option for accessing US Netflix from Denmark and anywhere else in the world. It has fast speeds for seamless streaming and invests lots of resources into unblocking multiple Netflix libraries.
ExpressVPN can unblock other US streaming services, including C-SPAN, ABC, NBC, Fox, and CBS, as well as services from other regions, such as the UK's BBC iPlayer. In fact, ExpressVPN has server locations in 94 countries.
Desktop apps include a kill switch, which prevents other software on your device from connecting to the internet without VPN protection and exposing your real location. Other security measures include leak protection, connection encryption, and a no-logs policy.
You don't need any technical knowledge to use ExpressVPN. The easy-to-use app installs with a wizard, and the customer support team is on hand to assist around the clock, every day of the year, via live chat.
Apps run on Windows, macOS, Linux, Android, iOS, Amazon Fire TV, and some routers. There are browser extensions for Chrome, Firefox, and Safari, but these only function if you also have the desktop app running. You can connect five devices at a time.
Pros:
Fast speeds for long-distance video streaming
Apps for all major operating systems, including Linux and some routers
Easily bypasses geo-restriction measures
Customer support available around the clock via live chat
Cons:
Only three simultaneous connection allowed
FAST, SECURE VPN:ExpressVPN is great for accessing Netflix US from anywhere. The service's strong security, high speeds, ease of use, and ability to evade detection make it a winner. ExpressVPN offers a 30-day no-quibble money-back guarantee.
CyberGhost is a European-based VPN service that is great at unblocking US Netflix from Denmark. It has strong capabilities for dodging detection at a long list of online video sites in the 59 countries where CyberGhost has servers, and it's also a good choice for torrenting. The service delivers high speeds and is very easy to use.
The privacy protection of this VPN also makes it attractive for downloading and cross-border video streaming. CyberGhost doesn't keep activity logs and it offers additional account anonymity by delegating payment collection tasks to another company, Cleverbridge. Security measures include a protected DNS service, a built-in kill switch, and strong encryption.
Apps are available for Windows, macOS, Android, iOS, Amazon Fire TV, and Amazon Fire Stick. You can set up the VPN manually on Linux computers, some routers, and set-top boxes. You can connect up to seven devices at a time.
Pros:
Good speeds for international video streaming
Strong encryption
Extensive knowledge base for guidance
Cons:
Can't access customer support anonymously
STRONG SECURITY:CyberGhost hides your identity on the internet with comprehensive privacy measures and uncrackable encryption. All subscribers get a no-questions-asked 30-day money-back guarantee.
IPVanish pegs some great speeds making IPVanish a top pick for torrenters and suitable for streaming. The company operates servers in 60 countries and can unblock a long list of video streaming sites from Denmark, including US Netflix.
Security measures include a private DNS system and strong encryption for all connections. A no-logs policy ensures customer privacy.
IPVanish apps are available for Windows, macOS, Android, iOS, Linux Mint, Amazon Fire TV, and Amazon Fire Stick. The VPN can be set up manually on Ubuntu, Kali, and Fedora Linux, select routers, and set-top boxes. IPVanish allows an unlimited number of simultaneous connections.
Pros:
US-based service
Very fast speeds
No activity logs
Cons:
Doesn't unblock as many streaming sites as rivals
Customer support can be a little slow to respond
FAST SPEEDS:IPVanish offers great speeds for streaming and gives you a large simultaneous connection allowance. You get a 30-day money-back guarantee on your subscription.
PrivateVPN is based in Sweden, which is a neighbor of Denmark. The company was created by internet freedom activists to block harassment of those who choose to download material and to help bypass website access blocks. This VPN service enables you to access to Netflix USA and many other streaming sites from Denmark.
PrivateVPN's fast speeds are great for video streaming. The company has servers in 59 countries, which gives you access to media sites all over the world, not just those in the USA.
The privacy procedures of PrivateVPN are similar to those of CyberGhost – payment collection is outsourced. The company doesn't hold any identifying information on its customers and doesn't keep activity logs. You don't need to give an email address to get a response to support inquiries because you can contact the customer support team anonymously through a live chat service, which is available during Swedish/Danish business hours. Security measure services include strong encryption, DNS leak protection, and a kill switch.
Apps are available for Windows, macOS, Android, and iOS. You can set up a VPN connection manually on Linux, routers, and set-top boxes. PrivateVPN allows up to six devices to be connected at one time.
Pros:
Fast speeds for streaming video from the USA
Unblocks lots of streaming sites
No logs policy
Cons:
Just 14 servers in the USA (fewer than other providers)
Live chat isn't 24/7
PRIVACY-FOCUSED:PrivateVPN is based in Sweden and offers very strong privacy protection. The company includes a 30-day money-back guarantee in all subscription packages.
Will a free VPN unblock American Netflix in Denmark?
Although there are many free VPNs available, it's difficult to find one that can unblock US Netflix reliably. Free VPNs have low cost bases and this is achieved by signing cheap carrier agreements, which result in very low transfer speeds. Slow speeds make streaming video a frustrating experience. These free services have chosen not to compete in the high end of the market and rarely include attractive features, such as the ability to access Netflix from abroad. In fact, some free VPNs block all attempts to load the Netflix website.
You need to be careful about free VPNs as they often make money using shady tactics. Some free VPNs make you watch adverts and delay the connection establishment process until you have seen enough publicity. Others inject advertisements into the web pages that you visit as they load in your browser.
Rather than protecting you from surveillance, a lot of free VPNs include tracking libraries. They log your online activities and sell that information on to marketers. Many free VPNs don't even protect connections with encryption, which means they are not really VPNs.
How does Netflix restrict access?
Netflix uses two sources of information to restrict your access to its videos – your connection information and your account details. The company uses the same URL all over the world. There is no netflix.dk, so you access netflix.com in Denmark, just the same as you would in the United States.
There are three levels of access to the Netflix website:
Access to the Home page
Membership access to the video library
Access to the video player with a video loaded
Anyone can get to the Home page. When your browser sends a request for the page, the Netflix web server checks on the origin of the request and sends the standard Netflix Home page with all of the text displayed in the language of the detected location.
You have to log into the service in order to get to the video library. When you do this, the system checks your profile settings and adapts the website's display language according to the default language setting in your profile.
At the time that you log in, the Netflix web server has two key pieces of information about you: where you are and what language you speak. These two factors dictate the list of videos that are extracted from the database of all available videos.
At the point of delivering a video, the Netflix server checks on your location again. These checks also look into whether you are using a VPN. This is the crucial hurdle that most VPNs fail to overcome. When the VPN is spotted, you get the error message that I mentioned in the introduction, or something similar, and you're blocked from watching.
How does Netflix location detection work?
Netflix knows where you are because when your browser sends a request to the company's web server, that demand has to have a return address on it. Every device connected to the internet has to have a unique identifier, which is called an IP address. The IP address is not permanently attached to your computer – that's another type of identifier, called a MAC address.
An IP address is allocated to your device when you connect it to the internet and that address belongs to the Internet Service Provider (ISP) that facilitates the connection. When you travel and connect from a different place, a different ISP will allocate you one of its addresses.
All IP addresses are registered to a real-world address and so the Netflix server knows exactly where you are. When you access Netflix from the United States, the webserver detects that you are in the USA and sends you the American Netflix Home page for the service. All other pages you see on the site will be a version of Netflix that was written for the USA and you will only be shown a selection of videos that are cleared for broadcast in the United States.
When you access netflix.com from Denmark, the webserver detects your location and sends you the Danish Home page. Your access and video list will be restricted to those facilities that were designed to serve customers in Denmark.
How do Netflix account settings affect your library?
Your account details are the other influence on the video library that you see. The Netflix access controls begin when you sign up for the service. You need to give bank account details when you set up an account, even though the company offers the first month for free as a trial.
At the point of setting up your account, the Netflix membership server checks on the address of your bank account and also looks at the location of your IP address, which is the return address on all of the communications that your computer sends to the Netflix system. If those two countries don't match, the membership server won't create an account for you.
You can only sign up for Netflix in a country where you have a bank account. So, if you are only going to be in Denmark for a short time, set up the account before you leave the USA.
I found another solution to this problem. I signed up for Netflix while I was out of my home country. I didn't have a bank account in the country where I was at the time. My solution was to use a VPN. I selected a server in the UK, which is where my bank account is, and then turned the VPN on before accessing the Netflix account signup screens.
Deciding on a Netflix home country
It doesn't matter where in the world you sign up for Netflix. If you sign up in the USA, you will get access to Netflix Denmark when you go to that country. If you sign up in Denmark, you can access US Netflix when you travel to America. However, if you create an account in the USA (or using a US IP address from somewhere else), your profile language will automatically be set to English, and if you sign up in Denmark (using a Danish IP address), your profile language will be set to Danish.
The language setting of your profile matters, but you can easily change that in your account settings. Wherever you create an account, you'll only be able to access the version of Netflix for the country that you are currently in, unless you use a VPN.