A round up of the top VPNs to use with Amazon's Firestick
If, like me, you are a regular Firestick user and want to unlock its full potential I strongly recommend pairing it with a suitable VPNs. In this round-up I'll run through the best VPNs for Amazon Firestick and how to install them.
Users of Amazon streaming products such as the Fire TV Stick and Amazon Fire TV are only getting a fraction of their favorite streaming services' full libraries. Streaming platforms restrict the availability of their content based on the viewer's location due to content licensing agreements that vary by region. Geo-locked content can be unblocked by simply using a VPN, or a Virtual Private Network.
By adding a VPN to a Firestick device, the VPN encrypts the Fire TV's internet connection and routes it through an intermediary server located somewhere else in the world, which swaps out the user's true IP address with the address of the chosen VPN server. That gives users the appearance of accessing the streaming platform from the server's location and will therefore unblock streaming content only available in other countries.
VPNs are not only great for streaming: the encrypted internet connection keeps your online activity hidden from your internet service provider and any malicious third parties who may be monitoring what you do on the internet. That's why I always recommend using a VPN to safeguard your privacy online.
I'll dive into each of these VPNs in detail, but for now, here's a summary of my top 7 VPNs for Amazon Fire devices.
Note: Not all VPNs come with Firestick apps.
Criteria for selecting VPN services
With so many VPNs on the market, it can be difficult to determine which ones work best with Amazon Fire TV and Fire TV Stick. I assembled my list of top VPNs based on the following criteria:
VPN app available on the Fire TV app store or Android APK available for direct download (this makes installation much easier)
A lightweight app that won't drag down performance
Fast streaming speed and reliable performance
Compatible with all Kodi add-ons
Capable of unblocking geo-restricted content such as Netflix and Hulu
7 Best VPNs for Amazon Firestick and Fire TV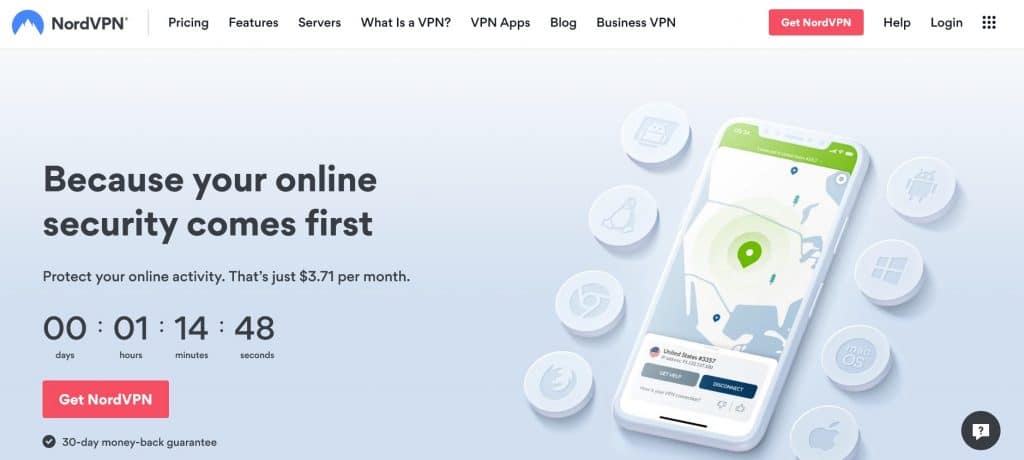 NordVPN is my top choice for its high connection speeds and tough security. It recently released an official Fire TV app so setup shouldn't be difficult—just download it directly from Amazon on the Firestick or the Fire TV Cube.
NordVPN is a Panama-based VPN provider that operates more than 5,300 servers in 59 countries around the world, making it one of the largest server networks on the market. It successfully unblocks Netflix US and Hulu from the Android app and follows a strict zero-logs policy so your online activities can't be traced back to you. A single NordVPN account allows up to six simultaneous connections. The company's website contains helpful tutorials for router firmware as well.
Apps are available for Android, iOS, MacOS, Windows, and Linux.
The NordVPN Android APK is available in this direct download link.
Pros:
Provides Fire TV-specific app downloadable directly from Amazon
The fastest VPN on the market right now
Unblocks the majority of streaming services with ease
Extensive range of international servers
Major security and privacy focus
Cons:
Desktop apps can take slightly longer to connect
BEST VPN FOR FIRE TV STICK:NordVPN is our top choice. Works well with Amazon Fire TV Stick and has a compatible app. Solid security and privacy performer. Fastest speeds around. Includes a 30-day money-back guarantee so you can try it risk-free.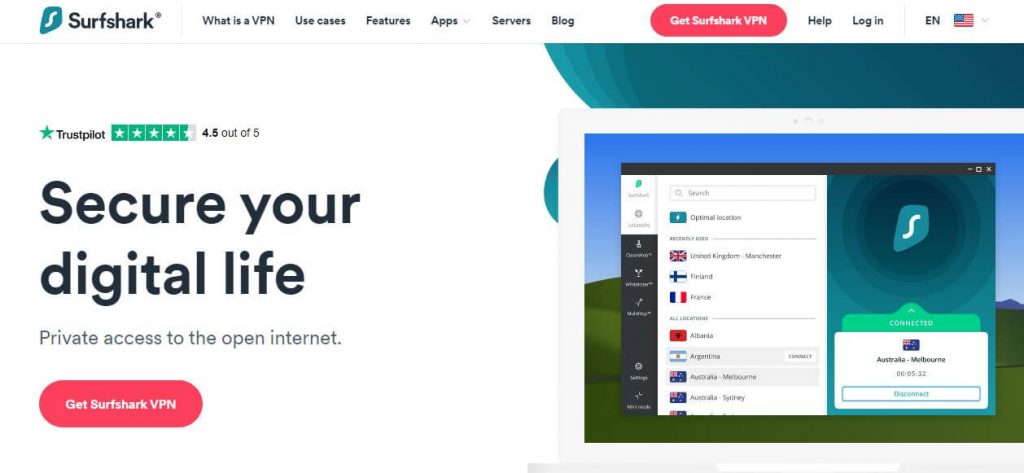 Surfshark's great speeds, unlimited simultaneous connections, and strong unblocking capability makes it a worthy VPN for streaming-oriented users on a budget. It is capable of unblocking platforms like Netflix US, BBC iPlayer, and ITV Hub for viewing during international travel. Setup is quick and easy because it has an app available in the Amazon app store.
This VPN provider operates more than 1,700 servers in more than 60 countries. Its users' internet connections are reinforced with 256-bit AES encryption and includes security features such as an automatic kill switch and protection against DNS, IPv6, and WebRTC leaks. A built-in ad blocker and malware blocker defends your system automatically, and it even gives users the option of bypassing the VPN on certain websites with split-tunneling functionality. Surfshark doesn't keep logs on its users' activities so none of your personally identifiable information will be exposed to third parties. Customer support is available 24/7 via live chat.
Apps are available for iOS, Android, Windows, MacOS, and Linux apps. Internet routers require manual configuration.
Pros:
Good speeds
Unblocks all kinds of services
Connect as many devices as you like
Strong security and privacy credentials
No logs policy
Cons:
Some servers faster than others
Has a smaller network than some of its rivals
BEST BUDGET VPN:Surfshark is an inexpensive yet versatile service, capable of unblocking plenty of region-locked streaming platforms from abroad. It also boasts a dedicated Firestick app, a no-logging privacy policy, and a 30-day money-back guarantee.
ExpressVPN runs servers in more than 90 countries and is one of the few services capable of blocking Netflix US from outside the country. Configuration should be simple with their new app now available for Fire TV.
ExpressVPN produces custom router firmware for certain router models, making it easy for setting up the VPN with a first-generation Fire TV Stick. You can also purchase a pre-configured router directly from ExpressVPN. Subscriptions come with MediaStreamer, which is a smart DNS proxy solution that can be used to unblock geo-restricted content. MediaStreamer can be configured in the Fire TV settings without having to install an app.
Pros:
Apps work great with Fire TV Stick
Super fast servers can unblock just about any popular streaming content service
High-grade privacy and security
24-hour live chat support, 7 days a week
Cons:
Only permits 5 simultaneous connections
Slightly more expensive than others in this list
GREAT ALL-ROUNDER:ExpressVPN holds its own. A fast and reliable choice that confidently unblocks all major streaming services with ease including Netflix, Hulu, Amazon Prime, BBC and others. Comes with a Fire TV specific app. Boasts great privacy features and a no-logs policy.
CyberGhost makes for a great first VPN if you have never used one before. Its user-friendly interface allows you to select a server based on the streaming service you want to watch, making it easy to unblock Netflix, BBC iPlayer, and a variety of other streaming services. It has also recently released a Fire TV version of its app that makes for an easy and fast setup.
CyberGhost combines quality performance and a high standard of security so you can watch high quality video content without buffering. It adheres to a zero-logs policy and runs thousands of servers in more than 60 countries.
Apps are available for Windows, MacOS, iOS, and Android.
Pros:
Dedicated Fire TV specific app version works well with Amazon services
Designed with beginners in mind
Budget priced provider with impressive streaming speeds
Use up to seven connected devices simultaneously
Cons:
Doesn't unblock all major streaming sites
May not be customizable enough for advanced users
NOVICE FRIENDLY VPN:CyberGhost is great for beginners. A fast and reliable service that works well with Amazon Firestick and provides a Fire TV version of its app. Stores no internet activity logs and streams HD video reliably. Dedicated streaming servers and a 45-day money-back guarantee.
IPVanish is a popular VPN for Kodi users due to its unlimited bandwidth and data for HD video streaming. IPVanish runs a large network of servers around the world that makes it easy to access geo-blocked content. Your online activity is concealed with strong encryption and a no-logging policy. IPVanish offers an unlimited number of simultaneous connections so you can protect all of your devices.
An official IPVanish app for Firestick is now available from Amazon's app store.
Pros:
A standout favorite among Fire TV Stick and Kodi users
Intuitive app user interface works well with remote control
Impressive 4K streaming speeds achieved during testing
Completely logless service won't compromise your privacy
Cons:
Has difficulty unblocking larger streaming services
Doesn't accept Bitcoin
UNLIMITED CONNECTIONS:IPVanish is a solid choice. Has an app designed specifically for use with the Fire TV or Firestick. Scores highly for privacy and security. A favorite with Kodi users and torrenters. Includes a 30-day money back guarantee.
While the up-and-coming PrivateVPN operates a smaller network of servers than other providers on this list, it makes up for this limitation with its powerful unblocking capabilities that work with Netflix, Hulu, Amazon Prime Video, and BBC iPlayer. This makes it a great streaming option, in addition to its newly-launched Fire TV app that can be downloaded and installed directly from the official Amazon app store.
PrivateVPN secures its users' internet traffic with strong encryption standards and follows a no-logging policy. Up to six simultaneous connections are allowed at once.
Pros:
Has a Fire TV version of its app on Amazon app store
Growing list of streaming services it can unblock including Netflix, Hulu, BBC iPlayer and Amazon Prime
Can use up to six connected devices simultaneously
Cons:
Doesn't have 24/7 live chat
Doesn't work in China
GOOD SPEEDS:PrivateVPN is a good family choice. Comes with a specific Fire TV version of the app. Good for HD Streaming. Allows up to 6 devices on the same account. Could do with having more VPN servers and lacks 24/7 support. Includes a 30-day money-back guarantee.
Windscribe has a dedicated app for Firestick available on the Fire TV app store that can be easily installed—no adjustments or third-party resources are necessary. Windscribe offers strong security, fast speeds, and unlimited simultaneous connections. It can unblock Netflix US and a few other streaming services from abroad, and it even works in China.
Windscribe allows torrenting and stores no logs of user data or online activity.
Apps are available for Windows, MacOS, iOS, Android, and browser extensions for Chrome, Firefox, and Opera.
Pros:
Has a dedicated Fire TV Stick app on Amazon app store
Fast speeds are great for streaming
Works in China and allows torrenting
Cons:
Mobile app is slick, but limits user choices
No true live chat will frustrate some users
Expect some server switching to unblock US Netflix
ABLE CONTENDER:Windscribe hits good speeds. Has a dedicated app for Firestick. Above standard for security and online privacy. Lacks true 24/7 support. Includes a 3-day money back guarantee.
How to use a Firestick VPN
Many VPN providers have apps available on the Amazon Fire TV app store. Getting set up with one of these is easy—just sign up, install the app, and connect.
But many VPNs don't have apps on Amazon's Fire TV app store. The VPN must be added from a third source, and while this isn't a difficult thing to do, it does require a few extra steps than installing one on a computer or a smartphone. Because Fire TV doesn't have access to Google Play, you will have to manually download the Android app APK file or sideload the app from another Google Play-connected Android device. I recommend using the Downloader app available in the Fire TV app store to download the APK from your provider's website.
Take into account which version of the Fire TV Stick you're using. The first-edition Fire TV Stick is not compatible with VPN apps and will have to be manually configured on your wifi router instead of on the device itself. Fire TV Cube and 2nd generation Fire TV Sticks and later versions should all support VPN apps. Another option is to connect to the VPN on your Android smartphone and cast streaming video to your Firestick.
Controlling mouse input on Firestick
Some VPN apps don't work well with the Fire TV remote and require the use of a mouse. Fortunately, newer versions of the Fire TV and Fire TV Stick support Bluetooth mice.
If you don't have one, you could use an app called Mouse Toggle that turns your smartphone into a mouse that can be used to control your Fire TV. It costs less than a physical mouse at only $2.99 and is available for iOS and Android. In order to use the Mouse Toggle app with your Fire TV, you will need to enable ADB Debugging in your Fire TV settings.
Check out this video tutorial to find out how to install and control an Android VPN app that isn't available from Amazon's Fire TV app store. This video uses NordVPN's old app for demonstration:
Other tips for geo-unblocking on Fire TV
Your new IP address that comes with a VPN should be enough to lift geographical restrictions on streaming content, but some apps and streaming sources may require a few extra steps.
Change DNS settings on Fire TV
Some VPN users have had difficulty changing their location due to the Fire TV sending DNS requests outside of the VPN tunnel. Those who use their Fire TV devices with a VPN configured with a virtual or physical router are particularly affected by this problem.
If this happens to you, I suggest changing your Fire TV's DNS settings. Check to see if your VPN provider has a DNS address you can use, but if not, I recommend finding a DNS for your desired location from OpenNIC.
You will need the IP address of your wifi router on hand. Once you have your IP and DNS addresses, follow the steps below:
When you connect to your wifi network for the first time (use the Forget Network function if you've connected previously), click Advanced on the menu where you enter your wifi password.
Under Gateway, enter your router IP address.
Under Network Prefix Length, enter 24.
Under DNS1 and DNS2, enter your primary and alternative DNS addresses.
Click Connect.
Change your timezone on Fire TV
A mismatched timezone may also interfere with unblocking geo-restricted content. To fix this problem, align your device's timezone to that of the country where you're streaming video from.
Here's how to change your timezone on a Fire TV:
From the Home menu, scroll down and select Settings.
Select System > Time Zone.
Select Time Zone and choose the timezone for your desired country.
Change your Amazon account to desired country
Some online content from Amazon Prime Video and Amazon Instant Video may only be available by changing your Amazon account to Amazon US or to another country. Log into your Amazon account in a web browser and perform the following steps:
Click Your Account > Manage your content and devices.
Click the Settings tab.
Under Country settings, click the Change button.
Enter your US address.
Click Update.
See also: How to bypass VPN blocks
VPN for Firestick FAQ
Can I use Kodi on my Firestick?
Yes! Fire TV Sticks are very popular among Kodi users. Not only do they remove geo-blocking they provide security so your ISP and advertisers can't monitor your activity online.
How many Firesticks can you use at once?
Although you can have an unlimited number of Fire TV Sticks under a single Amazon account, the service limits the number of simultaneous connections. Amazon Prime Video only allows two simultaneous streams regardless of device.
Other streaming apps come with their own set of restrictions. Netflix, HBO, and Hulu limit users to only one stream at a time on standard plans.
Do you need a Firestick for each TV?
A single Fire TV Stick can only be connected to a single HDMI port at a time, so you will need more than one if you want to simultaneously view Amazon content on multiple TVs. They can all be managed under a single account. Some smart TVs can display Prime Video and other streaming services without the need for any additional hardware.
Is using a VPN with a Firestick legal?
Yes, VPNs are legal privacy tools in most countries and can be legitimately combined with Firesticks. Using a VPN to bypass location restrictions may violate the terms of service of some streaming platforms, however. VPNs are also banned in a small number of countries.
What are the best apps to use on a Firestick for TV?
Here are some popular Firestick apps and the locations they're restricted to:
Kodi (global)
Netflix (global, but video library vary by country)
BBC iPlayer (UK)
Hulu (USA)
HBO Max (USA)
Disney+ (USA)
Paramount+ (USA)
Crunchyroll (global, but video library varies by country)
Cinema APK (global)
CatMouse APK (global)
Typhoon TV (global)
CyberFlix TV (global)
Stremio (global)
Spotify (global, but music library varies by country)
Crackle (USA)
CraveTV (Canada)
Sling TV – (USA)
FuboTV – (USA, Canada, Spain)
Pluto TV (24 countries)
Are there any free VPNs for Firestick?
There are, but I advise against using free VPNs. Most of them cannot unblock region-locked content. They are notorious for their slow speeds and data limits, not to mention the wide range of security risks that come with most of them. I believe a reputable paid VPN is worth the investment. But if you still want to save your money, take a look at this list of free VPNs for Firestick devices.